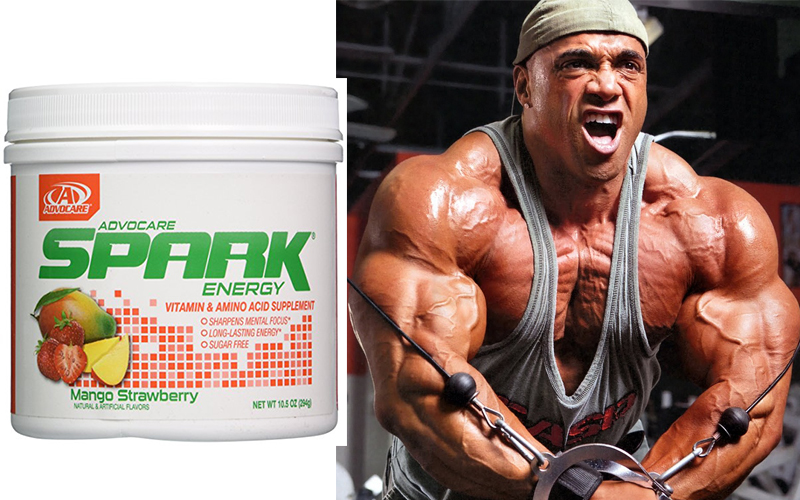 No matter how dedicated and motivated a person may be, everyone has days when they don't want to go to the gym or train as hard as they would like to. It could be because of a tiring day, lack of sleep or an incomplete diet.
Wouldn't it be great if you could beat this state every day of the week without fail? Some people think it's just not possible to have consistent energy levels throughout the week. Monday morning blues are a thing, right? Wrong. This is where pre-workout supplements come in.
A lot has been said about pre-workouts and what they can do. Some people rely on them entirely to get them through their workouts. But the problem is, not all pre-workouts are created equal. You need to find the one which works for you.
AdvoCare Spark Energy Drink
AdvoCare, the company behind Spark was founded in 1993. It's good to know the company you're buying from has been in business for quite some time. This can be a proof of the effectiveness of their product.
AdvoCare comes in two packages; canister, and single serving sticks. While single serving sticks can be really convenient if you're a student or someone who is always on the go, the canister proves to be cost effective.
If you're looking for a sugar-free pre-workout supplement which can give you an energy boost and improve mental focus, you can very well stop reading this review and buy this product right now. Both things dieters want when trying to lose weight.
Ingredients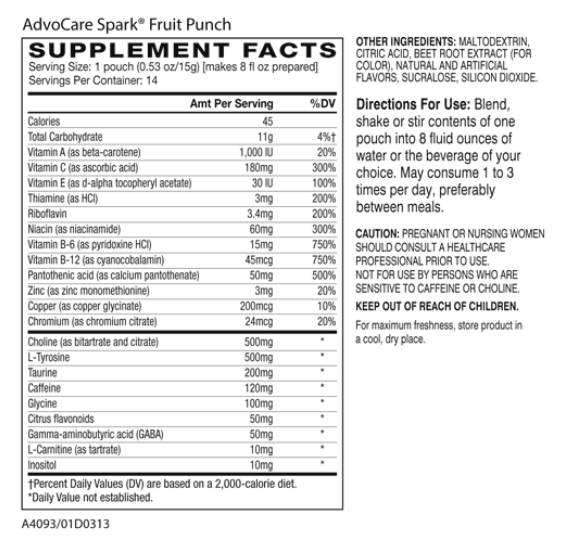 AdvoCare Spark Energy contains a blend of 20 vitamins, minerals, and nutrients which are designed to boost energy and mental focus in a nutritious and healthy way.
Key Ingredients
AdvoCare Spark contains amino acids taurine and L-tyrosine and the neurotransmitter-related chemicals choline and GABA as well as citrus flavonoids and inositol which help boost energy or provide protection from free radicals by acting as antioxidants.
Taurine is a common ingredient in energy drinks as it supports the nervous system and may improve athletic performance or when combined with caffeine, improve mental function. L-tyrosine is an important building block for several neurotransmitters that play a large role in influencing mood.
Choline is a precursor to the neurotransmitter acetylcholine and GABA is a neurotransmitter, both of which play roles in controlling a variety of mental functions. The citrus flavonoids include phytochemicals such as rutin, hesperidin, quercetin and naringin which have antioxidant and anti-inflammatory properties.
Inositol helps make cell membranes and is required by the body in small amounts, according to the National Cancer Institute.
Vitamins and Minerals
Advocare Spark Energy contains the mineral zinc and a variety of important vitamins. It provides high amounts of nearly all the B-complex vitamins which include vitamin B6 and B12, thiamine, riboflavin, niacin, and pantothenic acid.
According to AdvoCare, each serving provides 750 percent daily value of vitamin B6 and B12 and between 200 and 500 percent daily value for the remaining B-vitamins. B-vitamins play a large role in converting the food we eat into energy as well as participating in a variety of other bodily functions.
Advocare Spark Energy also contains 20 percent, 300 percent, and 200 percent daily values of vitamins A, C, and E, respectively, and small amounts of the mineral zinc.
Caffeine
Talk of a pre-workout supplement and miss out on caffeine? Can never happen. Caffeine is one of the most prominent ingredients in any pre-workout supplement. Each 8 oz. serving of Advocare Spark Energy contains 120 milligrams of caffeine or approximately the amount of caffeine provided by a single cup of brewed coffee.
Caffeine is a central nervous system stimulant that increases heart rate and raises blood pressure, among other effects. This can provide a temporary boost of energy and may help increase mental energy and focus.
How To Take It
Since AdvoCare Spark Energy is a pre-workout supplement, it's recommended to test your tolerance by taking one scoop as you start using this product. You can increase the serving size as you build up a tolerance.
It's best to take a pre-workout supplement 30-45 minutes before a workout. This gives the ingredients in the supplement ample time to dissolve in your blood and start showing their effects. Don't use this supplement on non-training days.
Benefits of Using AdvoCare Spark Energy
1. Boosts Mental Focus

Spark contains choline and GABA both of which are stimulants which help in boosting mental focus and clarity. These stimulants don't just work only for the duration of your workouts, they stay with you for most of your day helping you with your daily functioning.
2. Full of Vitamins, Minerals, and Nutrients
If you buy this supplement, you won't need to invest on any other vitamin or mineral supplement. For most ingredients, this product has the recommended daily intake quantities. This also makes it way more convenient to take all your recommended nutrients without making it feel like a chore.
3. Sugar-Free
AdvoCare Spark is one of the few sugar-free pre-workout supplements on the market. If you're prepping for a contest or are on a diet, nothing can match the effectiveness of this supplement. Being sugar-free also eliminates the chances of getting a 'pre-workout crash'.
Cons of AdvoCare Spark Energy
1. Expensive as Compared to Other Products
AdvoCare Spark is relatively expensive as compared to other products on the market. While it should be noted that no other product has the same number of ingredients as compared to AdvoCare Spark Energy.
2. Headaches
There are no documented cases of people getting headaches after using this product. This is a generic problem which a few people might face when they start taking a new pre-workout supplement while they have no tolerance for it.
3. Racing Heart
Just like headaches, this too is a generic case. There are chances some people might have a racing heart after taking this supplement even while they're resting. If you face this problem, or any other, after taking this product, consult a physician.
Price and Where To Buy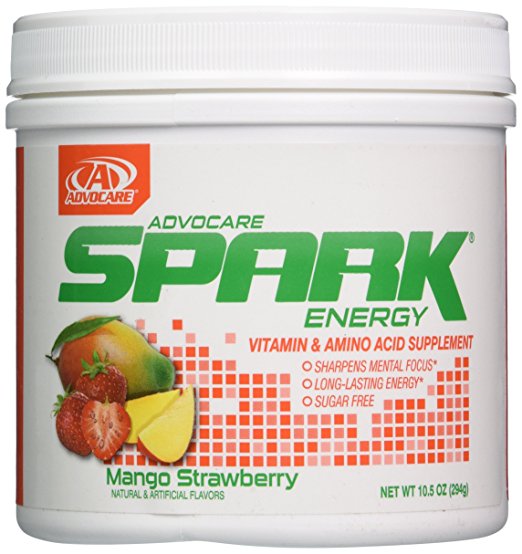 Conclusion
If you're looking to buy your first pre-workout supplement and don't want to be disappointed, you should go for AdvoCare Spark Energy since it contains the best ingredients, work effectively, and has no added sugar.
This energy drink has 120mg of caffeine which will get you through your day with ease. Weight loss or muscle gain, whatever your goal is, this product will get you the mental focus and clarity to achieve it.
Is there anything better than AdvoCare Spark Energy Drink?
When it comes to a safe, effective pre workout we'd recommend 4 Gauge.
A natural product from Roar Ambition that contains clinically dosed and well researched ingredients. 4 Gauge was formulated to deliver focused energy and skin splitting muscle pumps.