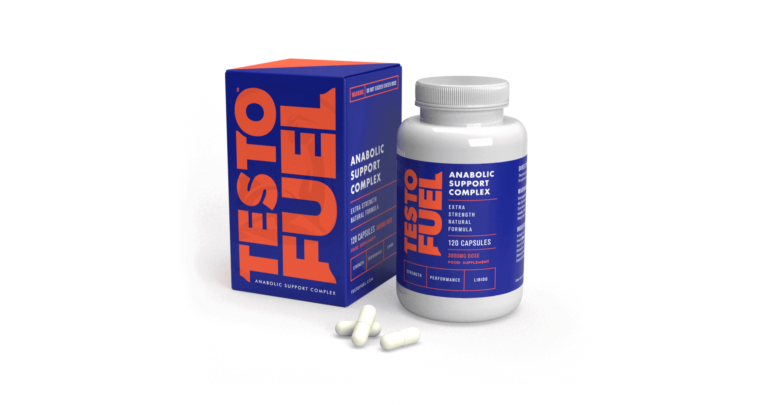 Find out if this testosterone booster can really help optimize your hormones via this in-depth review.
Introducing TestoFuel
Now solidified as one of the most reputable testosterone boosters on the market, TestoFuel is a mainstay in athletic circles. Developed by specialist supplement creators Roar Ambition, it's designed to help optimize hormone production, increase muscle mass, and enhance in-gym performance.
An increase in testosterone should also provide men with a greater sense of well-being too. A reclamation of healthy androgen hormones often presents a reinvigorated libido, as well as better mood.
The question is – will TestoFuel work as promised?
Our team of researchers break down the ingredient profile to find out.
For a fair and impartial review to be established, every aspect of TestoFuel must be inspected. Therefore, our assessment team will pull apart each piece of this product for close analysis.
By the end of our review we will have discovered the potential effectiveness, safety, and overall value of TestoFuel.  In addition to this, our team will have also broken down exactly how it should work, by referencing the latest, cutting-edge research.
No part of TestoFuel will go unchecked. Only by covering every aspect of this testosterone booster can we release a complete, all-inclusive review.  
On the surface, TestoFuel looks and feels deserving of its high-quality status. Close attention to detail is evident in its design, while the packaging materials are strong and well manufactured.
---
When analyzing TestoFuel's formula we will call upon scientific studies to inform any decisions made. Our team only draw information from reputable sources, which can all be found in the reference section. Only by exclusively handling data from credible studies can we ensure all advice offered is impartial and trustworthy. This information is also how we monitor potential effectiveness.
TestoFuel Pros and Cons
Pros
Boosts free testosterone 
Decreases estrogen which helps to boost testosterone
Increases muscle and strength
Increases energy and libido
Over 1 million bottles sold
Research-backed ingredients
Money-saving multi-buy reward
---
TestoFuel Testosterone Booster Review
TestoFuel Pros and Cons
What is TestoFuel?
Who makes TestoFuel?

How does TestoFuel work?
What can you expect from TestoFuel?
TestoFuel Ingredients

How to take TestoFuel

Is TestoFuel safe?

What do people say about TestoFuel?

How to get the best out of TestoFuel

The verdict

References
What is TestoFuel?
TestoFuel is a 100% natural testosterone booster that elevates testosterone for improved muscle growth, better health, mood and self-esteem. It claims to contain all the natural ingredients needed to raise your testosterone levels and keep it raised.
The creators say it's the safest way to approch low test levels. The fact that it only contains plant-based nutrients and vitamins which all have a positive effect on natural T levels is reassuring too. With increased testosterone, you should finally be able to optimize your body composition and build the physique of your dreams.
It's made only in FDA and cGMP approved facilities too, meaning you can be sure of its safety and effectiveness.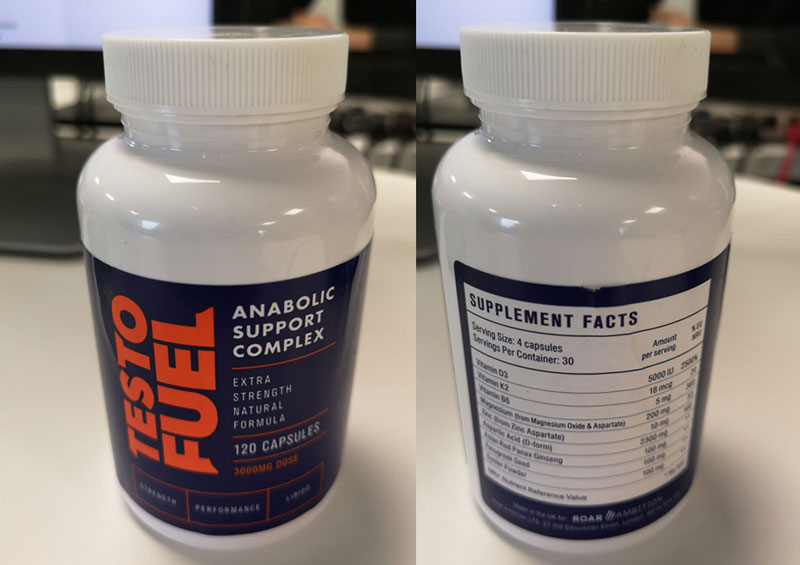 Who makes TestoFuel?
TestoFuel comes from the experienced team at Roar Ambition, a multi-national, innovative supplement company founded in 2014.
These guys develop some of the best products on the market and have a range of industry-leading products under their belt, including famous fat burner Instant Knockout Cut and vitality enhancing test booster Prime Male.
What's better? The company regularly receives 5* reviews from happy customers. One thing we also really appreciate is the fact that the company manufactures all its supplements in FDA and cGMP approved facilities, confirming their safety and effectiveness.
How does TestoFuel work?
TestoFuel tablets contain a blend of completely natural ingredients that work to naturally elevate testosterone and bring about many health benefits. That's right, TestoFuel goes way beyond muscle building and should also deliver:
Boosted energy levels – using natural energy enhancers and mood boosters to elevate your workouts and make them more productive
Sharpened physique – boosting your T can equal better fat loss and more muscle gain
Enhanced sex drive – TestoFuel supports sexual function and stamina, so you can feel confident in the bedroom
Boosted muscle growth and recovery – TestoFuel combines effective muscle building compounds like D-AA to help you build more muscle and recovery faster after workouts
What can you expect from TestoFuel?
Alongside a regular training routine and healthy diet, TestoFuel should help you achieve peak health – mentally and physically. By elevating test levels naturally and helping your body release more, you can get back to feeling and looking your best – with real improvements in your physique, your mood and energy.
---

TestoFuel Ingredients
TestoFuel's formula is a composition of nine, high-grade ingredients. Upon inspection each one showed itself to be clinically dosed in line with recent scientific research.
Therefore, users of TestoFuel should not face any side-effects when following manufacturer guidelines. Additionally, an optimized serving of each ingredient also means it should work effectively and as expected.
The ingredient choice clearly reflects a product designed for men with their physique in mind, not just testosterone. We found more than one muscle supporting micronutrient in this product.
To outline how TestoFuel users can experience its many potential benefits, we will now discuss the key ingredients.
Vitamin D3 – 5000 IU
Sometimes referred to as the sixth steroid, vitamin D3 is fundamental for optimizing testosterone. Our body also naturally creates it when we come into contact with sunlight.
What TestoFuel have done well is include a generous 5000 IU of D3 in one serving. According to studies, 3,332 IU of this ingredient is needed to significantly raise testosterone, so they've outdone themselves here [9].
Vitamin K2 – 18 mcg
Typically found in red meat, egg yolks, and liver, K2 kickstarts hormone release. Also known as 'menaquinone', this vitamin works hand in hand with D3 to increase testosterone production.
We thought vitamin K2 was an intelligent addition, as one study showed 5 weeks of supplementation led to a 70% increase in circulating testosterone [10].
Vitamin B6 – 5 mg
B vitamins are widely used for general wellbeing, keeping our eyes, hair, skin, and liver healthy. Plus, B6 especially helps the blood transport oxygen, playing a big part in energy upkeep [11].
B6 also reduces estrogen (female sex hormone) build up in men, allowing testosterone to work unrestricted [12].
Magnesium – 200 mg
Every cell inside your body needs this essential mineral to function. It's involved in over 600 bodily reactions including protein formation, energy creation, muscle movements and regulation of the central nervous system [13].
However, the inclusion of magnesium also bolsters TestoFuel's testosterone-boosting claims. Studies have shown it has a positive influence on anabolic hormonal status in men [14].
Zinc – 10 mg
Like magnesium, zinc is considered to be an essential nutrient. Your body needs it for many processes including immune function, growth and development, protein synthesis and gene expression [15].
Consequently, zinc deficiencies cause androgen receptors to become inefficient [16]. This makes healthy zinc levels vital for optimized hormone balance, especially testosterone.
D-Aspartic Acid (DAA) – 2300 mg
DAA is known to boost parts of the brain that regulate luteinizing hormone release. Once triggered, luteinizing hormone travels from the pituitary gland and tells the testes to produce testosterone.
One study showed 90 days of DAA supplementation saw an average increase in testosterone levels of 30-40% [17]. Not only that, but further research into the amino acid indicates it can be used to treat infertile men, as well as athletes looking to increase strength and muscle mass [18].
| Ingredients | Amount Per Serving | % EU NRV (Nutritional Reference Value) |
| --- | --- | --- |
| Vitamin D3 | 5000 IU | 2500% |
| Vitamin K2 | 18 mcg | 24 |
| B6 | 5 mg | 360 |
| Magnesium (from Magnesium Oxide & Aspartade) | 200 mg | 53 |
| Zinc (from Zinc Aspartate) | 10 mg | 100 |
| Aspartic Acid (D-form) | 2300 mg | ** |
| Asian Red Panax Ginseng | 100 mg | ** |
| Fenugreek Seed | 100 mg | ** |
| Oyster Powder | 100 mg | ** |
| | | ** No NRV |
How to take TestoFuel
The creators of TestoFuel have distributed their ingredients across four capsules a day. By using more pills, this gives the user access to the potent ingredients at higher serving sizes. When taking TestoFuel we suggest following this pattern:
First capsule with breakfast
Second capsule at lunch
Third capsule between lunch and dinner with a snack
Fourth capsule in the evening with either dinner or a snack
By taking TestoFuel in this manner, you grant your body consistent access to its nutrients. While it may seem appealing to just take it all in one serving, this only creates a single window for absorption rather than constant support.
TestoFuel also suggest daily, consistent supplementation for optimum results.
We at SpotMeBro always advocate following manufacturer guidelines. Ignoring serving suggestions may lead to unwanted side-effects.
TestoFuel Benefits
TestoFuel is a supplement specifically designed to keep your androgen hormones at their healthiest levels. Yet, not all testosterone boosters all are created equal, and some are definitely worth your money more than others.
What sets a good testosterone booster apart from others is its ingredient profile. Certain compounds are proven by science to positively support healthy testosterone production, so their inclusion may lead to additional benefits. TestoFuel, for example, contains Zinc [1] and Vitamin D3 [2] – two research-backed hormone optimizers.
Here are the main benefits TestoFuel users should gain:
Build muscle more effectively
Scientists suggest that testosterone increases muscle mass by elevating muscle protein synthesis [3]. Consequently, by helping men claim optimal hormonal balance, TestoFuel can make muscle building more effective.
Better body composition – lower body fat
An increase in testosterone can positively impact body composition in numerous ways.
Firstly, by influencing an increase in lean mass, users should experience raised metabolic rate at rest. This is because muscle contributes more toward your TDEE than body fat at approximately 20% compared to 5% [4].
Furthermore, testosterone should help to regulate body fat. Several studies have linked low testosterone levels with obesity, which men become more vulnerable to as they age [5].
Increased libido and sexual performance
Testosterone plays a pivotal part in a man's libido and sexual performance. This is because the areas of the brain linked to sexual desire, the amygdala for example, possess many androgen receptors ready to receive testosterone. When triggered by the male sex hormone, these receptors increase the desire to have sex, as well as encourage the penis to produce an erection [6].
However, when testosterone levels are low, the desire to have sex can take a hit. Similarly, the ability to achieve and/or maintain a satisfying erection can also be impacted, as well as there being risk of infertility [7].
Lifted mood
Men with elevated testosterone are often the ones with confidence. An increase in testosterone can accentuate your physique and sex life, which should give you a greater sense of wellbeing.
Not only that, but low testosterone levels can be a cause of irritability, while also being related to depression [8].
---
Is TestoFuel safe?
After analysis we can confirm the TestoFuel formula is all-natural. Consequently, no individual ingredient immediately stood out as being unsafe. You should be able to experience TestoFuel to its full capacity without side-effects.
Another key point to make is TestoFuel's complete lack of proprietary blends. This struck us as clear sign of transparency, which is a respectable mark for a supplement. Disclosing every single ingredient and serving size on the label shows us TestoFuel are confident and open to inspection.
---
What do people say about TestoFuel?
TestoFuel is used and loved by thousands of men worldwide, including world-class bodybuilders and pro strength training athletes. 4 times Mr. Universe and 5 times Mr. Olympia, Robby Robinson is a big advocate too.
Looking online, there are a variety of positive customer testimonials featured on the official website. Customers praise the product highly and say it's been instrumental in helping them gain an extra advantage when it comes to training. Users also report improved muscle growth and better feelings of confidence, mood and motivation alongside enhanced libido.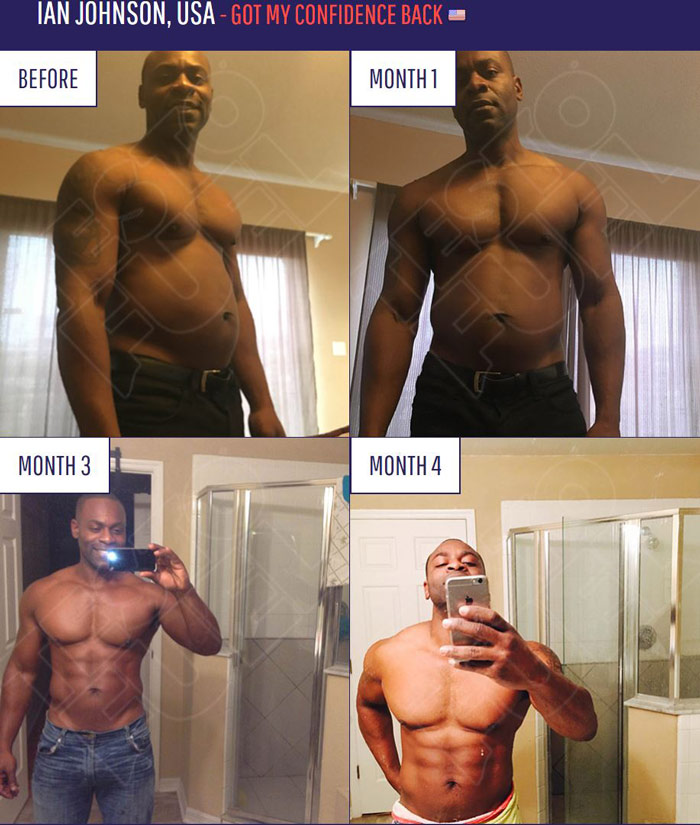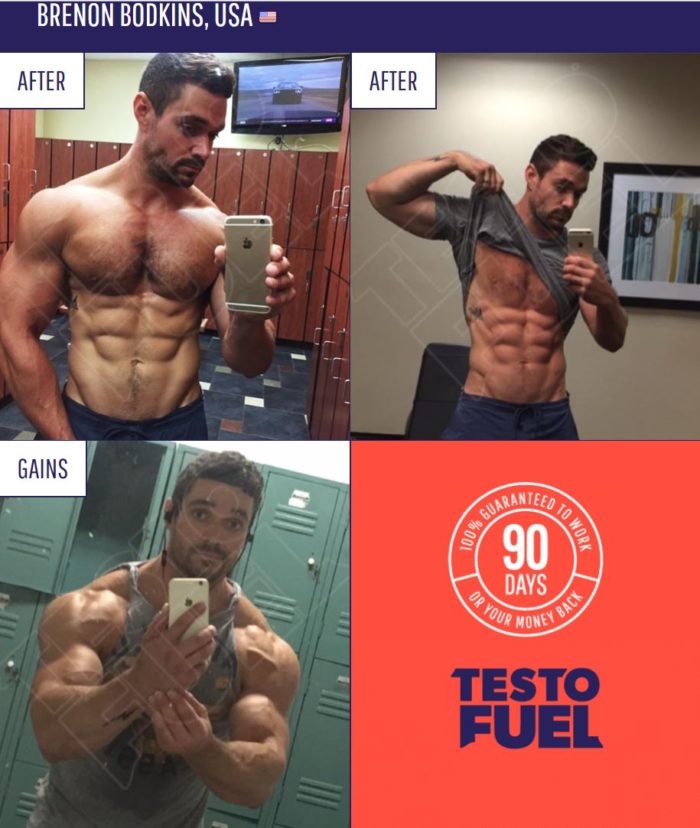 ---
How to get the best out of TestoFuel
The guys behind TestoFuel suggest consistent supplementation will deliver the best results. They also say giving it a few months (like two months) will help it get to work and deliver more T-boosting benefits.
Follow our top tips to get the best out of this supplement:
Take consistently and daily and give it two months to get to work
Use alongside a healthy, balanced diet and consistency strength training routine
Take with meals to increase ingredient absorption
Where to buy TestoFuel
One bottle of TestoFuel contains 30 servings, each one comprising of four capsules. This equates to 120 individual capsules and 30 days of supplementation.
Each individual bottle of TestoFuel costs: $65/ £39 and is available from the official website.
Customers who plan to take TestoFuel consistently can also gain access to a multi-buy reward. When three bottles of TestoFuel are added to one order, two extra bottles are included for free. You also gain free worldwide shipping.
---

The verdict
A firm favorite in the supplement industry for a many years now TestoFuel still impresses. Upon inspection, we unveiled an intelligent, all-natural formula that delivers clinical servings of potent ingredients.
The decision to disassociate the product with dangerous proprietary blends is a smart move for TestoFuel. Not only does this create a high-level of safety, but the transparency reassures users they aren't paying for filler ingredients.
Consequently, our team only found cutting-edge ingredients, proven to work in relevant studies. We also found them to be delivered through a well-planned, four-capsule daily serving.
To summarise – TestoFuel has a very high level of potential effectiveness. Users should experience its proposed testosterone boosting benefits without safety risks, or adverse side effects. Out of all the testosterone booster we've reviewed TestoFuel stands out as the most impressive.
However, we must discuss cost. At $65, this testosterone booster is less affordable than others. While not as expensive as Hunter Test, it's still not the cheapest on the market. Yet, we feel it deserves the price tag. Because of its high level of potential effectiveness and superior quality we feel TestoFuel is good value for money. In our experience, a premium supplement such as this is a better choice than a lower-tier, poorly formulated alternative. Although cheaper, other supplements may lack the quality and effectiveness you're looking for.
In closing, our team of researchers advocates TestoFuel to anyone serious about boosting their testosterone. This is a premium quality supplement, with a bold and impressive formula developed exclusively from natural ingredients. For these reasons we believe TestoFuel is one of the best testosterone booster available today.
Our score: 5/5
Check Best Price for TestoFuel
*Individual results may vary. Please speak with your doctor or physician before undertaking any new weight reduction, supplement, or exercise regime.
---
Testosterone Boosters: FAQs
Who would use a testosterone booster?
Testosterone boosters are very popular with men looking to build more muscle or feel and look better. Natural testosterone boosters are designed to help your body produce levels of the hormone itself, so many older men also choose to use a test booster to keep T at optimal levels.
Athletes may also use a testosterone booster to optimize T and help improve their recovery time, alleviate muscle damage and increase stamina.
Are testosterone boosters safe?
Testosterone boosters are generally considered safe as they're naturally developed and offer a gentle way to approach declining test levels. They're almost all made with plant-based, natural ingredients, meaning the chance of side effects are miniscule.
However, it's important to be aware of the fact side effects can occur if you're sensitive to any of the ingredients. if you're already on medication, you may want to avoid a testosterone booster. This is because their ingredients may interact with the medication.
Do testosterone boosters cause side effects?
Testosterone boosters are widely considered safe because of their natural ingredient profiles. The chance of side effects is tiny and only possible if you have an intolerance to ingredients. The best way to avoid any chance of side effects is to study the ingredients label, research the manufacturer and discuss with your medical profession before using.
What ingredients are common in test boosters?
When purchasing a testosterone booster, you should make sure it's completely natural and free of proprietary blends. You should look out for ingredients like D-Aspartic Acid, Vitamin D, zinc, ginseng and ashwagandha – since all of these ingredients have proven T-boosting benefits.
References
References
Prasad, A. (1996). Zinc Status and Serum Testosterone Levels of Healthy Adults. Nutrition, 12(5), p.vi.
Pilz, S., Frisch, S., Koertke, H., Kuhn, J., Dreier, J., Obermayer-Pietsch, B., Wehr, E. and Zittermann, A. (2010). Effect of Vitamin D Supplementation on Testosterone Levels in Men. Hormone and Metabolic Research, 43(03), pp.223-225.
Griggs R, Kingston W, Jozefowicz R, Herr B, Forbes G, Halliday D. Effect of testosterone on muscle mass and muscle protein synthesis. J Appl Physiol. 1989;66(1):498-503. doi:10.1152/jappl.1989.66.1.498
McMurray RG, Soares J, Caspersen CJ, McCurdy T. Examining variations of resting metabolic rate of adults: a public health perspective. Med Sci Sports Exerc. 2014;46(7):1352-8.
De Maddalena C, Vodo S, Petroni A, Aloisi A. Impact of testosterone on body fat composition. J Cell Physiol. 2012;227(12):3744-3748. doi:10.1002/jcp.24096
Rajfer J. Relationship between testosterone and erectile dysfunction. Rev Urol. 2000;2(2):122-8.
Jia H, Sullivan CT, McCoy SC, Yarrow JF, Morrow M, Borst SE. Review of health risks of low testosterone and testosterone administration. World J Clin Cases. 2015;3(4):338-44.
Lincoln G. The irritable male syndrome. Reproduction, Fertility and Development. 2001;13(8):567. doi:10.1071/rd01077
Pilz S, Frisch S, Koertke H et al. Effect of Vitamin D Supplementation on Testosterone Levels in Men. Hormone and Metabolic Research. 2010;43(03):223-225. doi:10.1055/s-0030-1269854
Ito, A., Shirakawa, H., Takumi, N., Minegishi, Y., Ohashi, A., Howlader, Z., Ohsaki, Y., Sato, T., Goto, T. and Komai, M. (2011). Menaquinone-4 enhances testosterone production in rats and testis-derived tumor cells. Lipids in Health and Disease, 10(1), p.158.
B vitamins and folic acid. nhs.uk. https://www.nhs.uk/conditions/vitamins-and-minerals/vitamin-b/. Published 2019. Accessed March 20, 2019.
Allgood, VE., Cidlowski, JA. Vitamin B6 modulates transcriptional activation by multiple members of the steroid hormone receptor superfamily. J Biol Chem. 1992, Feb 25;267(6):3819-24.
de Baaij J, Hoenderop J, Bindels R. Magnesium in Man: Implications for Health and Disease. Physiol Rev. 2015;95(1):1-46. doi:10.1152/physrev.00012.2014
Maggio M, De Vita F, Lauretani F, et al. The Interplay between Magnesium and Testosterone in Modulating Physical Function in Men. Int J Endocrinol. 2014;2014:525249.
Office of Dietary Supplements – Zinc. Ods.od.nih.gov. https://ods.od.nih.gov/factsheets/%20Zinc-HealthProfessional/. Published 2019. Accessed March 20, 2019.
Prasad, A. (1996). Zinc Status and Serum Testosterone Levels of Healthy Adults. Nutrition, 12(5), p.vi.
D'Aniello, G., Ronsini, S., Notari, T., Grieco, N., Infante, V., D'Angel, N., Mascia, F., Fiore, M., Fisher, G. and D'Aniello, A. (2012). D-Aspartate, a Key Element for the Improvement of Sperm Quality. Advances in Sexual Medicine, 02(04), pp.45-53.
Roshanzamir F, Safavi SM. The putative effects of D-Aspartic acid on blood testosterone levels: A systematic review. Int J Reprod Biomed (Yazd). 2017;15(1):1-10.
[
Disclaimer:
  The information on this site has not been evaluated by the FDA. The products on this page are not intended to diagnose, treat, cure or prevent any disease. Results in description and Testimonials may not be typical results and individual results may vary. We may earn commission if you click the links and buy the products featured on this page.]
---