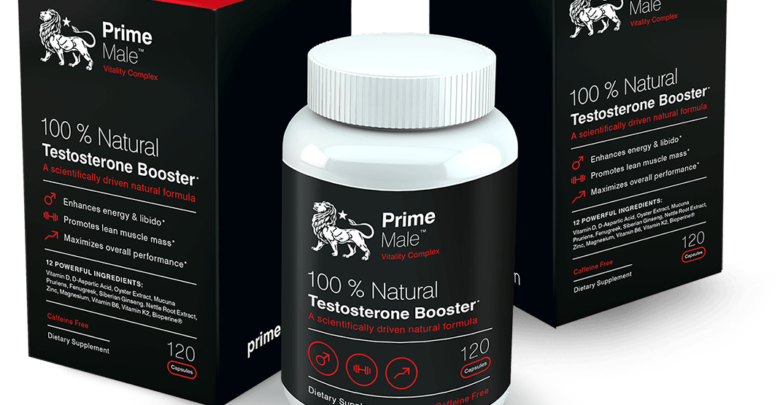 Prime Male entered the testosterone boosting market with a clear agenda. According to its creators, this supplement was designed specifically for men over 30. Whereas many other testosterone boosters are aimed at physique-conscious bodybuilders, Prime Male promises the whole package.
They even go as far as saying this supplement could change your whole life.
But can the big cat actually deliver? Through this in-depth review our team finds out.
Like many reputable testosterone boosters, Prime Male promises all-encompassing support. It prides itself on a premium supplement status, including an exclusively all-natural formula, consisting of just 12-ingredients.
Made for men with declining testosterone levels
Apparently, this testosterone booster is ready to take on whatever life can throw at the 30+ man. Whether that be an intense work schedule, tough gym routine, or a hectic home life.
Prime Male also says it has the answer to 'side-stepping' health issues caused by low testosterone.
On first inspection Prime Male shows promise. All the major testosterone boosting ingredients are there, delivered alongside extra, low-key supporting substances.
During this review we will cross-compare the cost of Prime Male with these factors. This is because we never evaluate price as one individual entity in an SMB review. Instead, we look to see whether the product's offering is worth the cash.
Table of Contents
Meet Prime Male
Prime Male Pros and Cons

What is Prime Male
Who makes Prime Male?
How does Prime Male work?
What can you expect from Prime Male?
What's in Prime Male?
How to take Prime Male
What are the benefits of taking Prime Male?
Is Prime Male safe?
Prime Male in action
How to get the best out of Prime Male

How much is Prime Male?
The verdict on Prime Male
Prime Male Pros and Cons
Pros
Boosts free testosterone levels
Increases energy, strength & libido
Made for men over 30
Thousands of happy customers
Used by movie stars
Multi-buy rewards
Vegetarian capsules
Cons
Only available online
Premium price
What is Prime Male?
Prime Male is a natural testosterone booster developed to help you take control of declining test levels and recover your youthful virility. By providing your body with all the nutrients it needs to restore T, Prime Male should help 'turn back the clock on male aging'.
It's specifically designed for men aged 30 or over, the age when testosterone can start to decline.
Who makes Prime Male?
Prime Male is made by the experienced team at Roar Ambition, a global, leading supplement company founded in 2014.
You'll have heard of these guys, especially if you use their famous fat burner Instant Knockout Cut. They're the team behind leading test booster TestoFuel too. Fans all over the globe rate their products and enjoy the benefits they bring.
We're always excited by Roar Ambition's products and enjoy its commitment to offering high-quality, research-backed formulas.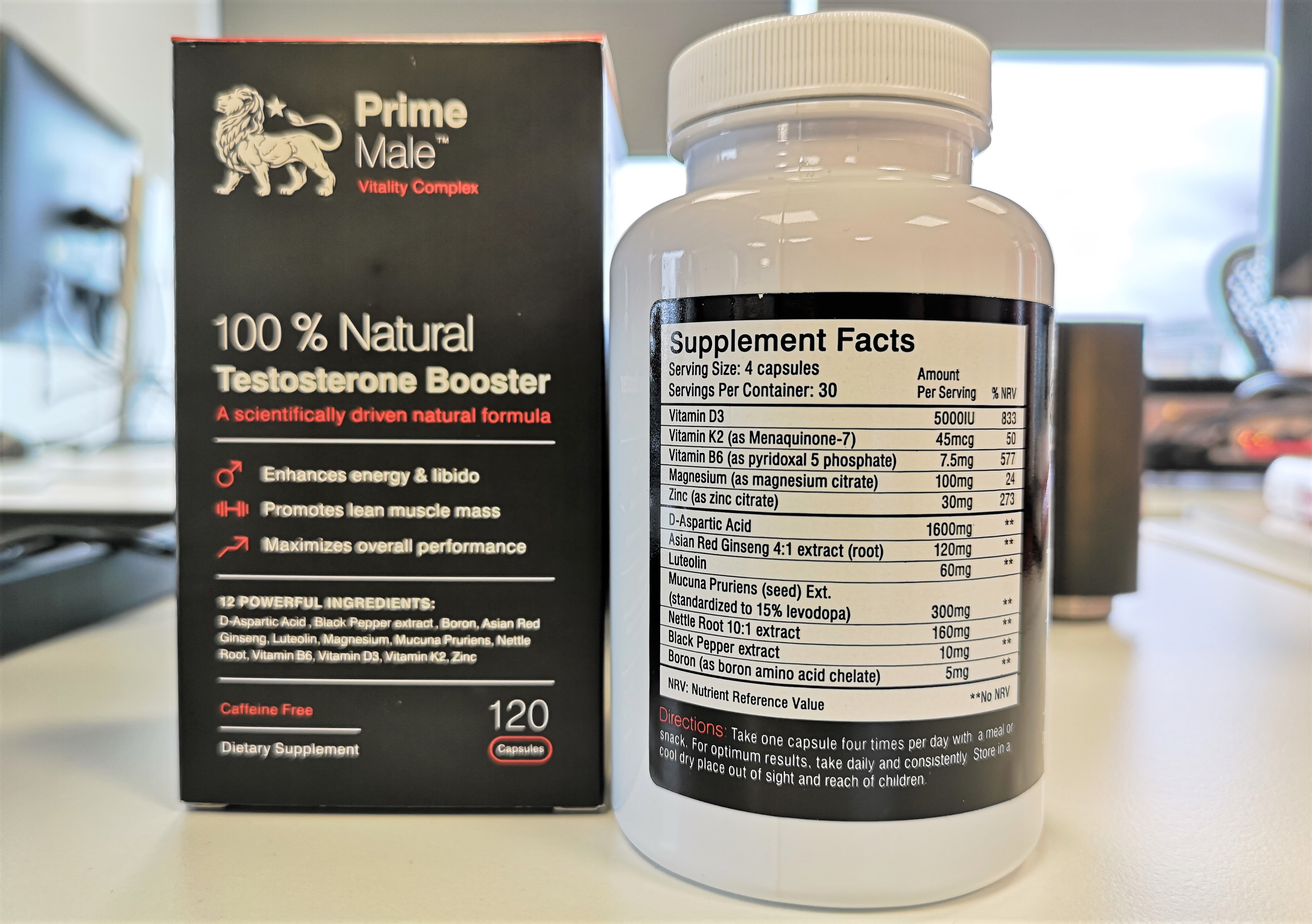 How does Prime Male work?
Prime Male is a testosterone pill formulated with entirely natural ingredients that target your body's normal testosterone production. It aims to help your body produce more T. Alongside boosted T, the formula works to deliver:
Increased lean muscle mass – natural muscle promoting compounds like ashwagandha and D-AA are both included in optimal levels to help you build lean mass and maintain a healthy physique
Boosted mood and energy – Prime Male is formulated to sharpen your mind and motivation, so you can continue living life to the fullest and perform your best in every situation
Improved sex drive and desire, so you can feel confident and recover the drive you had when you were younger
What can you expect from Prime Male Enhance
The creators of Prime Male say it's the ideal supplement if you want to "turn back the clock" and keep living life to the fullest, despite getting older.
By helping to repair the effect of lost testosterone and reverse any negative symptoms, Prime Male claims to help men feel like their younger self and may also deliver additional mental and physical benefits. These include improved motivation, sharper cognitive function, reduced body fat, increased energy and boosted libido.
What's in Prime Male?
Prime Male is composed of 12, natural ingredients. Apparently, according to the website, this is a scientific blend of "12 nutrients formulated to work especially well for guys 30 and older."
On first inspection we recognized a few mainstays of the testosterone boosting world. Interestingly, each showed intelligent serving sizes, even at 12 ingredients strong. While certainly not as potent as Hunter Burn or TestoFuel, it's impressive, nonetheless.
Let's break down the main ingredients behind Prime Male's promises.
Vitamin D3 – 4000 IU
Also known as the sunshine vitamin, this ingredient is an important precursor to testosterone. Scientists say that up to 50% of us may be deficient in it too [8] and supplementing with vitamin D may produce positive hormonal benefits [9].
D-Aspartic Acid – 1600 mg
This amino acid is important for making and releasing hormones in the body. One of these is luteinizing hormone, which tells the testes to produce testosterone [10].
Research has shown that D-Aspartic Acid is particularly effective in boosting testosterone. According to these studies, it can be used to treat infertile men, while also helping athletes build more muscle mass [11].
Asian Red Ginseng – 120 mg
For hundreds of years Chinese medicine has used Ginseng for enhancing libido. Interestingly, modern scientists confirm that their evidence backs up this practice too [12].
Boron – 5 mg
Boron has proven to be one of the most important trace minerals available. Among its abilities are; boosting magnesium absorption, beneficially impacting the use of testosterone, bolstering vitamin D effectiveness, and raising levels of antioxidant enzymes [13].
These benefits make the inclusion of boron an intelligent move. Not only should it influence testosterone directly, but indirectly too by boosting other Prime Male ingredients.
Zinc – 30 mg
Zinc is an essential trace mineral needed for cell division and immune system support. It's also commonly associated with healthy testosterone.
One study showed that men with zinc deficiencies are at a greater risk of lower-testosterone [14]. Furthermore, the same study found that deficient men who supplemented with 30 mg a day saw an increase in their levels of free testosterone.
However, this applied to deficient men. If you're getting enough Zn, supplementation won't necessarily raise your androgens [15].
Magnesium – 100 mg
Just like Zinc, Magnesium is an essential trace mineral too. It's involved in strengthening the pathways that generate adenosine triphosphate (ATP), alongside influencing protein synthesis and neuromuscular excitability.
But the benefits don't just end there. Scientists also say that there is evidence that magnesium exerts a positive influence on hormone status. Most importantly – testosterone [15].
| Ingredient | Amount Per Serving | % Daily Value |
| --- | --- | --- |
| Vitamin D3 | 4000 IU | 833 |
| Vitamin K2 (as Menaquinone-7) | 45 mcg | 50 |
| Vitamin B6 (as pyridoxal 5 phosphate) | 7.5 mg | 577 |
| Magnesium (as magnesium citrate) | 100 mg | 24 |
| Zinc (as zinc citrate) | 30 mg | 273 |
| D-Aspartic Acid Calcium Chelate | 1600 mg | ** |
| Asian Red Ginseng 4:1 extract (root) | 120 mg | ** |
| Luteolin | 60 mg | ** |
| Ashwagandha Extract 4:1 (root) | 300 mg | ** |
| Nettle Root 10:1 extract | 160 mg | ** |
| BioPerine® | 10 mg | ** |
| Boron (as boron amino acid chelate) | 5 mg | ** |
How to take Prime Male
One way to assure maximum effectiveness is taking a supplement properly. Therefore, we also inspected the manufacturer serving suggestions.
Similar to Hunter Test and TestoFuel, Prime Male features multiple capsules. These are also taken individually at different points of the day.
Our knowledge of supplements tells us this is for a specific purpose. Rather than consume all the ingredients in one sitting, they're spread out. Many higher-tier testosterone boosters use this method for a constant, steady stream of supplementation.
According to Prime Male, users should take one capsule, four times a day. These should also be accompanied with water and food.
Considering these factors, we recommend Prime Male users try the following method:
Capsule one upon waking
Second serving mid-morning
Capsule three mid-afternoon
Final serving late-afternoon
Failure to follow manufacturer guidelines may impact your Prime Male experience.
Firstly, if you do not take enough, you will not get the specified amount of each ingredient. As explained above, Prime Male say they developed their serving sizes scientifically for their audience.
Secondly, swallowing too many capsules may be dangerous. All measures of safety are assigned to the suggested serving sizes only. Taking too much Prime Male may result in unwanted side-effects.
---
What are the benefits of taking Prime Male?
Optimizing your testosterone levels can be rewarded with many benefits. This is especially true for the man over 30, whose sex hormone has already started to naturally decline.
According to researchers, the older a man gets, the more likely he is to suffer from the impact of lower testosterone [1]. Therefore, by taking a testosterone booster, he can help protect himself from the unpleasant side-effects.
Prime Male say that men who take their product should experience:
Lean muscle building
Loss of excess weight – body fat reduction
Reignited libido
Optimal cardiovascular health
Better blood sugar management
Increased energy – less fatigue
Improved mood
A sharpened mind – enhanced cognitive function
You can see their claims here on the Prime Male website.
Lean muscle building
Testosterone is a vital player in muscle building. Therefore, by increasing your testosterone, you should encourage higher rates of protein synthesis [2].
Put simply, you can build more muscle mass, faster.
A libido shift into higher gear
One of the most obvious symptoms of reduced testosterone is a loss of libido. And when androgen hormone levels drop even further, men can experience both erectile dysfunction and even impotency [3].
By bolstering testosterone levels, you should be able to protect your libido.
Increased energy
Interestingly, testosterone plays a role in your behaviour. Healthy hormone balance offers self-esteem to men, while also encouraging them to be competitive.
Yet, when testosterone reaches a low point, this drive can go away. Instead men begin to feel deflated, self-conscious, and unmotivated. Furthermore, a loss of testosterone can also cause disturbances in sleep, resulting in a lack of energy.
Improved mood
Lincoln, GA. Describes irritable male syndrome as; "a state of nervousness, irritability, lethargy and depression that occurs in male mammals following withdrawal of testosterone." Apparently, this is due to a decrease in male sex hormone secretion [4].
Consequently, by boosting their testosterone, men should be able to counteract IMS. This is how Prime Male promise to alter your mood.
Loss of excess weight
Another sign of lower testosterone is weight gain. Whereas this may be welcomed in muscle form, it is most likely to be body fat [5]. For some men this might also be in the form of gynecomastia – man breasts.
On the other hand, healthy testosterone levels have shown to help reduce body fat [6] [7]. When teamed with increased muscle growth the result can be a better, leaner physique.
Is Prime Male safe?
As an all-natural product Prime Male has superior potential safety.
Every substance inside it has been clinically served too. This means the risk of side-effects remain minimal, without sacrificing effectiveness.
Some men may also find the manufacturing process appealing. According to its creators, Prime Male is constructed in an FDA-approved facility, to Good Manufacturing Practices.
Understandably, this cuts back any risk of cross-contamination with other products. Prime Male say their practice assures the "highest levels of both purity and quality". If you are an athlete or face drug-testing at work, this can be important.
When we inspected the ingredients ourselves one thing stood out – transparency. Our team saw a complete, natural profile totally free from proprietary blends. Every inclusion is easy to see on the Prime Male label.
Shadier companies hide unknown, sometimes dangerous ingredients, disguised under these exclusive blends. Even if they aren't harmful, our team cannot say for certain what is in them. For this reason, we never declare a product containing a proprietary blend as safe.
As with any supplement there are always risks of side-effects. However, we spotted nothing that could cause immediate concern. When taken alongside the manufacturer guidelines, Prime Male should pose no issues.
Failure to follow manufacturer guidance can impact a supplements performance. Furthermore, choosing to dismiss suggested servings may also lead to unwanted side-effects.
Key points:
All-natural
Clinically served
Transparent
FDA approved
Manufactured to Good Manufacturing Practices
Low-risk of cross contamination
No proprietary blends

Prime Male in action
As an established testosterone booster, Prime Male has been reviewed extensively online. Here are a few outside opinions we found:
TestosteroneResource.com – "We're making Prime Male our gold medal winning test booster, no question"
TheSportReview.com – "If you're looking for the best product on the market (and you're willing to pay a little extra for it), then Prime Male is one of your best choices"
NutshellNutrition.com – "It is a breakthrough testosterone booster"
Customers praise it for the way it makes them feel, with many users experiencing improved mood, libido and significant changes in their physiques. It's also used by Hollywood Action star, Dolph Lundgren, who says Prime Male helps him stay fit and active.
The heavy majority of reviews and testimonials we found were positive. Yet, almost all had one possible issue – cost. Prime Male is evidently less affordable than some other products, however, most feel the price is a reflection on premium quality.
How to get the best out of Prime Male
To get the best out of this supplement, the creators advise taking it consistently and always with a meal. By taking it with food, you increase the absorption rate of the ingredients, giving them the chance get to work.
Follow our top tips to get the best out of this supplement:
Take consistently, every day for a few months
Use alongside a healthy, balanced diet and regular exercise routine
Take with your meals to increase ingredient absorption
How much is Prime Male?
Within each bottle of Prime Male users can find 120 capsules. When taken at four capsules per day, this equates to a month-long supply.
One single bottle of Prime Male costs: $69/£39 and is available on the official website.
However, unlike some other supplements, Prime Male is sold in tiers. When more than one bottle is ordered together the customer is automatically rewarded.
Purchasing two bottles from Prime Male instantly qualifies the customer to free shipping. According to the website, this can be to anywhere in the US or UK. Furthermore, if three bottles are bought together, the customer then receives a fourth at no extra cost, alongside free worldwide shipping. This amounts to a four-month supply for the price of three.
If you were to use Prime Male for longer than a month this could save you substantial cash.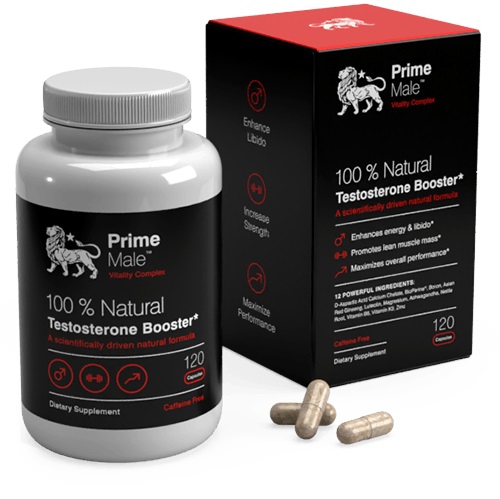 The verdict on Prime Male
What we liked about Prime Male is they know their audience. Rather than try to cast the net and capture all males, they have tailored their product specifically for men over 30.
This is clearly evident in their 12-ingredient choice, which we admired. After inspection we were able to align each ingredient present to relevant studies.
Whereas the key players like Vitamin D, Magnesium and D-AA directly influence testosterone, others support it. Prime Male seems to offer an all-encompassing package. We also saw safe, clinical serving sizes that showed signs of a high-level of effectiveness. A lack of proprietary blends also built a level of trust with our team too.
In terms of overall value, we found Prime Male to be both good and fair. Even though it isn't as affordable as alternatives, you still get a lot for your money. Our team felt the price, although not for everybody, truly reflected Prime Male's quality. If it's in your budget, we definitely recommend trying this testosterone booster.
In closing, Prime Male is the best testosterone booster available for the man over 30. If you're searching for trustworthy testosterone support to reignite your hormones, Prime Male is one of your best choices and we highly recommend it.
Our score: 5/5
---
Testosterone Boosters: FAQs
Who would use a testosterone booster?
A testosterone booster would be used by men who want to ensure their test levels are optimized. Testosterone is a key hormone responsible for many functions in the body and with age it does start to decline.
Athletes may also use a test booster to naturally increase their levels and support performance, alleviate muscle damage and boost stamina.
Are testosterone boosters safe?
Testosterone boosters are one of the safest (and legal) ways to tackle low testosterone – they certainly shouldn't pose the same risks as synthetic hormones either. They're generally formulated with natural ingredients and vitamins so shouldn't cause any adverse reactions.
You can also ensure the safety and effectiveness of a test booster by checking if it's produced in FDA facilities to Good Manufacturing Practices (cGMP) too.
Do testosterone boosters cause side effects?
Many men use testosterone boosters without experiencing any adverse reactions. However, side effects are always possible, especially if you're allergic to the ingredients. You can avoid them by studying the supplement facts, researching the manufacturer and checking with your medical profession if you're unsure.
What ingredients are common in test boosters?
When searching for a test booster, you should look to see if it contains D-AA, vitamin D, zinc, Asian ginseng and ashwagandha. These are some of the most proven test boosting ingredients available.
References
Stanworth RD, Jones TH. Testosterone for the aging male; current evidence and recommended practice. Clin Interv Aging. 2008;3(1):25-44.
Griggs R, Kingston W, Jozefowicz R, Herr B, Forbes G, Halliday D. Effect of testosterone on muscle mass and muscle protein synthesis. J Appl Physiol. 1989;66(1):498-503. doi:10.1152/jappl.1989.66.1.498
Jia H, Sullivan CT, McCoy SC, Yarrow JF, Morrow M, Borst SE. Review of health risks of low testosterone and testosterone administration. World J Clin Cases. 2015;3(4):338-44.
Wester S. Irritable Male Syndrome: A Concept in Need of Support. Psyccritiques. 2005;50(52). doi:10.1037/05224011
Grossmann M, Tang Fui M, Dupuis P. Lowered testosterone in male obesity: Mechanisms, morbidity and management. Asian J Androl. 2014;16(2):223. doi:10.4103/1008-682x.122365
Singh R, Artaza J, Taylor W, Gonzalez-Cadavid N, Bhasin S. Androgens Stimulate Myogenic Differentiation and Inhibit Adipogenesis in C3H 10T1/2 Pluripotent Cells through an Androgen Receptor-Mediated Pathway. Endocrinology. 2003;144(11):5081-5088. doi:10.1210/en.2003-0741
De Pergola G. The adipose tissue metabolism: role of testosterone and dehydroepiandrosterone. Int J Obes. 2000;24(S2):S59-S63. doi:10.1038/sj.ijo.0801280
Nair R, Maseeh A. Vitamin D: The "sunshine" vitamin. J Pharmacol Pharmacother. 2012;3(2):118-26.
Pilz S, Frisch S, Koertke H et al. Effect of Vitamin D Supplementation on Testosterone Levels in Men. Hormone and Metabolic Research. 2010;43(03):223-225. doi:10.1055/s-0030-1269854
D'Aniello A. d-Aspartic acid: An endogenous amino acid with an important neuroendocrine role. Brain Res Rev. 2007;53(2):215-234. doi:10.1016/j.brainresrev.2006.08.005
Roshanzamir F, Safavi SM. The putative effects of D-Aspartic acid on blood testosterone levels: A systematic review. Int J Reprod Biomed (Yazd). 2017;15(1):1-10.
Hong B, JI Y, Hong J, Nam K, Ahn T. A Double-Blind Crossover Study Evaluating the Efficacy of Korean Red Ginseng in Patients With Erectile Dysfunction: A Preliminary Report. Journal of Urology. 2002;168(5):2070-2073. doi:10.1016/s0022-5347(05)64298-x
Pizzorno L. Nothing Boring About Boron. Integr Med (Encinitas). 2015;14(4):35-48.
Prasad A. Zinc Status and Serum Testosterone Levels of Healthy Adults. Nutrition. 1996;12(5):vi. doi:10.1016/s0899-9007(96)00064-0
Maggio M, De Vita F, Lauretani F, et al. The Interplay between Magnesium and Testosterone in Modulating Physical Function in Men. Int J Endocrinol. 2014;2014:525249.
[
Note:
 We 
do not
 get paid to feature any supplements in our review. However, SpotMeBro may receive a small affiliate commission if a purchase is made through our links. Find out more 
here
]