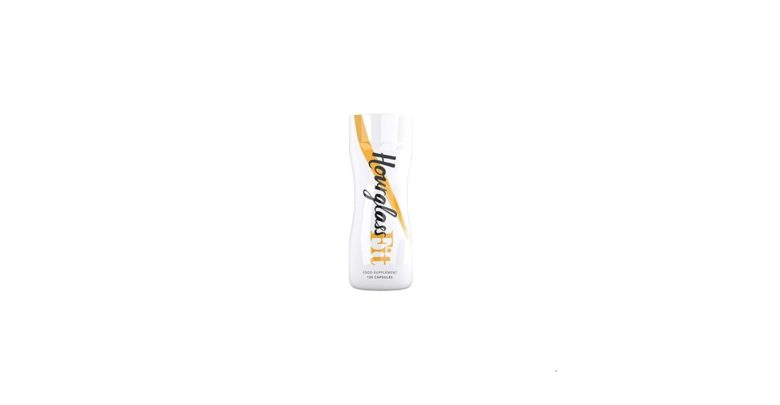 Designed from the ground up for women, Hourglass Fit provides a gentle but effective way to burn fat and reduce hunger.
With no caffeine and no artificial ingredients in sight, is this the best stim-free fat burner for healthy weight loss?
We find out in this Hourglass Fit fat burner review.
What is Hourglass Fit?
Hourglass Fit is a fat burner deigned to help women burn fat healthily and achieve a toned, shaped physique.
With it, you can get "the flat stomach and hourglass waist you've always wanted." Its formula is crafted specifically for women's physiques and comes with no caffeine or stimulants meaning no energy spikes or crashes.
Don't be put off by the marketing though – this fat burner should work for anyone and is the ideal supplement for someone looking for something that's gentler on the stomach and free of stimulants.
The creators say Hourglass Fit provides the 2-in-1 power to help you burn fat and reduce hunger – supporting both of these with a multitude of effective natural ingredients.
Each inclusion is included to help you achieve your weight loss goals. The formula targets bodyfat, particularly around the waist area, and aims to boost your metabolism to encourage your body to lose fat in a healthy, sustainable way. The product has recently undergone a transformation – with some stimulants removed and other weight loss supporting ingredients doses improved.
Hourglass Fit appears to be loved by thousands of women worldwide, including Hollywood star, Rachel Swindler, and should help put a plug in any snacking habits, increase calorie burn and block fat cells from forming.
For this Spot Me Bro Hourglass Fit review, we're going to delve deep to figure out more about this fat burner and how it can help you achieve effective weight loss. From benefits, the strength and quality of the ingredients, to price, safety and more – it's our job to give you all the information you need. Let's get into it.
Hourglass Fit Pros and Cons
Pros
Works to reduce fat, particularly belly fat
All-natural, vegan friendly  
Helps to boost mood and motivation
Total hunger control with 3g glucomannan per serving
No synthetics, no hidden blends & no side effects
Powerful formula, with no caffeine or stimulants
Helps you get a lean, toned look
Cons
Single bottles could get expensive
Only available online
Who makes Hourglass Fit fat burner?
Hourglass Fit is made by Roar Ambition, a multi-national, specialist supplement company founded in 2014.
The popular company has a number of industry-leading supplements under its belt, including renowned fat burner Instant Knockout Cut and market-leading test booster TestoFuel, amongst others.
What's more, it commonly receives 5-star reviews for its range of supplements that have fans around the globe.
Roar Ambition is one of the most innovative supplement specialists in the industry and we're always impressed by its commitment to providing premium, scientifically-backed formulas. What's better, Roar Ambition supplements are all made only in FDA and cGMP approved facilities.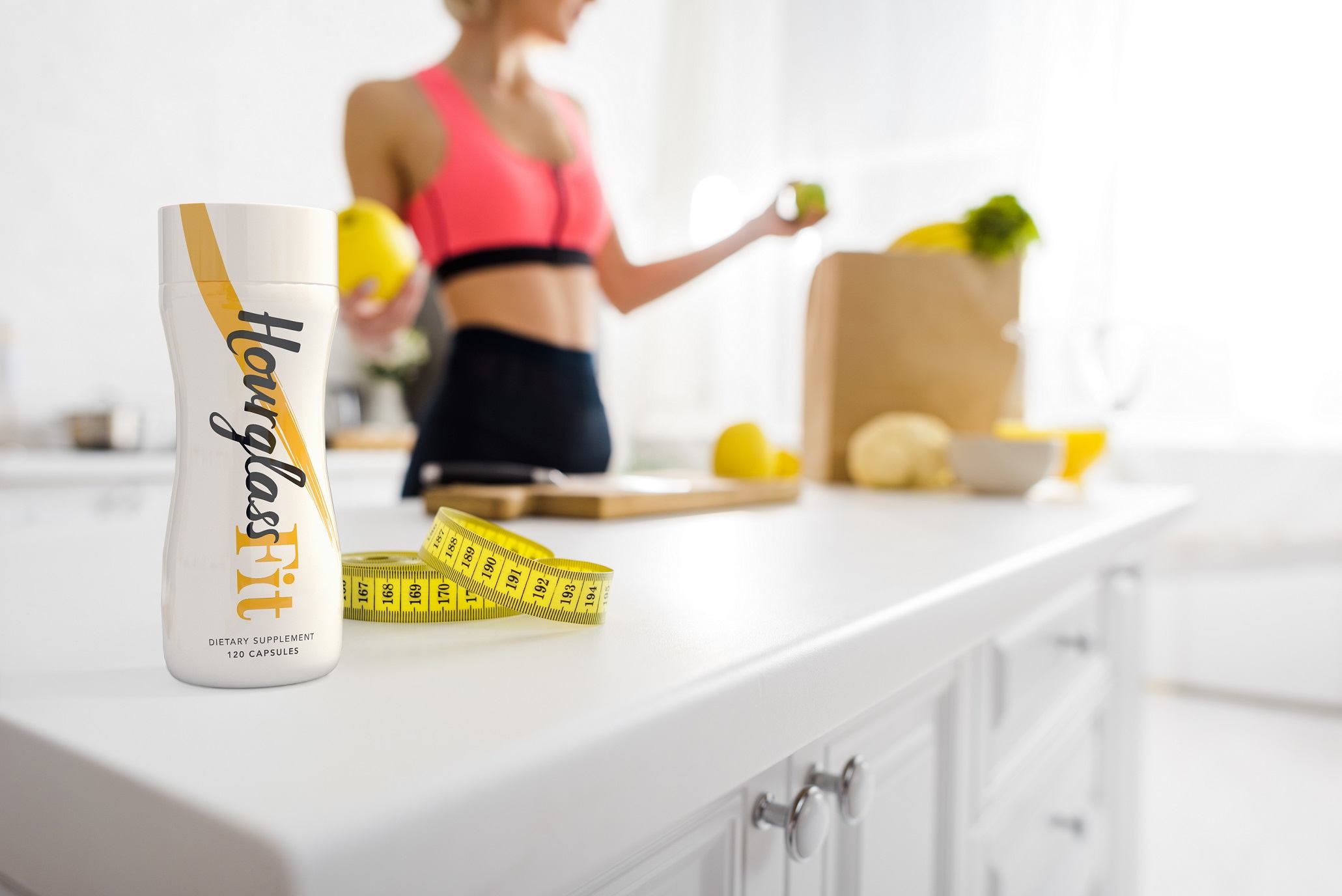 ---
How does Hourglass Fit work?
Hourglass Fit fat burner is formulated to work in 3 clear-cut ways. The research-backed formula delivers absolute weight management by:
Boosting metabolism and enhancing calorie burn with potent thermogenics like cayenne pepper and black pepper
Keeping hunger under control and curbing snacking with 3,000mg of the fiber glucomannan – more than you'll find in most competitors
Lifting mood and motivation so you can stick to your workout goals and reach your fat loss targets
Hourglass Fit aims to be a simple solution to successful fat loss. Not only does it ramp up calorie burn and curb hunger but it provides additional advantages. For instance, the addition of 5-HTP enhances feel-good chemicals in the body, meaning you can say goodbye to those diet mood swings.
What can you expect from Hourglass Fit fat burner?
The creators say Hourglass Fit tackles excess fat in 2 key ways.
First, with key thermogenic ingredients to melt fat away, second by preventing you from overeating with a powerful dose of glucomannan. This smart 2-in-1 formula should help you stick to that challenging calorie deficit, remain motivated and stop those troublesome food cravings.
What's more, Hourglass Fit delivers a stimulant-free energy boost, so you can keep active without any crashes.
Hourglass Fit ingredients
Inside Hourglass Fit fat burner, you'll find a mix of 9 vitamins, minerals and herbs – all included in optimal and effective dosages. The vegan weight loss capsules have been developed with ingredients that come with proven weight loss attributes and the scientific studies behind them.
Let's find out more about the core ingredients.
Glucomannan
Also known as Konjac root extract, this ingredient fills your stomach to boost feelings of fullness and stop hunger cravings[1]. The creators know it's not easy to stop feeling hungry when reducing calories, but the Hourglass Fit formula makes it attainable with a whopping 3g of Glucomannan in every serving. This isn't something you'll find in competitor products.
Cayenne Pepper (Capsimax®)
This extract is taken from chili peppers which are known to have some natural properties for raising metabolism and burning fat[2]. By including natural, active nutrients that work in harmony with your healthy lifestyle, you'll burn more calories and see results.
The 100mg daily dose included in Hourglass Fit delivers a thermogenic boost, raising body temperature, enabling you to burn more calories than you normally would and burn fat even while you're sleeping.
Chromium
This trace mineral works to normalize blood sugar levels, which can help to reduce cravings and provide a block against snacking and overeating[3]. Snacking less leads to better fat loss results as you can stick to your calorie deficit easier.
5- HTP
Powerful amino acid 5-HTP works to boost serotonin which plays a role in regulating appetite and mood[4]. It's thought to counteract hunger-inducing hormones, helping you control your calorie intake and ultimately lose weight. We all know how debilitating reducing your calories can be, so a natural mood lifter is a welcome addition.
Vitamins B2, B6 and B12
B vitamins like these are key for any calorie restricted diet plan. They're help to convert food into energy, keeping your metabolic processes ticking along. They'll also ensure you have a steady supply of energy flowing through your body[5] so that you can dominate those all-important workouts.
Black pepper extract
Normally included in supplements to boost the bioavailability of other ingredients, black pepper is increasingly being added to fat burners. In the Hourglass Fit formula it helps you absorb all the other ingredients and may help fight fat by blocking the formation of new fat cells[6].
Serving Size: 4 Capsules
Servings per Container: 30
Amount Per Serving
%Daily Value
Vitamin B6
1.7mg
100
Vitamin B12
2.4ug
100
Chromium
125ug
500
Zinc
8mg
100
Vitamin B2
1.1mg
100
Konjac Root Extract
3000mg
**
Cayenne Pepper Extract
100mg
**
Black Pepper Extract
5mg
**
5-HTP
150mg
**
How to take Hourglass Fit
The creators of Hourglass Fit fat burner say you should take one capsule with a glass of water four times a day. You can spread these doses out in the morning, at lunch time, in the afternoon and finally with your evening meal. Each bottle contains 120 capsules, giving you a 30-day supply.
They say, by taking four equal doses throughout the main part of the day, you're burning fat for a longer period of time and absorbing all of each dose. Make sure you are eating a good diet and getting plenty of exercise to maximize your results.
We recommend using this plan for the best results:
First capsule with breakfast
Second capsule with lunch
Third capsule with a mid-afternoon snack
Fourth capsule with your evening meal.
Benefits of Hourglass Fit
Target stubborn fat and tone up
The thermogenic blend in Hourglass Fit works to burn stubborn fat, especially around the waist, and helps to uncover the defined muscle underneath. Alongside a consistent exercise regime, you should be able to achieve results you can see.
Block hunger and food cravings
You get absolute hunger control with the 3,000mg dose of glucomannan. This is more than you'll find in competitor products, making Hourglass Fit potentially one of the most powerful appetite suppressing formulas available on the market. Sticking to your required calories is made easier with Hourglass Fit.
Cutting calories and staying active is no easy feat. That's why Hourglass Fit incorporates the mood-boosting element of 5-HTP. This amino acid is a natural precursor to serotonin, a brain chemical that works to offset hunger-inducing hormones and helps to raise the production of 'feel-good' chemicals in the body.
The Hourglass Fit formula is completely stimulant-free with no caffeine. Compared to other fat burners, which are packed with stimulants, this means no nasty crashes or energy slumps.
What do people say about Hourglass Fit?
Hourglass Fit has been very well received since coming to market and is very popular with women who like to stay fit.
Looking online, there are multiple positive testimonials praising Hourglass Fit for its ability to help them cut weight without any jitters. We found some great product reviews on Amazon and the official website.
Hourglassfit.com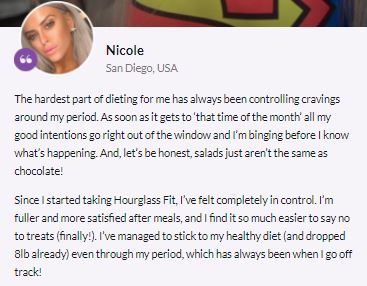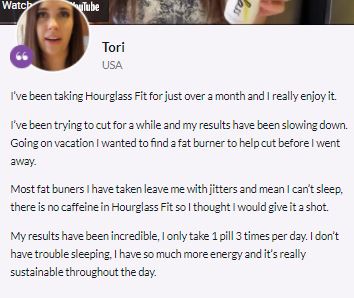 Amazon.com


The stim-free formula is loved by thousands of women worldwide, including Hollywood star, Rachel Swindler who claims it's been instrumental in controlling her hunger cravings.
How to get the best out of Hourglass Fit
The creators advise taking this supplement consistently every day to get the best results. There's no need to cycle this supplement.
These are our top tips to get the best out of this supplement:
Take consistently and daily
Use alongside a healthy, balanced diet and exercise routine
Take with meals to increase ingredient absorption
Drink lots of water and eat a high-protein diet
Incorporate more strength training to boost muscle building and calorie burn
Where to buy Hourglass Fit
You can purchase Hourglass Fit on the official website with prices starting from $55. They also offer bundle-buy options which could work out cheaper. This includes a four-month supply (480 capsules) where you pay for 3 bottles and get one free as well as free worldwide shipping for just $165.
What's more, you can currently get FREE shipping on ALL bundles to the UK and US.
Anything else to know about Hourglass Fit fat burner?
Hourglass Fit has undergone recent formulation updates, with more glucomannan added and stimulants such as guarana and green tea extract removed. It's also now a completely vegan friendly formula.
It's completely stim-free and made with vegan friendly capsules – both things that help it stand out.
One bottle now also provides 120 capsules (rather than the previous 90 pills) – this is a one-month supply if you follow the recommended doses.
Hourglass Fit fat burner summary
That sums up our Hourglass Fit review. If you're looking for a gentle and effective way to kickstart your fat loss, Hourglass Fit is a great, high-quality choice. It caters for vegans and those sensitive to stimulants too – it's not just for women! While it might be developed with the female body in mind, there's no reason why this fat burner won't be just as effective for men.
We think it is one of the best vegan supplements available, working to help you achieve your best physique without any harmful stimulants or chemicals.
The formula caters for every aspect of the weight loss process, offering support all day and night. It should do a fantastic job containing your appetite, lifting mood and helping increase calorie burn. It's also transparent, proprietary-free and each bottle made in the USA and UK in FDA-approved facilities that meet Good Manufacturing Practices regulations.
Used alongside a healthy diet and regular exercise, Hourglass Fit should help turn fat loss failure into huge weight loss success. Its philosophy is refreshing, delivering the research-backed nutrients you need to achieve a toned, fit physique.
Order your supply today:
Discover more about the best fat burners on the market right now with our best list review here.
Fat burners: FAQs
Who would use a fat burner?
For many people, a fat burner may be a missing link they need to complete their weight loss goals and achieve the physique they want. Athletes or fighters cutting before a weigh-in would turn to a fat burner to help refine their bodies and rule their sport.
Whether you want to shift those last few pounds or gain the energy you need to rule a workout, fat burners may enhance your fat loss efforts to get results faster. However, they'll only work if a proper diet and exercise plan is in place.
The role of a fat burner is to support your exercise and nutrition – it should boost energy levels, decrease appetite and help support your body's natural ability to burn fat. This can be a common misconception about fat burning supplements, but the key word is 'supplement'. They're not a quick fix pill that 'burn off fat', but they supplement burning off fat.
Are fat burners safe?
Generally, natural fat burners are typically safe. However, lower-quality and synthetic products on the market that are not.
When looking to use a fat burner, try to choose one with a completely natural formula that contains well-researched, tested ingredients and is also free from a proprietary blend. If a fat burner has the correct and relevant supporting science, it's more likely to be effective.
When it comes to choosing your fat burner, the main matters to be mindful of are over-serving caffeine, synthetic ingredients and proprietary blends. For a fat burner to be a useful purchase, it needs ingredient servings supported by scientific studies. Any less or more is an indication of a poorly-balanced product, with not much thought behind it
Do fat burners cause side effects?
On the whole, fat burners are considered safe because of their natural ingredients profile. If they're made by a reputable brand and use well-researched doses, the chances of adverse effects are minuscule.
However, it's not uncommon for some of their ingredients to cause adverse effects in individuals, especially if they have an intolerance to them. The ingredients we mean include ones like caffeine and green tea extract – strong stimulants which can affect your energy levels and lead to changes in sleeping patterns or insomnia. Too much caffeine might also cause you to experience stomach upsets, headaches, and nausea.
The best way to avoid any side effects from your fat burner is to follow the manufacturer's directions carefully and consistently. If you're sensitive to ingredients like caffeine you should opt for a stimulant free fat burner.
What ingredients are common in fat burners?
These are some of the best ingredients to look out for when purchasing a fat burning supplement.
Glucomannan
Known as Konjac root, glucomannan is a soluble dietary fiber which absorbs water to fill the stomach and promote satiation[7]. It's a proven appetite suppressant which is popular among fat burners. It's also been recognized by the FDA as a powerful appetite suppressant[8].
Cayenne pepper
Containing thermogenic compound capsaicin, cayenne is known for boosting your metabolism and igniting calorie burn[9]. It works to raise body temperature, making the body work harder to regulate back to baseline levels.
Caffeine
Caffeine is one of few ingredients that works to boost the metabolic rate for better calorie burn[10] [11]. The higher your metabolic rate, the easier it is to burn calories and lose weight. Caffeine is also a stimulant, meaning it can provide you a burst of energy and better focus[12].
Black pepper extract
Included in supplements to boost the bioavailability of other ingredients, black pepper is also a thermogenic. Studies suggest that black pepper (piperine) may help fight fat by blocking the formation of new fat cells[13].
[
Disclaimer:
  The information on this site has not been evaluated by the FDA. The products on this page are not intended to diagnose, treat, cure or prevent any disease. Results in description and Testimonials may not be typical results and individual results may vary. We may earn commission if you click the links and buy the products featured on this page.]