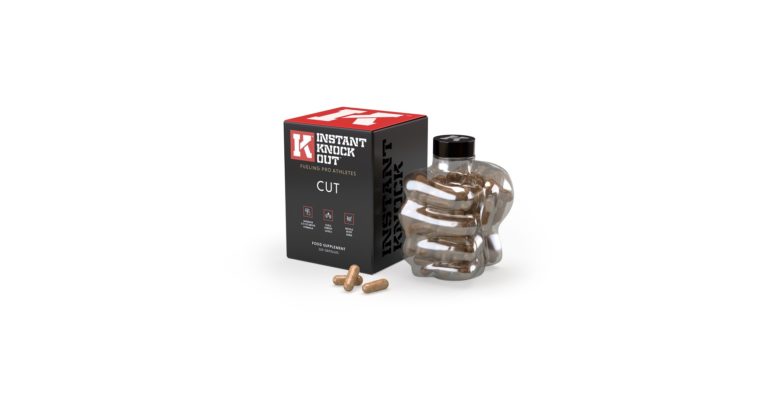 Discover if this fat burner can really knockout body fat without sacrificing muscle
Introducing Instant Knockout Cut
A now established figure on the fat burner market, Instant Knockout Cut has consistently solidified its position as a standout supplement. Over the past few years it's surpassed its original status as an aid for fighters only, becoming a popular choice among fitness enthusiasts and athletes alike.
But, does it actually deliver the knockout fat burning benefits it promises?
Through this in-depth review we'll find out.
Our team of researchers will break down every aspect of this product. They'll inspect its integrity from all angles, building a comprehensive profile of effectiveness, safety and reliability in the process. By the end of this review we will hold an all-encompassing understanding of exactly how Instant Knockout Cut works, it's overall level of potential, and whether it's good value for money.
No stone will be left unturned, nor any fact unchecked.
On first inspection, it's evident that Roar Ambition aspire to deliver premium quality. A fist shaped bottle filled with bright red pills immediately shows an intense, razor-sharp attention to detail. The packaging is high-quality and feels confident and powerful. First impressions evidently matter to Roar Ambition, who've certainly created a product that stands out from the competition.
Instant Knockout's bold, aggressive name and packaging makes perfect sense when you discover its lineage. Unlike many across-the-board, unfocused fat burners, this supplement was engineered specifically for fighters. Its formula was developed exclusively to meet the needs of elite MMA athletes, looking to lose weight for competition without risking indispensable muscle.
Today though, Instant Knockout CUT claims to meet the fat burning needs of all men and women. While it may still be used by high-performance athletes, an intelligent ingredient profile alongside relative affordability and scientifically-supported servings make this an accessible supplement for many.
All promises aside – surface level insights do not influence our reviews. To find out the true potential of Instant Knockout Cut we must delve deeper. For that to happen, our team will pull apart the product to cross-examine and assess its ingredient formula against recent, cutting-edge research.
Our experienced team only draw insights from reputable, scientific sources, which can be checked in the reference section. This allows us to establish a level of unbiased reviewing we pride ourselves on.
Once performance is established, it's imperative we confirm safety. The supplement ingredient profile will offer an insight into how well-served each element is, and how safe too. For any high-caliber fat burner, we expect to see all-natural ingredient choices, completely free from proprietary blends. Only after thorough inspection can we give a verdict of potential safety.
Finally, we find out if Instant Knockout Cut is actually worth your cash. This knowledge is achieved by aligning potential fat burning performance and safety, alongside monetary cost. For example, a high-performing, premium supplement with a price-tag that reflects that effectiveness is still considered better value than a mid-priced, lower-quality substitute.
Read on to discover if this supplement really delivers a powerful fat burning combination in this Instant Knockout Cut review.
Table of Contents
Introducing Instant Knockout
Instant Knockout Benefits
Is Instant Knockout safe?
Instant Knockout ingredients
How to take Instant Knockout
How much is Instant Knockout?
The verdict

Instant Knockout Cut benefits
Instant Knockout Cut's primary objective, as with all fat burners, is to change your body composition. The result should be lower body fat in relation to muscle mass, which may also be accompanied by weight loss.
As a premium fat burner, this supplement should support a fat loss journey by providing energy alongside noticeable reductions in appetite. After review, Instant Knockout Cut is undeniably on target.
Raised metabolic rate
No high-quality fat burner is complete without an element of increased metabolism. Simply put – you burn more calories than you would without it.
Instant Knockout Cut should achieve this by utilizing numerous research-backed thermogenic compounds [1]. Alongside, the inclusion of sunshine vitamin D3 provides even more of an opportunity to target stubborn fat by blocking the production of fat cells and suppressing lipid storage [16].
Together, these integral ingredients combine to create a complete fat-loss support complex, resulting in higher calorie expenditure and less body fat. Together, these integral ingredients combine to create a complete fat-loss support complex, resulting in higher calorie expenditure.
Energy support  
One side effect of a calorie restricted fat loss diet is a lack of energy. Therefore, it is integral that a reputable fat burner provides an additional boost to help combat fatigue.
By including the likes of caffeine through two pathways in safe, crash-free servings, Instant Knockout Cut may provide a vital lift. Whereas many lesser-quality substitutes overuse caffeine, this premium product favors exclusively well-researched servings, delivered via the additional avenue of green tea. The added L-theanine works well with caffeine to deliver a clean lift, with improved alertness, drive and energy [17] while beating off negative side effects like 'jitters'.
Ultimately, users should feel the energy to take on their fat-loss workouts, while enjoying mental focus and clarity in the workplace [2] [3].
Appetite management
The only way anybody can successfully burn fat is to achieve a calorie deficit [4]. Energy expended throughout the day must outweigh that taken on by food.
Consequently, caving in to cravings and overeating can sabotage your goals, doing damage that no supplement can undo.
Instant Knockout Cut clearly understand this underestimated pitfall, so have added the expanding fiber glucomannan to their formula. Once ingested this should help curb appetite by creating feelings of fullness.
Support muscle maintenance
Fat burners can often focus too heavily on cutting pounds, often at the cost of body composition. This shallow, low-quality approach usually results in physical repercussions, including muscle wastage.
However, Instant Knockout Cut have accounted for the potential unwanted side-effects of this practice. They instead forward plan to protect your physique by supplying vital vitamins and muscle maintaining minerals.
Mood boosting
Cut's fat fighting formula aims to make the weight loss process that little bit easier and with added mood boosting elements, you should find yourself with better motivation and drive to succeed. With vitamin D3 in the mix, your serotonin levels are increased, warding off low mood and keeping you on track [18]. Alongside, L-theanine's stress-fighting abilities help to reduce anxiety and insomnia significantly [19].
Check Best Price for Instant Knockout Cut
---
Is Instant Knockout Cut safe?
When we inspect a supplement's ingredient profile, we immediately look for two things. Firstly, we want to find safe ingredients accompanied by risk-free serving sizes. Then, if we can determine safety, we progress to decide potential effectiveness.
After careful review we found that Instant Knockout Cut should be safe. Its all-natural formula shows intelligent ingredient selection, which should pose no threat to users. Informed serving sizes were also discovered without over- or under-utilized components. The capsules are also completely vegan-friendly, which makes Instant Knockout Cut accessible for all.
As with many fat burners, Instant Knockout Cut contains the potent stimulant caffeine. When used appropriately, this caffeine could positively impact performance in the gym, within the workplace, and even provides metabolic boosting effects [5]. We found the suggested serving size within this fat burner should be both safe and effective.
Creating a clean, no-gimmick formula is how Instant Knockout Cut prove their reputable status. By staying free from proprietary blends, they offer a high-degree of clear-cut transparency, which bolsters their overall safety score.
Each ingredient is displayed directly on the bottle and carton side, meaning no potentially harmful or filler substances are hidden from view. Again, this allows us to say with confidence this supplement should be safe for consumption.

Instant Knockout Cut ingredients
Instant Knockout Cut is composed of 9 all-natural ingredients. Although not the most streamlined formula like that of Hunter Burn, each element warrants its place within the complex, showing positive signs of fat burning support. After inspection our team also found no hint of unnecessary fillers.
At first, we were skeptical about whether such an expansive profile such as this could deliver. Yet, when cross-referenced with relevant studies, we discovered every ingredient to be well-served. Additionally, Instant Knockout Cut's caffeine content sat comfortably within the range of effectiveness, without causing call for concern.
In short – Instant Knockout Cut offers one of the best ingredient profiles we've seen as reviewers.
Green tea extract
A popular bitter drink enjoyed around the world, green tea is an essential addition to Cut. According to numerous studies it can help fight fat from more than one angle.
Firstly, green tea is dense with bioactive polyphenols known as catechins, which have a positive influence on weight loss [6]. Additional studies state that it can provide thermogenic effects and increase calorie burn through caffeine content [7] [8].
In addition to raising resting metabolic rate, green tea can also influence fat burning by providing energy for exercise. The clean hit of caffeine found within this bitter leaf should help users side-step fatigue caused by calorie restriction.
Cayenne Powder
This potent pepper provides Cut with a powerful thermogenic boost. Like all chilis, cayenne contains capsaicin, a bioactive alkaloid that raises the core temperature of the body, alongside fat oxidation and metabolic rate [9].
Furthermore, additional research suggests that supplementing with capsaicin can bring about positive changes to blood-sugar management systems. When used in this way, the thermogenic compound may help fat loss by influencing the way your body utilizes carbohydrates [10].
To bolster the benefits of cayenne powder, scientists say it can also improve satiety. Therefore, the inclusion of this capsaicin-rich compound could be considered another appetite controller provided by Cut [11].
Glucomannan
Unlike other ingredients which might directly impact fat burning, glucomannan takes a different path. Instead, this natural fiber of the konjac plant expands slightly while in the stomach, which should create a sense of fullness.
According to Instant Knockout Cut, this complex carbohydrate has a beta-D glucose and beta-D-mannose structure, meaning it cannot be digested. Therefore, in theory, glucomannan can help to improve satiety, without adding to your daily calorie intake.
Research has shown that glucomannan alone can support better weight loss [12]. By combining the sensation of satisfied hunger with Cut's thermogenic properties, you may experience faster fat loss.
Caffeine Anhydrous
Instant Knockout Cut should assist you throughout the day with a consistent stream of energy. One of the most valuable players in this game is caffeine anhydrous – an ingredient supplied at a powerful, yet appropriate 350 mg.
Backing up the energizing efforts of green tea, this form of caffeine is one step ahead. According to the International Society of Sports Nutrition, caffeine anhydrous overtakes the likes of tea and coffee in terms of ergonomic effects. The ISSN's research suggests it's especially advantageous for both maximal endurance and high-intensity sports [13], therefore, it could be beneficial for your bouts of fat burning exercise.
Furthermore, caffeine is a powerful psychoactive compound commonly utilized across the globe. Including it within Instant Knockout Cut's mix may help you remain focused and experience a cognitive boost, especially when calorie intake is low [14].
Finally, caffeine is a known thermogenic [15]. This metabolic raising effect adds another powerful punch to Cut's high fat burning potential.
L-Theanine
When combined with caffeine, L-theanine works to smooth out any energy crashes and block the jitters. This results in a clean energy lift, which should keep you energized all day. The amino acid is commonly found in green and black tea and is thought to help promote a calming, relaxing response in humans. It's also known for improving sleep quality, so you can feel well rested and ready to push your body to its maximum the next day [20].
| Serving Size: 4 Capsules - Servings Per Container: 30 | Amount Per Serving | % EU NRV |
| --- | --- | --- |
| Vitamin B6 (as pyridoxine HCI) | 5 mg | 250 |
| Vitamin B12 (as cyanocobalamin) | 10 mcg | 166 |
| Vitamin D3 | 45mcg | 225 |
| L-Theanine | 100mg | ** |
| Green Tea Extract (leaf) | 500 mcg | ** |
| Cayenne Powder (fruit) | 100 mg | ** |
| Glucomannan (konjac root) | 1800 mg | ** |
| Caffeine Anhydrous | 300 mg | ** |
| Black Pepper Extract (standardized to 95% PE) | 10 mg | ** |
| | | ** Daily value not established |
How to take Instant Knockout Cut
Effective fat loss is a process that requires weeks to months of dedication. Regardless of how hard you diet or what supplements you take, it doesn't happen immediately.
First, you must be in a calorie deficit, so your body turns to its fat stores for energy. Next, by exercising, you can increase your total daily energy expenditure, meaning the demands for these reserves is higher. Finally, by consistently supplementing with a fat burner like Instant Knockout Cut, you can positively influence both calorie burning and appetite, alongside supporting your body with healthy vitamins and minerals.
Planning how and when to take Instant Knockout Cut is important for unlocking its many potential benefits. For example, the appetite controlling compound found within it can help stop overeating, which is why this fat burner should be taken around meal times.
One daily distribution of Cut to four capsules. However, rather than taking them all together, this amount is split into four servings.
To experience the true potential of Instant Knockout Cut we recommend:
Take one capsule immediately after waking, before breakfast

The second between breakfast and lunch

Your third serving one-hour after lunch

A final capsule 60-minutes before dinner
According to the manufacturer, it's also important to drink a full glass of water with each serving. Not only will this help your body digest each ingredient, but it'll allow the appetite suppressing glucomannan to expand. This should work to keep cravings at bay and stop overeating.
Instant Knockout Cut suggest you take your final capsules at least five hours before bed. This will ensure there's adequate time for the caffeine content to be processed without it impacting sleep. If you're sensitive to caffeine, we recommend you extend this time period, as well as reducing your daily intake.
To establish a level of safety do not take more than the recommended amount of this product. Failure to comply to manufacturer guidelines may negatively impact your health.
Instant Knockout Cut in Action
How much is Instant Knockout Cut?
One fist-shaped bottle of Instant Knockout Cut contains 180 capsules, which amounts to a 30-day supply.
Each bottle of Instant Knockout costs: $59/ £35
If you decide to take Cut consistently you can also access a multi-buy deal. When three containers are purchased in one transaction, a fourth month-long supply is included for free.
Customers who make the most of this offer can also have their order shipped worldwide at no cost.
This exclusive offer could save Instant Knockout Cut users substantial cash in the long-term. However, as a premium product, the fat burner is only available direct from the manufacturer.

The verdict
Surpassing its combat sport roots, Instant Knockout Cut stands out as a truly accessible fat burner. Our team found an impressively potent, all-natural ingredient formula, combined with scientifically-supported servings. In short – this supplement hit every mark for quality, safety, and effectiveness.
At first, we were intrigued by Cut's ingredient choice. With so many fat burners overfilled with unnecessary add-ons, we needed to know exactly how justifiable 10 ingredients are. Upon inspection, our team found nothing but reputable, research-backed fat burning ingredients.
Instant Knockout Cut also showed itself to be completely free-from dangerous proprietary blends. This, teamed with a complete display of transparency, solidified this supplement's mark of safety.
Another key aspect that overshadowed Instant Knockout Cut's competitors was suggested servings. We found this supplement to be excellently distributed, not only in individual capsules, but recommended daily intake too. This certainly helped Instant Knockout Cut score highly on potential effectiveness.
Finally, no review is complete without the consideration of cost. Our initial response to price was that Instant Knockout Cut clearly sits in the higher bracket. However, after such an impressive performance for potential safety and effectiveness, we found the manufacturer's request to be fair.
Although pricier, Instant Knockout Cut's premium quality does make it good value for money. We would not hesitate to recommend this fat burner over a cheaper, lower-tier and potentially less effective substitute.
If you're searching for a premium fat burner to accelerate your body goals, you might have found it. Instant Knockout Cut is our number one supplement on the market today.
Pros
Potent, all-natural ingredients
Vegan friendly
Research-backed formula
Optimized serving sizes
Intelligent daily distribution
Testimonials from both athletes and regular people
Multi-buy bundle offers
Free shipping deal
Outstanding positive reviews online
Cons
Our score: 5/5
*Individual results may vary. Please speak with your doctor or physician before undertaking any new weight reduction, supplement, or exercise regime.
---
 References
Campbell BI, Zito G, Colquhoun R, et al. The effects of a single-dose thermogenic supplement on resting metabolic rate and hemodynamic variables in healthy females–a randomized, double-blind, placebo-controlled, cross-over trial. J Int Soc Sports Nutr. 2016;13:13. Published 2016 Mar 31. doi:10.1186/s12970-016-0123-1
Cappelletti S, Piacentino D, Sani G, Aromatario M. Caffeine: cognitive and physical performance enhancer or psychoactive drug?. Curr Neuropharmacol. 2015;13(1):71-88.
BELL D, MCLELLAN T. Effect of Repeated Caffeine Ingestion on Repeated Exhaustive Exercise Endurance. Medicine & Science in Sports & Exercise. 2003;35(8):1348-1354. doi:10.1249/01.mss.0000079071.92647.f2
Davoodi SH, Ajami M, Ayatollahi SA, Dowlatshahi K, Javedan G, Pazoki-Toroudi HR. Calorie shifting diet versus calorie restriction diet: a comparative clinical trial study. Int J Prev Med. 2014;5(4):447-56.
Harpaz E, Tamir S, Weinstein A, Weinstein Y. The effect of caffeine on energy balance. J Basic Clin Physiol Pharmacol. 2017;28(1):1-10. doi:10.1515/jbcpp-2016-0090
Hursel R, Viechtbauer W, Westerterp-Plantenga M. Effects of green tea on weight loss and weight maintenance. A meta-analysis. Appetite. 2009;52(3):838. doi:10.1016/j.appet.2009.04.099
Dulloo A, Duret C, Rohrer D et al. Efficacy of a green tea extract rich in catechin polyphenols and caffeine in increasing 24-h energy expenditure and fat oxidation in humans. Am J Clin Nutr. 1999;70(6):1040-1045. doi:10.1093/ajcn/70.6.1040
Dulloo A, Seydoux J, Girardier L, Chantre P, Vandermander J. Green tea and thermogenesis: interactions between catechin-polyphenols, caffeine and sympathetic activity. Int J Obes. 2000;24(2):252-258. doi:10.1038/sj.ijo.0801101
Ludy, MJ et al. The effects of capsaicin and capsiate on energy balance: critical review and meta-analyses of studies in humans. Chem Senses. 2012
Ahuja K, Robertson I, Geraghty D, Ball M. Effects of chili consumption on postprandial glucose, insulin, and energy metabolism. Am J Clin Nutr. 2006;84(1):63-69. doi:10.1093/ajcn/84.1.63
Janssens P, et al. Capsaicin increases sensation of fullness in energy balance, and decreases desire to eat after dinner in negative energy balance. Appetite. 2014
Keithley, J et al. Glucommanan and obesity: a critical review. Altern Ther Health Med. 2005; 11(6): 30-4
Keijzers, GB et al. Caffeine can decrease insulin sensitivity in humans. Diabetes Care. 2002; 25(2): 364-9
Cappelletti S, Piacentino D, Sani G, Aromatario M. Caffeine: cognitive and physical performance enhancer or psychoactive drug?. Curr Neuropharmacol. 2015;13(1):71-88.
Astrup A, Toubro S, Cannon S, Hein P, Breum L, Madsen J. Caffeine: a double-blind, placebo-controlled study of its thermogenic, metabolic, and cardiovascular effects in healthy volunteers. Am J Clin Nutr. 1990;51(5):759-767. doi:10.1093/ajcn/51.5.759
Chang E, Kim Y. Vitamin D decreases adipocyte lipid storage and increases NAD-SIRT1 pathway in 3T3-L1 adipocytes. Nutrition. 2016;32(6):702-708. doi:10.1016/j.nut.2015.12.032
Giesbrecht T, Rycroft JA, Rowson MJ, De Bruin EA. The combination of L-theanine and caffeine improves cognitive performance and increases subjective alertness. Nutr Neurosci. 2010;13(6):283-290. doi:10.1179/147683010X12611460764840
Sabir MS, Haussler MR, Mallick S, et al. Optimal vitamin D spurs serotonin: 1,25-dihydroxyvitamin D represses serotonin reuptake transport (SERT) and degradation (MAO-A) gene expression in cultured rat serotonergic neuronal cell lines. Genes Nutr. 2018;13:19. Published 2018 Jul 11. doi:10.1186/s12263-018-0605-7
Ritsner MS, Miodownik C, Ratner Y, Shleifer T, Mar M, Pintov L, Lerner V. L-theanine relieves positive, activation, and anxiety symptoms in patients with schizophrenia and schizoaffective disorder: an 8-week, randomized, double-blind, placebo-controlled, 2-center study. J Clin Psychiatry. 2011 Jan;72(1):34-42. doi: 10.4088/JCP.09m05324gre. Epub 2010 Nov 30. PMID: 21208586.
Lyon MR, Kapoor MP, Juneja LR. The effects of L-theanine (Suntheanine®) on objective sleep quality in boys with attention deficit hyperactivity disorder (ADHD): a randomized, double-blind, placebo-controlled clinical trial. Altern Med Rev. 2011 Dec;16(4):348-54. PMID: 22214254.
More reviews you might like: 
---
Disclaimer:  The information on this site has not been evaluated by the FDA. The products on this page are not intended to diagnose, treat, cure or prevent any disease. Results in description and Testimonials may not be typical results and individual results may vary. We may earn commission if you click the links and buy the products featured on this page.