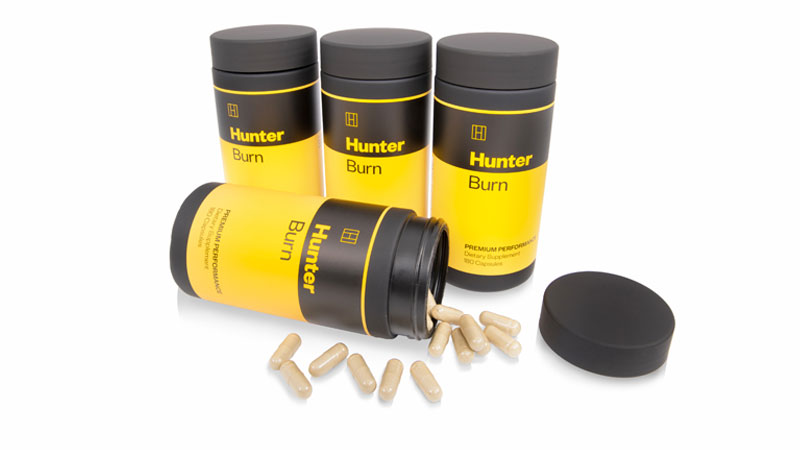 Find out if that fat burner can actually help you lose weight and maintain muscle in our Hunter Burn review
Introducing Burn by Hunter Evolve
Fresh-faced and coming in swinging, Burn by Hunter Evolve is a new addition to the fat burner market. With claims of 'premium performance' and a big focus on quality over quantity, this formula is doing its best to set itself apart from the competition.
We'll be the judge of that.
At SpotMeBro.com, we'll perform an in-depth review of this supplement to give you a comprehensive overview of how effective the formula is and whether it's worth your money.
What is Burn by Hunter Evolve?
Developed with some of the best ingredients on the market, Burn by Hunter Evolve is a premium fat burner designed to help kickstart your metabolism, burn more fat and retain muscle mass. It claims to help you get results faster because of its higher dosed ingredient profile.
From the off, we can tell quality means a lot to the creators of Burn. The container is sleek, modern and sharp. It really stands out when you compare it to the shelf-filler fat burners that saturate this area of supplementation.
They've designed this product to cater to the high-flying affluent men out there, who'll settle from nothing less than the best. It claims to burn fat, without losing the muscle you've worked hard for in the gym. We like these intentions, but we know the truth of how well it can perform comes down to the ingredients label.
We've spent a lot of time reviewing fat burner supplements, but none that offer quite as many benefits as this. The results Hunter Burn boasts could make it a front runner in its category if it can deliver. But after looking at the ingredients profile, we want to know how it does all this without a key staple of the fat burner market – caffeine.
Once we've dissected every piece of research relating to these ingredients, we can also get a good idea of how safe and reliable this product is for the user. This is an essential part of the review process, as we pride ourselves on recommending only the most trustworthy supplements, that won't have any detrimental effects on your health.
When we know how it performs, both in terms of burning fat and safety, we can establish whether or not Hunter Burn is really worth your money.
We do this by comparing the findings from our review with the cost of Hunter Burn. This allows us to find out if you really get what you pay for from this supplement. For example, if it's a quality product, at a high price that delivers the intensified fat loss we're looking for, it's better value for money than a cheaper product that does nothing.
Here at SpotMeBro.com, we've spent years immersed in the supplements industry, and we're experts in our field. We know what it takes to create a truly effective fat burner, and what to avoid. From dosages to the ingredients used, our knowledge and experience gives us unique insight, that we use to bring you the most comprehensive reviews.
Read our Hunter Burn review and find out whether this supplement can really boost your fat loss results.

Hunter Burn Review
What is Burn by Hunter Evolve?

Burn by Hunter Evolve Pros and Cons

Who makes Burn by Hunter Evolve?

How does Burn by Hunter Evolve work?

What can you expect from Burn by Hunter Evolve?

Burn by Hunter Evolve ingredients
How to take Burn by Hunter Evolve

What are the benefits of Burn by Hunter Evolve?

What do people say about Burn by Hunter Evolve?

Is Hunter Burn safe?

How to get the best out of Burn by Hunter Evolve

Where to buy Burn by Hunter Evolve
Anything else to know about Burn by Hunter Evolve?
Verdict
Final score
Burn by Hunter Evolve Pros and Cons
Pros
Burns fat and retains muscle
Huge doses for faster results – 6 capsules a day
Most stacked formula that we've ever seen
Heightens results of healthy, active lifestyle
No risk of side effects
Natural formula
High-grade ingredients
 Cons
Premium price
Only available online
Who makes Burn by Hunter Evolve?
Burn by Hunter Evolve is a fat burner created by Roar Ambition, a UK and US based specialist supplement company that develops some of the best products on the market. The company has been around since 2014 and has developed several popular products, notably, famous fat burner Instant Knockout Cut and market-leading T- booster TestoFuel, amongst others.
One thing we can all appreciate about Roar Ambition is that the company manufactures all its supplements in FDA and cGMP approved facilities, confirming their safety and effectiveness.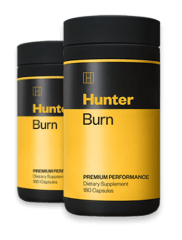 How does Burn by Hunter Evolve work?
Hunter Burn is packed with powerful thermogenics, appetite suppressants and vitamins to promote better fat burning and improve the way you look. The clinically-dosed, high-grade formula works to:
Block hunger – with a powerhouse of  potent appetite suppressing ingredients like glucomannan to help you suppress hunger and feel fuller
Boost energy and motivation levels – Burn combines the ingredients vitamin D and L-theanine to promote  sustained energy so you can smash your targets in the gym
Fire up calorie burn – packed with nature's most powerful thermogenic ingredients, like cayenne pepper and matcha green tea, Burn works to ignite calorie burn by speeding up your metabolism
What can you expect from Burn by Hunter Evolve?
Alongside your healthy diet and regular training regime, Hunter Burn should elevate your efforts and help you get the fat loss results you want, faster. It promises to make the fat loss process easier by curbing hunger, raising energy levels, maintaining muscle mass and boosting calorie burn.
This should all bring excellent physique benefits, help you get there faster, grow your confidence and transform the way others see you.
Burn by Hunter Evolve ingredients
The Burn formula uses only six, very powerful ingredients served over six capsules a day. Each of these elements is completely natural, supported by scientific research and proven to reinforce your fat loss efforts in a number of different ways.
The use of so few ingredients over so many capsules is a huge plus for us. It means Hunter Burn has more room at their disposal and as a consequence, they offer some of the best dosages we've ever seen in a fat burner.
Vitamin D3
As a regular ingredient in almost every multivitamin, there's plenty of research supporting the health benefits of supplementing with vitamin D3.
In terms of fat loss, it's been proven to boost testosterone [1], which has been shown to positively impact body composition. However, fresh research has linked it to fat loss and has shown that men with higher levels of D3 are more likely to lose weight with exercise [2].
Hunter Burn has a very generous 3000 IU of vitamin D3, which provides 750% of your daily recommended intake.
Konjac root extract
Commonly known as glucomannan, this is a very common and effective appetite suppressant. It's a soluble fiber derived from the root of the konjac tree and when it hits your stomach, it turns into a gel that swells and makes you feel fuller [3].
Within Hunter Burn, we found the highest dosage of konjac root we've ever seen in a supplement, at a 90% standardized amount. This is important as, by supplementing your diet with such a powerful appetite suppressant, you can gain control of portion sizes, reduce your overall calories and even say no to snacks and treats. It supports your progress by helping you stick to your diet.
White kidney bean
This is another extremely intelligent addition to the Hunter Burn formula. If the konjac root doesn't stop you reaching for a snack on a rare occasion, the white kidney bean comes into play.
Scientific research has identified it as a dietary carbohydrate blocker. This means it provides a barrier against carbohydrates and stops your body from absorbing too many calories and reduces the potential for weight gain [4].
L-theanine
A common occurrence in nootropics and pre-workouts, this ingredient offers a little mental support that can help you to stick to your diet plan. It promotes a feeling of relaxed alertness [5], that can help to firm up your resolve on a restricted-calorie diet.
Scientific research has also linked high levels of l-theanine with lower fat cells within the body, making it a valuable addition to the formula [6].
Matcha green tea
Green tea is a powerhouse ingredient in the world of fat loss supplementation, and matcha tea has been proven to provide three times the power of other, more common strains [7].
The catechins within this ingredient have been proven to induce a state of thermogenesis, which raises your body temperature slightly, forcing your body to burn more calories to return to normal.
There have been studies that claim green tea can elevate the rate at which calories are burned by up to 35% [8], making it a must for every top-shelf fat burner.
Cayenne pepper
This is another potent thermogenic ingredient. It's packed with capsaicin, which gives the pepper it's flavor, but also is the compound behind fat loss [9].
Hunter Burn contains a generous 125mg of cayenne pepper which, combined with the matcha green tea, will help to raise your metabolism and help you burn more calories in general.
| Ingredients | Amount per serving |
| --- | --- |
| Vitamin D3 | 3000IU |
| Konjac Root Extract | 3000mg |
| White Kidney Bean | 500mg |
| L-Theanine | 200mg |
| Matcha Green Tea | 200mg |
| Cayenne Pepper | 125mg |
How to take Hunter Burn
Fat loss isn't an overnight job, unfortunately. All the science points to regular and consistent supplementation to really reap the rewards from the majority of these ingredients.
On top of that, to get the best out of a fat burner containing an appetite suppressant, you need to plan your intake around meals.
One daily serving equates to six capsules. This means taking two capsules, three times a day with a large glass of water.
To really get the most out of this supplement we suggest taking them at the following times:
First two capsules 30 minutes before breakfast
Second two capsules 30 minutes before lunch
Third two capsules 30 minutes before evening meal
By taking your capsules before your meal times, you'll give the appetite suppressant time to expand in your stomach, which helps to stick to smaller portion sizes, and stop you from snacking when you're at your most hungry.
For safety and effectiveness, don't take more than the recommended servings.
What are the benefits of taking Burn by Hunter Evolve?
The end goal with Hunter Burn, as with every other fat burner, is weight loss and improved body ratio. However, after review, we found this product to be one of the most intelligent of its kind. It offers a full fat loss support complex, that aids your progress in a number of complementary ways.
Elevated metabolism
Every good fat burner should contribute to increasing your metabolism. Hunter Burn uses a complex of several thermogenic ingredients to boost your metabolic rate and help you burn more calories than you normally would.
Appetite control
This is where Hunter Burn gets really interesting. This fat burner offers generous portions of natural appetite suppressants, that help you feel fuller. With this in the mix, you can take control of portion sizes and reduce the likelihood of snacking. This addition puts you firmly in the driving seat.
Damage control
You're just a mere mortal – if you do give into temptation or cravings, Hunter Burn has an in-built damage control system. This formula contains the only known natural carb-blocker in the world, added to minimize fat storing if you do cheat on your diet.
Energy boost
Our initial concern with Hunter Burn was that there are no added stimulants in this mixture. An intelligent fat burner should bolster your energy levels, so you can hit the gym to maintain muscle and a healthy lifestyle. However, we discovered that the generous portion of the very potent matcha green tea provides a clean lift, that will keep you energized throughout the day on a calorie-restricted diet. We found this to be an effective, yet refreshing approach, as so many ill-informed supplements just overfill their capsules with the stimulant.
---
What do people say about Burn by Hunter Evolve?
Hunter Burn fat burner is popular. Since it's introduction to market, it's been a favorite for men who like to stay active and look fit.
Many users praise it for its ability to support their efforts in achieving a shredded physique. They call it the key for "everyone who is looking for that extra help they need to cut down on excess fat." Some even say it has helped them build muscle mass while cutting.
Is Hunter Burn safe?
As we review the ingredients within Hunter Burn, we were also assessing them for safety. The completely natural supplement profile, along with scientific research surrounding the dosages confirms to us that this is a completely safe supplement.
By using completely natural ingredients and avoiding proprietary blends, they've removed a lot the risk associated with supplements and created a clean formula that can be used in the long term.
There's no added caffeine in this supplement, however, the matcha green tea provides a potent portion of the stimulant. To avoid any potential side effects that can come with too much caffeine, we recommend you drink plenty of water and adjust your coffee and tea intake to accommodate for the supplement.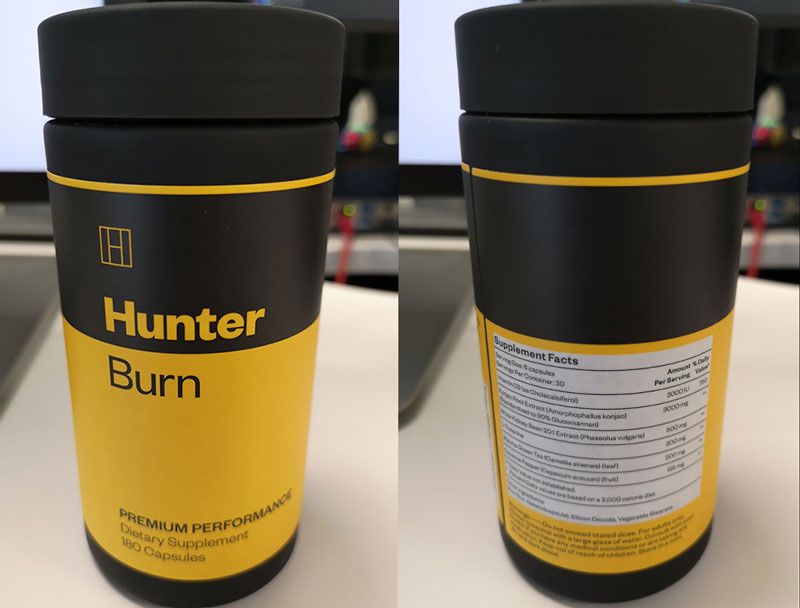 How to get the best out of Burn by Hunter Evolve
Like with all supplements, you should look to give Burn by Hunter Evolve a good chance to get to work. This, according to the creators, should be around three months. You should take it consistently and daily for the best results. By following their recommendations, you can harness the power of Burn and shed that excess weight.
Follow our top tips to get the best out of Burn:
Take every day and consistently
Use Burn for at least three months
Take it in conjunction with a healthy, balanced diet and regular workout routine
Take with food to increase ingredient absorption
Where to buy Burn by Hunter Evolve
One bottle of Hunter Burn provides 180 capsules, which is enough to last 30 days of consistent supplementation.
A container of Hunter Burn costs: $75/ £55 and is available from the official website.
There is also the option to go for a multi-buy option with Hunter Burn. The manufacturers offer a discount whereby, if you purchase three containers, you get a fourth and worldwide shipping, completely free of charge. This could save you money in the long run if you decide to go with Hunter Burn to accelerate your fat loss.
Anything else to know about Burn by Hunter Evolve?
Burn by Hunter Evolve is a luxury product, there's no denying that. With that, there is a premium price tag. We have to admit, it is one of the most expensive fat burners we've found, however it's worth it for the quality you get.
The ingredients inside the mix are all excellently dosed, backed by the right clinical evidence and effective. Better yet, Burn is developed in-house and in FDA approved facilities. The 6-capsule dose helps to differentiate it from competitors too – in fact, you won't find a dose like this anywhere else. Each bottle also contains 180 capsules – more than the standard 60-90 you get elsewhere.
The verdict
In the world of modern fat burning, an intelligent supplement that not only enhances results, but supports a diet is a rare breed. Burn by Hunter Evolve is one of these rarities.
The formula provides increased fat burning, appetite suppressants, boosted energy and even damage control. On top of this, it just happens to be the most generously dosed product we've ever seen.
As well as ticking all the boxes in terms of effectiveness, Hunter Burn is also completely safe to use for long periods of time and won't leave you with any side effects.
An area where we think Hunter Burn may be held in a negative light is the cost. After review, we can confidently say that this is a premium, unmatched product and it does align with the premium price. However, we're realistic and we know that, although the value for money is good, this may not be within everyone's price range.
Despite this, we don't think you'll find a better, more effective fat burner. With the right lifestyle, diet and attitude, Burn by Hunter Evolve could drastically improve your fat loss efforts.
 Final score
4.8 out of 5 stars
---
*Individual results may vary. Please speak with your doctor or physician before undertaking any new weight reduction, supplement, or exercise regime.
---
Fat Burners: FAQs
Who would use a fat burner?
If you're struggling to make real progress with your cut or you feel like you've hit a plateau, you might want to turn to a fat burner. They could work to fill in that gap, and help you reach your final goal.
Fat burners may also be used by athletes or fighters cutting before a weigh-in.
Whether you want to cut some stubborn fat, curb your appetite or gain the energy you need to smash your workout, fat burners may boost your fat loss efforts to get results faster. But, they'll only work alongside a proper diet and exercise plan.
Do fat burners cause side effects?
Generally, most are considered safe. Fat burners are formulated with plant-based, natural ingredients meaning they shouldn't cause side effects. However, it's important to be mindful of any over-served caffeine, artificial ingredients or proprietary blends.
Side effects aren't common, but the risk is always there, especially if you have an intolerance to any ingredients inside. We mean additions like caffeine and green tea extract, which are both stimulants that can lift energy levels but also lead to changes in sleeping patterns or insomnia. Consuming too much caffeine might also cause nausea or headaches. To avoid side effects, be sure to follow the manufacturer's directions carefully and never take more than recommended.
What ingredients are common in fat burners?
When buying a fat burner, you should look out for ingredients like glucomannan, cayenne pepper, green tea extract and black pepper extract. These ingredients are all proven for their fat fighting abilities and are all natural too. look out for these best fat burner ingredients.
References
Pilz, S. et al. Effect of vitamin D supplementation on testosterone levels in men. Horm Metab Res. 2011 Mar;43(3):223-5.
Rafiq, R. et al. Associations of different body fat deposits with serum 25-hydroxyvitamin D concentrations. Endocrine Abstracts (2018) 56 OC6.5
od.nih.gov. (2018). Office of Dietary Supplements – Dietary Supplements for Weight Loss. [online]
Barrett, M.L. and Udani, J.K. A proprietary alpha-amylase inhibitor from white bean (Phaseolus vulgaris): A review of clinical studies on weight loss and glycemic control. Nutr J. 2011; 10: 24. Published online 2011 Mar 17.
Nobre, A.C. et al. L-theanine, a natural constituent in tea, and its effect on mental state. Asia Pac J Clin Nutr. 2008;17 Suppl 1:167-8.
Zheng, G. et al. Anti-obesity effects of three major components of green tea, catechins, caffeine and theanine, in mice. In Vivo. 2004 Jan-Feb;18(1):55-62.
Weiss, D.J. and Anterton, C.R. Determination of catechins in matcha green tea by micellar electrokinetic chromatography. J Chromatogr A. 2003 Sep 5;1011(1-2):173-80.
Dulloo, A.G. et al. Efficacy of a green tea extract rich in catechin polyphenols and caffeine in increasing 24-h energy expenditure and fat oxidation in humans. Am J Clin Nutr. 1999 Dec;70(6):1040-5.
Janssens, P.L. et al. Acute effects of capsaicin on energy expenditure and fat oxidation in negative energy balance. PLoS One. 2013 Jul 2;8(7):e67786.
Disclaimer:  The information on this site has not been evaluated by the FDA. The products on this page are not intended to diagnose, treat, cure or prevent any disease. Results in description and Testimonials may not be typical results and individual results may vary. We may earn commission if you click the links and buy the products featured on this page.