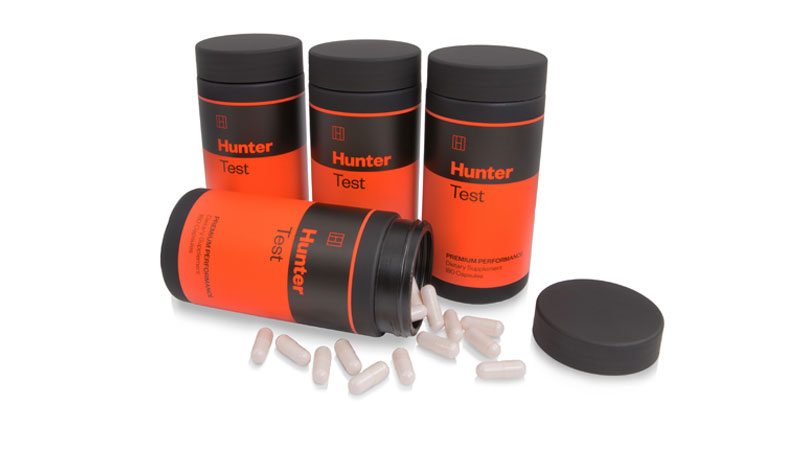 Find out why Test by Hunter Evolve might be the best testosterone booster you can buy
Meet Test By Hunter Evolve
Making a name for itself as one of the most promising new testosterone boosters on the market is the Test By Hunter Evolve.
Hunter Test claims to hold the secret to boosting testosterone, but so do a lot of products. Only a full SMB review will reveal whether or not this testosterone booster can really do what it says on the tin.
Judging by the price tag, this supplement seems to be targeting most affluent men, who're juggling a high-pressure job, a busy family life and a grueling training program. It claims to be a premium product that can deliver premium performance, however the truth of this comes down to the supplement profile.
What is Test by Hunter Evolve?
Test by Hunter Evolve is a high-grade test booster that works to heighten testosterone levels naturally. It delivers a higher dosed ingredient profile and is packed with some of the most effective testosterone boosting nutrients on the market.
Any supposed testosterone booster should help your body produce more testosterone in a natural and safe way and, from first glance at the ingredients, Hunter Test looks like it's could have what it takes.
The product has a natural formula and contains key ingredients which could improve testosterone production processes within your body. It also provides these ingredients in some of the largest servings we've seen.
On first glance, it looks like this supplement could have what it takes to deliver on effectiveness. Potent ingredients like d-aspartic acid, vitamin D3 and zinc are not only powerhouse ingredients in the world of testosterone boosters, they're also some of the most highly-researched, proven options available.
We'll look further into each one to understand what the science says about the ingredients and establish it's smart enough to really boost your testosterone levels.
This can give you a good idea of whether or not you're spending your hard-earned money on the right testosterone booster. For example, if you're looking at an expensive product, that delivers all the results we're looking for, then it's much better value than a cheap product with a bad ingredient profile.
With all this, you should have a good idea of whether you should be trying Hunter Test, or looking for something better.
Hunter Test Review
What is Test by Hunter Evolve?
Pros & Cons
Who makes Test by Hunter Evolve?
How does Test by Hunter Evolve work?
What can you expect from Test by Hunter Evolve?
Test by Hunter Evolve Ingredients
How to take Test by Hunter Evolve
What are the benefits of taking Test by Hunter Evolve?
What do people say about Test by Hunter Evolve?
Is Test by Hunter Evolve safe?
How to get the best out of Test by Hunter Evolve
Where to buy Test by Hunter Evolve
Anything else to know about Test by Hunter Evolve?
The verdict
Test by Hunter Evolve Pros and Cons
Pros
Will boost your testosterone
Improves body composition
Higher-dosed ingredient profile
Lifts mood
Enhances health
All-natural and transparent
Heightened libido
Cons
Premium price point
Only available online
Who makes Test by Hunter Evolve?
Roar Ambition are the guys behind Test by Hunter Evolve. This company is one of the most innovate supplement manufacturers on the market. Roar Ambition is renowned for creating high quality, clinically researched formulas, with an array of supplements in its catalogue, including famous fat burner Instant Knockout Cut, and market-leading T booster TestoFuel.
Roar Ambition have been bringing effective supplements to the market since 2014 and all of its products are produced in FDA and cGMP approved facilities – always great to see.
How does Test by Hunter Evolve work?
Hunter Test is packed with some of the highest quality natural T-boosters we've seen. Better yet, we're glad to see each inclusion is featured in a carefully calculated dose. This ensures an effective formula that works to:
Elevate T levels – The creators include t

he best quality ingredients

at careful doses ensure Test by Hunter Evolve delivers a powerful – yet fully natural – testosterone boost.
Heightened energy levels – Nature-based mood and energy-elevating components come together to deliver increased motivation to help you stay physically active and improve your mindset.
Improved body composition – Better test levels mean you can pack on lean muscle and even boost your metabolism for a fitter physique
Better performance – Boosting T also means better performance levels, for both work and pleasure. The natural formula work to ignite drive, delivering the desire and means to perform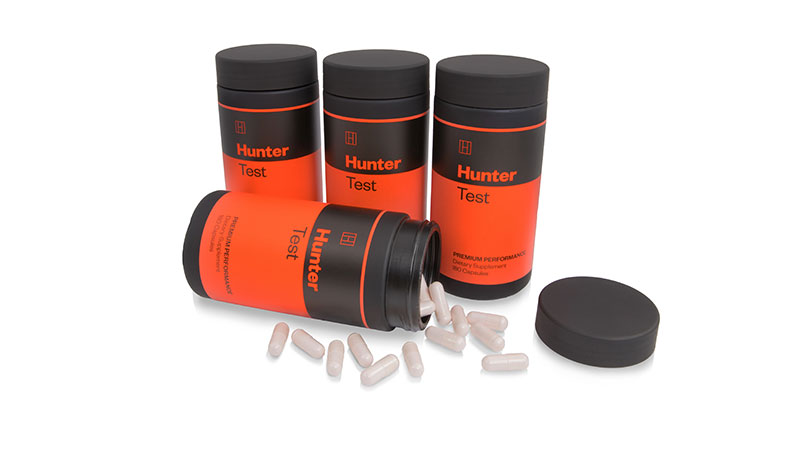 What can you expect from Test by Hunter Evolve?
Looking at this supplement, it's clear to see the creators have stopped at nothing to deliver a high quality test-boosting supplement. At Hunter Evolve, we can see quality is key, since they use the highest grade of ingredients in larger doses.
Working alongside your diet and workout routine, Test By Hunter Evolve works to naturally elevate testosterone levels, so you can enjoy improved muscle growth and strength as well as boosted mood, energy and endurance for better training sessions and unwavering confidence.
There's nothing quite like it on the market. In fact, Hunter Evolve say that Test gives you twice the number of test-boosting capsules per month than other brands.
Test by Hunter Evolve ingredients
The Test formula contains only nine high-grade, natural ingredients. After reviewing each one closely and comparing them to the latest supporting scientific research, we found each one to provide potent and proven testosterone boosting properties.
We also found the ingredient servings to be some of the best we've seen in this type of supplement. By spreading so few ingredients over six capsules, they've given themselves enough room to provide clinical servings that optimize results. It's a rare thing in this kind of supplement.
To understand how Test by Hunter Evolve delivers its benefits, we've pulled out the main ingredients and assessed their testosterone boosting qualities.
D-Aspartic Acid
This is the cornerstone of a quality natural testosterone booster. D-aspartic acid has been proven on countless occasions to signal the release of the luteinizing hormone [2], which triggers the process of testosterone synthesis.
It also supports the Leydig cells in producing more testosterone in the testes [3] as well as speeding up the rate of conversion from cholesterol to testosterone [4].
All these elements work together to seriously elevate levels of the hormone.
Hunter Test provides one of the largest servings of d-aspartic acid we've ever seen in this type of supplement.
Vitamin D3
D3 is widely supplemented across the world. It's a widespread concern that many people are deficient in vitamin D, as it's produced in the body when the skin comes into contact with sunlight.
This vitamin is also essential to testosterone production. Science shows that regular supplementation can heighten hormone levels by up to 20% [5].
It also offers a range of health benefits that can lower the risks of other illnesses too.
The creators have added a massive 5000 IU of vitamin D to Hunter Test, which is the recommended amount to treat deficiency [6].
Asian Ginseng
This herb comes has been shown to play an instrumental role in improving testosterone levels. It's been proven to raise levels of the luteinizing hormone which, in turn, leads to more of the male hormone in the body [7].
Although this is a regular in natural testosterone boosters, Hunter Test uses a variant called Panax ginseng, which has been shown to provide almost double the active compounds that influence your hormones as other forms of the ingredient [8].
Ashwagandha Extract
We've seen this ingredient most commonly in nootropics, however scientific studies say the supplement also boosts testosterone levels [9].
It also has been shown to reduce stress and depression, which nicely complements the mood enhancing benefits of improved testosterone.
 Zinc
This is another commonly supplemented part of Hunter Test, and a key element of the testosterone production process. It should be a common part of a healthy diet, however, it's been noted that an estimated 17.3% of the worlds population is zinc deficient, which can be detrimental to testosterone levels.
It's used to create the luteinizing hormone that begins the testosterone production process. Without this essential ingredient, you can expect T levels to plummet. Supplementing with the mineral has been shown to restore it back to healthy amounts.
| Ingredients | Amount per serving |
| --- | --- |
| Vitamin D3 | 5000IU |
| Vitamin K2 | 150mcg |
| Magnesium | 200mg |
| Zinc | 30mg |
| D-Aspartic Acid | 3000mg |
| Asian Ginseng | 300mg |
| Ashwagandha Extract | 300mg |
| Indole-3-Carbinol | 200mg |
| Boron | 10mg |
How to take Test by Hunter Evolve 
The research surrounding these individual ingredients all suggests that the key to elevating and maintaining high testosterone levels is regular supplementation. By consistently and regularly taking  Test by Hunter Evolve, you'll get the best results from them.
We also recommend closely following the guidelines of the manufacturer when it comes to taking this supplement, as the ingredients within this mix are provided in very specifically measured servings. This ensures both effectiveness and safety.
To get the most out of Hunter Test, we recommend you follow this pattern:
First two capsules with breakfast and large glass of water
Second two with lunch and water
Final two capsules with evening meal
What are the benefits of taking Test by Hunter Evolve?
Achieving optimal testosterone levels is essential to general health for every man. It defines everything from physique, down to attitude, so the benefits of supplementing with a quality booster can be huge. Hunter Test offers one of the best formulas we've seen here at SpotMeBro.com, so we think you should feel all the benefits that come with heightened testosterone.
Improved muscle growth
Testosterone plays an essential role in helping men lay down muscle. The hormone is directly linked to increased protein synthesis [1], which improves the rate at which you grow muscle after a workout.
Enhances general health
Low testosterone levels in men can have adverse effects on health. With more of the hormone flowing through your body you can reduce the risk of heart disease and diabetes.
Heightens virility
Testosterone, or the male sex hormone, has a direct impact on your libido and virility as a male. With more testosterone in your body, you'll feel the benefits of this in the bedroom.
Better outlook
There's a lot to be said for the confidence boosting elements of heightened testosterone. Better health, improved physique and enhanced libido can all add to a more motivated, positive outlook.
---
What do people say about Test by Hunter Evolve?
Since coming to market, Test by Hunter Evolve has been received very well. Many men report it has helped them feel much more like themselves again. It also appears to have helped users develop a sharper physique, with some men reporting increased lean muscle mass and reduced body fat.
Testimonials featured on the official website back this, with many comments suggesting Test by Hunter Evolve is one of the safest, natural T-boosters available.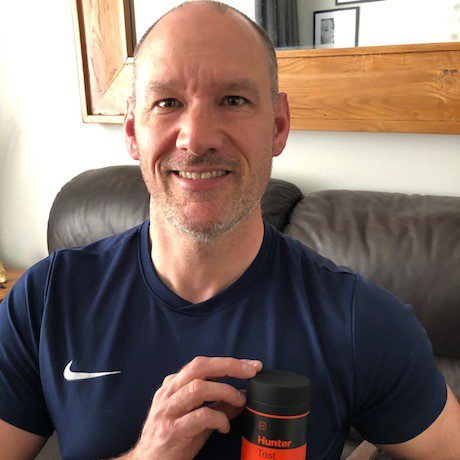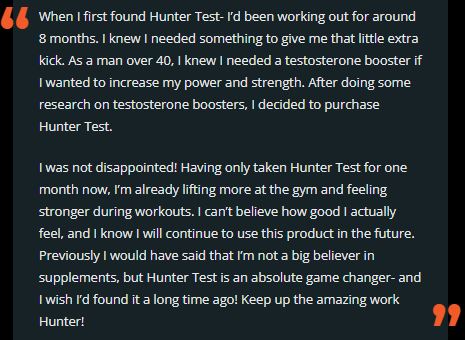 Is Hunter Test safe?
This is an entirely natural formula that's created according to clinical research which means a lot for safety. You could benefit from the full effect of these ingredients, without experiencing any unwanted side effects.
It's also completely free of proprietary blends, which also reduces the risk. This means they've taken an entirely transparent approach, which means you know exactly what you're putting in your body.
This supplement is entirely appropriate and safe to use in the long term.
How to get the best out of Test by Hunter Evolve
To feel the full benefit of Test, the creators recommend you should take this supplement consistently daily, for at least three months. Each bottle should last you a month and thanks to the 180 capsule supply (6 a day), which is more than most competitors, you should experience potent test-boosting benefits all day long.
Why not follow our top tips below to get the best out of Test?
Take consistently every day
Use Hunter Test for at least three months to fully harness the benefits it delivers
Take it alongside a healthy, balanced diet and regular training regime
Take with food to boost ingredient absorption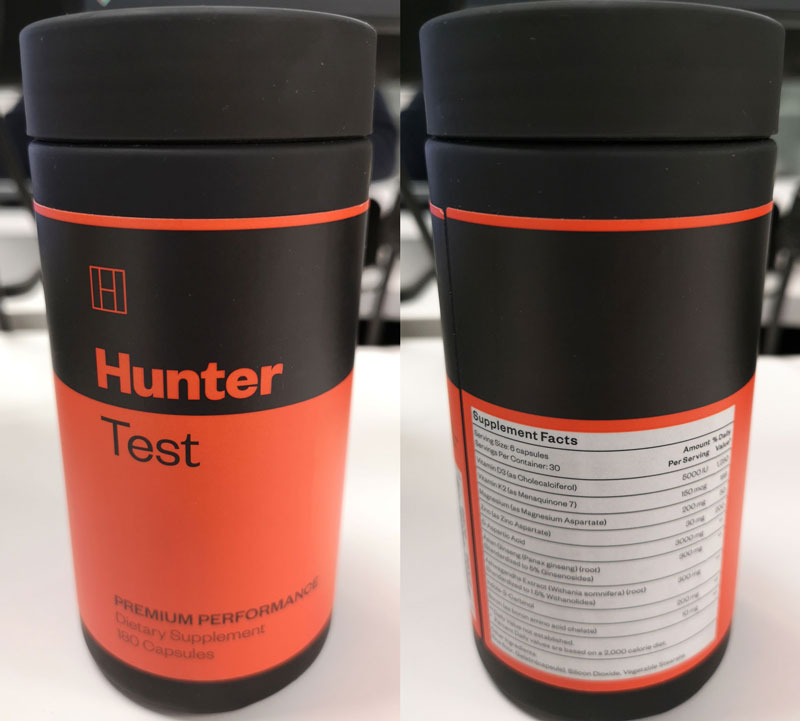 Where to buy Test by Hunter Evolve 
A single bottle of Hunter Test provides 180 capsules, which is enough of the supplement to supply you for a month.
One bottle costs: $75 / £55 and is available from the official website.
If you do decide this is the best testosterone booster for you, there is the option to save some money by purchasing three containers at once. When you buy three, you can receive a fourth bottle and world-wide shipping completely free.
Anything else to know about Test by Hunter Evolve?
We were glad to see Test by Hunter Evolve is fully developed in-house, in FDA and cGMP certified facilities in the USA and UK to ensure its safety and quality. One of the most respected and trusted supplement companies is behind it too.
Even better? Each bottle provides you with 180 capsules, of which you take 6 of in a day. In comparison to most T-boosters on the market, this is much more than the normal 4 – and means higher amounts of active, effective ingredients getting to work and potentially delivering faster T-boosting results.
It's clear to see the creators are passionate about delivering only the best and effective products on the market and aim to be at the forefront of nutritional research. They even say Test is based on months of expert testing and fine tuning.
The formula is also free from proprietary blends, meaning you can see exactly what's inside and how each ingredarent so you can see exactly what you're getting.
The verdict
We believe this is the best testosterone booster a man can buy.
Natural, potent ingredients along with some of the best servings sizes available combine to create one of the most intelligent testosterone boosters we've ever seen.
It's a safe, yet powerful product that homes in on the important things – quality and optimal servings.
This combination is a rarity in the world of supplementation, and we think you'd struggle to find a testosterone booster made to such a high quality.
Having said that, there is an issue with Hunter Test. This premium product comes with a price tag that reflects the quality.
While we believe it's worth the money, we're realistic in the fact we know this supplement isn't within everyone's price range.
However, if you're in the market for a top-quality testosterone booster Hunter Test won't disappoint.
Final score
4.8 out of 5 stars
---
*Individual results may vary. Please speak with your doctor or physician before undertaking any new weight reduction, supplement, or exercise regime.
---
Testosterone Boosters: FAQs
Who would use a testosterone booster?
A test booster is the natural way to elevate test levels and is widely considered the safest approach to achieving hormonal balance.
Testosterone decline is inevitable for any man, so you might want to consider a testosterone booster to ensure levels stay optimal. The benefits of normal testosterone levels are wide-ranging, from boosted libido, better muscle growth, enhanced energy and improved mood – T is crucial for overall wellbeing.
Do testosterone boosters cause side effects?
Testosterone boosters aim to provide you with a safer way to deal with low testosterone levels. The fact that they're usually formulated with natural, plant-based ingredients and vitamins means they can be considered safe and side-effect free. However, they are always possible, especially if you're allergic to any ingredients.
The best way to avoid an unpleasant test booster experience is to research the ingredients label, have a good look over what's inside, and make sure there are no proprietary blends – you could also check with your medical profession before using a test boosting supplement.
What ingredients are common in test boosters?
When picking your testosterone booster, try looking out for ingredients like vitamin D, Asian ginseng, zinc and ashwagandha. These are some of the best ingredients to look out for as they all come with proven test boosting attributes.
Griggs RC, e. (2007). Effect of testosterone on muscle mass and muscle protein synthesis. – PubMed – NCBI. [online]
Topo, E. et al. The role and molecular mechanism of D-aspartic acid in the release and synthesis of LH and testosterone in humans and rats. Reprod Biol Endocrinol. 2009 Oct 27;7:120
D Nisio, A. et al. D-Aspartic acid stimulates steroidogenesis through the delay of LH receptor internalization in a mammalian Leydig cell line. J Endocrinol Invest. 2016 Feb;39(2):207-1
Roshanzamir, F. et al. The putative effects of D-Aspartic acid on blood testosterone levels: A systematic review. Int J Reprod Biomed (Yazd). 2017 Jan; 15(1): 1–10.
Pilz, S. et al. Effect of vitamin D supplementation on testosterone levels in men. Horm Metab Res. 2011;43(3):223–225
Vitamin D Council. (2018). Comparing 2,000 IU/day vs. 5,000 IU/day vitamin D supplementation. [online] Available at: https://www.vitamindcouncil.org/comparing-2000-iuday-vs-5000-iuday-vitamin-d-supplementation/ [Accessed 11 Oct. 2018].
Park, J. et al. Effects of ginseng on two main sex steroid hormone receptors: estrogen and androgen receptors. Journal of Ginseng Research Volume 41, Issue 2, April 2017, Pages 215-221.
Frank, K. et al (2018). Panax ginseng Research Analysis. [online] Examine.com. Available at: https://examine.com/supplements/panax-ginseng/ [Accessed 12 Oct. 2018].
Wankhede, S. et al. Examining the effect of Withania Somnifera supplementation on muscle strength and recovery: a randomized controlled trial. J Int Soc Sports Nutr. 2015 Nov 25;12:43.
Disclaimer:  The information on this site has not been evaluated by the FDA. The products on this page are not intended to diagnose, treat, cure or prevent any disease. Results in description and Testimonials may not be typical results and individual results may vary. We may earn commission if you click the links and buy the products featured on this page.