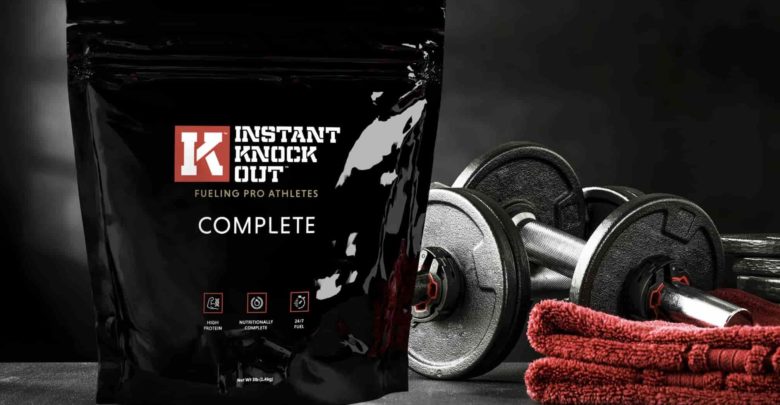 Meal replacement shakes have become a hugely popular tool in the world of weight loss. Hardly surprising considering they've been proven to be more effective than a conventional reduced calorie diet when used correctly(1). They typically contain the vitamins, minerals and nutrients needed for good health, while maintaining a low fat and calorie content.
The latest product of this kind to hit the market is Instant Knockout Complete. It's manufactured by supplement experts Roar Ambition and is the result of a 5-year research project with input from top MMA coach Greg Jackson. Although Complete is aimed at professional fighters and athletes who need to drop weight but still retain their muscle and strength, it is suitable for anyone. So, is Instant Knockout Complete any good? Read on to find out why we rate Instant Knockout Complete amongst the best meal replacement shakes currently available.
Instant Knockout Complete Features and Nutrition
A serving of Instant Knockout Complete offers the following benefits: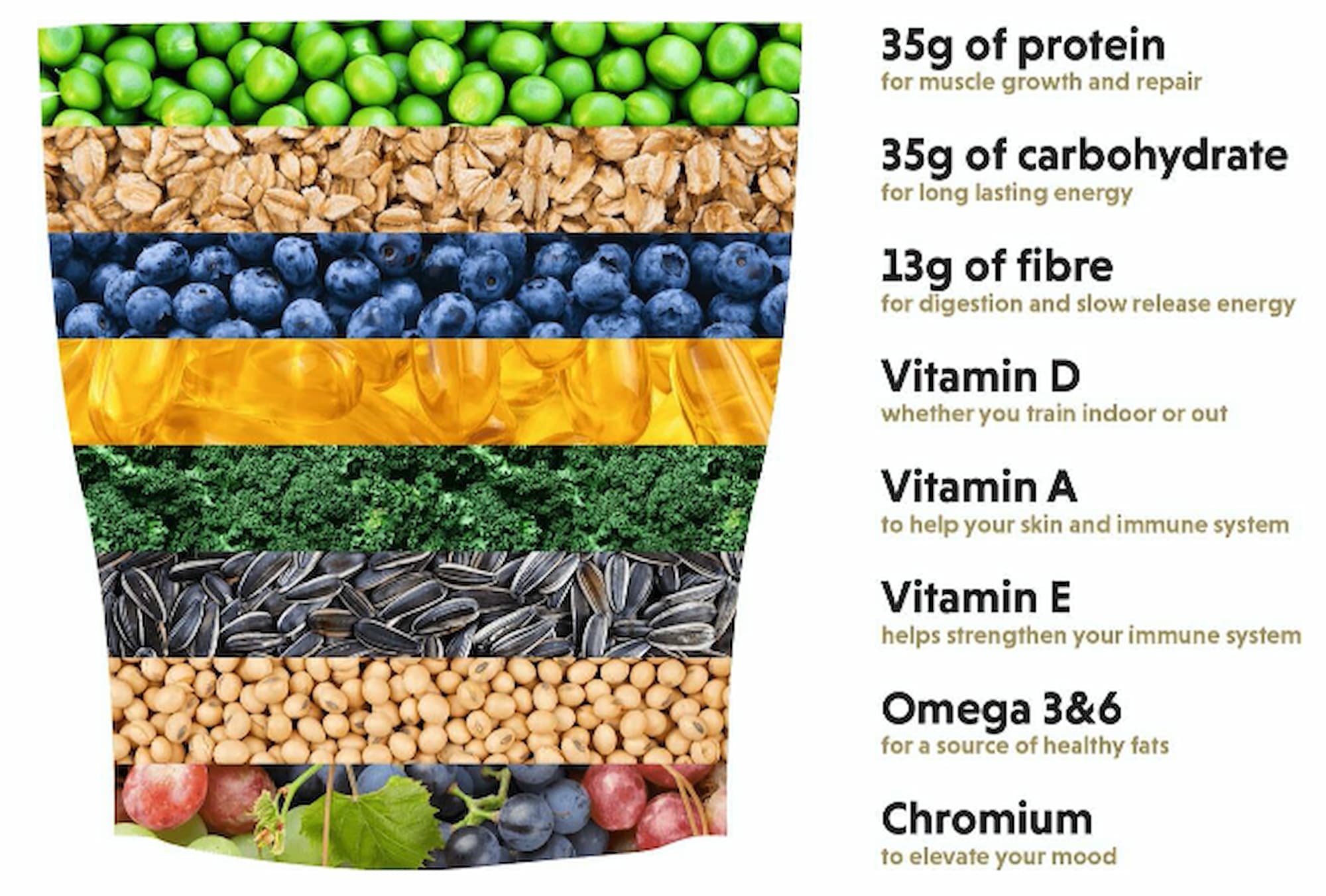 How does this compare to other weight loss shakes?
Unlike many other weight loss or protein shakes, Complete was devised to give your body everything it needs. One serving provides a high-protein, vitamin-enriched, and nutritionally balanced complete meal. Compared to similar products, Instant Knockout Complete provides a higher volume of protein, essential for muscle growth and repair, a higher volume of carbs, for long lasting energy to keep you fuelled throughout the day, and a higher volume of fibre, which aids digestion, lowers cholesterol and controls blood sugar levels. Other low-calorie and low-carb weight loss shakes, comparatively, are just not as well suited to active individuals.
Whilst 400 calories per serving is on the higher end, Complete is designed to keep you feeling full for much longer without the hollow and nutrient lacking calories often found elsewhere. This meal replacement shake ensures that all your body's nutritional requirements are met, but if that isn't enough to reassure you that Complete is a cut above the rest, it also doesn't contain any caffeine, artificial sweeteners and colourings, or animal derivatives.
Instant Knockout Complete Ingredients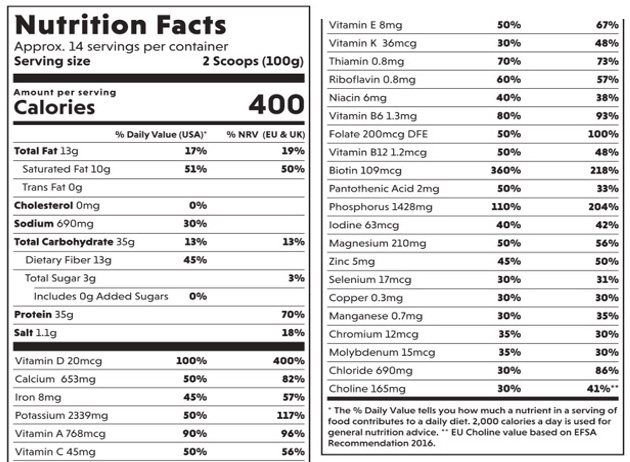 The core ingredients in Instant Knockout Complete are as follows:
Pea and Soy Protein – Protein is absolutely essential for correct bodily function. It's vital for maintaining, building, and repairing muscle mass, and is also a source of energy(2). The protein content within Instant Knockout Complete primarily comes from pea and soy extract. Not only are these plant-based proteins all natural and suitable for any diet, they are also easily digested and avoid the bloating and upset stomach that is so commonly associated with whey protein(3).
Medium Chain Triglycerides (MCT) – Medium Chain Triglycerides (MCT) are beneficial dietary fats and those within Instant Knockout Complete are largely derived from coconut. Evidence suggests that MCT's offer an increase in energy expenditure(4), enabling you to burn fat faster. Similarly, studies have shown that MCT's provide a higher degree of fat oxidation(5), the breaking down and removal of fatty acids, than Long Chain Triglycerides (LCT).
Chia Seed – Chia seeds have become incredibly popular for weight loss in recent years. They are rich in fibre, protein, calcium, and healthy fats, amongst other nutrients(6), and 10g of chia seeds, roughly equivalent to one tablespoon, contains less than 50 calories.
Golden Flaxseed – As with chia, flaxseed is packed with health benefits and nutrients, namely Omega-3 fatty acids and fibre. Additionally, studies have demonstrated that flaxseed significantly supresses appetite, even in small doses(7).
Oat Flour – Carbohydrates are excellent for sustaining energy levels, and oat flour is the main source of this in Instant Knockout Complete. The lower the glycemic index (GI) of a carbohydrate, the better it is at maintaining your energy level. For comparison, oats have a GI of only 37, whereas white bread is almost double at 75. Oat flour is also yet another high fibre addition to the ingredients list(8).
Organic Brown Rice – A further healthy, natural protein source here to finalise Complete's fully vegan formula. Brown rice is a brilliant source of the amino acids valine, leucine and isoleucine as well, which help to supply muscle tissue with energy(9).
What is the Instant Knockout Weight Loss System?
Whilst Complete does work as a standalone product, it was designed to compliment Instant Knockout Cut. This system is based on the four pillars of effective and sustainable weight loss: thermogenic boost, appetite suppression, calorie control and nutritional balance. Cut has already been trusted to provide the first two pillars by pro athletes for years, but now Complete, as suggested by the name, completes this system by offering the latter two.
How to Use Instant Knockout Complete
Preparation is as simple as mixing one 100g scoop of the vanilla flavoured powder with water, plant-based milk or animal-based milk. The product guidance recommends swapping one meal per day for a shake but suggests two is also an option for those who'd like to see even quicker results. If used as advised, one pouch of Complete provides 14 shakes, up to two weeks supply. The formula here is well designed to improve the users results, but it is important to remember that as with any weight loss supplement, it must be partnered with exercise and a healthy, calorie-controlled diet to actually reap those benefits.
Instant Knockout Complete Side Effects
Is Instant Knockout Complete safe? The product was formulated by trained nutritionists and dieticians who carefully selected each ingredient after studying the evidence around sustainable weight loss. We believe Complete to be safe and natural, containing no hidden chemicals or animal products. Complete, along with Instant Knockout Cut, is solely manufactured in FDA registered facilities that adhere to strict cGMP guidelines. Likewise, Instant Knockout Complete is not known to contain any banned substances and there have been no reports of users having failed drug tests. As with any product of this nature though, do check for any personal allergens before use, and consult your doctor if you have any concerns such as potential medication clashes.
Instant Knockout Complete Pricing and Bundles
Instant Knockout Complete is only available to buy directly through the website but this ensures you'll receive the real deal. Worldwide shipping is available and is free for both the US and UK on orders of 2 pouches or more. At just £2.86/$4.64 per shake, it works out cheaper than the average takeaway lunch or ready meal. Complete can be purchased in 1-3 pouch quantities and is also available bundled with Instant Knockout Cut.
Instant Knockout Complete Review Conclusion
Other Instant Knockout Complete reviews have similarly asked the question: does Instant Knockout Complete really work? After trying it ourselves, we can honestly say that it did indeed seem to maintain our energy levels and stave off hunger pangs for longer than other similar products. It provides everything your body needs for a complete meal. In short, if you are looking for a meal replacement shake to really boost your weight loss potential, we highly recommend that you give Instant Knockout Complete a try.
References