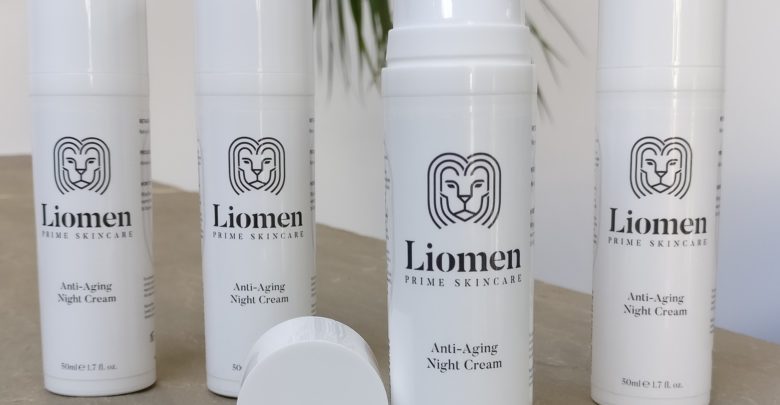 How you look should be at the top of every man's list for fast-tracking your career, increasing your income, boosting confidence and being a social magnet.
Having healthy smooth skin gives you inner confidence that others are instinctually drawn to and can be life changing both at work and at home.
With so many skincare brands to choose from, how do you know which one will work for you?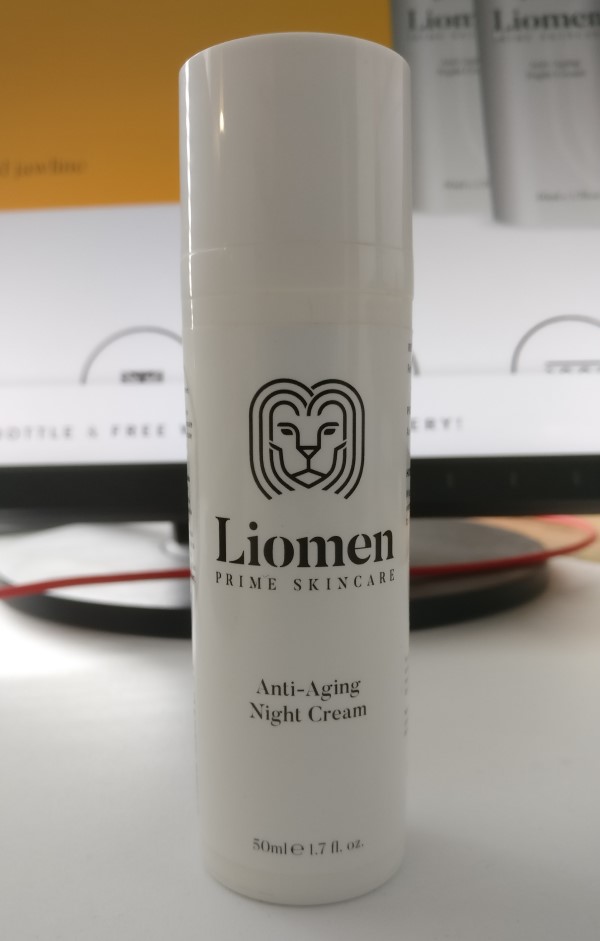 At Spot Me Bro we recently found Liomen, an anti-aging face cream that is taking the men's skincare world by storm. The all-in-one formula works fast to reverse the signs of aging by directly targeting eye bags, crow's feet, forehead lines and wrinkles to give you glowingly healthy smooth skin that shaves years off your face.
Our team will look at every aspect of this product. They'll create an in-depth assessment of its effectiveness, safety and value for money. Keep reading to understand exactly how Liomen works and if it's the best anti-aging cream for you.
Liomen: Prime Skincare Review Pros and Cons
Pros:
Smooths out wrinkles fast
Tightens facial skin long-term
Younger-looking skin
Healthy looking skin
Works with all skin types
Made to UK and EU skincare standards
Glowing positive reviews online
 Cons:
Premium price
Only available online
What is Liomen: Prime Skincare?
Liomen is the all-in-one anti-aging cream for men favoured by affluent guys who use it to stay healthy looking and younger looking. The anti-aging formula is designed to moisturize and nourish your skin whilst increasing new healthy skin cell renewal. Their effective triple action formula combines clinically proven effective anti-aging ingredients that naturally work with your skin to give you a younger face that turns heads.
Who are Liomen: Prime Skincare?
Liomen is a dermatological skincare company founded in the UK. These guys specialize in anti-aging for men. This direct focus on men's anti-aging has enabled them to deliver highly effective and high-grade targeted skincare that works to the market. By leading the way with skincare research and clinically proven ingredients they are truly making waves in the men's skincare world.
How does Liomen: Prime Skincare work?
Their all-in-one anti-aging cream formula has effective anti-aging ingredients combined with vital skin nourishing and hydrating skin moisturizing ingredients to help you look younger. Each ingredient has been scientifically researched and approved for men's skin to give you the exact amounts needed to refresh your face. Liomen works with all skin types to:
Reverse – Instantly hydrates the skin to reduce fine lines and wrinkles
Refuel – Nourishes the skin with vital nutrients and vitamins helping skin look healthier
Renew – New skin has increased elasticity that is tighter and smoother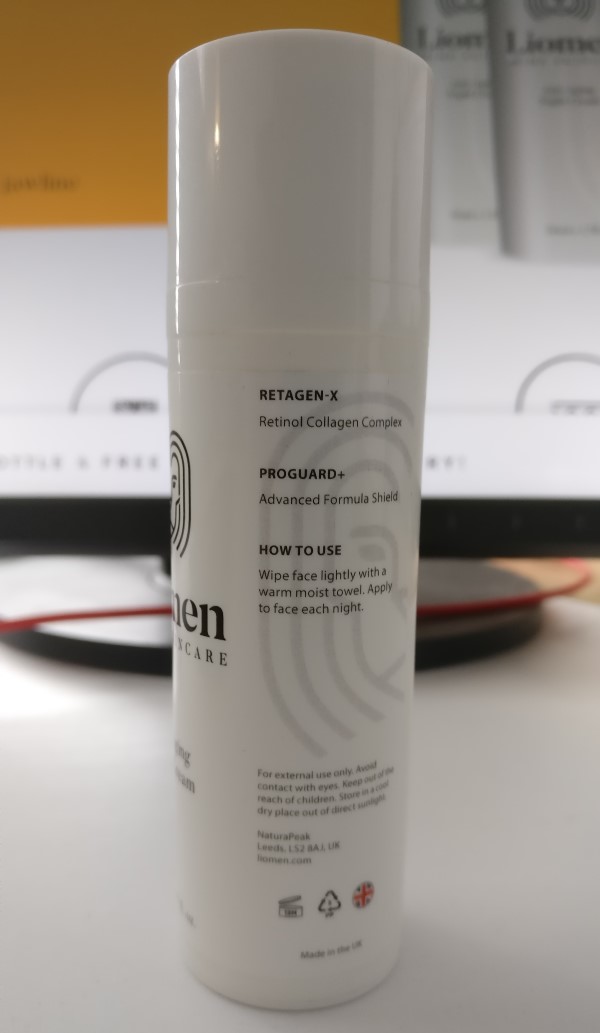 What can you expect from Liomen: Prime Skincare?
Looking at this anti-aging cream it's clear that Liomen have gone all out to create a formula that works for men's skin. Their formula contains both Collagen and Retinol which we know to be clinically proven anti-aging ingredients that work.
Whether you're looking at erasing forehead lines, eye wrinkles or all over face tightening, Liomen should deliver.
As a UK based skincare company their formula and manufacturing exceed strict UK and EU skincare regulations which are the highest standards in the world. This means their product is guaranteed safe to use and there won't be any side effects which is reassuring.
With their all-in-one formula and hygienic bottle they've kept things simple and portable. Unlike other brands with multi-product skincare routines, Liomen's single bottle is easy to use and looks good on the bathroom shelf, plus it's easy to pack for work trips and vacations which helps you always keep your skin looking healthy and younger.
Liomen: Prime Skincare Ingredients
Liomen's anti-aging formula is composed of highly effective anti-aging ingredients. Each ingredient is backed up by rigorous scientific support with studies proving clinical results. After we inspected the formula, our team found only the most effective anti-aging ingredients being used which is a credit to Liomen for getting it right.
When we first saw that it was an all-in-one anti-aging cream we were sceptical that Liomen had managed to put together a face cream that works in multiple ways. Yet, when we checked scientific studies and clinical results, we found that every ingredient stacks up and works effectively. As a bonus, Liomen have put together ingredients that deliver instant anti-aging and long-term anti-aging so that you and your skin see results fast and forever.
To really understand how Liomen works to revitalize your skin, we've had a look at the key active anti-aging ingredients and evaluated their age reversing ability.
Retinol
This is the gold standard of anti-aging. Also known as Vitamin A, Retinol is the most effective anti-aging ingredient for getting younger-looking skin. Retinol smoothens out wrinkles and fine lines whilst working to stimulate new Collagen production. Helping to improve uneven skin tone, dark spots and discoloration are some additional Retinol benefits. Not all anti-aging face creams have this miracle ingredient, it's great to see that Liomen have Retinol in their formula.
Collagen
A key protein responsible for skin suppleness this seriously minimizes fine lines and wrinkles. Collagen equals smoother, healthier and younger looking skin. When combined, Retinol and Collagen create a unique anti-aging serum for men that boosts new skin cell renewal and gives you a fresh face.
Vitamin E
Vitamin E is a natural element of healthy and smooth skin. With time and sun damage known as photoaging, your skin's Vitamin E gets lower and lower. This really reduces your skin's natural power to fight aging. Supplementing your skin with extra Vitamin E helps defend your skin day to day with a soothing boost.
Aloe Vera
Green and great, this is one hugely hydrating moisturizing ingredient that cools and soothes the skin leaving your face feeling super fresh and glowing. Aloe Vera helps tired-looking, chapped, irritated and dry skin that has been exposed to wind, cold or sun replenish its moisture with an amazing cooling relief. Prevent premature aging and get smoother skin with this natural ingredient.
Hyaluronic Acid
This anti-aging ingredient can attract and hold onto 1000x its weight in moisture, which is extraordinary. Luckily this ability revives your skin's surface layers, helping your skin look and feel smoother and younger. Hyaluronic Acid is like a moisture magnet that works quickly to improve the look of fine lines and wrinkles.
Botanical Extracts
These potent anti-aging botanicals direct from nature nourish your skin from the outside in. Green Tea, Argan Oil, Jojoba Oil, Rosehip Oil, Passionfruit Oil, Arnica Infusion, Apple Extract, Watermelon Oil and Avacodo Oil all work together to naturally reduce eye bags, even out skin complexion and brighten your skin whilst naturally working on eye wrinkles and face wrinkles.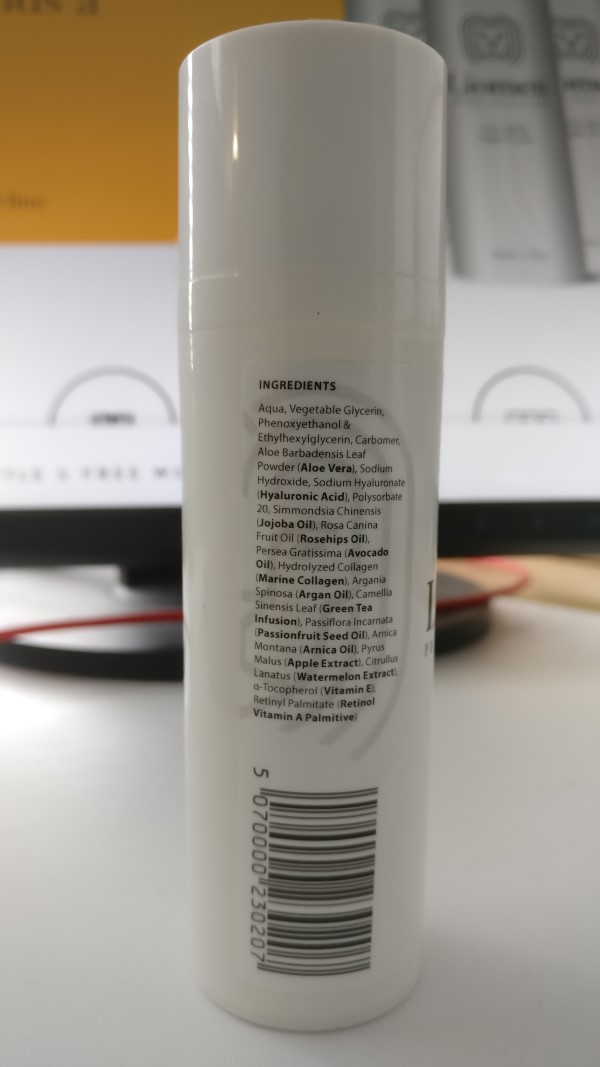 How to use Liomen: Prime Skincare
The key is daily use, as recommended by the research surrounding these anti-aging ingredients. By consistently using Liomen you'll be getting the fastest and longest lasting results from their anti-aging face cream.
Liomen recommend using every night after washing your face and before bed by gently massaging 1 to 3 pumps of cream into your face and neck. We agree with this as research shows that Retinol has been proven to be most effective when used overnight.
What are the benefits of Liomen: Prime Skincare?
Looking good is essential for every successful man. Your face determines everything from your inner confidence to the outer way that people treat you, having a healthy face is literally life changing. Liomen offers an all-in-one formula based on science that is way ahead of the competition. You can enjoy looking forward to these benefits with Liomen.
Look younger
The anti-aging formula dermatologically works to reduce and erase eye wrinkles and wrinkles all over by smoothening and tightening your face's skin. Long term results seen after 30 days with visible results possible within 24 hours. Liomen works and leaves you looking younger.
Worry less
Ever wake up dreading looking in the mirror? What about the important meetings, family events and social events coming up today? Worry about your appearance no more, your face will thank you for using Liomen every night. Your fine lines, wrinkles and dull looking skin will be transformed, get used to smiling when you look in the mirror on a morning.
Look healthier
Liomen's face cream sinks straight into your skin getting to work instantly without any oily residues showing. Some face creams leave you with a shiny face, Liomen doesn't and leaves skin looking visibly fresher. The outstanding hydrating and toning qualities of Liomen leave your skin looking clearer. Say goodbye to dry, flaky skin and patchy uneven color and hello to even skin tone and smoother skin.
Enjoy life
In many reviews of Liomen guys mention increased satisfaction in their professional and personal lives. Thought that the "beauty premium" only works for women? Think again, looking well-groomed is life-changing for men and also provides a confidence boost that people really notice.
What do people say about Liomen: Prime Skincare?
For those men that have been lucky enough to discover its anti-aging abilities we've discovered that they have got great things to say about Liomen. Lots of men are reporting that their skin feels smoother and that they wake up looking fresh faced. Here are just some of the reviews we found on Youtube and Amazon.
Amazon Reviews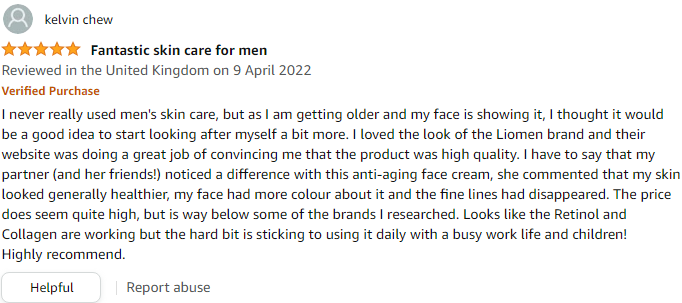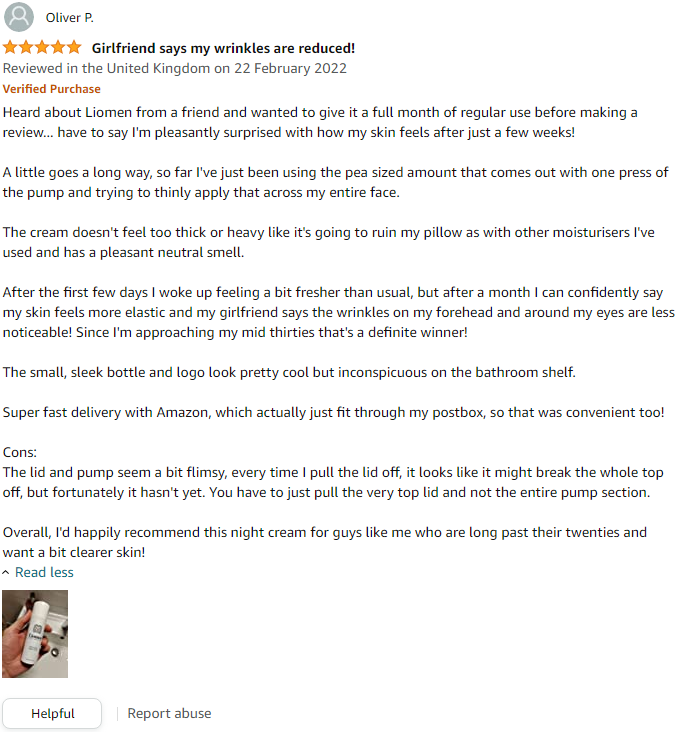 Where to buy Liomen: Prime Skincare
Lasting a whole month, the 30-day single bottle of Liomen has your skincare covered for 4 weeks.
One bottle costs: $59 / £49 and is available from the official website: Liomen.com
If you've decided that this is the best anti-aging cream for you, we recommend the Liomen 4 months deal. With this great value for money deal there's free worldwide shipping and you get a bottle of Liomen's premium anti-aging face cream for free.
You can buy direct from Liomen.com and it's available on Amazon.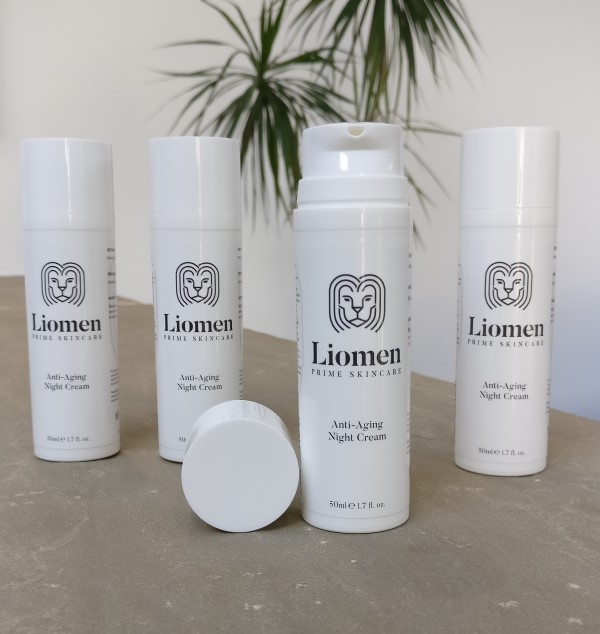 The verdict
That concludes our review of Liomen: Prime Skincare. We believe this is the best anti-aging cream for men currently on the market.
An advanced formula developed by dermatological experts specifically for men's skin with clinically proven anti-aging ingredients Collagen and Retinol create a highly effective anti-aging face cream product. This all-in-one anti-aging combination is unique and is achieving fantastic results according to loads of reviews.
However, we realise that this premium anti-aging face cream comes with a premium price tag. With active anti-aging ingredients Collagen and Retinol this is understandable as these are high quality ingredients, but this may put the product out of reach of some people's price range.
If you're looking for the most effective men's anti-aging cream then look no further, you have found it. Lots of guys have reviewed the product and are enjoying looking younger because of Liomen, we recommend you do the same.