Supplements to help with weight loss
Losing weight and getting lean takes dedication, determination, and patience. But all these are not enough of course! You will need a well-formulated workout program and efficient diet plan in place.
While these factors are crucial in your quest to be fit and healthy, it seems that they are still not enough!
This is where fat burners enter. No, they are not the key to fast and effective weight loss, but with the inclusion of fat burners into a weight loss strategy, you will maximize results at an impressively faster rate.
It's not about finding a magic bullet, it's about getting all the help you can in this difficult task.
Fat burners function as supplements, meaning they only work if complemented with a healthy diet plan and an effective exercise routine.
Fat burners will only work in combination with more important weight loss strategies – namely diet and exercise.
Those who solely depend on fat burner intake will only be wasting their time and become very disappointed with no results despite regular intake.
The Best Fat Burner Supplements for Men
Weight loss is a difficult task for men to accomplish and realize as society dictates that male individuals need to be lean and strong.
The fact is weight loss should be incorporated into a man's fitness strategy. The process of muscle growth is generally impossible without losing fat in the process.
Aside from optimum muscle development, fat burners also deliver the much needed energy for workout routines. With reduced fat percentage, you also obtain other benefits such as increased wellness and optimum health.
If you yearn to speed up fat loss in combination with exercise and diet, it becomes necessary to include fat burners to your plan. With an active and healthy lifestyle, these fat burners will deliver the results that you need in no time!
Without further ado, let's take a look at our findings of the best fat burner supplements currently on the market!
---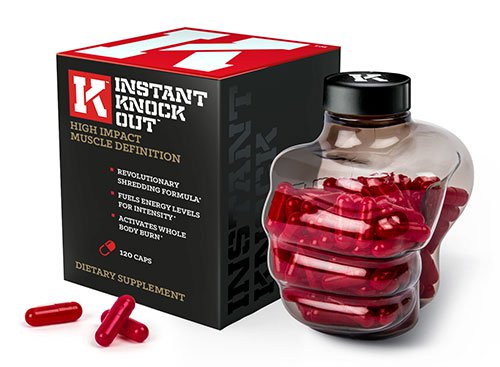 Introducing our winner and taker of the best fat burner 2019 crown, Instant Knockout.
When your regular fat burner isn't enough; it's time for Instant Knockout.
Described as 'the' product for burning fat, Instant Knockout by Roar Ambition is used regularly by Pro MMA fighters Diego Sanchez and John Dodson.
It made our number one spot in our extensive natural fat burner guide page for a reason.
It is the only fat burner on the market specifically designed to push fighters to their limits when it comes shredding pounds. Using it, superstars like Diego Sanchez can go from 190lbs to 170lbs in a matter of weeks, rather than several months. He's aiming for the 145lbs weight class and with Instant Knockout, it's possible.
Benefits:
Cut fat quickly, like a professional fighter
Increases Energy Levels – train harder in the gym
Speed up your dieting and workout results
Suppresses Appetite – making dieting easier
What makes Instant Knockout different is that they use the latest research and studies to formulate it and are always updating the formula. Unlike other products on the market that update the formula every three to five years, or never.
They use natural stimulants like Green Tea, Cayenne Pepper, and Caffeine in the right amounts to help you to burn fat. It's a completely natural and safe product to take.
You don't have to worry about putting risky herbs or chemicals in your body that cause side-effects.
It's not just for Pro fighters or athletes. Anyone that works out and is serious about cutting fat can take it and see real results.
From the research we've done, we highly recommend Instant Knockout as the number one fat burner on the market.
Read our full Instant Knockout review!
---
*Individual results may vary. Please speak with your doctor or physician before undertaking any new weight reduction, supplement, or exercise regime.
---
---
6. The Ripper by Cobra Labs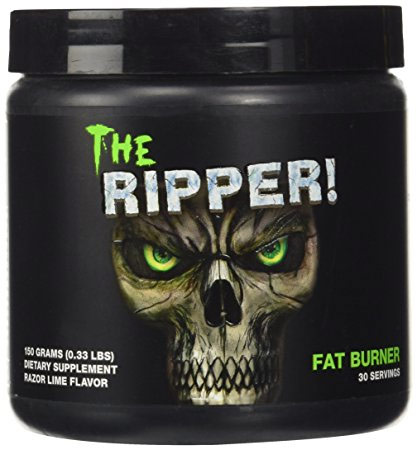 The Ripper is one of the most effective and fast-acting new fat burners on the market. This great tasting, full strength formula mixes in seconds and goes to work within minutes of the very first dose. This is fat burning you can feel.
The Ripper's fast acting formula contains a concentrated ingredient blend designed to burn fat and help control food cravings while still delivering clean, consistent energy throughout the day without the jitters often associated with other weight loss products.
If you want a fat burner that kicks like a bull and hits like a bolt of lightning then try The Ripper today.
Features:
Full Strength Fat Burner
Fast Acting
Great Tasting
All-Day Energy
Appetite Control
Full 30-Day Supply
---

---

*Individual results may vary. Please speak with your doctor or physician before undertaking any new weight reduction, supplement, or exercise regime.
---
*Individual results may vary. Please speak with your doctor or physician before undertaking any new weight reduction, supplement, or exercise regime.
---
The Best Fat Burner Ingredients to Look Out For
Fat burners come in a variety of forms. It is also important to remember that there are different mechanisms by which fat can be eliminated. To gain a better understanding of how fat burners work, here are some ingredients that are commonly included in such supplements:
Lipolytic Agents
The process of lipolysis pertains to the mechanism by which fats are expelled from fat cells. If you are looking to lose a considerable amount of weight, fat burners that feature lipolytic agent will prove to be very effective indeed. During the process of lipolysis, fats are converted into energy which fuels the body during intense physical workouts. It is also during lipolysis that cells shrink and get leaner.
Caffeine, Yohimbe, and Forsoklin are ingredients which are commonly found in fat burners nowadays.
Fat Transporters
The process of getting rid of fat doesn't stop in lipolysis. In order to effectively eliminate fat, there should also be compounds that function to transport fat cells out of one's system. If the fat cells are not burned to fuel physical exertion, they will be reabsorbed into the bloodstream.
Fat transporters such as L-Carnitine transports released fat into the mitochondria where they are synthesized and burned quickly. L-Carinitine works great in converting fats to fuel whilst facilitating healthy growth and development.
Thyroid Stimulants
The thyroid gland is responsible for regulating the metabolism. Healthy functioning of this gland aids in faster weight loss and absorption of nutrients as well. Fat burners with thyroid stimulants such as baccopa monniera and forsoklin.
Curb Food Cravings
One crucial function that fat burning supplements need to feature is appetite suppression. Hunger pangs and food cravings make it difficult for some to lose weight. These are the major culprits as to why diet plans become stale and do not work at all.
Appetite suppressants such as glucomannan, phenylathylamine, simmondsin, and 5-HTP curb appetite, which in turn leads to effective fat loss.
Thermogenics
Thermogenic ingredients such as caffeine effectively deliver fat loss through a number of processes namely:
Stimulates the thyroid gland to speed up metabolism
Helps reduce hunger pangs and food cravings
Enhance strength by increasing energy levels
Caffeine and green tea are excellent thermogenics and can be seen as one of the main ingredients among top fat burners available.
Disclaimer: The information on this site has not been evaluated by the FDA. The products on this page are not intended to diagnose, treat, cure or prevent any disease. Results in description and Testimonials may not be typical results and individual results may vary. We may earn commission if you click the links and buy the products featured on this page.