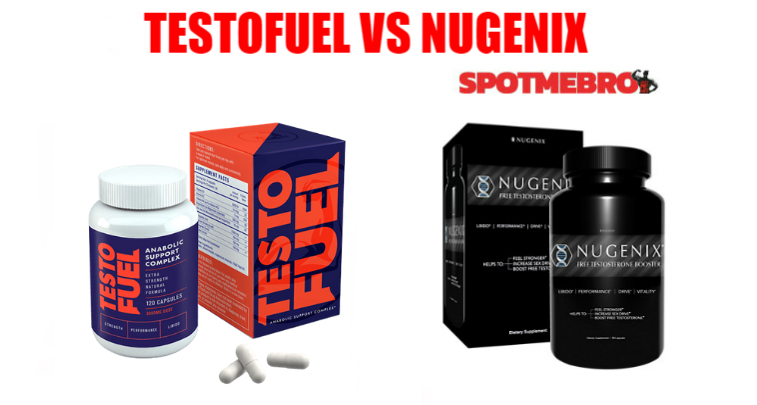 For this versus article, we look at TestoFuel vs Nugenix. Both well-regarded testosterone boosters come with a 'premium' price tag.
TestoFuel and Nugenix both hit the market in 2012, although Nugenix is arguably the better-known of the two products. At the time of writing, it has almost 40,000 'likes' on Facebook and is even endorsed by Andy Van Slyke – a baseball all-star outfielder.
Even so, TestoFuel is still hugely popular. It boasts thousands of customers in 178 countries, countless positive reviews and testimonials. It's also endorsed by Robby Robinson – a professional bodybuilder and former Mr. Olympia.
We realize there are different types of Nugenix products. So to be clear, this piece compares TestoFuel with Nugenix Free Testosterone Booster, rather than Nugenix Ultimate, Nugenix Estro-Regulator, Nugenix Total-T, or any other version.
Similar aims, different ingredients
Besides a few vitamins and minerals, TestoFuel and Nugenix largely contain very different ingredients.
Nugenix is also less fitness/bodybuilding-focused, with TestoFuel promising to help you build muscle mass. Despite this, both products vow to not just boost testosterone, but also help you feel stronger, increase sex drive and enhance performance.
With this in mind, a comparison of these two products is well overdue.
To ensure a complete – and fair – comparison of TestoFuel vs Nugenix, we look at the following criteria:
Brand authority and product
Ingredients and research
Serving sizes
Safety and side effects
Cost and value
Finally, we come up with a final score for each product based on the elements above.
Here's our Nugenix vs TestoFuel review…
Brand authority and product
At this early point, we take a look at the manufacturers behind the brands. We analyze each brand's reputation and existing product lines.
To be clear, a brand's past product line is by no means a sure sign that a new product will be good or bad. That said, the manufacturer's approaches to research and ingredient quality act as reliable indications of what to expect…
TestoFuel
TestoFuel first came to market in 2012 – and it's the product which kicked off Roar Ambition's entry into the specialist-supplement industry. Based in Leeds, United Kingdom, Roar Ambition Ltd now also makes and sells 4 Gauge (pre-workout) and Instant Knockout (thermogenic fat burner).
Why does the company market such a small range of products? According to customer service, selling a small range allows it to focus its resources on research and the quality of its formulas – rather than marketing hype. In theory at least, this means it can maintain quality over quantity.
By maintaining tight control over its inventory, the company says it can ensure its customers get the latest and best version of TestoFuel (or any Roar Ambition product) each time they order.
View more information at www.TestoFuel.com
Nugenix
Nugenix is made by Adaptive Health LLC, which was founded in 2009 and was formerly known as Direct Digital (until July 2018).
The US company is based in Charlotte, North Carolina. However, it also has offices in Boston, Massachusetts and Bethesda, Maryland.
Adaptive Health's other supplement brands include Instaflex (joint support) and Peptiva (digestive support), Lumiday (mood enhancement and sleep support) and more.
Unlike TestoFuel, Nugenix is available from Amazon, GNC, Walgreens, and Vitamin Shoppe among others. The fact Nugenix is available from many different sources means you can shop around for bargains. However, it is not currently available outside the US or Canada.
Ingredients and research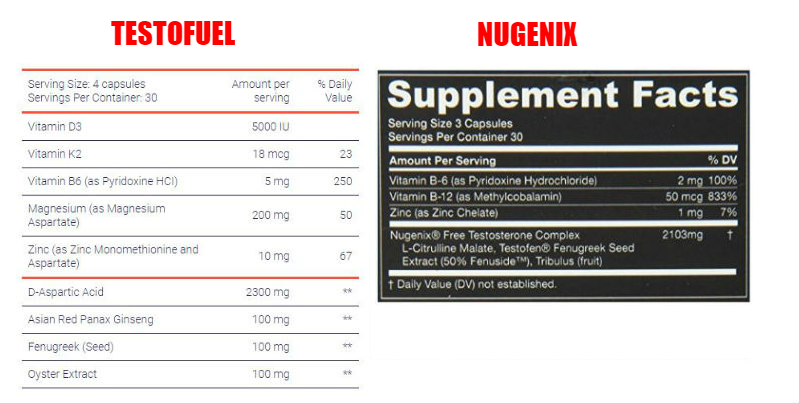 While both Nugenix and TestoFuel are both marketed as testosterone boosters, they use very different formulas.
The first thing to note is that TestoFuel does not use proprietary blends. In fact, this is one of all Roar Ambition's key selling points – transparent formulas allow you to see exactly what you're getting for your money.
By contrast, the main ingredients in Nugenix have their ingredient amounts hidden in the proprietary "Free Testosterone Complex", which makes it impossible to compare aspects of TestoFuel vs Nugenix. That doesn't mean Nugenix is a worse product, but the lack of a transparent formula is certainly not a point in its favor.
At every stage of this comparison, we reference clinical studies to support or dispute the efficacy different claims on each website. Let's take a look…
Shared ingredients
Vitamin B6
Otherwise known as pyridoxine, vitamin B6 is an essential nutrient that has been directly linked to testosterone production [1]. The vitamin also plays a role in the body's ability to produce and maintain energy [2], as well as regulating mood [3].
For boosting testosterone, a great deal of research points to the use of B6 alongside zinc and magnesium – a blend widely sold as ZMA.
In one study from 2000, subjects took ZMA for seven weeks. This led to a significant increase in both testosterone and growth hormone – both of which promote muscle growth [4].
It's worth pointing out that TestoFuel contains not only B6, but also magnesium and zinc. By contrast, Nugenix contains zinc, but not magnesium – and so TestoFuel wins here.
Fenugreek
Fenugreek is a plant found almost exclusively in Indian food. It has been shown to boost testosterone and enhance the libido [5].
The plant is thought to work by inhibiting the sex-hormone binding globulin (SHBG) [6]. And as the SHBG is thought to strip testosterone of its anabolic effects, this could be good news if you're looking to build muscle.
TestoFuel unique ingredients
Vitamin D3
More of a prohormone than a vitamin, D3 is strongly linked to testosterone. In fact, research has shown a direct correlation between low levels of the nutrient and low testosterone [7]. Vitamin D may also improve your ability to build muscle.
Vitamin D is known as the 'sunshine vitamin', due to the way in which the skin synthesizes the nutrient when exposed to the sun.
Experts estimate that 1 billion people don't get enough vitamin D [8] – perhaps because many of us are stuck in offices and just don't get out in the open often enough.
For this reason, it may be important to supplement your diet with D3. The Vitamin D Council recommends taking 5000 IU of D3 to reduce the symptoms of deficiency in the nutrient [9]. As TestoFuel contains this exact amount, this suggests the people at Roar Ambition have done their research.
D-aspartic acid
As a non-essential amino acid, D-aspartic acid (D-AA) is produced naturally in small amounts by the body.
D-AA supplementation has been shown to promote the release of the Luteinizing hormone. This in turn may increase natural testosterone levels and enhance your sexual function. In one study, D-AA boosted testosterone by up to 60% and sperm counts by up to 100% after just 90 days [10].
Asian red Panax ginseng
Also known as 'true ginseng', Panax ginseng is an Ayurvedic herb that has been used for hundreds of years as a way to improve the sex drive and increase fertility. And the research appears to back up those ancient claims…
Asian ginseng contains ginsenosides – the active compounds which are shown to boost testosterone [11].
The herb has also been shown to improve sleep and enhance cognition [12], as well as reducing fatigue and keeping depression at bay [13].
View TestoFuel's full ingredient list
Nugenix unique ingredients
L-citrulline malate
A dietary amino acid, L-citrulline can help the body produce nitric oxide, which in turn dilates the blood vessels to ensure other vital nutrients make their way to your muscles more efficiently.
As a result, it is used in some of the best pre-workouts – but it's unusual to find it in a testosterone booster.
While there's no evidence L-citrulline malate boosts testosterone, some research suggests it can improve erection strength [14].
Tribulus
Also known as tongkat ali, this Ayurvedic herb was once a mainstay of the testosterone-booster market. Its popularity rose in the 1970s after Bulgarian weightlifters attributed changes in their physique to the herb [15].
But in many studies since the 1970s, Tribulus has been discredited as a testosterone booster [16]. Despite this, there is still strong evidence it works as a libido enhancer [17].
Serving sizes
Ingredients aren't the only things which distinguish TestoFuel from Nugenix – the servings are also different.
TestoFuel offers the standard daily serving of four capsules, whereas Nugenix provides three capsules per day.
More capsules = more strength
Is it a coincidence that the top three products in our rundown of best testosterone boosters offer serving sizes of four or more capsules per day? We suspect not.
It stands to reason that taking four capsules at different times should give you the amount of each ingredient you need to get results, but without giving you too much of any nutrient in one hit. That's also why four-capsule servings have more or less become the standard in the testosterone-booster market.
For this reason, it's perhaps no surprise Nugenix (with its three-capsule servings) contains weaker amounts of shared ingredients – TestoFuel is noticeably more potent as a whole.
In addition, each bottle of TestoFuel holds 120 capsules, whereas Nugenix offers 30 capsules per container – the Roar Ambition product gives you 400% more.
Safety and side effects
Before you hand over your cash for a testosterone booster – let alone put it in your body – you want to make sure it's safe use and won't cause adverse side effects.
To find out whether Nugenix and/or TestoFuel fit the bill, read on…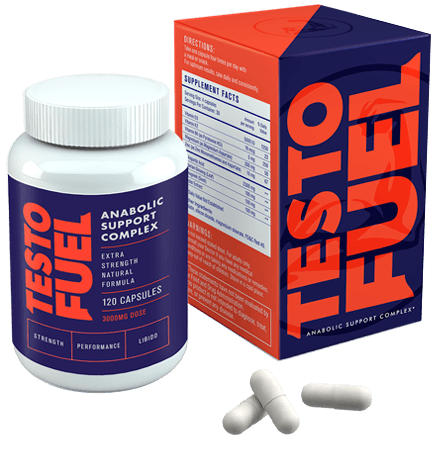 The TestoFuel formula is 100% natural – and it should be safe to take.
What's more, the Roar Ambition product uses a transparent formula with no proprietary blends. This allows you to see exactly how much of each ingredient you're buying and can help you ensure you're not taking too much – or not getting enough – of specific ingredients.
D-aspartic acid shown to be cause headaches in a minority of subjects in one study [18]. However, side effects of this nature are rarely – if ever – mentioned elsewhere.
Some sources suggest fenugreek (in both TestoFuel and Nugenix) could also cause bloating and gas, but we cannot find any studies to support this claim.
Nugenix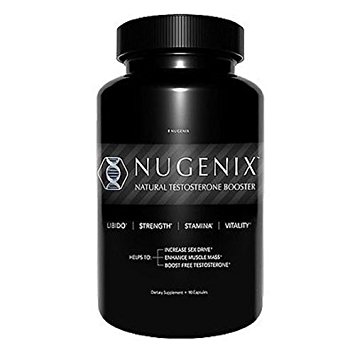 Nugenix also uses all-natural ingredients.
However, the proprietary blend makes it unclear how much citrulline, Tribulus or fenugreek seed it contains – meaning it's less possible to judge whether it contains a high amount that could cause side effects.
According to WebMD, Tribulus fruit is "likely unsafe" – having been linked to a "serious lung problem" [19]. That said, Nugenix is a popular product and we can find no evidence that such issues have been reported by users of the Adaptive Health product.
Cost and value
TestoFuel cost
One bottle: $65/£39
Two bottles: $130/£78 with free US and UK shipping
Three bottles + one free: $195/£117 with free worldwide shipping
Nugenix cost
One bottle: $69.99 (unavailable outside North America)
Nugenix costs more than TestoFuel from the product website.
The TestoFuel site also offers you free US and UK shipping when you buy two or more bottles. Meanwhile, you can get one box free for every three you order.
Considering TestoFuel wins on not just price, but in terms of formula, it's safe to say TestoFuel represents better value for money. This is especially true when you consider the Roar Ambition product contains four times as many capsules per bottle – for less money.
Pros and cons
TestoFuel pros:
Increase free testosterone and decreases estrogen
Helps to build muscle and strength
Boosts energy levels and libido
100% natural – shouldn't cause side effects
No proprietary blends – transparent formula
Contains well-researched ingredients in generous amounts
Discounts on multiple purchases
Nugenix pros:
Some good ingredients
Available from third parties – bargain-hunting possible
TestoFuel cons:
Only available direct from testofuel.com
Not suitable for vegetarians
Nugenix cons:
Lacks same depth of research
Uses proprietary blend
Tribulus shown not to boost testosterone
Only available in North America
No discounts available
Conclusion
Both of these products are popular testosterone boosters. But the fact that Nugenix is perhaps the slightly more well-known product is by no means a reflection of its relative quality.
At almost every stage of this TestoFuel vs Nugenix battle, the Roar Ambition product has beaten the Adaptive Health booster hands down.
TestoFuel wins on ingredients – all of which are well-researched. In contrast, Nugenix uses L-citrulline, which would be more at home in a pre-workout or pump supplement. This suggests Nugenix lacks the same depth of research that defines TestoFuel.
Differences in quality and value
Meanwhile, Nugenix's use of a proprietary blend is another sign of its lack of comparative quality. And when you consider Nugenix is the more expensive of the two testosterone boosters, it's popularity is – quite frankly – baffling.
Here are the final results in each category:
Brand authority and product: Draw
Ingredients and research: TestoFuel
Serving sizes: TestoFuel
Safety and side effects: TestoFuel
Cost and value: TestoFuel
TestoFuel score: 5/5
Nugenix score: 1/5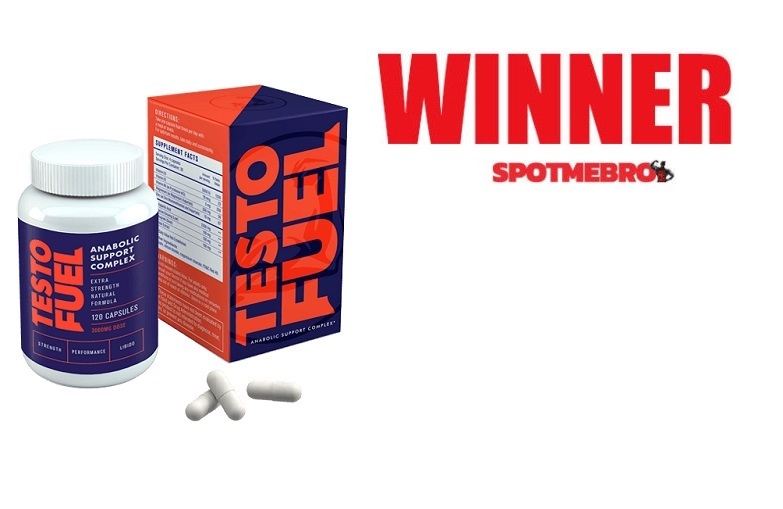 Find out more and buy at www.TestoFuel.com
*Individual results may vary. Please speak with your doctor or physician before undertaking any new weight reduction, supplement, or exercise regime.
References
Symes, E. et al (1984). Increased target tissue uptake of, and sensitivity to, testosterone in the vitamin B6 deficient rat. Journal of Steroid Biochemistry, 20(5), pp.1089-1093.
Laquale, K. (2006). B-Complex Vitamins' Role in Energy Release. Athletic Therapy Today, 11(6), pp.70-73.
Pennstatehershey.adam.com. (2019). Complementary and Alternative Medicine – Penn State Hershey Medical Center – Vitamin B6 (Pyridoxine) – Penn State Hershey Medical Center. [online] Available at: http://pennstatehershey.adam.com/content.aspx?productId=107&pid=33&gid=000337 [Accessed 8 May 2019].
What Is ZMA?. [online] WebMD. Available at: https://www.webmd.com/vitamins-and-supplements/zma-supplements#1 [Accessed 8 May 2019].
Steels, E. et al. (2011). Physiological Aspects of Male Libido Enhanced by Standardized Trigonella foenum-graecum Extract and Mineral Formulation. Phytotherapy Research, p.n/a-n/a.
Wankhede, S. et al (2016). Beneficial effects of fenugreek glycoside supplementation in male subjects during resistance training: A randomized controlled pilot study. Journal of Sport and Health Science, 5(2), pp.176-182.
Jmvh.org. (2019). Vitamin D Correlation with Testosterone Concentration in Male US Soldiers and Veterans. [online] Available at: https://jmvh.org/article/vitamin-d-correlation-with-testosterone-concentration-in-male-us-soldiers-and-veterans/ [Accessed 08 May 2019].udy. Journal of Sport and Health Science, 5(2), pp.176-182.
Sahota, O. (2014). Understanding vitamin D deficiency. Age and Ageing, 43(5), pp.589-591.
Vitamin D Council. (2018). Comparing 2,000 IU/day vs. 5,000 IU/day vitamin D supplementation. [online] Available at: https://www.vitamindcouncil.org/comparing-2000-iuday-vs-5000-iuday-vitamin-d-supplementation/ [Accessed 08 May 2019].
D'Aniello, S. et al. D-aspartate, a key element for the improvement of sperm quality. Adv. Sex. Med. 2012; 2: 47–53.
Frank, K. et al (2018). Panax ginseng Research Analysis. [online] Examine.com. Available at: https://examine.com/supplements/panax-ginseng/ [Accessed 08 May 2018].
Kitaoka, K. et al. Fermented ginseng improves the first-night effect in humans. Sleep. 2009 Mar;32(3):413-21.
Ellis, J.M. and Reddy, P. Effects of Panax ginseng on quality of life. Ann Pharmacother. 2002 Mar;36(3):375-9.
Shindel, A. (2011). Oral L-Citrulline Supplementation Improves Erection Hardness in Men With Mild Erectile Dysfunction. Yearbook of Urology, 2011, pp.169-170.
Pokrywka, A. et al (2014). Insights into Supplements with Tribulus Terrestris used by Athletes. Journal of Human Kinetics, 41(1), pp.99-105.
Neychev, V. and Mitev, V. (2005). The aphrodisiac herb Tribulus terrestris does not influence the androgen production in young men. Journal of Ethnopharmacology, 101(1-3), pp.319-323.
Sellandi, T. et al (2012). Clinical study of Tribulus terrestris Linn. in Oligozoospermia: A double blind study. AYU (An International Quarterly Journal of Research in Ayurveda), 33(3), p.356.
D-aspartic acid supplementation combined with 28 days of heavy resistance training has no effect on body composition, muscle strength, and serum hormones associated with the hypothalamo-pituitary-gonadal axis in resistance-trained men.
Tribulus: Uses, Side Effects, Interactions, Dosage, and Warning. [online] Webmd.com. Available at: https://www.webmd.com/vitamins/ai/ingredientmono-39/tribulus [Accessed 9 May 2019].
Disclaimer:  The information on this site has not been evaluated by the FDA. The products on this page are not intended to diagnose, treat, cure or prevent any disease. Results in description and Testimonials may not be typical results and individual results may vary. We may earn commission if you click the links and buy the products featured on this page.