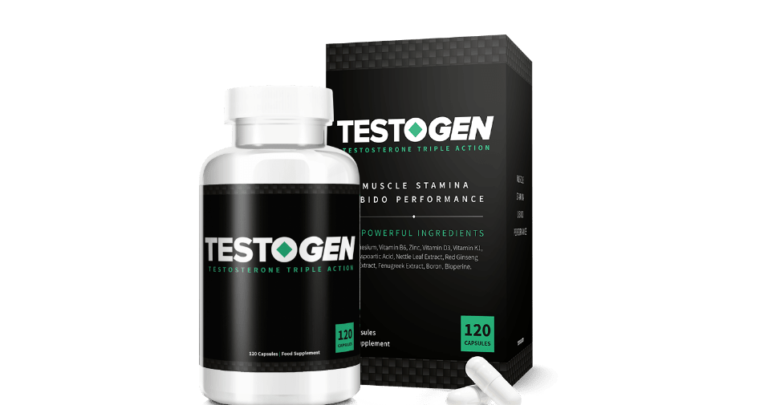 Testogen overview
If you're struggling to pack on muscle or make any changes to your physique, there's a good chance you're suffering from low T.
This struggle is real for many men. No matter how hard you work out and how heavy you go in the gym – most of the time it's one little thing getting in your way: your testosterone levels.
Benefiting everything from your energy levels to muscle growth and mood, your T plays a role in literally every aspect that makes you a man.
Unfortunately, many men experience a gradual decline once they reach their 30s, bringing with it a host of symptoms and undesirable effects[1]. Thankfully though, natural test boosters exist to optimize your testosterone production and ensure you have normal levels running through your body.
One supplement we've recently come across is TestoGen, a 'triple-action' T booster designed to revive your testosterone levels and improve overall health. The brand is incredibly popular on the testosterone supplement scene and as such has a large following of loyal users.
By boosting your T production and helping your body release more, it promises to increase your focus and stamina, improve muscle size and reverse a flagging libido to boost performance.
How does it work? And does it deliver its promises? We find out in this detailed TestoGen review.
---
Pros and Cons of TestoPrime
Pros
Could improve muscle mass and promote libido
Scientifically formulated and natural formula
Trusted brand
Money-back guarantee
Works to improve mood
No proprietary blends
Cons
TestoGen: The Ingredients
TestoGen contains many popular nutrients known for their T-boosting effects. The creators say they've created the most up-to-date formula with ingredients at optimum amounts for outstanding results. Here are some of the key compounds below:
Boron – Boron works to quicken the production of testosterone by blocking estrogen production. Research has shown that regular consumption of just 10mg boron can improve free testosterone levels and lower estradiol significantly[2].
Magnesium – This ingredient is critical for testosterone production, especially if the cause of low T is a deficiency[3]. Studies have shown it can naturally promote testosterone production if consumed in generous doses. It's also key for better sleep which is relevant in the case of normal test levels.
D-Aspartic Acid (D-AA) – D-Aspartic Acid is an amino acid that increases the production of key sex hormones. It's linked with stimulating LH, the hormone that tells the testes to produce and release more testosterone and sperm cells³.
Red Ginseng Extract – An old herbal medicine, Ginseng is thought to enhance masculinity by boosting sperm quality and libido. It's also thought to provide a variety of health benefits, including enhanced brain functioning, improved cardiovascular health and immunity. It's thought to enhance masculinity by improving sperm quality and sexual function[4].
Vitamin D3 – The famous sunshine vitamin, D3 is linked with reducing muscle soreness, directly raising testosterone levels and even maximizing endurance[5] so that you can smash through your workouts and day-to-day life.
Vitamin B6 – Vitamin B6 is crucial for over 100 different bodily functions and overall health. It also helps to maintain a good balance between testosterone and estrogen[6].
Serving Size: 4 Capsules
Servings Per Container: 30
Amount Per Serving
% Daily Value
Vitamin D3
52mcg
260%

Vitamin K1
20mcg
17%

Vitamin B6
20mg
48%
Magnesium
200mg
48%
Zinc
10mg
91%
D-Aspartic Acid
2,352mg
*
Nettle Leaf Extract
40mg
*
Korean Red Ginseng Extract
40mg
*
Fenugreek Extract 4:1
40mg
*
Boron
8mg
*
Black Pepper Extract
5mg
*
*Daily value not established
How does TestoGen work?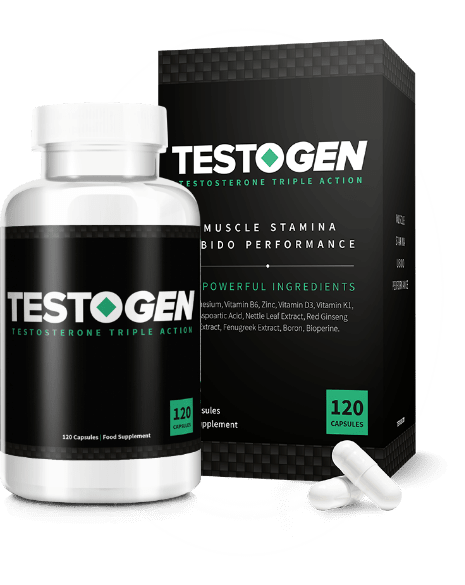 TestoGen gives your body what it needs to produce more testosterone. By delivering a potent mix of nutrients known for increasing the amount of T that is released by your own body, you should quickly feel at your best.
Inside the formula are 11 natural ingredients that work to help reclaim your prime vigor, give you strength and stamina, and 'sharpen you up' so you can take on anything, at any time.
The formula is completely transparent, which lets us see exactly how each inclusion can benefit your health.  It's quite clear the creators have done their research, including potent t-boosting ingredients that work to help improve T and ultimately deliver better vitality levels, improved libido, speedier recovery times and a leaner physique.
And if it doesn't work for you? You're provided with a 100-day guarantee, giving you the confidence that you've got nothing to lose.
What are the benefits of taking TestoGen?
TestoGen is specifically formulated to get your testosterone levels back to normal and keep them raised. By boosting your testosterone, you should benefit from a whole host of physical and mental benefits and look at life in a different way, feeling more motivated and driven to succeed.
Increasing testosterone can positively influence body composition and help you stay lean. TestoGen's natural formula should contribute towards increased lean mass and help users burn more fat for a better physique. Having optimized testosterone levels also leads to lower body fat[7] which will give you a leaner look.
Lifted mood and energy levels
TestoGen works to not only power up your testosterone production, but it may lift your mood too with its addition of red ginseng. This herb is commonly known for its cognitive-boosting ability and relieving oxidative stress. It's also common knowledge that the more testosterone you have, the more confidence you have. This can raise your self-esteem and help you stay focused on achieving your goals.
TestoGen is packed with natural libido-enhancing ingredients, all in the right amount, to help you overcome low sex drive and fatigue in the bedroom. Your masculinity is boosted in every way.
at Testogen.com
How to take TestoGen
The recommended total dose of TestoGen is four capsules per day. According to the manufacturer's directions, you should take four capsules approximately 20 minutes before your breakfast, using this same schedule on both workout and non-workout days.
It's always best to follow the directions on the bottle to ensure you get the right experience. Be sure to never exceed the stated dose and consult your doctor if you do. If you're ever unsure about taking a new supplement or you experience any health issues or adverse side effects, seek medical advice.
TestoGen results – before and after
It's clear to see that TestoGen is a popular test booster when you look at customer reviews. The official website boasts some seriously effective results from men of all ages. Some users commented on the fact TestoGen improved their libido and lifted their mood. Here are some from the official site: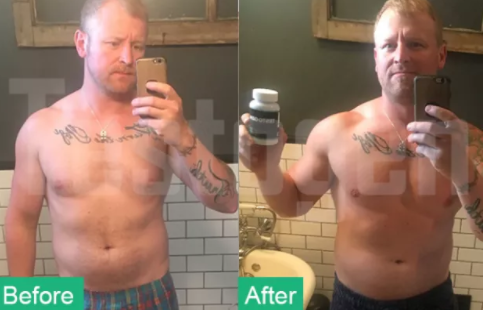 "I was hoping to gain some muscle, lose some inches on my waist, but most of all I wanted to not be tired anymore. By the end of the 2nd week I could already start noticing a difference. Way more energy to get through the day, and definitely more spunk in the bedroom. I feel amazing, I look better and now I even sleep better." – Jason, United States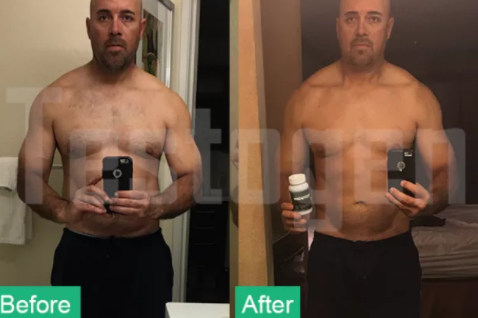 "I have been taking testogen for the past 10 weeks. I bought the 3 bottles deal. It has helped me tone my body and loose fat. I have more energy at work and when working out, I have been able to tone muscle and gain muscle also. I have more strength than before during the day and when working out." – Jaime, United States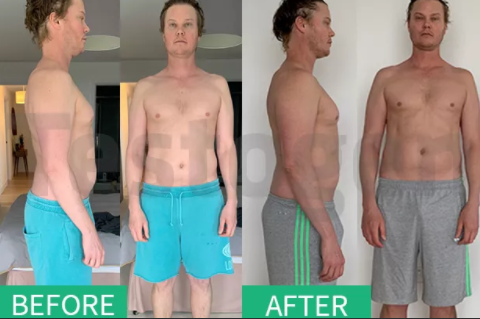 "Since starting I have felt my moods lighten, my body is feeling lighter, I have more energy… and that lovely libido of mine is back up..  I'd definitely recommend Testogen"- Josh, United Kingdom
 TestoGen reviews – what are other people saying?
We scoured the web to find TestoGen customer reviews. Looking online, we found customers are big fans of the formula, with users experiencing better workout results, improved libido and even better sleep.
However, there were also a limited number of users who experienced some side effects using TestoGen, like toilet problems, sleep issues and no results whatsoever. We looked at reviews from the official website and Amazon.
Testogen.com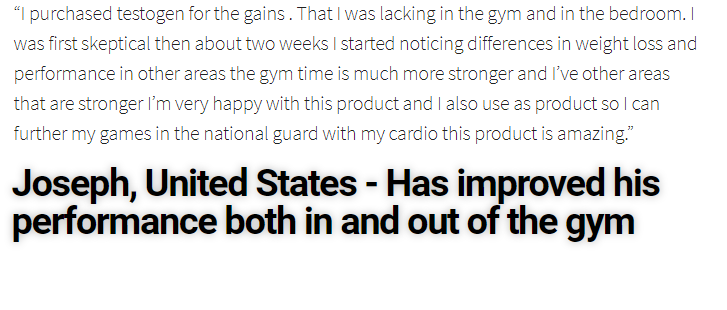 Amazon.com


Does TestoGen have side effects?
Looking at the ingredients label, you can see TestoGen is made up of an all-natural ingredient list with no synthetic or chemical components inside. As a result, we'd be safe to assume you're unlikely to experience serious side effects.
According to the creators, the nutrients included are all required by your body to naturally promote test production, so by using it, you're not necessarily ingesting anything foreign to your body. They say a lot of the ingredients used in TestoGen 'have been in use for centuries in Asian traditional medicine, and they all have good safety records'. The label is completely transparent too, so you're able to see exactly what's inside and how it can affect your body. It's a safe formula with no harmful doses.
That said, it's always important to study the supplement facts of any product you're thinking of using, including the warnings, directions and the ingredients.  Directions on the website also advise you that if you have any problems whilst taking TestoGen, you should stop taking it and seek your doctor's advice.
---
TestoGen Review: Our Conclusion
Testogen is a well-thought out T-boosting supplement that should help to make a real difference to your T production and way of life on the whole.
Each ingredient is well-dosed and backed up by the relevant scientific research for its claimed effect. If used regularly (and correctly), TestoGen could be the option to fully revive your manhood and provide long-lasting benefits, in every aspect of your daily life. The money-back guarantee makes it a risk-free deal too.
For many men, it works very well and there are many users who have left positive reviews around the web. However, there's always the risk of side effects which you should be aware of, especially if you're sensitive to any of the ingredients. Price-wise, it's up there with most premium test boosters but appears to be worth the investment. In all, we'd recommend TestoGen, especially if you want a nudge in the right direction when it comes to your T levels.
at Testogen.com
References
[1] https://www.webmd.com/men/features/low-testosterone-explained-how-do-you-know-when-levels-are-too-low
[2] https://www.ncbi.nlm.nih.gov/pubmed/21129941
[3] https://www.ncbi.nlm.nih.gov/pmc/articles/PMC4623306/
[4] https://www.ncbi.nlm.nih.gov/pmc/articles/PMC3861174
[5] https://www.ncbi.nlm.nih.gov/pubmed/24313936
[6] https://www.ncbi.nlm.nih.gov/pubmed/1310983
[7] https://pubmed.ncbi.nlm.nih.gov/12960001/
[Note: We do not get paid to feature any supplements in our review. However, SpotMeBro may receive a small commission if a purchase is made.]