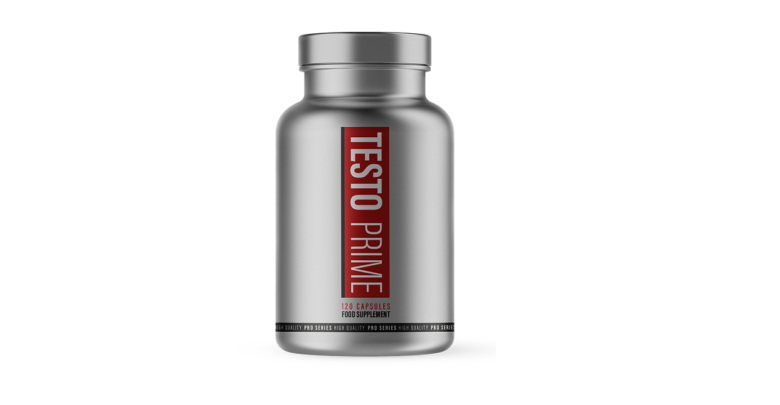 TestoPrime overview
Optimizing testosterone should be at the top of every man's health goals for improved energy, lean muscle growth, better confidence and overall mood.
In fact, increasing testosterone should also provide you with a greater sense of well-being and enhance your performance in and out of the gym.
With so many test boosters available on the market now, how do you know which one to choose?
The Spot Me Bro team recently discovered TestoPrime, a test booster making waves in the supplement world, helping men all over the world re-discover their prime. The all-natural testosterone support complex works to promote testosterone production and thus enhance endurance, reduce stress, improve body composition and boost muscle strength to get the ultimate physique.
Is this all you can expect from TestoPrime? How does it work to deliver these benefits? Our research team puts TestoPrime under the magnifying glass to find out.
Keep reading our TestoPrime review to see if it's the ultimate T-booster for you.
---
Pros and Cons of TestoPrime
Pros
Clear list of all-natural, clinically supported ingredients
Works to improve endurance
Boosts muscle growth and strength
No proprietary blends
Made in GMP-certified facility with FDA approved ingredients
Should boost libido, motivation and mood
Cons
Only available direct
Premium price
TestoPrime: The Ingredients
Inside TestoPrime, you'll find an all-natural formula of potent testosterone-boosting nutrients. Each inclusion is backed by the latest science and ingredients 'you can trust' according to the creators. We've picked out the key compounds below:
D-Aspartic Acid (D-AA) – This potent amino acid stimulates the production of Luteinizing Hormone (LH) which tells the Leydig cells in your testicles to start releasing testosterone into your bloodstream[1]. Additional research also indicates D-AA is helpful in treating infertile men, as well as supporting athletes looking to increase muscle mass and strength[2].
KSM-66® Ashwagandha– The 'gold standard' of ashwagandha extracts, this powerful adaptogen is thought to reduce stress and decrease cortisol levels in the body. Reduced cortisol should help testosterone levels flow freely. Ashwagandha has also been shown to improve body composition[3] and reduce inflammation which can decrease the risk of metabolic diseases and help improve overall wellbeing[4][5].
Fenugreek – This herb has been shown to improve testosterone levels that have declined due to aging in otherwise healthy men[6]. The same study also demonstrated significantly improved strength and reduced body fat compared to the placebo group. Supplementing with fenugreek may also help improve mood, libido and sperm count[7].
Zinc – Zinc is essential for many aspects of health but also to the production of testosterone. The mineral is thought to slow down the conversion of testosterone to estradiol, the female hormone. If estradiol levels get too high, men may experience low sperm quality and low T. Zinc is also essential for healthy immune system[8] and reducing inflammation while supporting digestion and nerve function[9].
Vitamin D – This 'sunshine vitamin' has several roles in the body, supporting with healthy muscle strength, bones, immune health and improved endurance so you can stay motivated in and out of the gym[10].
Serving Size: 4 Capsules
Servings Per Container: 30
Per 4 capsules
% Daily Value
Zinc
40mg
*
Vitamin B5
8mg
*
Vitamin B6
5.6mg
*
Vitamin D
29.58mg
*
Garlic Extract
1200mg
*
Green Tea Extract
4000mg
*
Pomegranate Extract

360 mg
*
KSM 66 Ashwagandha

668 mg
*
Fenugreek

800 mg
*
D-Aspartic Acid

2000 mg
*
Panax Ginseng

8000 mg
*
Black Pepper Extract

5.58mg
*
*Daily value not established
How does TestoPrime work?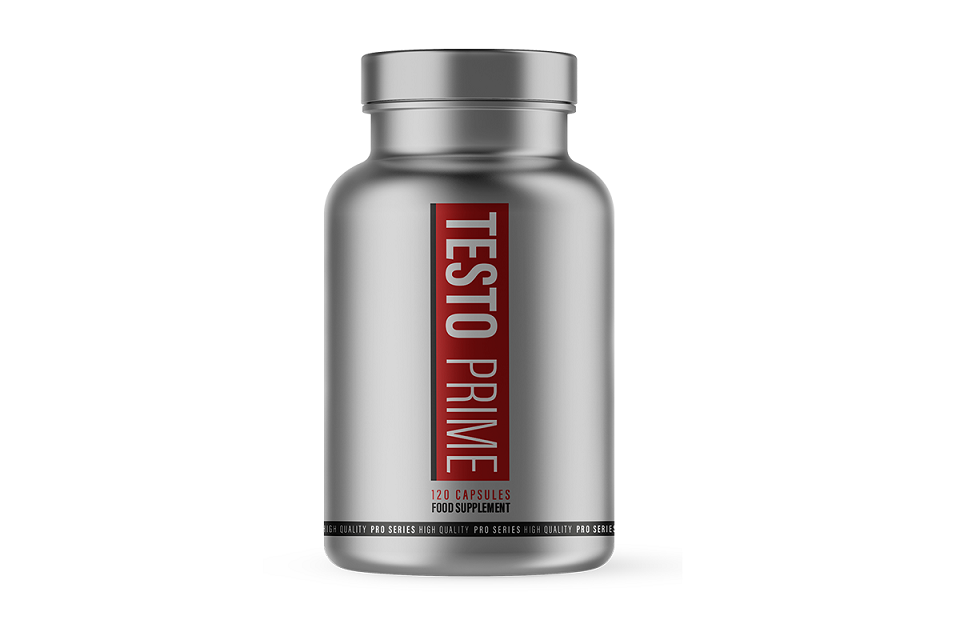 If you're feeling overworked, tired or just not yourself, you may be dealing with symptoms of low T. TestoPrime aims to repair the effect of lost testosterone and reverse any negative effects.
Inside the mix, you'll find 12 clean ingredients that work to help reclaim your prime vigor and reverse manhood-destroying symptoms. By naturally providing your body with all the nutrients it needs to repair T levels, TestoPrime should help 'open the gates' and flood your body with testosterone. Essentially, 'turning back the clock on male aging'.
The fully transparent label demonstrates an effective formula, with all the ingredients we'd expect in a supplement of this type.
Potent t-boosting ingredients work to help improve T and ultimately deliver better energy, speedier recovery times and a leaner physique. Alongside, valuable vitamins and minerals form a nutritional complex to support overall wellbeing.
With optimized T, you should benefit from a lifted libido, boosted stamina, optimized metabolism, level-headed mood and a better physique.
What are the benefits of taking TestoPrime?
Better testosterone production
TestoPrime promises to raise your levels of testosterone production by 44% which can lead to a whole host of physical and mental benefits for a better way of life.
By inhibiting the production of cortisol, your body's stress hormone, your mood should improve and testosterone will be able to flow more freely. This also allows for improved body composition as your body has an easier time ridding excess body fat.
Increased physical and mental energy
In TestoPrime's potent formula, you get a mix of natural antioxidants and energy enhancers to support energy levels and help your body process foods into fuel. Naturally reducing stress should also help to improve your cognitive function, improving overall mood.
Improved body composition
By stimulating the production of T, your body should be able to burn through stubborn fat easily and maintain muscle mass. As a result, you can achieve a stronger, toned physique. There are also metabolism-boosting thermogenic elements like green tea to support higher calorie burn and improved fat burning.
TestoPrime says it can enhance oxygen consumption inside the body which, in turn, leads to a higher production of nitric oxide. This may improve sexual strength and stamina, allowing you to enjoy your intimate life. Ingredients like fenugreek are also thought to improve sexual function and sperm count.
How to take TestoPrime
To use TestoPrime, you should take 4 capsules every morning before breakfast for the best results. This is a little odd, considering most testosterone boosters designed to be taken throughout the day.
The creators advise that you should use the product for at least 3 to 6 months to make a real change to your test levels and feel the benefits of its powerful support complex.
We always encourage following manufacturer guidelines. Ignoring serving suggestions or directions may lead to unwanted side-effects. Also make sure you never exceed the stated dose at any time and if you experience any health issues or adverse side effects, seek medical advice.
TestoPrime results – before and after
TestoPrime is a relatively new supplement to the market but from looking online, it has been well-received since its introduction.  We found positive reviews from men of all ages on the official website however there's nothing in terms of before and after results. This may be because the supplement is new.
TestoPrime reviews – what are other people saying?
On the official website, TestoPrime claims you can expect to experience benefits within just weeks of taking the formula and customers appear to back this up: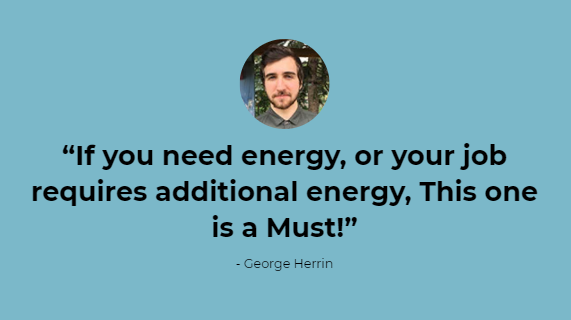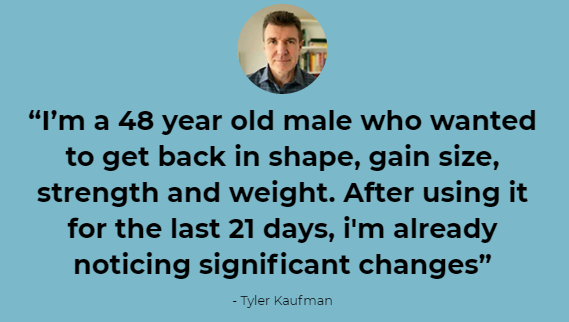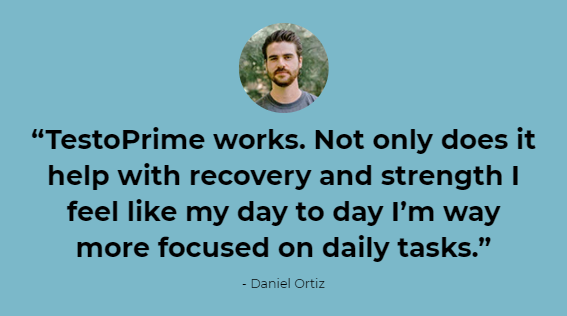 Does TestoPrime have side effects?
After analyzing the ingredients label, we're pretty convinced you should be able to use TestoPrime to its full capacity without any adverse side effects. The lack of proprietary blends assures us that the creators are serious about delivering a completely safe and effective supplement.
That said, it's always important to cautiously review the supplement facts of any product you're thinking of using, including the warnings, directions and the ingredients.
As the creators claim, TestoPrime is a completely natural formula, using globally-sourced ingredients that is free of nuts, soy, dairy and gluten. The capsules are manufactured within the United States in an FDA-approved state-of-the-art facility. This means all the processes involved in producing this supplement are in accordance with the standards set by the GMP, reassuring us of its quality.
However, the makers of TestoPrime do recommend consulting with your professional health physician before starting any health regime or if you currently take medications.
---
TestoPrime Review: Our Conclusion
TestoPrime is relatively new to the market, however it's definitely made its mark. Its male-enhancing formula targets testosterone deficiency excellently, helping you overcome any negative effects.
It's cleverly formulated, with a well-dosed, nutritionally powerful blend. Our team found nothing but beneficial ingredients in the mix which should also come with zero side effects. The research-backed mix should help your body get your T levels back to normal and maintain optimum health.
If you choose this supplement as your go-to for naturally increasing T and a new, rejuvenated life, you shouldn't be disappointed. With the right levels of testosterone flowing through your body, you should benefit from improved body composition, better muscle gains, enhanced cognitive function and ultimately, a leaner, sculpted body.
Price-wise, it's certainly at the upper end of the scale, however if you want a premium formula, you often have to pay for it. TestoPrime is worth your attention.
References
[1] https://www.ncbi.nlm.nih.gov/books/NBK539692/
[2] https://www.ncbi.nlm.nih.gov/pmc/articles/PMC5340133/
[3] https://www.ncbi.nlm.nih.gov/pubmed/26609282
[4] https://www.ncbi.nlm.nih.gov/pubmed/19504465
[5] https://www.ncbi.nlm.nih.gov/pubmed/19388865
[6] https://www.ncbi.nlm.nih.gov/pmc/articles/PMC2978122
[7] https://www.ncbi.nlm.nih.gov/pmc/articles/PMC5278660
[8] https://www.ncbi.nlm.nih.gov/pmc/articles/PMC2702361/
[9] https://www.ncbi.nlm.nih.gov/pmc/articles/PMC3724376/
[10] https://pubmed.ncbi.nlm.nih.gov/24313936/
[Note: We do not get paid to feature any supplements in our review. However, SpotMeBro may receive a small commission if a purchase is made.]