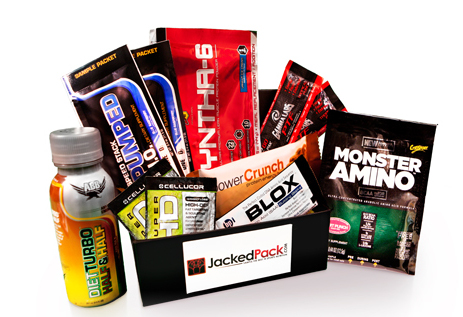 JackedPack.com is a monthly subscription service for sports nutrition supplement samples. Once signed up, they send you a pack of samples at the beginning of each month. Each box may include a mix of the following:
protein powders/bars
pre-workout supplements
post-workout/recovery
healthy snacks
testosterone boosters
fat burners
We're giving away a one year subscription to their "Heavyweight" package. 6-8 product samples a month, a $174 value. We'll send you a 1-month-free coupon code too just in case you don't win.
1. SpotMeBro.com will blindly choose one winner in a random fashion on 1/21/2013
2. We only work with cool companies. JackedPack is owned by a friend of ours, they are based out of NYC.
3. We are trying to bribe you to join the SpotMeBro newsletter. No spam no bullshit.
CONTEST CLOSED 1/21/2013
We selected the winner by printing out the names of all the entrants, shuffling up the papers, and having our friend Jesse throw a dart at it.