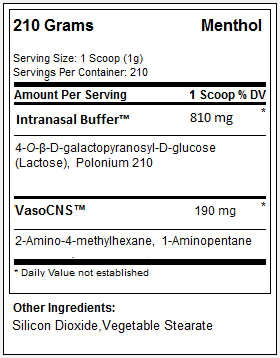 Insufflalex HLE contains a precise combination of CNS stimulants paired with an advanced intranasal delivery buffer that that allows for unrivaled absorption and an instantaneous effect unlike any other product on the market.
Our patented formula has pockets with both high hydrophilic and lipophilic efficiency, violating the rule of hydrophilic-lipophilic balance. This allows our patented VasoCNS™ stimulant blend to cross the blood–brain barrier far better than pre-workout supplements consumed orally. Early users describe the effects as a targeted surge of motivation and energy, and prefer to use Insufflalex HLE directly before intense sets. The duration of effects range from 10-15 minutes, with a significantly reduced period of unwanted after effects compared to other stimulant containing pre-workout supplements.
*Bottle contains dosage measuring dipper and insuffalation conduit.
Warnings: Use with discretion, ingestion may resemble recreational drug use. Do not use in combination with caffeine or any stimulants from other sources whatsoever, including but not limited to, coffee, tea, soda and other dietary supplements or medications. Do not use under extreme conditions of heat, sleep deprivation or dehydration. Do not combine with alcohol. This product is only intended to be consumed by healthy adults 18 years of age or older. Consult with your Physician before using this product, especially if you are using any prescription or over the counter medication or if you have any pre-existing medical condition including but not limited to: high or low blood pressure, cardiac arrhythmia, stroke, heart, liver, kidney or thyroid disease, seizure disorder, psychiatric disease, diabetes, difficulty urinating due to prostate enlargement or if you are taking a MAOI (Monoamine Oxidase Inhibitor) or any other medication. Discontinue use 2 weeks prior to surgery. Discontinue use and consult your health care professional if you experience any adverse reaction to this product. Do not exceed recommended serving. Do not use if safety seal is broken or missing. KEEP OUT OF REACH OF CHILDREN.
*These statements have not been evaluated by the Food and Drug Administration. This product is not intended to diagnose, treat, cure, or prevent any disease.