Testosterone is an essential hormone when it comes to getting jacked and stacked. So it makes sense that the supplement industry is clambering to make legal alternatives to steroids that'll see you making huge gains. And getting pretty horny.
Not sure about you, but when you give any new supplement a blast, it's important you see if it works. So you're not constantly throwing away $$$ for weak blends and crappy miracle pills.
You might be reading this thinking 'natural test boosters are bullsh*t', and for the most part you are right.
But with growing scientific evidence supporting the use of key vitamins and nutrients like vitamin D and zinc to boost testosterone, there are some of these products that actually work.
Test boosters are all over bodybuilding.com, with every supplement company having a bash and sticking together 'ancient Chinese herbs' and 'crocodile ring piece extract' in a bid to stand out from the market and take your cash.
The problem? Like we said above, if you bothered reading, was most of these products ingredients are so far removed from science, they may as well be something made from wolfsbane and used to poison Jon Snow (sorry for the Game of Thrones reference)
In this post though, we want to look at the best test booster before and after photos.
Test Boosters – The Before and Afters
With so many before and after photos of guys who've supposedly done natural testosterone boosters, but clearly done roids, there is a lot to shift through to find products that actually do what is shown in the picture.
Sure you do need to consider the workout routine and diet of these guys, but even training as little as 3 times a week and just cleaning up your diet can really allow a test booster to do it's job.
We've picked out two verified testimonials from a load, of two products we know are worth spending a few dollar on, especially if you lift.
#2 MuscleTech Test HD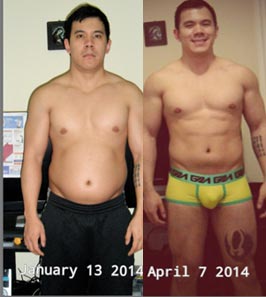 While there is a little bit of room for improvement in MuscleTech Test HD and it is fairly hard to find some verified before and after pictures, you should see similar results to the above.
What Test HD does that others don't is include a big clinical dose of shilajit, a nutrient rich Asain biomass that contains a load of essential testosterone boosting minerals.
The reviews of MuscleTech Test HD generally all highlight the following benefits;
More energy
Better sleep
Faster recovery
MuscleTech Test Booster Before and After – Alfred
So in number #2 we have MuscleTech's Test HD Test Booster supplement.
Alfred's testimonial is testament to this supplement. Cutting down some serious fat and putting on a bit of strength with a period of test booster supplementation.
MuscleTech's natural testosterone booster blend carries a bit of weight. But isn't quite as perfect as it could be and certainly not the best we've tried.
#1 TestoFuel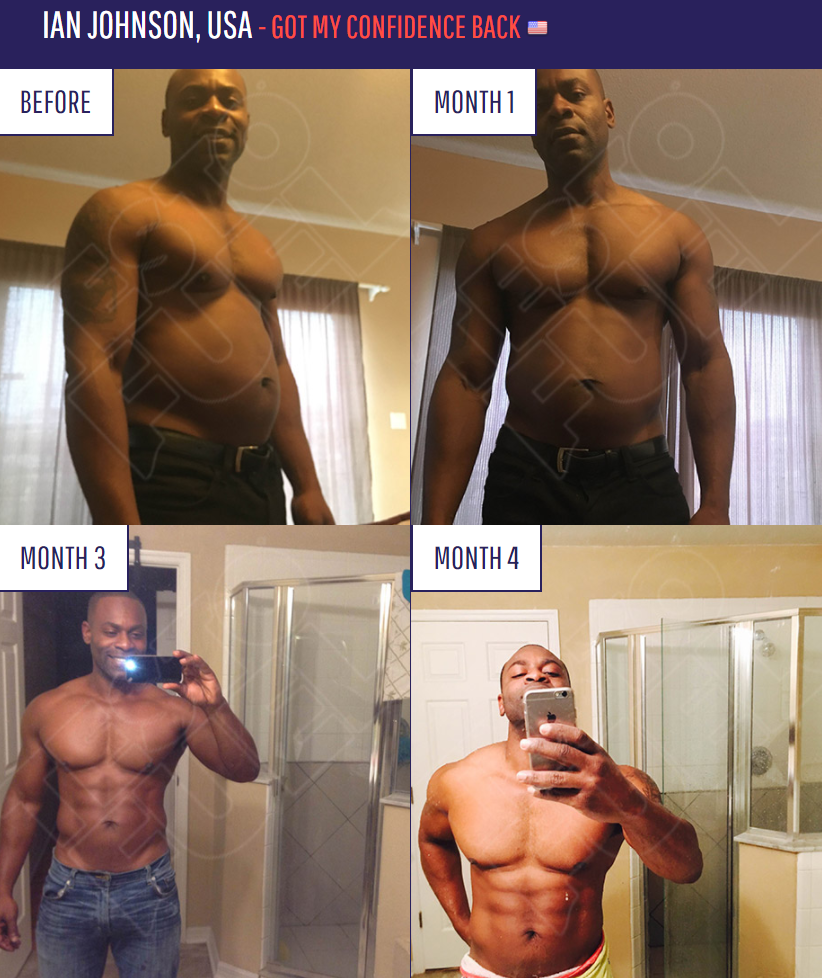 By far the best, and seemingly endless before and after test booster photos come from TestoFuel. The number #1 testosterone booster from Roar Ambition.
TestoFuel is a natural booster that uses a blend of vitamins and minerals (all scientifically backed, of course) to help your testes increase testosterone production.
Ingredients wise TestoFuel checks out. With every ingredient proven to have an effect and cause;
Increased Protein Synthesis – More muscle
Extra power and energy
Boosted libido
A denser more satisfying physique
Train harder and recover quicker
The before and after of some of these guys is insane. With every one of them experiencing the above results.
TestoFuel Before and After – Ian Johsnon
If you're wanting to burn away that belly fat and build up a bit of muscle whilst you are at it, like Ian above you'll need to be training with fairly high weights and also sticking a bit of cardio in every now and then.
For the first 2 weeks Ian said he didn't feel everything, but after he got the dose right and started to remember to take his capsules, began getting results every guy dreams of.
The price is definitely worth the results. I won't ever switch to no other product. I have tried other test boosters, but because of my age 42, they didn't seem to work. TestoFuel has tought me age is just a number of greatness. So now everyday day is a good day to TestoFuel up. I'm loving my new body and self confidence.
-See More TestoFuel before and after photos-
How to Spot a Real Before and After
Test booster before and afters are ALL over the internet. With some that are absolutely ridiculous and clearly the product of illegal steroids and not a natural product.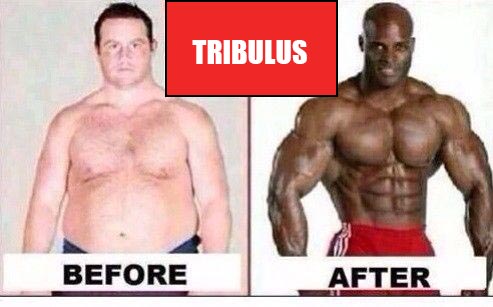 It's a fact that the process of building muscle is going to be slower with a natural testosterone booster than it is if you're juicing.
1.Look for the person holding the product
Pretty obvious, but if you feel like you're getting duped by a test boosters before and after, then look for a photo of the guy (or girl) holding the product itself. If they're holding it then they've at least come into contact with it, which is better than them being a recycled before and after photo from 5 years ago.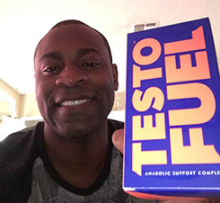 2. Reverse image search it
If you're at a computer you can always right click on the photo and hit 'Search Google for this image'. Seems a long winded way, but you can often easily spot the fake photos by doing this.
3. Find them on social media
Have the company linked to the persons social media? If they're proud of a before and photo then chances are they've shared it like crazy on their own account. Using #ATHLETE #IFBB and other ridiculous tags in a conquest for a few likes.
4. Video proof?
Videos can be a way to double verify someone has used a product and their before and after pictures are real. Again this is something you'll see a lot of on the TestoFuel page. These guys are talking about it because it's legit and they want more.
5. Do they look like they are on roids, or any substances?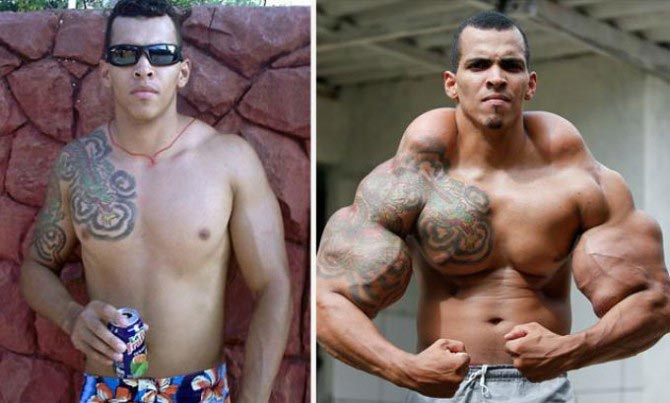 If they do, chances are they've probably not been using a natural product. Duh. (The guy above has only been snorting fish oil and creatine)
Got your own before and after photos?
We want to hear from anyone who has any before and after photos they want to share. If you've recently done an amazing job of cutting a load of weight, or gotten absolutely jacked, we'd considering giving it a share!
We don't care if its from a test booster or not, just that it's actually you and you can prove it.