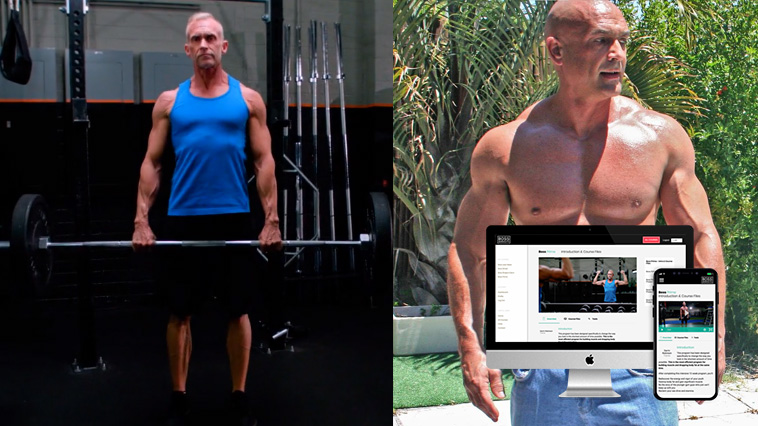 F*ck the younger guys. At the grand old age of 55 we completed 10 weeks of Boss Workouts and were running rings round them.
Boss Workouts: Prime is a program that's been designed to help us gentlemen get back into the gym and build our physiques to a better condition than it's ever been.
Skeptical? We were too. And so were Spot Me Bro. Which is why they had to bring in me to road test it (All the Spot Me Bro team are under 40).
My mission? Simple. See if Boss Workouts Prime could back up it's claims:

For those that are impatient, we're pretty happy to tell you that Boss Workouts ticks most of the boxes when it comes to an online training program.
What we found that Boss Prime did that most other competitors were lacking was actually give you so much information and support, you could walk into each session motivated and knowing exactly what you needed to do.
Motivation is hard as you get older, testosterone levels drop and you can even just feel a little bored at the thought dragging your ass away from a movie like Gran Torino and into a sweaty and loud gym.
BUT, because of Boss Prime's extensive guides and video trainer Darrin Robinson, motivation will skyrocket and the full 12 week program length will fly by.
Who's Boss Workouts Prime Made for?
Boss Workouts say their Prime program is aimed at 40-60. Well, as a 55 year old I'd say their almost entirely right. Almost.
Yes for the older guys the program might be taxing. But there is no reason why this exercise program couldn't be picked up by younger guys too.
There's more than enough in Prime to get stuck into and it would get younger people those all important results.
We'd recommend Boss Prime to:
Guys aged 30-60
People who want to build up new muscle and burn fat
Those who want to get a solid understanding of fitness and nutrition
Younger guys who can't commit to the bigger workout plans
Boss Workouts Prime Expected Results
Boss Prime is a program that's all about the results you get out at the end. They'll have you running real exercises that actually do something, not just some wishy washy 5 day split.
Because of the way the program is written you should start seeing and certainly feeling some good differences following the first 30 days use.
Here's what you can expect after running Boss Prime for the full 12 week period:
 A drop in your unwanted, stubborn fat 
Rejuvenated and boosted levels of energy
New and recovered strength 
Better sleep 
More confidence 
Sound too good to be true? Well, it's just simple science. Obviously by following a tailor made nutrition and diet plan you're going to lose weight and build muscle.
But what Boss did that made such a difference to my personal results, I think anyway, was work off the basis of increasing testosterone levels also.
This is what contributes to more energy, better sleep and improved confidence.
What do you get with Boss Workouts Prime?
When we tell you the price of Boss Prime, you might gulp a bit. It's not quite cheap. But it is very good value for money.
The price comes in at $90 for the full 3 month program. Which, at first might seem a little pricey, we thought so too. But when you actually break down what you get in comparison to other less effective guides it really is pretty good value.
Here's a complete breakdown of what you get with Boss Workouts Prime:
11 Videos explaining the program and it's benefits. 86 minutes of footage in total
54 Page e-book training guide
79 Page e-book nutrition guide
17 Page e-book recipe guide
Full Boss Workouts App with All Course Materials
Downloadable and printable training logs to track your progress
Online body and nutrition calculation tools in an exclusive user area
Lifetime access
This isn't some shitty online program that'll charge you monthly and rip your bank account to pieces, but a targeted, expertly written program for people who are fully committed to making a difference to their physique.
If you compare Boss Workouts to another package from a top workout guide provider you can really see where your money is going too. Check out the listing of another 'online program'… (We left the same out because we're in a good mood.)
40 page workout guide!
5 page nutrition guide!
Access to our Facebook Group!
Guess how much we had to fork out for that…$120…
We will leave that price point there. Oh, and for good measure, here's one day of their 6 week program for mass. Should you want to follow it…but jesus it's un-inspired and small!
| Exericse | Reps | Weight |
| --- | --- | --- |
| Bench Press | 12 | 70% 1RM |
| Chest Flys | 12 | 70% 1RM |
| Tricep Dips | 12 | 70% 1RM |
| Incline Bench Press | 12 | 70% 1RM |
Who's the trainer in Boss Workouts Prime?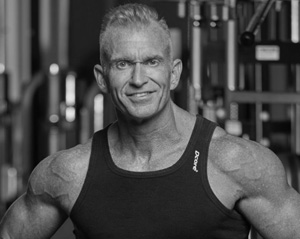 Boss Primes videos are presented by Darrin Robinson. Scratching your head? Yeah, we sort of were also. Until we did a bit of reading about Darrin.
He's actually a trainer of a load of IFBB competitors and a pretty big celebrity trainer overall. He's ISSA certified and also a specialist in performance nutrition.
Darrin will be delivering the video content to you as you work through the 12 week program. He seriously made a hell of a lot of difference for us. Talking us through the program gradually before letting us break the chains and go smash a workout.
While you see Darrin on screen too, the programs credentials don't stop there.
Secondary Trainer: Lee Bell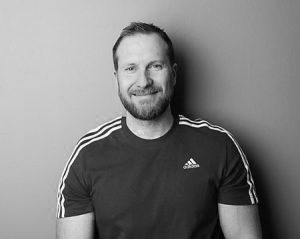 Whilst you'll be seeing Darrin on the screen throughout your time with Boss Workouts, you'll be reading the words of UK fitness expert Lee Bell.
It's pretty safe to say that Lee seems to know more about fitness than most so called 'Trainers', as he actually trains lots of personal trainers and has been a master trainer for leading exercise machine company Matrix.
Lee hasn't just trained trainers though. He's involved in the training of high profile American athletes and has helped with IFBB pro competitors in the past.
Currently Lee is very active and writes for huge fitness sites like Muscle and Strength, T-Nation and MyFitness Pal.
We dread to think how much a PT session with this guy would actually cost!
Plus it's hard not to trust a British guy with a massive beard.
Boss Prime Program Breakdown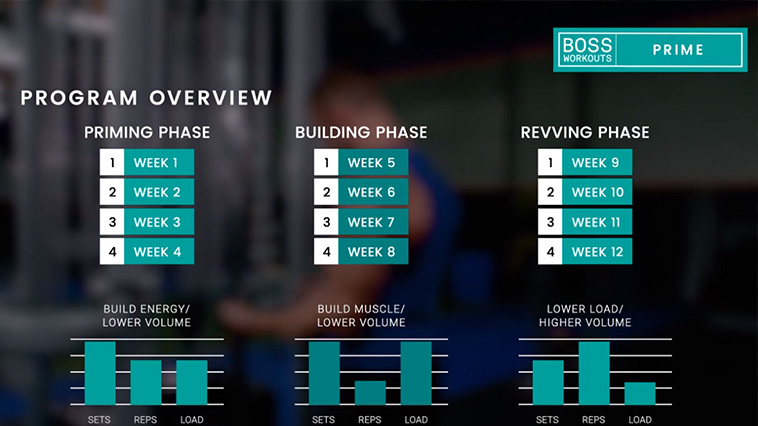 According to the website, Boss Prime is a program that's long been in the making.
What we thought made Boss Prime stand out above the other online programs is it's complexity yet it's simplicity.
We're not talking rubbish with that contradiction either, Boss Prime contains some very advanced ideas and fully explains the reasons behind near enough every rep. The science comes across as simple, but in reality you're learning some pretty advanced stuff throughout the program.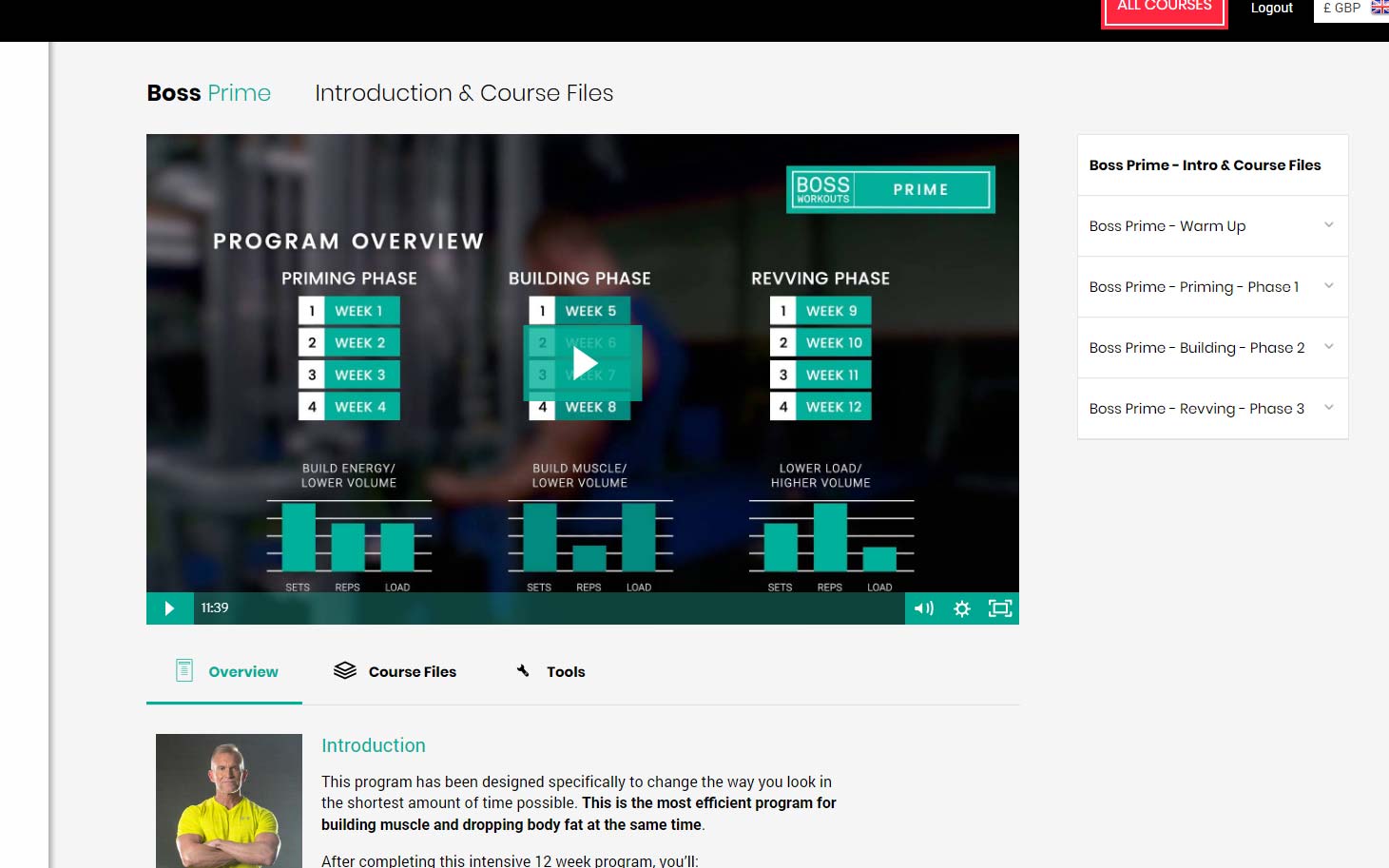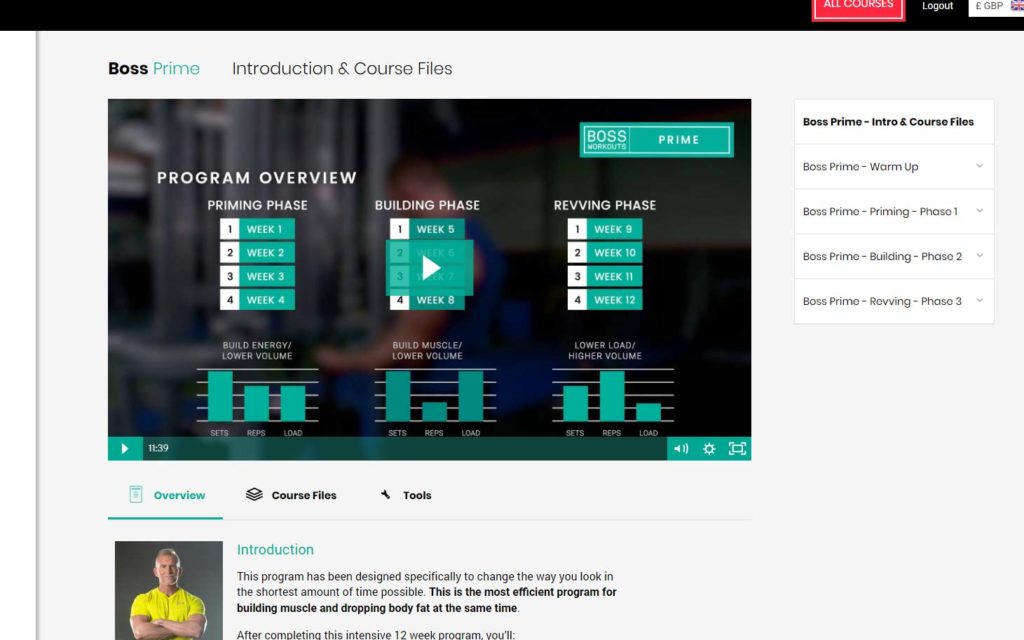 Boss Workouts prime is split into phases which you'll run over the length of the programs 12 weeks.
Each session covers a full body workout, and what we liked about prime, is that this will see you in the gym for as little as 3 hours a week.
When you watch the intro you'll hear how Boss Workouts is supposed to be a program that will allow you to limit the amount of time exercise takes up. Leaving you time for the important stuff.
Priming Phase (Weeks 1-4)
Boss Description: Big compound lifts, along with priming exercises, will build and shape initial muscle growth and begin to add detail to your physique. Rep ranges are geared specifically to provide you with new muscle growth and prepare you for the next phase.
What our tester thought:
As someone who has trained fairly regularly through life, I've found this Prime phase to be a fairly solid and enjoyable base before heading into the next part of the Boss Prime program.
The use of full body exercises here has managed to bring back some of the balance and strength I had in my youth.
This will be a fairly challenging set of workouts to someone who's not been to the gym in years. But fortunately for anything you don't quite understand you can follow Darrin's video guide and also coaching notes in the app.
I did find that I would run over the time with workouts. But this is because I added in a few feeler reps to make sure I was getting the movement right before putting my working weight on.
Building Phase (Weeks 5-8)
Boss Description: You'll be ramping up the weights, with lower reps in this phase, to provide stimulus for both further muscle growth and rapid strength increases.
What our tester thought:
This section was notably tougher. But, I still felt comfortable as it was kept similar to the sort of workouts you'd be running in the first section.
Remember, when you get into the heavier lifts of this phase you need to keep your movements slow and feel the muscle working. It's not going to benefit you smashing through workouts in quick time.
I enjoyed this section of the Boss Program the most, as the feeling of lifting bigger weights really ignited my passion!
All in all this is a well put together phase of Boss and where I felt most of my eventual size, stamina and strength came from.
Revving Phase (Weeks 9-12) 
Boss Description: This phase focuses on emphasizing both overall physical conditioning, along with shedding fat, to reveal the hard earned muscle you've gained in the previous two phases.
What our tester thought:
Here was the hardest few weeks of the Boss Prime program for me. In the revving phase Darrin will take the reps up a few levels and have you working harder to help cut down on fat and leave you with your new muscle.
What was quite nice though, was the clever use of cable machines in this part of the program. I felt that really helped with keep my form whilst pushing into higher rep ranges.
Combined with the diet, I really saw some good results after this phase. One drawback is you might feel a little tired at times. But push on!
Boss Prime Phases Conclusion
Each part of Boss Prime is designed to work with the last to capitalize on your bodies ability to build muscle and burn fat.
You'll most likely start to feel good from the middle of the first phase as your fitness levels will have increased and your moods improved.
What's exciting about Boss Prime is it's also planned around helping to boost testosterone. So within a few weeks you'll not only experience the benefit of the workouts, but you'll also feel yourself slipping back to your younger years.
More energy, improved libido and better sleep are a few of the potential benefits from a program designed around increasing your testosterone. Just stick with the full process and it won't let you down.
Boss Workouts Prime Results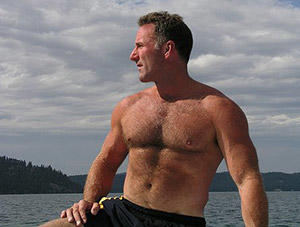 Running Boss Workouts Prime for 10 weeks resulted in some pretty good muscle gain and a huge improvement to energy levels and a fair bit of fat lost.
All in all Boss Prime is an effective program and one of the only programs available online that offers a personal video trainer with the credibility that Darrin has.
It's also great to finally have a comprehensive program aimed at older guys and that isn't just focused on some run of the mill training split, but also their physiology, lifestyle and overall goals.
For those interested here's the results a 55 year old male got from running Boss Prime for 10 weeks:
Starting weight – 205 lbs
Body fat 33%
Bench press: 165
Deadlift: 195
Squat: 155
After the 10 week period on the program here's the results:
Finish weight – 185 lbs
Body fat 26%
Bench press: 210
Deadlift: 230
Squat: 230