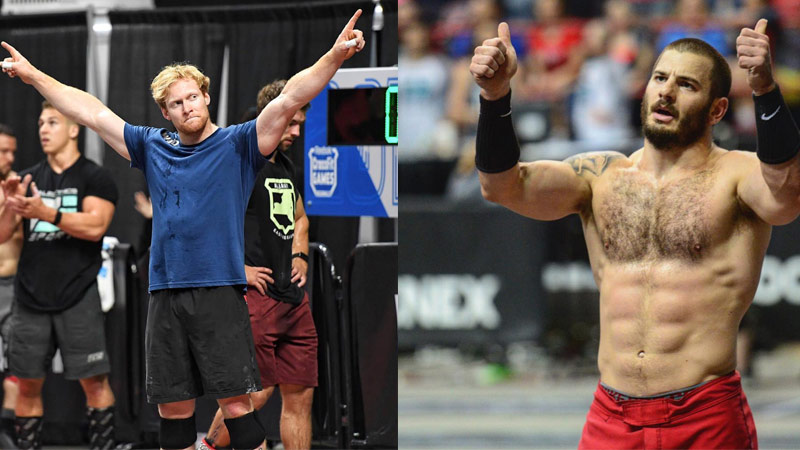 CrossFit is a fitness phenomenon that has quite literally taken the world by storm since it's inception.
The sports quest is simple, to find the fittest beasts of the human kind currently roaming planet earth. But, no one ever said it was easy.
Just ask the top 5 male CrossFit athletes heading into this years pinnacle event. The lengths these dudes have had to go to just to qualify for The Reebok CrossFit Games 2018 is insane.
Even their easiest WODs (Workout of the Day) would leave most mere gym-mortals dead in their tank tops. Laid out flat on the floor in a huge puddle of sweat, crying down the phone to mama.
Those fake tanned thirty inch biceps ain't gonna help you out here, bro. You should have been kipping pull-ups and practising your snatches instead of taking selfies in the mirror.
CrossFit doesn't care about aesthetics or what you're benchin' (although strength is definitely relative). It only gives a sh*t how fit you are, and it doesn't care if you throw up in the process of finding out.
Sounds like just another day in the iron office to me, bro…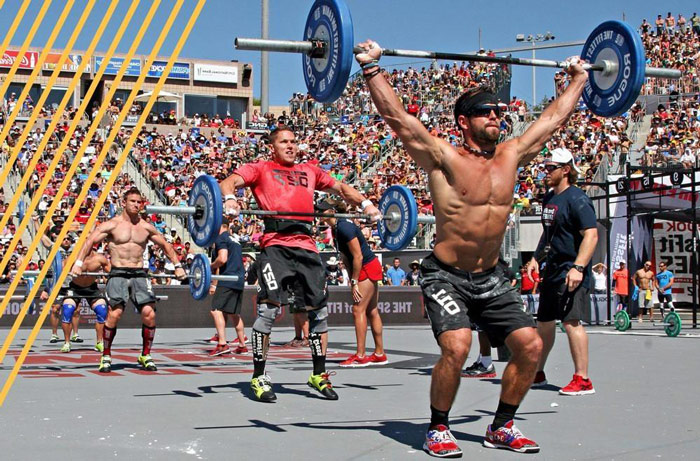 Here's what sets CrossFit apart from most gym-based sports:
Everything is centred around functional movement
The workouts change everyday and even The Reebok CrossFit Games competitors sometimes don't know what they'll face until the actual event
Both male and female athletes have to use standardized weights that aren't based on their own personal mass (lucky for Sir Stacked McSwole over here)
Exercises can include everything from Olympic lifting to gymnastics and swimming
Headbands are all the rage
A lot of people have defined CrossFit as an actual cult
Throwing up dinner is pretty normal
So, now we've got the introductions out of the way, let's meet these crazy sons of a b*tches!
Here's the top 5 guys heading into the Reebok CrossFit Games 2018, according to this years regional rankings:
#1 Patrick Vellner

Region: Canada East  Age: 27  Height: 5′ 11″  Affiliate: CrossFit Solid Ground
Patrick Vellner is not your typical full-scale athletic badass. Considering his insane level of fitness and prowess in the sport, you'll be surprised to find out he is actually a part-time athlete.
He says his true calling in life is schooling and currently completes his chiropractic studies studies full time in Toronto, Canada.
The academic is the ultimate king of efficiency, saying,"Some people will spend seven or eight hours in a library and get nothing done. I'd rather do two hours of focused work. The same is true at the gym."
Vellner has an extensive background in sports and was an elite junior gymnast growing up in Canada. He made his first appearance at the CrossFit games in 2015 as part of Team CrossFit Plateau 2.
Since then he competed as an individual in 2016 and 2017, placing 3rd in both events. He is currently ranked #1 in Toronto and also stole the overall pole position from Mathew Fraser in this years regionals.
#2 Mathew Fraser

Region: Central East  Age: 28  Height: 5′ 7″  Affiliate: CrossFit Mayhem Freedom
For the past two years Mat Fraser has consecutively been crowned the fittest man on planet earth.
Disappointed in his back to back silver medal performances in 2014 and 2015, he attacked the game with a vengeance. Altering his entire lifestyle to become champion.
His four years on the podium spot has made him one of the sports most famous and notorious characters. When he claimed gold at the games in 2016, he broke all previous records and won by the biggest margin in its history.
Fraser's first outing at the games in 2014 earned him the title of Rookie of the Year. You know, just in-case earning a silver medal for your first attempt isn't enough. Especially considering he only began the sport in 2012.
Before finding CrossFit, the reigning fittest man alive was a hopeful for the US Olympic weightlifting team. But, major back surgery would see Fraser retire from the sport in 2011.
That'd put most guys on the bench for a lifetime, not set them up to win one of the toughest tournaments on the planet twice! This dudes the definition of a total savage, bro.
#3 Brent Fikowski

Region: Canada West  Age: 27  Height: 6′ 2″  Affiliate: Kelowna CrossFit
Brent Fikowski is easy to spot on the CrossFit competition field. At an imposing 6′ 2″ and 215lb, he is the biggest guy to ever step on the podium.
Fikowski made his first games appearance back in 2016 and took an awesome 4th place. An incredible feat for his first official outing in the tournament.
During the competition the Canadian won a total of four events. Setting a new record for most events wins by a Rookie in the Games yet.
But, not satisfied to finish just outside the medal bracket, Brent came back to hit 2017 with a vengeance. At the time of writing he hold the title of second fittest man on earth after the previously mentioned Mathew Fraser.
Brent currently stands as the only athlete in the world to finish every regional event from 2013 through 'till 2017.
Want to know the most impressive thing about this uber-conditioned man mountain? He has managed to achieve all of the above whilst holding down a full-time office job!
#4 James Newbury

Region: Australasia  Age: 27  Height: 5′ 10″  Affiliate: CrossFit Mode
Another relative newcomer to the Games, the Aussie made his first appearance two years ago in 2016. Taking 24th place which is a respectable feat for a rookie.
Previous to his Games debut, Newbury had shown real promise by finishing every Pacific and Australia regional competition he entered within the top 11. In the run up to the 2016 Games he was ranked 2nd in his respective Pacific regional area.
Before finding CrossFit the man from down under competed at a respectable level in rugby. Playing semi-professionally within the Queensland and Sydney Rugby Leagues.
He decided to hang up his boots in place of a barbell and tie-dyed t shirt after trying CrossFit in 2011. According to Newbury his intentions weren't to change sports altogether, but to improve as an athlete and push his career on the pitch even further.
Today not only is he a world class competitor but the Aussie is also the owner of his own box, CrossFit Mode in Adelaide, S.A.
#5 Noah Ohlsen
Region: South East  Age: 27  Height: 5′ 7″  Affiliate: CrossFit Passion
Noah Olsen really is the epitome of hard work. Training for six hours a day, five days of the week, for the past eight years.
Noah entered is first CrossFit Games Open back in 2011 gaining 1,320th place. Then, in the following year he would break into the regional scene. Taking a respectable 24th place in his debut outing.
2014 would see the him finally break into the top 10. Being named the eighth fittest in the world at the Games.
Fast forward to 2015 and Ohlsen would continue to turn heads by beating the elite and becoming champion at the Dubai Fitness Challenge, Wodapalooza Fitness Festival and CrossFit Atlantic Regional.
Again, he would repeat his previous performance and land in eight place at the Games 2015. Before finishing 15th in 2016 and proving all the doubters wrong with an incredible comeback performance of 4th place in 2017.
Don't call it a comeback…
However, it all looked to be over before it even began for Noah this year. As a pre-Regionals workout featuring ring dips and dumbbell snatches would leave him with a torn pec.
Even though the injury occurred just two weeks before qualifiers, Ohlsen fought through the pain and mental anguish to break in at 25th place.
Just in case any fans were questioning his health, the competitor would then go on to win event 3 of this years Regionals – silencing any doubts of his comeback.
Setting the bar and then lifting it (for time)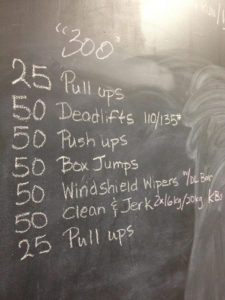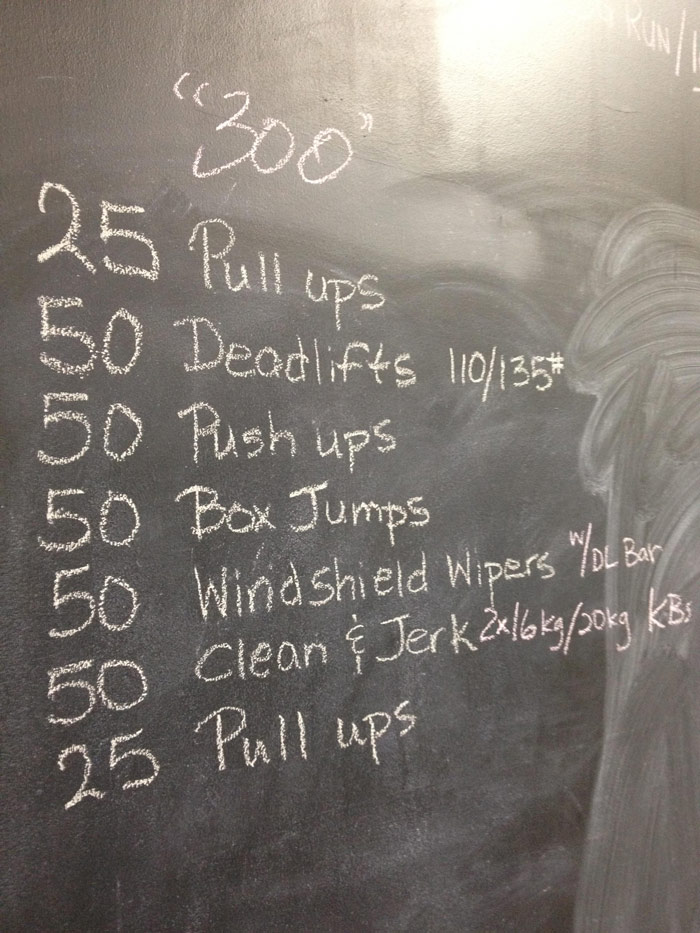 Each CrossFit workout is put together purely with functional movement in mind. So, let's forget about bro-splits for a second and throw those bicep curls out the window.
Instead, get into the mind of the sports founder Greg Glassman, who according the crossfit.com was the first person to actually define fitness.
His method of measurement is, "increased work capacity across broad time and modal domans." Which, when you put it like that, kind of makes a lot of sense.
That's why CrossFit dudes are so God damn competitive. Quite literally everything is measured and thrown up on scoreboards. They don't just wanna know what you're benching. These guys are crazy about how quickly you can complete FRAN or your Oly lifting PB's.
The only way to win is by outworking everyone else in the box. Plus, workouts change daily, so these dudes have got to be ready for anything. Sort of like pumped up ninjas in Nike Metcons and sweatbands, sporting a stopwatch instead of a shiny sick AF sword.
Finding the fittest of 2018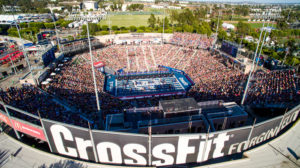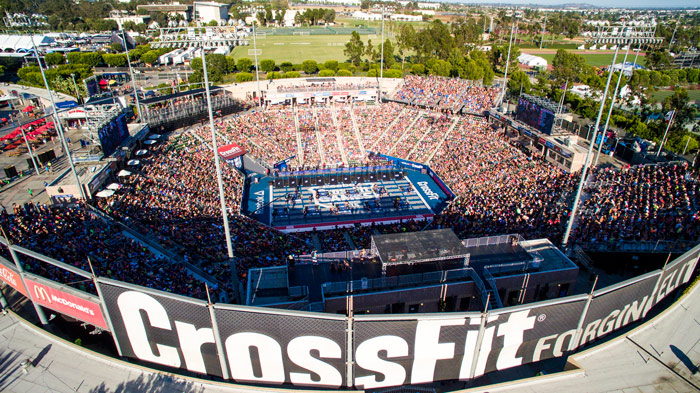 The road to the games is a tough long process. First, you have to make it through the Open. A worldwide five week tournament where athletes carry out workouts in their home boxes and submit their scores online.
Then, the rankings of the Open ultimately decide who will be taking their ass to the Regionals. A tournament where the top competitors from each of the 18 regions battle it out to earn a shot at the coveted games.
Only 40 of the fittest men and women on the planet are heading to The Reebok CrossFit Games this year. A proving ground that will decide once and for all who is the fittest f*cker to ever life. Well, maybe just the fittest guy rocking a headband in 2018.
So, if you haven't guessed already, the Regionals are a pretty big deal. This year they ran across three weekends from May 18 right on through till June 3.
The Reebok CrossFit Games 2018 will be held August 1-3 in Madison, Wisconsin.
Fitness fans can tune into every moment of the action either in person, online via live streaming or across selected TV stations.