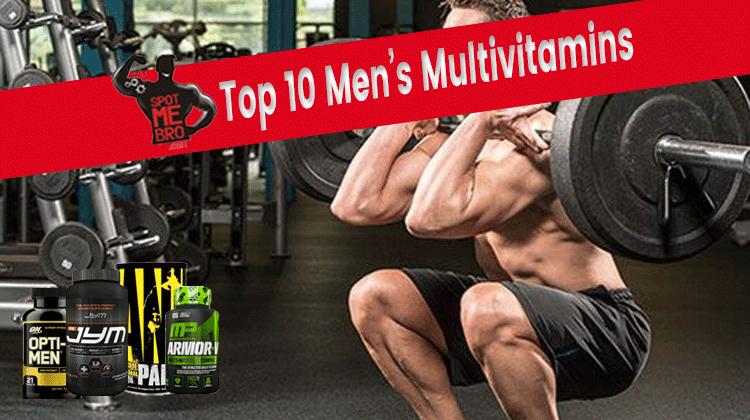 Facts about Multivitamins
Multivitamins are ideal for everyone as they can help make up for a plethora of deficiencies that aren't filled by our food. Multivitamins for adult men work pretty much like the Flintstones chewables that most of us have taken during our childhood.
The only difference between them is that multivitamins for men feature nutrients at higher concentrations and additional vitamins and minerals that assist the body in the bulking process.
Multivitamins for men are not only recommended for individuals who are suffering from vitamin and mineral deficiency but also those who wish to develop muscles too! Although a healthy and balanced diet already contains sufficient amounts of certain nutrients, multivitamins always offer additional benefits, thus making them an important element to be included in man's muscle building plan.
Supplementing With Vitamins
Multivitamins can help to pick up the slack when it comes to certain nutrients and vitamins that you aren't getting – or aren't getting enough of – from your food. There are certain things, where you'd literally have to eat incredible amounts of foods, to get your daily recommended dosage – so vitamins are necessary. Other things, you may or may not be lacking in – so if you think you're low in something, it's a good idea to get some blood work done to confirm your theory.
As an example, most people don't get enough vitamin D from the sun, making supplementation an essential part of fulfilling the body's needs.
What to Look for in Multi-Vitamins for Men
Although there are thousands upon thousands of multivitamins on the market, not all of them are cut from the same cloth. This makes it relatively difficult to pick out a multivitamin that can actually bring about desirable results.
In choosing multivitamins for men, one should look out for the dosage or concentration of nutrients that are included in the formula.
A higher concentration of Vitamin X is not necessarily ideal for everybody, thus it is always best to seek professional medical advice for a thorough assessment and evaluation. Also, a higher dosage doesn't necessarily mean your body is going to be able to absorb it, if other key nutrients that aid in the delivery are missing.
For instance, men suffering from calcium deficiency may be prescribed a multivitamin brand with higher levels of calcium.
Read the labels found in multi-vitamin bottles as they essentially contain the list of ingredients that is included in the manufacturing process. The brand and form of multivitamins largely depends on your personal preference.
Multivitamins come in various forms such as tablet, pill, and even powder form.
When shopping for multivitamins for men bear in mind to check the presence of these eight essential nutrients that a multivitamin supplement should have:
Thiamin or B1

Riboflavin or B2

Niacin or B3

Vitamin B6

Vitamin B12

Vitamin D

Vitamin E

Folic Acid
Multivitamins for Men: The Benefits
The body requires 13 essential vitamins to facilitate good health and optimal wellness. These are Vitamins A, B, C, D, E, K, and B12 as well as the 7 B-Complex vitamins. The likelihood of developing disease or illness is greater when the body lacks the necessary vitamins and minerals.
Multi-Vitamin supplements are also recommended for people who suffer from chronic medical conditions such as heart disease, diabetics, metabolism conditions, and liver disease among others (Talk to your doctor if you fit into this category, the Internet isn't your doctor.)
The vitamins and minerals found in multivitamins strengthen the body by treating deficiencies which can result from the development of the conditions mentioned above. As a result, the manifestation of symptoms is greatly reduced on the long haul.
Multivitamins for Stress Reduction
Another benefit to taking multi-vitamins is that they significantly reduce stress levels. People who lead stressful lifestyles will greatly benefit from the daily intake of multivitamins. Stress brings about mental exhaustion as well as disease development. Some studies reveal that unmanaged stress leads to the development of deadly diseases. Taking one multivitamin pill per day will give you the necessary energy to be able to accomplish daily duties and responsibilities at work or at home.
The reduction of stress also benefits a person's mental health as supplementation of multivitamins results in increased productivity and enhanced sense of well being. Of course, we cannot rely on multivitamin supplementation at all times. As the name implies, they are only supplements. Therefore, it is recommended to eat healthy, as a large percentage of essential nutrients are found in the food that we eat.
For when you can't get everything you need from your food, check out these highly rated multivitamins as a supplement to your daily nutritional intake: 
| | Multivitamin | Our Score | Value | Quick Summary |
| --- | --- | --- | --- | --- |
| | Performance Lab Whole Food Multi | | $$$$$ | Supports cell health and biological function, optimizes performance at cellular level, promotes masculine health |
| | Vita JYM | | $$$$ | Contains 25 of the most critical micronutrients |
| | Animal Pak: The True Original | | $$$$ | Designed for top-level strength & competitive athletes |
| | Armor-V | | $$$ | Anti-catabolic / muscle sparing, caffeine and sugar free |
| | Orange Triad | | $$$$ | Supports optimal digestion, the immune system, and joint health |
| | Men's One | | $$$ | Support heart health & immune function |
| | Foundation Series Multivitamin | | $$$ | Contains BCAAs, AAKG, and herbal extracts |
| | Uni-Vite | | $$$$ | Over 50 vital nutrients per serving |
| | Daily Formula | | $$ | 100% Natural, balanced nutritional formulas |
| | Anavite Multivitamin | | $$$$ | Over 25 performance supporting nutrients |
Top 10 Men's Multivitamins
1. Performance Lab NutriGenesis® Multi for Men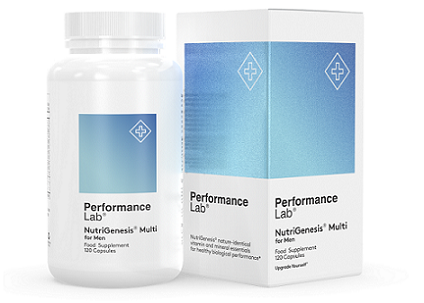 Performance Lab Whole Food Multi for Men is a cutting-edge multivitamin supplement that is customized for men's nutritional demands. It is made using ultramodern nutrition technology unique to Performance Lab, which they call NutriGenesis®.
The idea is, NutriGenesis® nutrients are grown on cultures in a hydroponic lab setting. This process produces nature-identical nutrients that are easy on the stomach, with high bioavailability, easy absorption, and maximum benefits.
NutriGenesis® Multi supplies 100%+ DV of 17+ essentials, tailored for men. The technology allows Performance Lab to pack the maximum nutritional value into the smallest possible capsule, supplying ultraclean performance, customized for male needs.
Performance Lab Whole-Food Multi – Men's Formula Benefits
Starting point for healthy biological function across all body systems
Supports cell health for peak energy throughout the day
Optimizes performance at a cellular level for overall masculine health
Unlocks the performance-enhancing potential of vitamins and minerals
Features
BioGenesis nature-identical whole food vitamins and minerals
Advanced nutrient form for better absorption and peak benefits
Vegan Plantcaps® are clean and have prebiotics that help absorption
Clean label with no other additives – just BioGenesis nutrients
Customized for men; higher potencies of key essentials for masculine health
Among the multivitamins for men on the market, Performance Lab NutriGenesis Multi for Men is the cleanest and most advanced — made for high bioavailability that can boost your masculine vitality in a lot of ways.
*Individual results may vary. Please speak with your doctor or physician before undertaking any new weight reduction, supplement, or exercise regime.
---
2. Vita JYM by JYM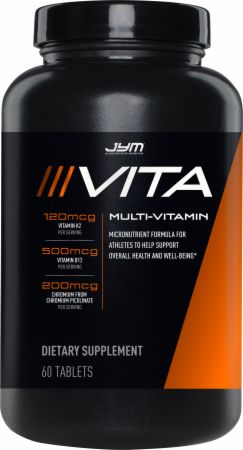 Vita JYM
Research suggests that athletes and those who exercise intensely lose many critical vitamins and minerals from training, particularly B vitamins, vitamin C, chromium, selenium, iron, and copper. This is due to a variety of factors, including the loss of minerals in sweat and urine, their increased use for energy production during workouts, and their increased use for recovery and protein synthesis after workouts. Therefore, it's critical that you get at least the Recommended Dietary Allowance (RDA) or Daily Value (DV) for most minerals, and get far more than these recommendations for most of the vitamins and specific minerals for optimal performance and physique changes.
Features:
The 25 most critical micronutrients that hard-training athletes need
No minerals that inhibit amino acid uptake, the absorption of other critical minerals, or the utilization of important vitamins.
B-complex 100: Vita JYM is like taking a multi and a B-complex in one!
10,000 IU vitamin A as 100% beta-carotene
400 IU vitamin E
120 mcg Vitamin K2 (as MK-7 and MK-4)
200 mcg chromium picolinate
*Individual results may vary. Please speak with your doctor or physician before undertaking any new weight reduction, supplement, or exercise regime.
---
3. Animal Pak: The True Original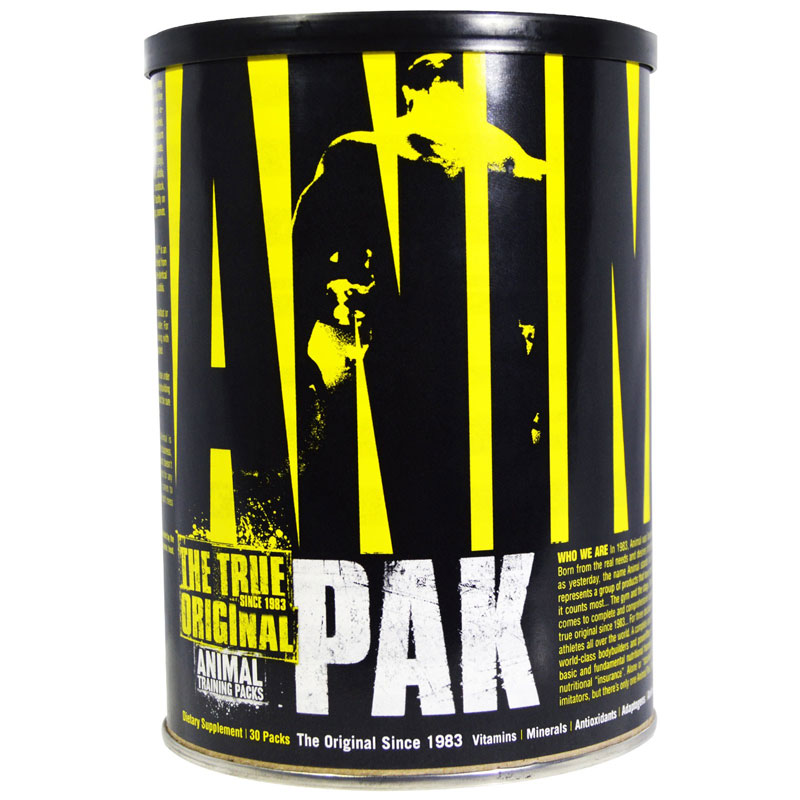 Animal Pak: The True Original
Since August 8, 1983, Animal Pak has been helping competitive bodybuilders get the most out of their freakish training routines by providing all the nutrition they need, plus some they didn't know they needed. For 25 straight years, people like you have made Animal Pak the #1 selling training "pack" in the world. In fact, more competitive bodybuilders have cut their teeth on the Animal Pak than any other bodybuilding supplement in history. Why? Simple. Animal Pak gets the job done. It works. First time. Every time.
Animal Pak has stood the test of time.
See, nature, in all her ingenuity, has designed the human body as the ultimate training machine. Since the dawn of mankind, our bodies have changed very little. And when it comes to growing our muscles in a freakish way, we still need the right combination and mega-doses of essential amino acids, carbs, vitamins, minerals and antioxidants. Only Animal Pak has everything you need.
Required For:
All Competitive & Power Athletes
High-Intensity Training
Athletes Who Use Supplements
Athletes Who Want Maximum Performance
Daily Dose:
1 pack per day during the off-season for maintenance, 2 packs during a pre-contest diet or when training is unusually intense.
*Individual results may vary. Please speak with your doctor or physician before undertaking any new weight reduction, supplement, or exercise regime.
4. Armor-V by MusclePharm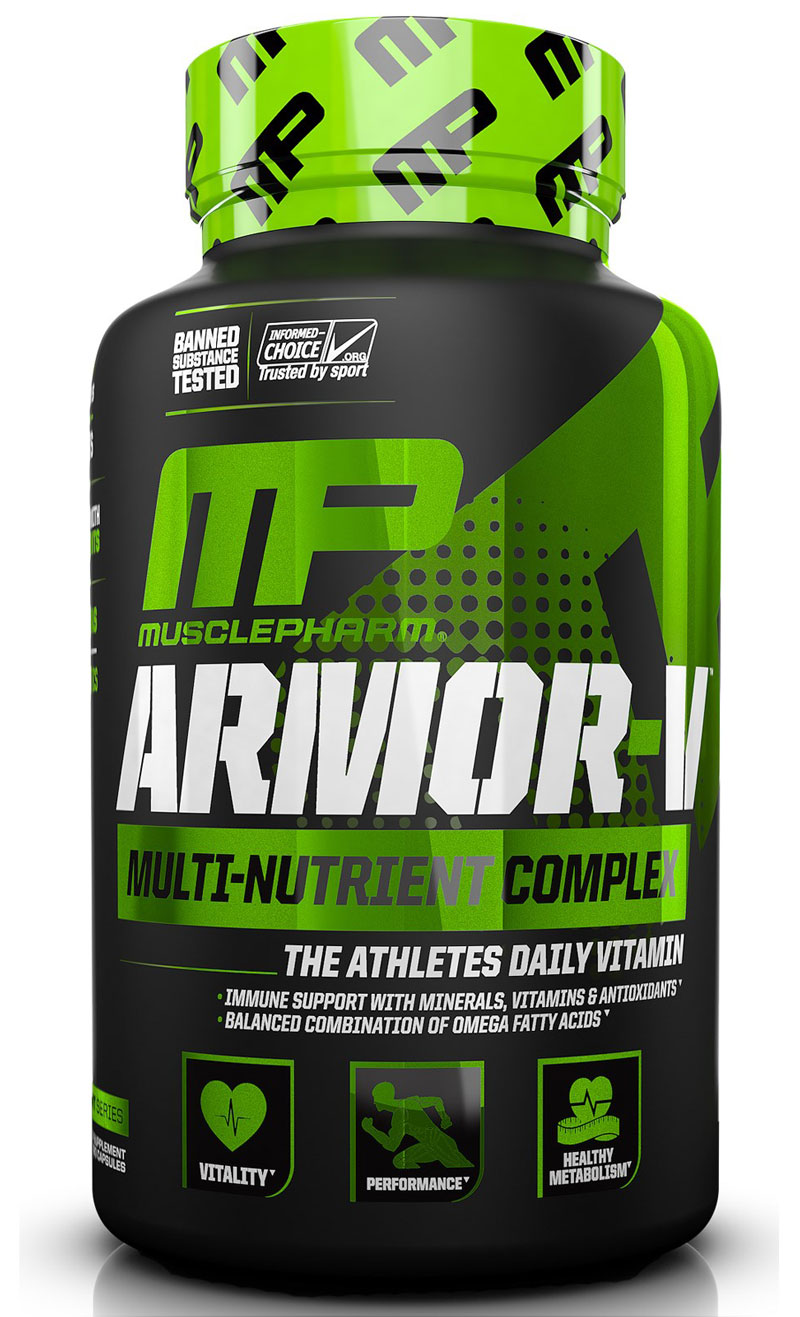 Armor-V
Think of Armor-V as your daily training partner. Each component in this meticulous formulation was assembled for the high-intensity demands of hard-training athletes.
Armor-V lays the infrastructure of your daily supplement regimen, brick by brick, with a hyper-comprehensive blend of organics, herbals and natural ingredients. It is formulated to feed your body everything nature intended and is loaded with pure vegetable and fruit derivatives, antioxidants and system optimizers.
Quick Absorbing
With a blend of vitamins, minerals, fats and probiotics, ARMOR-V ADVANCED MULTI-NUTRIENT COMPLEX is a blend of over 25 vegetable and fruit concentrates that will deliver results to help support your goals.
The greens and probiotics aid in the support of your immune system, stabilize bacteria in your stomach, promote healthy digestion and nutrient absorption. Armor-V also supplies the ideal combination of Omega 3-6-9 and coconut oil to supply your body with healthy fats.
Features:
Sustained energy and great taste for increased endurance
Delicious tasting and only 5 calories per serving
Caffeine and sugar free – can be used anytime, day or night
Anti-catabolic / muscle sparing
Mixes easily and completely / no clumping
Promotes recovery from training sessions
*Individual results may vary. Please speak with your doctor or physician before undertaking any new weight reduction, supplement, or exercise regime.
5. Orange Triad by Controlled Labs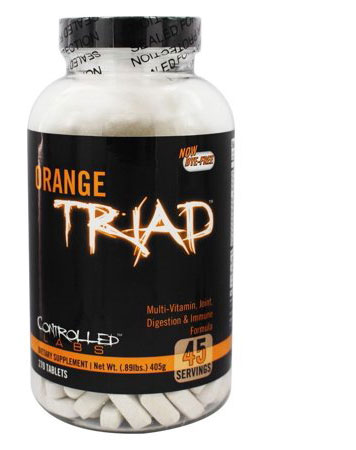 Orange Triad
Designed for the serious athlete, Orange Triad delivers! Serious athletes are unique in that they intentionally subject their bodies to incredible amounts of stress with training and cardio. Over time, muscles, tendons, and ligaments take longer to recover which means you can't train them as often as you would like. Nutritional support is key to getting optimal results from your training.
Orange Triad combines key vitamins, minerals, and nutrients for supporting optimal digestion, immune system, and joint health into one "twice daily" dietary supplement. The Joint and Flex Complexes help lubricate joints and cartilage as well as increase the resiliency of connective tissue, while the Digestion and Immune Complex includes digestive aids, and nutrient partitioning agents to take your performance to the next level.
Features:
Iron-Free Daily Multivitamin Tablet for Overall Health
Supports Optimal Digestion, The Immune System, and Joint Health
45 Servings
Optimize Results From Training
*Individual results may vary. Please speak with your doctor or physician before undertaking any new weight reduction, supplement, or exercise regime.
6. Men's One by Rainbow Light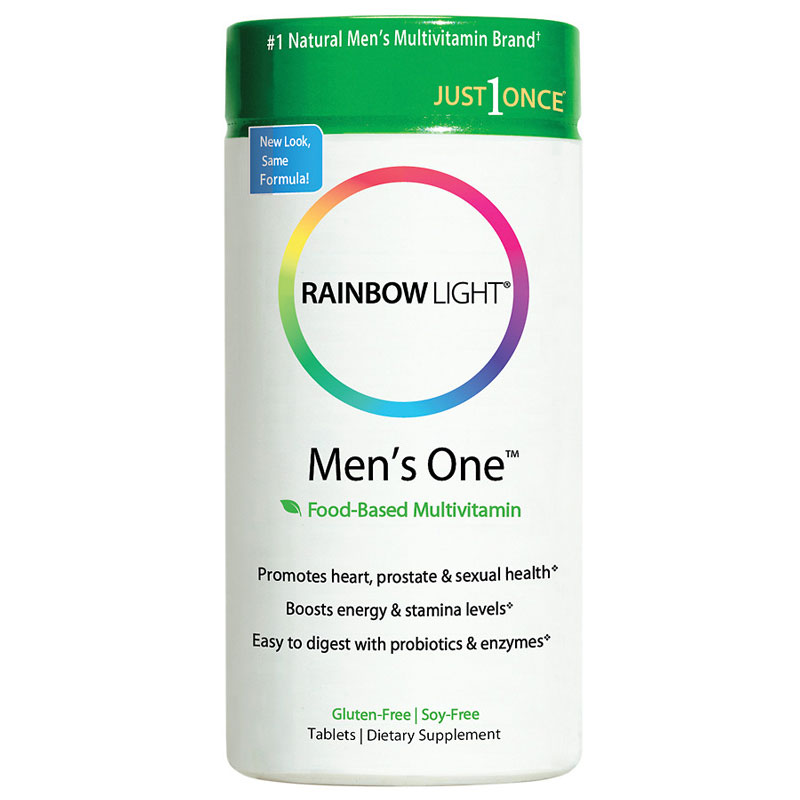 Men's One
Men's One Multivitamins are the #1 selling natural men's multivitamin, with potent vitamins, minerals, antioxidants, superfoods and herbs to nourish, protect and support major systems of a man's body, and promote natural energy, in just one tablet per day.
Added minerals including copper, chromium and selenium support nerve, connective tissue and sexual health, and metabolism, while specially blended herbs promote prostate health. Live plant-source enzymes and probiotics (healthy bacteria) promote easy digestion without stomach upset.
Men's One is gluten-free, sugar-free, lactose-free, dairy-free, wheat-free and yeast-free, and contains no artificial colors, flavors, sweeteners, preservatives or additives.
Features:
Energy B Complex
Support Heart Health & Immune Function
Gentle on the Stomach
Wholesome Food-Based, Easy-to-Digest Formula
Organic superfood spirulina plus concentrated beet, kale and spinach juices provide added nutrition for a natural energy boost, and aid the absorption and digestion of co-nutrients. Plant-source enzymes and 25 million probiotics (healthy bacteria) enhance digestion without taxing the system or causing stomach upset.
Purity Guarantee: Free of Most Common Allergens; Gluten-Free, Sugar-Free, Lactose-Free & 100% Natural
Men's One is Allergen SafeGuard® guaranteed to contain no gluten, soy, yeast, milk, eggs, nuts, fish or shellfish. It is gluten-free, sugar-free, lactose-free, dairy-free, wheat-free and yeast-free. It is 100% natural, containing no artificial colors, flavors, sweeteners, preservatives or additives.
Just Once A Day
For comprehensive daily nutrition and natural energy, take one each day, with or between meals.
*Individual results may vary. Please speak with your doctor or physician before undertaking any new weight reduction, supplement, or exercise regime.
7. Bodybuilding.com Signature Multivitamin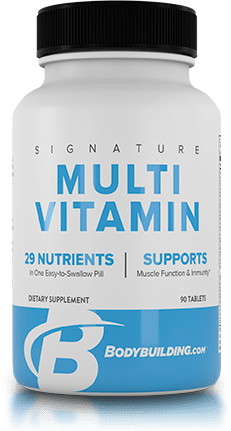 Signature Multivitamin
There are numerous vitamins and minerals in the foods we ingest, each with specific functions and roles, but it's incredibly difficult to keep track of vitamin and mineral intake day after day.
A multivitamin is one of the best supplement investments you can make to support diet, overall health, and even your exercise or athletic performance. The Bodybuilding.com Signature Multivitamin encourages body-function efficiency and fills micronutrient gaps left by your diet. Deficiency in any one vitamin can affect a suite of body functions, making a multivitamin important to covering your micronutrient bases.
In addition to its stellar micronutrient profile, the Bodybuilding.com Signature Multivitamin contains Boron, Alpha Lipoic Acid and herbal extracts to support performance and masculine vitality.
Bodybuilding.com Multivitamin: multiple micronutrients, multiple benefits.
Multi Micro
Cover your micronutrient bases and support overall health with the Bodybuilding.com Signature Multivitamin
Features:
Powerful micronutrient profile
Supports your overall health and even your athletic performance
Antioxidant rich
*Individual results may vary. Please speak with your doctor or physician before undertaking any new weight reduction, supplement, or exercise regime.
8. Uni-Vite by Universal Nutrition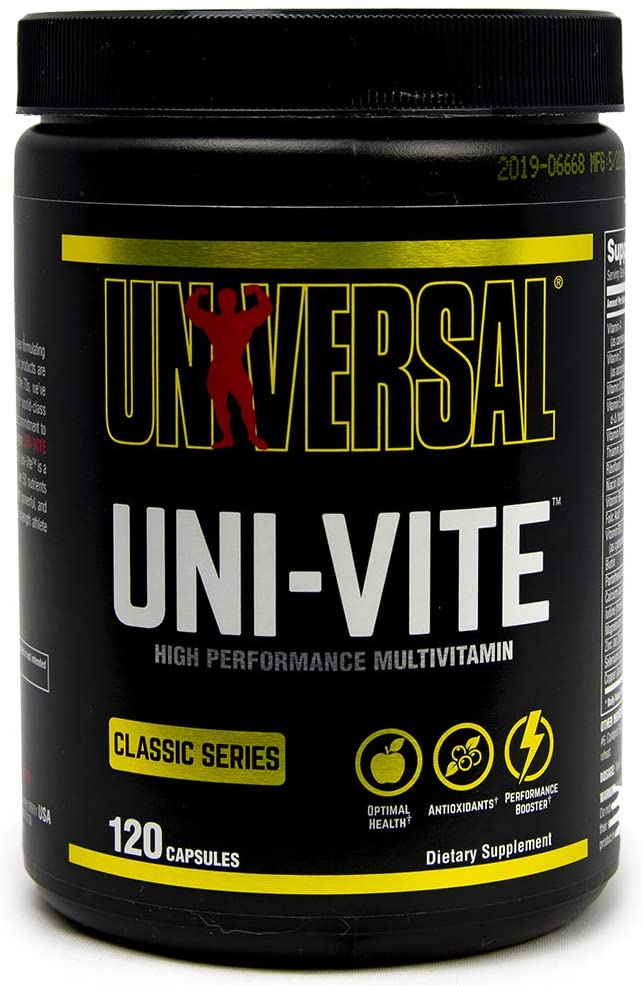 Uni-Vite
Uni-Vite is designed specifically for elite strength athletes who need and expect more. Uni-Vite is a complete and comprehensive multivitamin supplement packed with over 50 powerful ingredients vital for supporting optimal performance, strength and vitality. Powerful, and effective, it should be the nutritional cornerstone of any serious strength athlete who seeks value and results
Uni-Vite is complete and comprehensive and includes more than fifty ingredients working synergistically to maximize muscle performance, boost immunity and support general health. With robust doses of all included ingredients, Uni-Vite lives up to the standards of a hard training athlete, one with greater nutritional requirements than that of the average weekend warrior. The necessary daily value for those consistently pushing themselves to the limit in the gym is, quite logically, often much greater than that of the general population. That's why every serving of Uni-Vite comes loaded for bear.
Features:
Over 50 Vital Nutrients Per Serving
Made Specifically for Bodybuilders
In Convenient, Easily-Absorbed Capsule Form
Includes Virility, Sports Performance and Digestive Aid Complexes
Loaded with Antioxidants!
*Individual results may vary. Please speak with your doctor or physician before undertaking any new weight reduction, supplement, or exercise regime.
9. Daily Formula by Universal Nutrition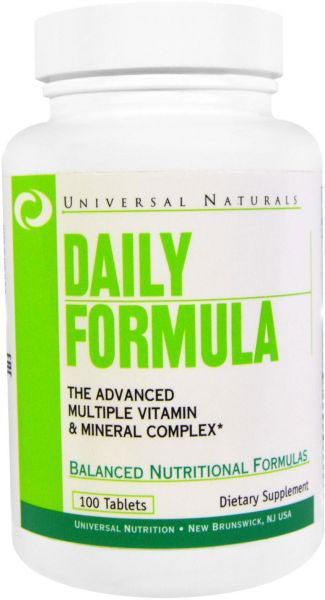 Universal Nutrition Daily Formula Description:
100% Natural
Balanced Nutritional Formulas
Dietary Supplements
A basic, no-nonsense dietary supplement, one that all of us can use to improve the quality of our lives. With 25 required vitamins and minerals, plus a unique digestive enzyme complex.
*Individual results may vary. Please speak with your doctor or physician before undertaking any new weight reduction, supplement, or exercise regime.
10. Anavite Multivitamin by Gaspari Nutrition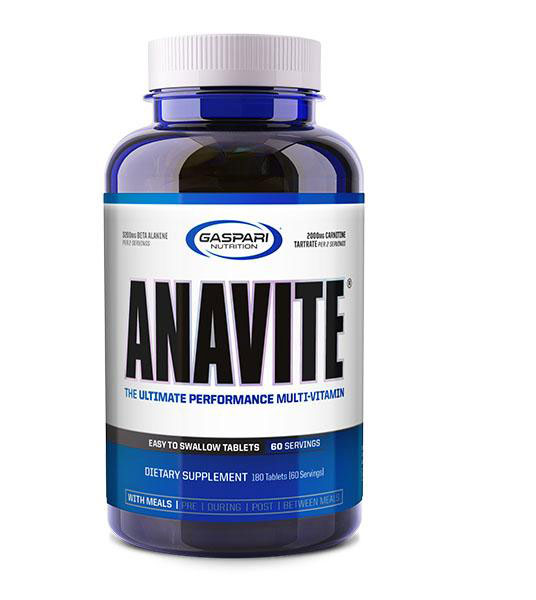 Anavite
Forget everything you've ever heard about multivitamins. ANAVITE's revolutionary and high potency research fueled formulations deliver fast results backed by numerous clinical research studies. From bone health to cardiovascular support, Anavite has you covered with the most cutting edge formula available in the world.
Every ingredient was handpicked with a purpose to deliver results to help your body. Formulated with nutritional expertise and backed by science, Anavite will accelerate your healthy lifestyle to the fullest.
High-Potency Multivitamin
Over 25 performance supporting nutrients including a powerful B-complex, Vitamin A, C, and E. You will find only superior forms of B6 (as pyridoxal 5′-phosphate) and B12 (as methylcobalamin) in Anavite.
Mineral Complex
Using powerfully dosed Albion Gold Medallion Certified mineral chelates, Anavite is the only formulation in sports nutrition to contain 100% RDA of magnesium per two servings. You won't find cheap "oxides" or "citrates" in this formula but only real FTIR validated and highly bioavailable mineral chelates.
MenaQ7, Vitamin K2
MenaQ7 is essential for the body and has a protective effect on cardiovascular health and promotes healthy bones. Often, the western diet does not contain sufficient vitamin K2 and supplementing with Anavite contains a powerful dose of this critical ingredient.
Carnipure Carnitine Tratrate
Carnitine tartrate is suggested to support energy levels and accelerate recovery in active adults. Anavite contains 1000mg per serving for maximum potency.
Carnosyn, Beta-Alanine
This critical sports nutrition ingredient supports endurance and performance. Anavite contains 1600 mg per serving to ensure you get the same dose used in clinical research studies. It has double the amount compared to other "packs" at a much better price.
[Updated: Dec 2020]
Disclaimer:  The information on this site has not been evaluated by the FDA. The products on this page are not intended to diagnose, treat, cure or prevent any disease. Results in description and Testimonials may not be typical results and individual results may vary. We may earn commission if you click the links and buy the products featured on this page.