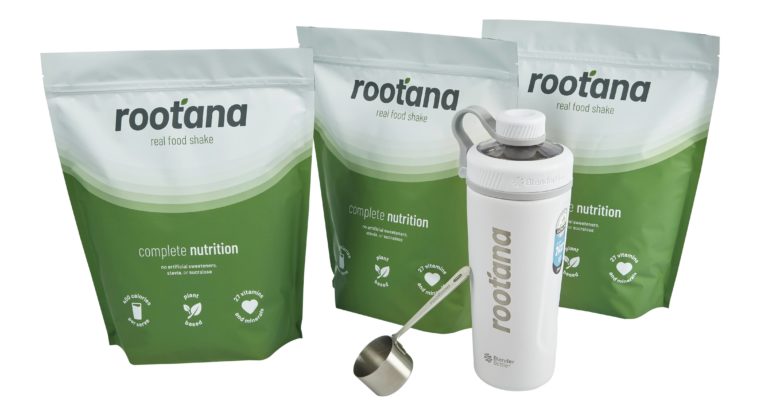 In this article, we will be taking a look at five of the best meal replacement shakes for weight loss. We will look at the ingredients, the macronutrient ratios, and other issues such as taste, cost per serving, and variety.
Best Meal Replacement Shakes for Weight Loss
We have picked five of the best meal replacement shakes on the market right now. Each one has its own unique benefits. Some are on this list for their ingredients or lack of artificial sweeteners, and some are here for their variety or the price per serving.
Decide what exactly you are looking for in a meal replacement shake, and then choose the meal replacement that best suits those specific requirements.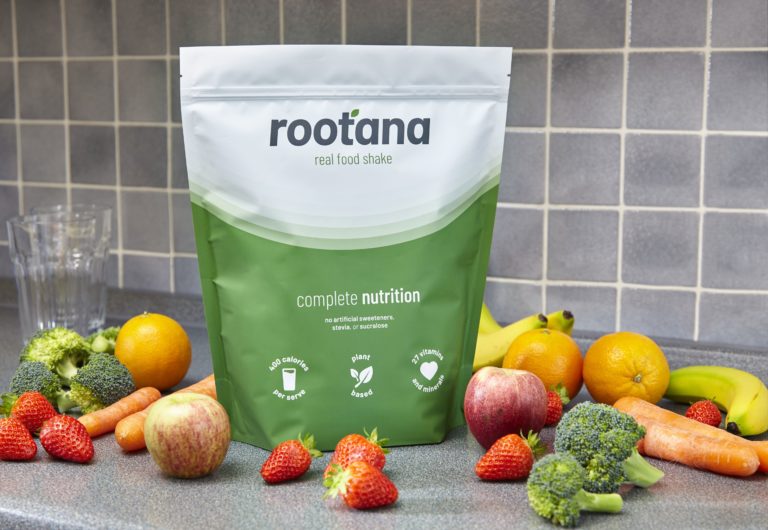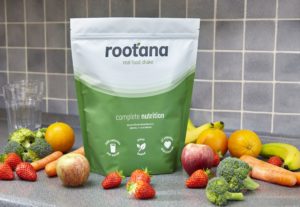 Best Overall Meal Replacement Shake: Rootana
Rootana is a new meal replacement shake that is taking the industry by storm. Unlike its competitors, Rootana avoids the use of any artificial sweeteners such as sucralose and stevia. This makes it ideal for anyone who prefers natural ingredients such as coconut sugars (which Rootana uses).
Pros
High in protein
High in fibre
Uses natural ingredients
Avoids the use of artificial sweeteners
Great taste
Vegan friendly
Cons
Only two flavours are available
Only available to purchase from the Rootana website
Rootana Ingredients Review
Rootana prioritises top-quality ingredients. It has 400 calories per serving, 21 grams of protein, 16 grams of fat, and 44 grams of carbohydrates. It also contains 7.1 grams of fibre per serving. There are currently two flavours available; original (an oaty tasting shake that has a mildly sweet taste) and cacao which has a wonderful, unique taste similar to chocolate.
Oat Flour – Oats are very healthy and have several benefits. They are an excellent source of fibre, which is important for satiety, weight loss, and gut health. They have been shown to reduce LDL (bad) cholesterol levels and lower your risk of cardiovascular disease [1].
Pea Protein – Arguably the best plant-based protein source, pea protein is known as a complete protein because it has all of the amino acids required for muscle building. It also has an excellent protein-to-calorie ratio and is much better for the environment than typical protein sources such as whey or casein protein.
Golden Milled Flaxseed – An excellent inclusion, perfect for vegans, flaxseed is a plant-based source of omega-3 fatty acids, protein, and fibre. It is also a source of lignans which can lower the risk of heart disease and some forms of cancer [2].
Sunflower Seed Oil – This provides the majority of the fats in Rootana and is an excellent source of omega-6 and omega-9 fatty acids.
Coconut Sugar – A natural alternative to regular sugar, coconut sugar comes from the sap of the coconut tree, which is dried out in the sun to form sugar. Coconut sugar has a lower GI than regular sugar and also contains nutrients and fibre.
Rootana Review
Rootana is a fantastic choice for vegans and non-vegans alike. It prefers to use top-quality real-food ingredients in its formula. The shakes are high in protein, high in fibre and free from artificial sweeteners. Everything you want in a meal replacement shake!
Are there any improvements that could be made? We'd like to see a new flavour added. Rootana only has the two so far, but other than that, we're very happy with it. The shakes are highly satiating, and both Original and Cacao flavours are truly unique (and delicious).
The lack of artificial sweeteners ensures that Rootana has a tasty, almost neutral taste. Much better than the overly sweet tastes that most meal replacements offer. If you are looking to lose weight, then Rootana is the ideal meal replacement shake to help you achieve your goals.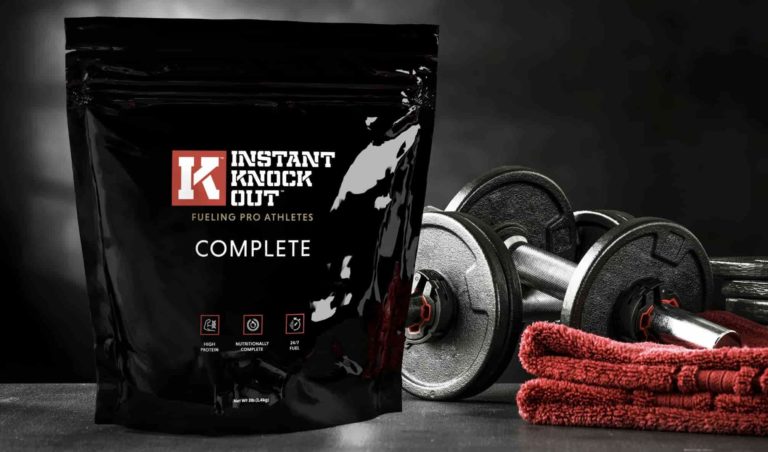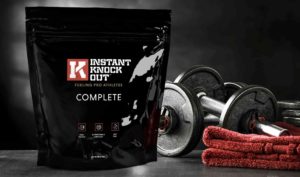 #2 Instant Knockout Complete
While Rootana is our favourite all-around meal replacement shake, Instant Knockout Complete has to go down as the best meal replacement shake for burning fat. It is very high in protein, and it is also high in fibre, all while remaining within 400 calories per serving.
Pros
Very high in protein
Very high in fibre
Top quality ingredients
Uses MCT oil for fats
Vegan friendly
Can be taken alongside IK Cut to burn even more fat
Cons
Only one flavour is available
Only available from the Instant Knockout website
Premium price for top-quality ingredients
Instant Knockout Complete Ingredients Review
As with Rootana, Instant Knockout Complete uses only the best ingredients, which explains the higher cost per serving than many of its competitors. But it is truly worth it when you look at what ingredients go into this incredible formula.
Instant Knockout Complete contains 400 calories per serving, 35 grams of protein, 35 grams of carbohydrates, 13 grams of fibre, and 13 grams of healthy fats.
Plant-Based Protein – This is a blend of pea protein and soy protein. There is a misconception that soy protein is somehow inferior. This is untrue; you just don't want to consume too much of it. Blending pea protein and soy protein is a smart move, as getting your protein from multiple sources provides a better amino acid profile.
Golden Flaxseed – As we mentioned in the Rootana review, flaxseed provides you with plant-based omega-3 fatty acids, as well as a small amount of protein and fibre. Flaxseed is also an excellent source of lignans.
MCT Powder – Medium-chain triglycerides are an excellent fat source for anyone looking to lose weight. They are known to raise your metabolic rate higher than regular fats [3], helping you to increase your calorie deficit and burn more fat. They are also more satiating, and diets that are higher in MCTs tend to be more successful at weight loss [4].
Oat Flour – After the Rootana review, you should be well aware of the benefits of using oat flour. High in fibre, low GI score, and highly satiating. Oat flour has been linked with improved health outcomes and is particularly effective at reducing CVD risk in overweight and obese people [5].
Organic Brown Rice – Brown rice protein complements the plant-based protein blend perfectly, being an excellent source of leucine and isoleucine [6].
Chia Seeds – Like flaxseed, chia seeds are an excellent plant-based source of omega-3 fatty acids. They also contain fibre, protein, calcium, and a range of other nutrients. They fit this formula like a glove.
Instant Knockout Complete Review
As a meal replacement shake, Instant Knockout is one of the best on the market, only just losing out to Rootana due to its use of sucralose and only having one flavour available. But for fat burning? It could well be the top product out there.
Providing 35 grams of high-quality plant-based protein is outstanding, as are the 13 grams of dietary fibre and the use of MCT oils. All of this within a 400-calorie shake is stupendous. Complete could have lowered the price by swapping out premium ingredients such as MCT powder and pea protein with cheaper alternatives, but this would have reduced the effectiveness of the shake.
You can also combine Complete with Instant Knockout's main product, Cut. This is a fat burner which attempts to raise your metabolic rate while simultaneously reducing your appetite and increasing satiety. The two supplements dovetail perfectly but are also highly effective when taken separately.
In our opinion, the premium price represents amazing value for money, if you are looking to lose weight and want to avoid animal proteins such as whey or casein, then there is nothing on the market quite like Instant Knockout Complete.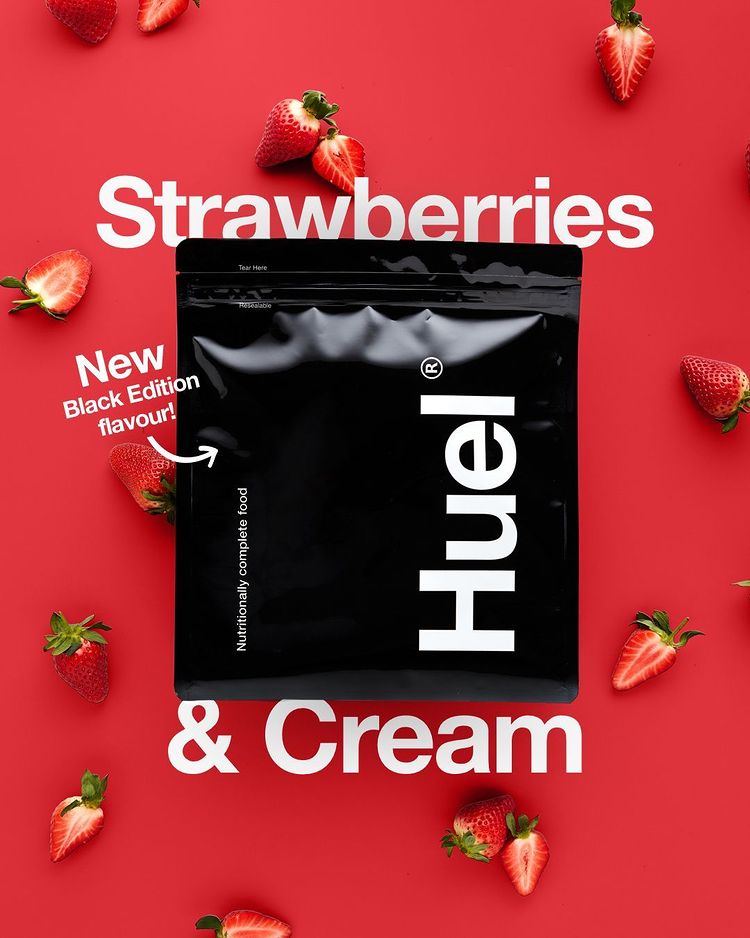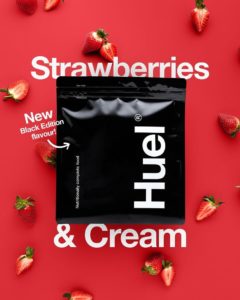 #3 Huel Black
The higher-protein, lower-carb version of Huel 3.0, Huel Black, has a bit of a mixed reputation with the Huel audience. On the one hand, it is beloved for its excellent weight loss results. On the other hand, people complain about the taste and suffering digestive issues.
Pros
Very high in protein
High in fibre
Low in carbs (good for weight loss)
Many flavours available
Stevia, instead of sucralose
Cons
Bad reputation for taste
Some useless ingredients
Huel Black Ingredients Review
You might think that the ingredients contained in Huel Black would be markedly different from the ingredients in regular Huel. But actually, they are almost identical, just with the ratios changed and the removal of oat powder.
Huel Black contains 400 calories per serving, 17 grams of carbs (rather than 38 grams), 18 grams of fat (compared to 13 grams), and 40 grams of protein (instead of 20 grams). It also has slightly less fibre (6.6 grams instead of 7 grams).
Pea Protein – The best plant-based protein available, pea protein contains all the amino acids necessary for you to build muscle. It works best when it is paired with brown rice protein, which Huel Black also contains.
Brown Rice Protein – Added in to complement the pea protein, brown rice protein is high in branched-chain amino acids (BCAA), making it ideal for anyone who is exercising regularly.
Ground Flaxseed – A plant-based source of omega-3 fatty acids, lignans, fibre, and protein. Flaxseed is a great allrounder, and it is very popular in meal replacement shakes.
Tapioca Flour – There is no nutritional benefit to tapioca flour, it is almost 100% starch. Huel uses it to improve consistency and taste, but there are no health benefits associated with tapioca.
Sunflower Oil Powder – The majority of Huel Black's fats come from sunflower oil powder, an excellent source of omega-6 and omega-9 fatty acids.
MCT Powder – As much as we love MCT powder, we should point out that Huel Black only contains 1.1 grams of MCT powder per 400-calorie serving. That is the equivalent of around 9 calories.
Green Tea Extract – Green tea extract has been included because people associate it with fat burning. However, there is only 130 mg of green tea extract in Huel Black, with a 20% ECGC concentration. To give you an idea of how weak this is, the effective dosage of green tea extract is around 400-500 mg with a 50% ECGC concentration [7]. This means that there is only 26 mg of ECGC compared to the 200-250 required for fat loss.
Huel Black Review
Huel Black is an excellent meal replacement shake, and thanks to its very high protein content it will serve you well while dieting. However, the fibre is quite low, and the lack of oats means you won't get the same amount of satiety or heart health benefits as you would from regular Huel.
There are also some underdosed ingredients in Huel Black such as the MCT powder and Green Tea Extract. This is one of the more irritating faces of the supplement world. Adding minuscule dosages of ingredients just so that you can use their names in your marketing.
Green tea extract, when properly dosed, can be incredibly effective, but at low doses? You won't notice any of the health benefits.
This should only be seen as a minor irritation, though, as is the fact that the flavours are notoriously bad, the actual formula and ingredients used in Huel Black are excellent, and it is well worth its top 3 spot on our list.
#4 BeNu Complete Nutrition Shake
Most of the meal replacement shakes on this list are included due to their focus on top-quality real-food ingredients. BeNu Complete nutrition shake is added because it is great for weight loss and provides incredible value for money.
While Rootana and Instant Knockout Complete have better ingredients, BeNu is perfect for anyone on a modest budget who is focusing more on weight loss than nutrition. Not that BeNu Complete is unhealthy, it just makes certain sacrifices to keep the price down.
Pros
The cost per serving is superb
High in protein
High in fibre
Great taste
Cons
Not vegan-friendly
Some cheap ingredients used
Clumping issue when mixing
BeNu Complete Nutrition Shake Review
BeNu Complete Nutrition is a surprisingly good shake, that sentence is not meant to be dismissive of myprotein.com (who make it), but we are used to bargain-priced products with cost-effective formulas. That is what made myprotein so popular in the first place!
BeNu Complete does use some cheap ingredients. Sadly, it is not vegan-friendly due to the use of whey protein, but other than that, the ingredients are real-food and of a decent quality.
A single serving of BeNu Complete Nutrition Shake contains 402 calories, 14 grams of fat, 32 grams of carbohydrates, 9.2 grams of fibre, and 33 grams of protein.
Gluten-Free Oat Flour – We all love oat flour, but not everyone can consume it due to the gluten content found in oats. Myprotein uses gluten-free oat flour. However, we can't find any signs saying that BeNu Complete is gluten-free, so we're not sure what is going on here. Oats are incredibly healthy and a great inclusion for any meal replacement shake.
Whey Protein Concentrate – The most commonly used protein powder by far, whey protein has a lot of advantages. It is a complete protein with all the amino acids required. It is easily absorbed, cheap to use (helping to keep costs down), and great for building muscle and/or burning fat [8]. However, it also prevents BeNu from being vegan-friendly, it is not environmentally friendly, and it can cause digestion issues, particularly in people with lactose intolerance.
Soya Protein Isolate – This is a decent plant-based protein, and it is nice to have a mix of different protein sources. But it should be pointed out that soya protein is one of the lowest-priced plant-based protein powders.
Flaxseed Oil – We all know that flaxseed is highly effective and a great source of omega-3, fibre, and protein. A great addition to the formula.
Tapioca Starch – A pretty neutral ingredient, it adds starch to the formula but has no nutritional value.
Carb10 (Pea Starch) – A better source of plant-based starch, pea starch is healthier and a better option. We assume that tapioca starch was added to lower the cost, while Carb10 pea starch is added on merit.
BeNu Complete Nutrition Shake Review
This is an inexpensive, fairly nutritious meal replacement shake that is great for weight loss but doesn't compete with Rootana or Instant Knockout Complete when it comes to ingredient quality. If you are on a tight budget, this may be the ideal shake for you.
But it isn't perfect. There is a lack of variety when it comes to flavours (compared to Huel), and many users have reported clumping issues when the powder is mixed with a liquid. Clumping is a big deal, and a well-made shake should not suffer from clumping at all. This is because it can really ruin the user experience. Trying to drink a nice and smooth shake before a large clump of unmixed powder hits your mouth is not pleasant.
Luckily, this issue can be fixed, and we are confident that myprotein.com will have sorted this issue out in the near future. It's a bargain meal replacement, so don't expect anything too fancy, and you won't be disappointed!
#5 MRE Meal Replacement Whole Food Protein
The final meal replacement shake on our list is NOT a subtle product; it is an in-your-face all-or-nothing extravaganza that is by no means perfect but can be highly effective as part of a weight loss strategy.
Anyone who is familiar with the MRE supplement line will instantly recognise the extreme approach to nutrition that is employed with this whole food protein meal replacement.
Pros
Very high in protein
Top-quality ingredients
Real foods used for protein
Excellent for weight loss
Cons
Expensive per serving
Very low in fats
Not vegan or vegetarian friendly
MRE Meal Replacement Whole Food Protein Ingredients Review
The macro and calorie information is very interesting, and MRE meal replacement differs from the other shakes on this list. There are 530 calories per serving, only 4 grams of fat, 75 grams of carbohydrates, 8 grams of fibre, and an incredible 47 grams of protein (94% of your daily value).
The ingredients have been split into three groups, a carbohydrate group, a protein group, and a fats group. There are also some miscellaneous ingredients such as cinnamon, dried goji berry, and dextrose.
Whole Food Protein Blend: beef, salmon, chicken, egg, brown rice, pea. This is a fantastic blend with some really innovative ingredients. The mix of protein sources can really help you with your amino acid profile. You are also more likely to get a diverse range of micronutrients this way.
Carbohydrate Blend: rolled oats, yams, and sweet potatoes. We really like this carbohydrate blend. It's based on oats, as are most meal replacement shakes, but the inclusion of yams and sweet potatoes is inspired. The nutritional differences will be minimal, but you will feel better taking it with these real-food ingredients present.
MCT Oil – Many health benefits can be derived from MCT oil, and it can certainly be used to raise your metabolic rate and burn fat. It is also another expensive yet well-chosen ingredient. It's no surprise that MRE charges so much for this when their ingredients are such high quality.
MRE Meal Replacement Whole Food Protein Review
This is quite high in calories compared to the others, so it would suit larger bodies who are trying to lose weight. It can also be used for weight gain, but this is all affected by the rest of your diet and whether you are in a calorie deficit or surplus.
The shakes are expensive, but they are also very well designed and packed full of expensive ingredients. The only real downside is that the fat content is quite low (in our opinion). Just 4 grams of fat (36 calories) out of a 500+ calorie shake is crazy. Of course, you could just add more high-fat foods to the rest of your diet, so it isn't that big of an issue.
Final Thoughts
We've looked at five of the best meal replacement shakes for weight loss in this article, and we've chosen a truly diverse range of shakes. If you are looking to improve your overall health, then Rootana offers you the best results. While Instant Knockout Complete is the best for burning fat.
BeNu is the perfect budget shake, and MRE is a great addition to any list, just for the exciting ingredients list. Huel Black is of course a superb shake too, and it provides you with a lot of flavour choices and a smooth shopping experience.
References
[1]
https://www.bmj.com/content/355/bmj.i5475
[2]
https://www.ncbi.nlm.nih.gov/pmc/articles/PMC6429205/
[3]
https://pubmed.ncbi.nlm.nih.gov/10348498/
[4]
https://pubmed.ncbi.nlm.nih.gov/11571605/
[5]
https://www.ncbi.nlm.nih.gov/pmc/articles/PMC8398256/
[6]
https://www.ncbi.nlm.nih.gov/pmc/articles/PMC5302255/
[7]
https://examine.com/supplements/green-tea-catechins/
[8]
https://www.ncbi.nlm.nih.gov/pmc/articles/PMC2289832/