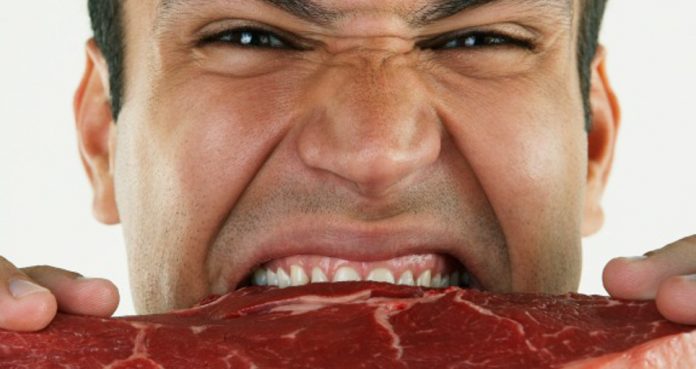 Back in June 2018, we posted an article called "Fish vs Chicken for Bodybuilding" – but we ain't forgettin' steak, bro.
Chicken and fish are awesome protein sources and they're naturally lean, which makes them great for a lean bulking or cutting diet. But a good cut of lean steak ain't just full o' protein – it's also rich in zinc.
Why's zinc important?
Zinc helps boost testosterone and aids post-workout recovery, bro. In fact, an 11 oz (300g) steak gives you your RDA of zinc [1] in one fell f****** swoop.
We ain't saying you should swap out your chicken breasts for steak every day – heavy beef consumption can lead to a bunch o' health issues, brah [2].
But eating steak once in a while is a sweet f****** treat.
Here are some healthy steak recipes to help you make the best of your occasional treats…
1. Garlic peppered flank steak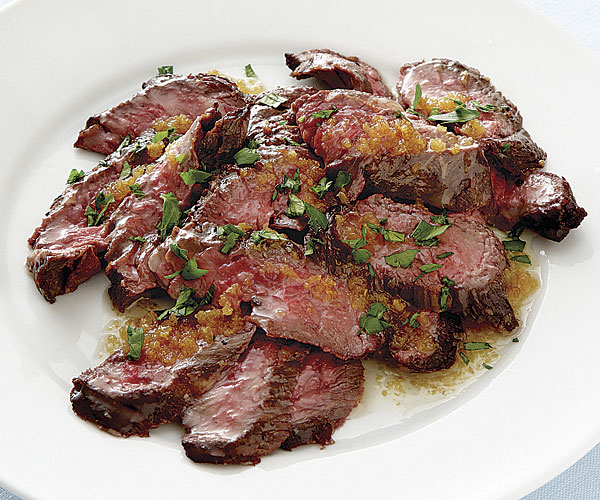 Flank steak is super lean. In fact, it's one of the leanest cuts of beef out there – even the American Heart Foundation recommends it [3]. Plus, its rich in protein – a 6 oz (170g) flank steak gives you a whoppin' 48g of top-grade, amino acid fueled gainz. This recipe contains just 350 calories, 13g fat and 5g of carbs.
Ingredients (1 serving):
6 oz (170g) lean flank steak
1 ½ tablespoons paprika
1 tablespoon minced garlic
2 tablespoons ground black pepper
¼ cup (60ml) lime juice
2 sprays olive oil
Method:
Set your grill to 275°F (135°C) (Gas Mark 1)
Spray the steak with olive oil
Add the paprika, garlic and black pepper to one side of the steak and rub it in
Lay the steak down on the pre-heated grill (seasoned side down)
Cook one side for 20 minutes, then flip over and cook the other side for a further 10 minutes
Remove steak from grill and garnish with lime juice
2. Mojo flat iron steak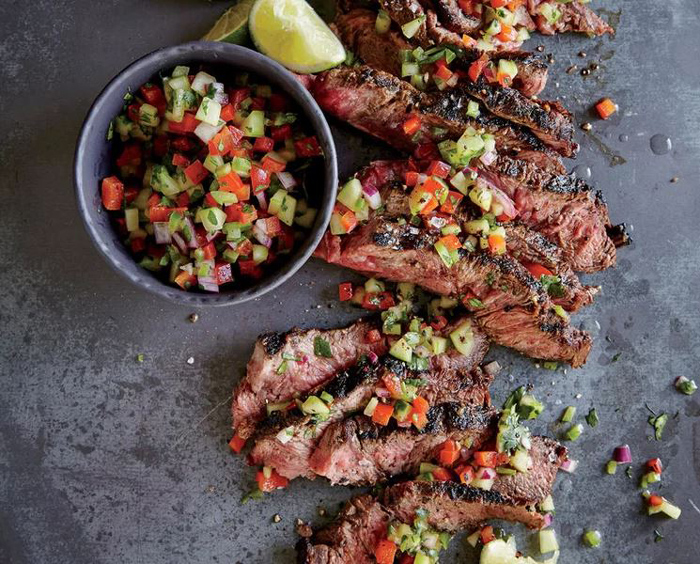 Flat iron steak is an affordable sub for a ribeye cut – which makes it a hero for bros on a tight budget. They're also succulent and tasty too – so get cookin', bro. This healthy steak recipe gives you 24g of protein, 6g of carbs and 11g of fat. Here's how to do it…
Ingredients (4 servings):
1lb (454g) flat iron steak
¼ cup (60ml) fresh orange juice
1 cup (175g) red bell pepper
1 teaspoon chili powder
2 minced garlic cloves
2 teaspoons brown sugar
2 teaspoons grated lime rind
2 tablespoons extra-virgin olive oil
1 ½ oz (45g) chopped red onions
2 tablespoons olive oil
Method:
Mix orange rind, orange juice and tablespoon of olive oil
Add garlic cloves, brown sugar, and chili powder. Stir with a whisk
Add steak and turn it over to coat on both sides. Let it stand for 30 minutes at room temperature (21°C/70°F) and turn after 20 minutes
Set grill to 400°F (200°C) (gas mark 6) and heat up grill pan
Add steak to pan and grill for 10 minutes (5 minutes each side)
Lay flat iron steak on chopping board and let it stand for 5 minutes
Slice steak across the grain
Add remaining olive oil and serve
3. Grilled steak, mushroom and rocket salad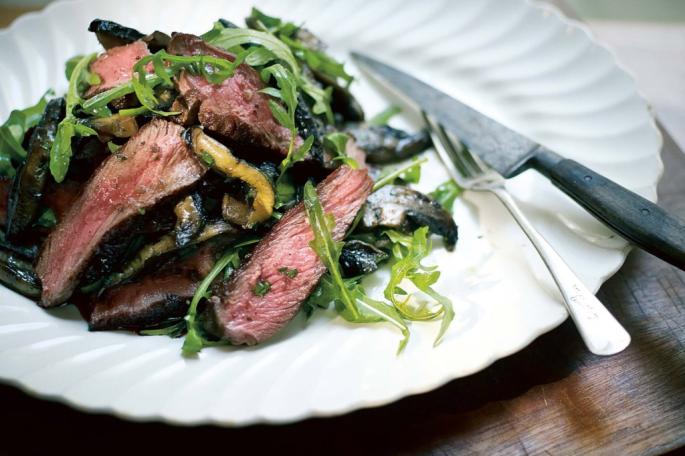 Look no further for a healthy high-protein and low carb option, bro. This meal gives you 30g of protein, alongside 23g of complex carbs and 22g of fat. It's also stuffed with essential vitamins (A, B9 and K) and minerals (calcium, potassium). Let's get into it…
Ingredients (1 serving):
4oz flank steak
2 cups (50g) rocket
1 tablespoon olive oil
½ cup (35g) mushrooms
1 tablespoon olive oil
1 teaspoon garlic powder
1 teaspoon onion powder
5 oz (150g) red onions (sliced)
1 teaspoon paprika
1 teaspoon ground ginger
Salt and pepper
Method:
Mix garlic powder, onion powder, brown sugar, ginger and paprika in a bowl
Add the steak to bowl and flip it over several times until mix covers meat on both sides. Leave to marinate for 15-20 minutes
Put the mushrooms and red onions on a sheet of aluminum foil and pour on olive oil, pepper and salt
Lightly grill the mushrooms and red onions
Get ready to cook the steak. (For medium cooking preference), set grill to 400°F (200°C) (gas mark 6)
Grill the steak and vegetables for 5-10 minutes
Slice the steak and add the rocket
4. Steak and eggs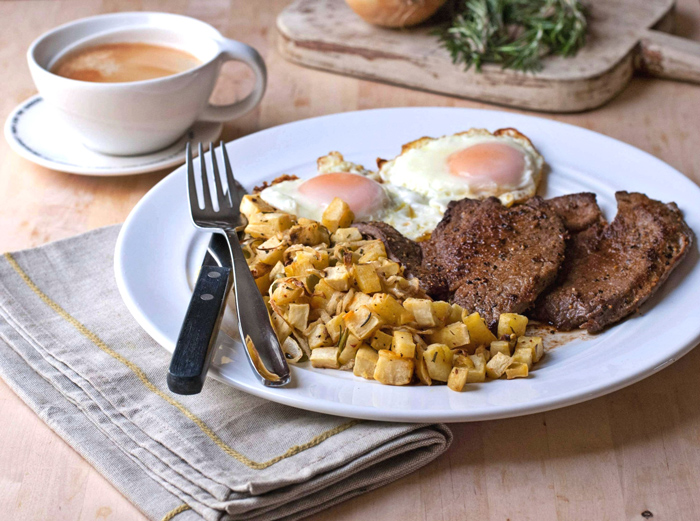 Over time, we've heard bros call steak and eggs "the breakfast of champions", "the maximum definition diet", the "simplest diet on Earth" and "the keto power breakfast" – and all these names have truth in them.
This recipe is easy to prepare – and it gives you a huge 45g of protein in one hit, bro – yeah!
It's also relatively high in calories (720), so it means you can bulk up or get lean without wasting time on eating six meals a day. Check this:
Ingredients (1 serving):
4oz (114g) sirloin steak
2 whole large eggs
½ teaspoon finely chopped garlic
1 sweet potato
1 tablespoon smoked paprika
2 tablespoons olive oil
Method:
Pre-heat your cooker top or hotplate to 350°F (180°C) (gas mark 4)
Tenderize steak with a meat mallet
Sprinkle salt on steak and add garlic for flavor
Place the steak in a pan and cook for 4-5 minutes
Turn over and cook the other side for another 5-7 minutes
Move the sirloin steak to a plate and cover with baking foil to maintain heat
Pour 1 tablespoon of oil on to a pan, spread oil over surface with a spatula, and add the two eggs
Add garlic and scramble for 3-4 minutes
Put sweet potatoes in a bowl, drizzle with water and cover with a microwaveable plate
Microwave the sweet potatoes on full power (850w) for 3 minutes
Move cooked eggs from the pan and put on the plate with the steak
Add sweet potatoes to pan. Drizzle the last tablespoon of olive oil over the potatoes and cook 'til crispy
Place the sweet potatoes on a plate with your steak and eggs
5. Slow-cooked pepper steak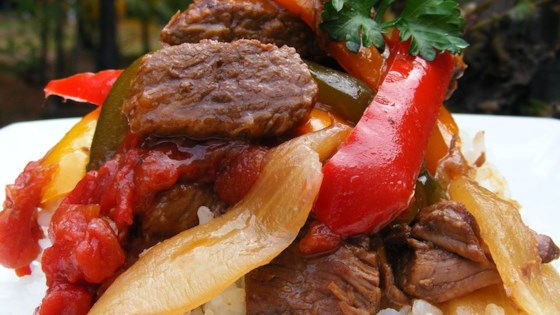 If you've got a busy day ahead at work or in the gym – let your slow cooker spend time on your meals so you got more time for other s***, bro!
Ingredients and method:
Mix up a bunch of ginger, garlic, black pepper, red and green peppers and scallions into a marinade.
Add steak strips to the bottom of the slow cooker and pour in the marinade – and voila!
Let it cook for 6-8 hours
And here's the result: A tender steak dish that seems to melt in your cakehole – and it's so tasty, bro!
Final word
If you want a healthy, but super-tasty treat, you can't beat a lean cut of beef steak.
We never tell our bros to eat steak every day because of the health risks. We get our fill of zinc from supplements – you'll find a good amount of the mineral in some of the best natural testosterone boosters out there.
That said – get 'em right and nothing tastes better than healthy steak recipes. And here are 5 here for you to enjoy, bro!
What do you think of this list?
Did we miss out your favorite recipe? Or are you disgusted with any of our choices? Scroll down to leave your comments below.
References
Ods.od.nih.gov. (2018). Office of Dietary Supplements – Zinc. [online] Available at: https://ods.od.nih.gov/factsheets/Zinc-HealthProfessional/ [Accessed 14 Dec. 2018].
nhs.uk. (2018). Meat in your diet. [online] Available at: https://www.nhs.uk/live-well/eat-well/meat-nutrition/ [Accessed 14 Dec. 2018].