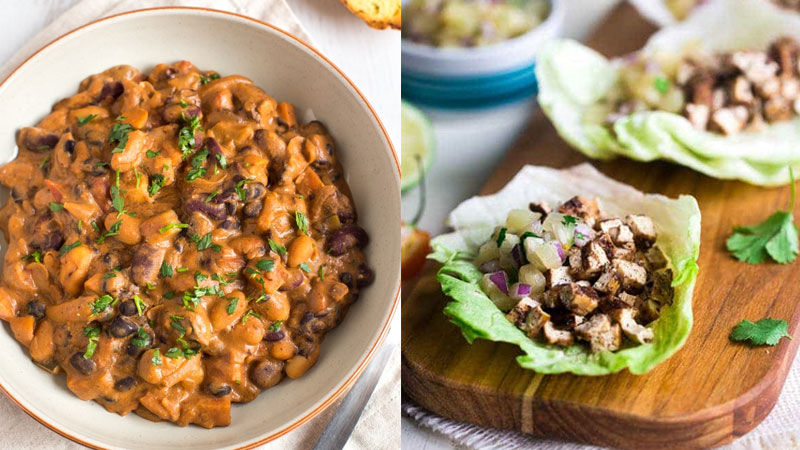 The New Year is almost here and you're ready to kick carbs to the curb. All you need now is a bunch of high-protein vegetarian meals to build meat-free muscles. Well, it just so happens that we've picked out the best of 'em all for you right here. Let's dig in…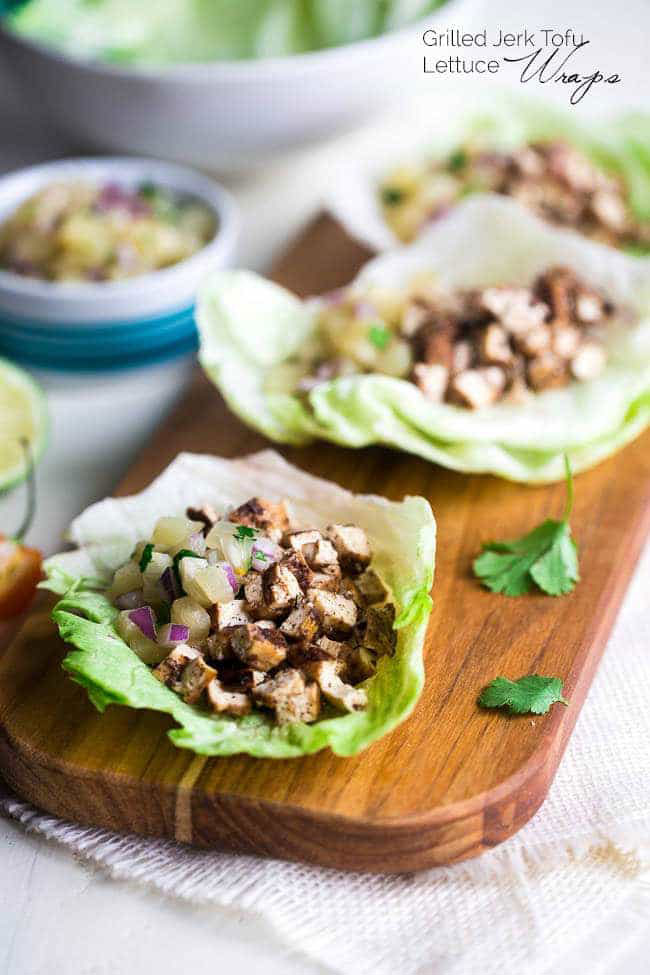 #1 – Lettuce Wraps w/ Jerk Grilled Tofu
Serves 4
175 kcal (2 wraps per serving)
5 g of protein per serving
Marinade ingredients
½ Red onion (chopped)
1 tsp Chili
2 tsp Garlic (chopped fine)
1 tsp Ginger
1 Tbsp + 1 tsp Fresh thyme leaves
2 Tbsp Low-sodium soy sauce
1 tsp Cinnamon
2 tsp Nutmeg powder
2 tsp Allspice powder
5 Tbsp Coconut sugar
5 Tbsp Olive oil
1 Tbsp fresh lime juice
1 Block of Tofu (400 g net weight)
Salsa stuff…
3 Tbsp Finely chopped red onion
2/3 Cup chopped pineapple
1 Tbsp fresh lime juice
5 Tbsp minced cilantro
1 Head of Iceberg lettuce
Salt/pepper
Oh, and make sure to have salt and pepper at hand for taste. Let's do this!
How to make it
Throw all the marinade ingredients except the tofu into a food processor. Whip it up, taste, and add salt/pepper to your liking. We repeat – do not put the tofu in the processor.
Slice the block of tofu into two equal portions. Then, cut each half into three slices at around ½ an inch thick. Place each slice on a paper towel before covering them with a second paper towel. Next, take a chopping board, lay it across the slices, and place something heavy on it to press out any moisture. 30+ minutes usually does the trick.
Remove the paper towel from the tofu and put the slices in a bowl. Add the marinade on top before turning the tofu and rubbing it in the spices. This'll help the tofu take on that epic jerk flavor.
Once every slice has a good even layer of marinade, cover the bowl and leave for two hours or more. Go crush a badass barbell workout or killer chest session while you wait.
When the marinade is working, heat up a grill. Make sure to give it a clean once it's nice and hot before adding a touch of extra oil (not counted in the ingredients).
Remove any larger chunks of marinade stuck to the tofu and lay the slabs around the edge of the grill. This is where the heat isn't as direct, meaning the tofu is less likely to burn. Close the lid and check back after 10 minutes to see how your 'fu is a cooking. When it's nice and crispy on one side, flip and finish off the other.
Okay, while the tofu is grilling combine your salsa ingredients in a bowl. Mix them up well and place to one side.
When you're ready to serve up the tofu, tear a big leaf from the lettuce head and put it on a plate. Next, take a slab, rub on any extra marinade, and chop it into small cubes before adding it to the mix. Top with salsa and eat while fresh.
[infobox]
Top tip: Because these suckers are to short on calories, double up the serving for a bigger protein boost.
[/infobox]
Recipe adapted from Food Faith Fitness.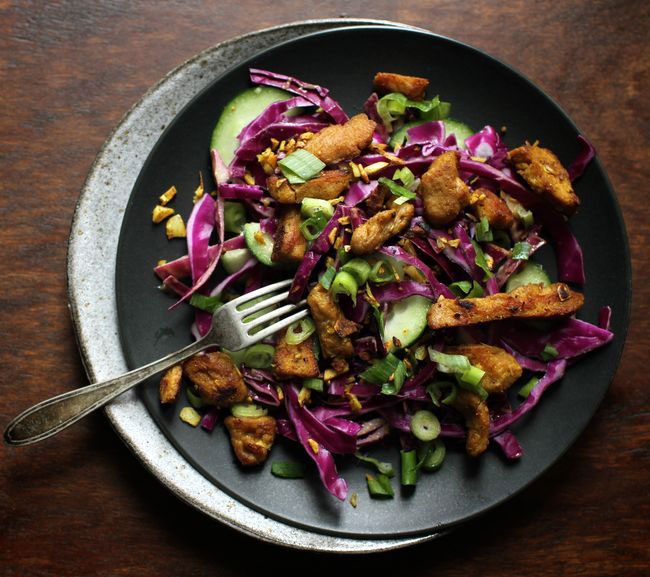 #2 – Red Cabbage Salad with Curried Seitan
445 kcal per serving
34.0 g of protein
Ingredients
H4 – Salad stuff:
1 Tbsp olive oil
18-oz packaged seitan (chopped into bitesize chunks)
¾ tsp Mild curry powder
6 Cups of shredded red cabbage
1tbsp Minced garlic
1 Small cucumber cut to semicircles
3 Green onions thinly sliced
Dressing ingredients:
1/3 cup Mango chutney
1/3 cup Smooth 100% peanut butter
Raided the store? Awesome. It's time to get cooking.
How to make it
First, you're gonna want to rustle up the dressing. Put both ingredients into a food blender with 1/3 cup of water and blend until smooth. Scrape it out into a bowl and place to the side.
Now, it's salad time! Get 2 tsp of olive oil hot in a skillet over medium heat. Next, throw in the seitan and a pinch of salt if you're feeling it. After five minutes or so throw in the garlic, the rest of the olive oil, and stir for half a minute. Finally, toss in your curry powder and cook for two more minutes.
Once you're ready to eat, throw the lettuce, cabbage, and dressing into a bowl. Heat up your seitan and add it on top with the green onions. Voila, meat-free gainz, bro.
Recipe adapted from The Bitten Word.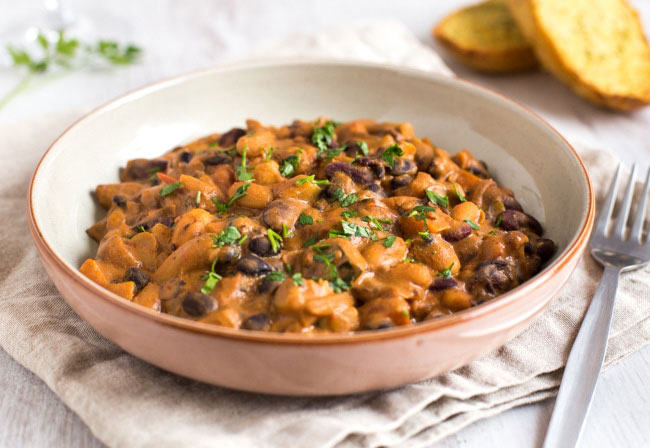 #3 – Creamy Three Bean Stew
Serves 4
479 kcal
26 g of protein
Ingredients
1 Tbsp Olive oil
1 Diced onion
3 Cloves of minced garlic
2 Diced carrots
1 Diced medium zucchini
4 Diced medium mushrooms
1 x 400 g Can of Cannellini beans (240 g drained weight)
1 x 400 g Can of Black beans (240 g drained weight)
1 x 400 g Can of Kidney beans (240 g drained weight)
1 1/3 Cups cream of tomato soup (approx. one store-bought can)
½ Cup of water
1 Crushed vegetable stock cube
1 tsp Oregano
Chopped fresh parsley
Salt and pepper (to taste)
3 Tbsp Cream cheese
How to make it
Get the olive oil nice and hot, then throw your diced onion and carrot into the pan. Set the flame down to a medium heat and stir regularly until the onion has nearly gone soft. Next, add in the zucchini, mushrooms, and garlic, before cooking until the veg starts to soften.
Now, throw in the beans, soup, chopped tomatoes, water, and stock cube. Give it a little mix then do a taste test. Add oregano, salt, and pepper as you see fit.
Let the whole pan cook for 20-30 more minutes, giving it a good stir on occasion. At this point, you're waiting until the liquid cooks down into a creamy sauce. Finally, add the cream cheese, then get any more salt and pepper involved if still necessary. Mix it all up.
Hungry? We know you are, bro!
[infobox]
Top tip: Dish it all up into four equal servings. This way you can eat one now and save three for later – that's some meat-free meal prep skills on show.
[/infobox]
Recipe adapted from Amuse Your Bouche.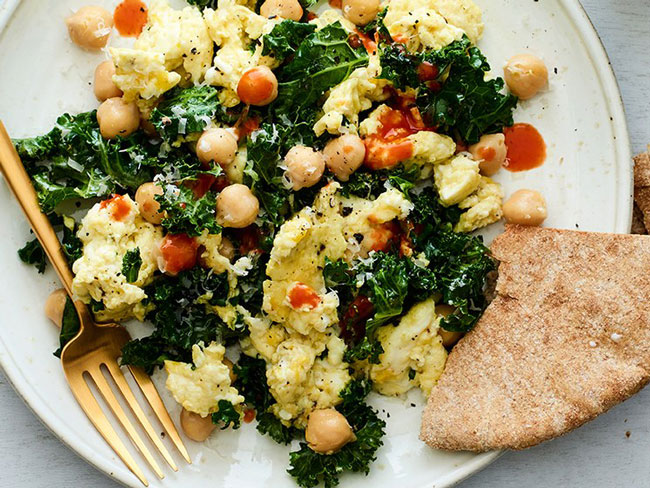 #4 – Scrambled Eggs with Chickpeas, Kale, and Parmesan Cheese
273 kcal
31 g of protein
Ingredients
1 tsp Olive oil
1 Clove minced garlic
½ Cup thinly sliced kale leaves
1/3 Cup canned chickpeas (rinsed & drained)
Salt & pepper for taste
1 Large egg
2 Large egg whites
½ oz Grated parmesan cheese
Hot sauce for taste
How to make it
Grab a smallish non-stick skillet and heat the olive oil in it.
Once hot – throw in the garlic for about half a minute.
Next, add in the kale and chickpeas. Season these guys with salt and pepper, while stirring on occasion until the kale is soft. Two minutes should do it.
Remove the kale and chickpeas from the skillet. Do not wipe it down because you'll need it for the eggs
Whip up the egg and egg whites in a bowl. Add to the skillet and cook 'em up on a low heat. Make sure to stir them until they're nice 'n firm. Now, throw in the parmesan, then remove from the heat.
Mix your eggs up with the kale and chickpeas to serve. Did someone say a Judi Dench way to start the day?
[infobox]
Top tip: Delve in with a dash of hot sauce to trigger the fat burning thermogenic effect of chilis.
[/infobox]
Recipe adapted from Self.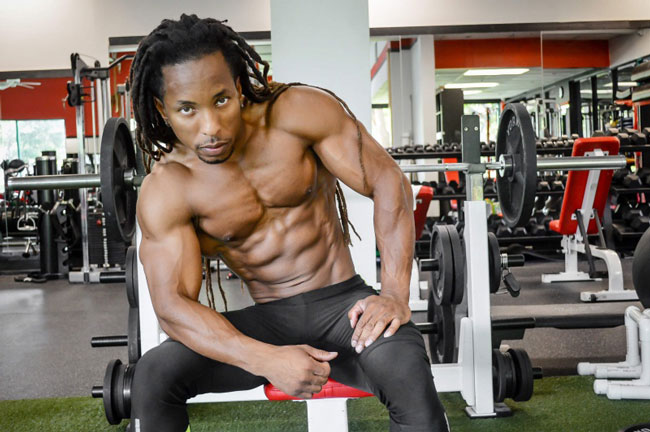 Final bite
There you go, bro. Four healthy AF high-protein vegetarian meals to kickstart your New Year goals. Use them to fuel your workouts, energize your day, or provide physique sculpting aminos for a post-training munch.
Get creative and make these recipes your own too. Throw in different spices, chop and change vegetables, or sometimes throw in something a little dirty for a non-takeout cheat meal.
Hell, if you're already stacked, maybe tailor the portions to suit the bigger guy. After all, the ISSN suggests 1.4-1.8 g of protein per kg of body weight every day to maintain and build muscle. [1]
Good luck grabbing those gainz, bro. See you in the iron house.
References
Campbell B, et al. International Society of Sports Nutrition position stand: protein and exercise. J Int Soc Sports Nutr. 2007
More meat-free muscle building you might like: