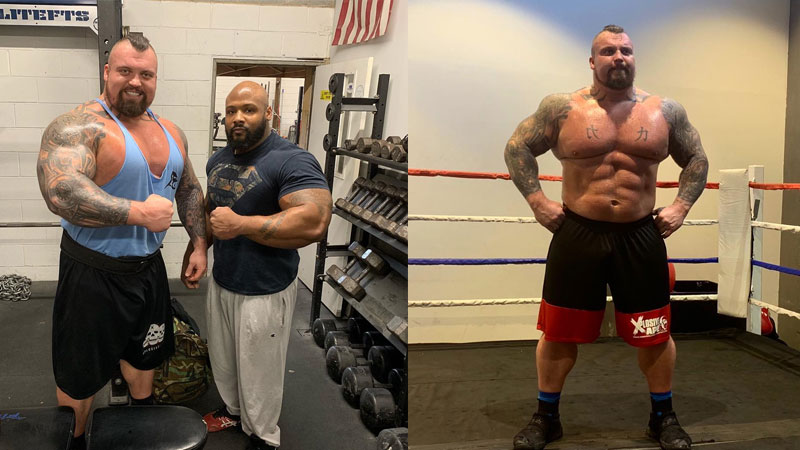 Eddie 'The Beast' Hall hands down shocked the world this year with his transformation. Out of nowhere he dropped pictures of himself looking next-level ripped after months of hard work in the iron house. Whereas we were all expecting him to be back to strongman as the man-mammoth, larger than life character we'd come to know – Eddie had different ideas.
Here's how he works out now…
Arms Day
Check out this arms workout taken from Eddie's Instagram feed.
Arms –
4 x 10 DB curls palms up
Superset with
4 x 10 EZ Bar preacher curls
–
4 x 12 Reverse grip EZ Bar
Superset with
4 x 12 single arm DB hammer preacher
–
4 x 10 weighted Bench dips
Superset with
4 x 10 lying behind head DB extension
–
21's. 7 low 7 high 7 full
21 second mid hold
X4
Back & Abs Day
When Eddie posted this workout, he said he's 6' 3" and rocking a 163 kg build. For us stateside that's 359.5 lbs. As you can see from the footage, he's looking lean AF too considering the guy's a former strongman.
Here's the workout:
Back –
220kg dead's 5 x 3reps for speed 60secs rest between sets.
Lat pull down 4 x 12reps 80% max
Lat half-moon 4 x 12 reps 80% max
Machine rows 4 x 10reps 80% max
Dumbbell rows 4 x 10 reps 80% max
Abs –
Weighted crunches 4 x 15reps with 20kg
Superset with
Leg raises 4 x 15reps
Superset with
Sit ups 4 x 15reps
60 seconds rest
X4 times
Boxing for cardio
Long before Eddie was a strongman, he was a competitive swimmer. This was his first fitness love and was something he decided to return to when looking to get shredded.
However, his re-emerging appreciation for cardio didn't just stop there, 'The Beast' started boxing. Since then he hasn't stopped, saying he loves to lace up his gloves and step in the ring to hit pads. He's also partial to a friendly spar too – not that we'd fancy our chances.
Here's what Eddie gets up to when working with his boxing trainer Scott:
"Me and my bro @scottbox23 got two hours of coaching in this week.
1 minute on ?
1 minute off ?
For 60 minutes straight.
Boxing is something that I find enjoyable and makes me want to train harder and harder each time I get my gloves on. Great cardio!!!!"
From Strongman to Shredded
When Eddie decided it was time to turn his body around, he had to make massive changes. At his heaviest, he weighed a monumental 194.5 kg / 433 lbs, which isn't a figure you can shake off easily. Double that with his 12,000 calories a day eating habits and the road ahead to peak fitness looks even longer.
But, come on, we're talking about 'The Beast' here! If anybody has the mental power to do it, it's Eddie. Check him out ripping this record-breaking 500 kg / 1102 lb deadlift to silence any doubt!
For us mere mortals who could only dream of lifting the sh*t Eddie did on the daily, the question is simple. Why on God's green earth would he want to change? He's living the dream, right?
According to the former World's Strongest Man, he began to realize how his strongman career was putting his longevity in danger. Eddie knew he had to shape up fast if he wanted to grow old happily with his family. For him, his kids and wife meant far more than the fame and glory.
So, he did what any guy would do in his situation. Eddie got his nutrition on lock, hit the iron hard, and started to embrace his former love of cardio training. Yet, rather than trying to rack up numbers on the barbell, Eddie was all about dropping it from his frame. His goal was to shed body fat and get as healthy as possible.
A post from Eddie's Insta – October 2018
"Today i weighed 164kg / 26 stone / 361lbs
Meaning iv lost 32kg / 5 stone / 70 lbs since I won the worlds strongest man 2017.
Working my bollox off to succeed on another mission.
By next goal is another huge one and I'm attacking it like I did with strongman il let you all know soon enough what it is."
Last rep
If you ever needed any inspiration to bend the barbell today look no further. What Eddie's achieved is nothing short of astonishing – showing all us bros what's possible with from damn blood, sweat, and tears.
He doesn't seem to be stopping either. The way he's still looking screams commitment and 'The Beast' is clearly dedicated to his diet. Okay, some of his cheat meals would put the average dude in the emergency room. But when you see how hard he goes in the gym it's safe to say he deserves 'em.
Now go smash your own goals, bro. Follow Eddie's blueprint and don't stop until you nail it.
Good luck our Judy Dench amigo. We'll be seeing you in the iron house.
More muscle building knowledge for the bros: