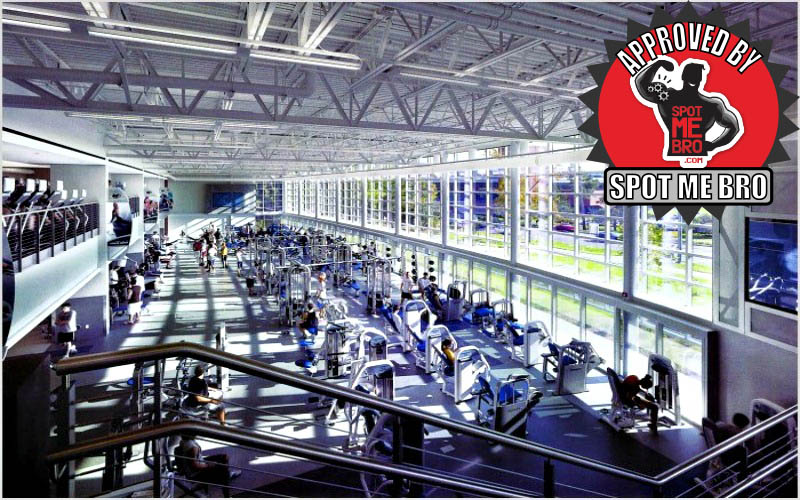 So you are thinking about picking a college. But maybe you are already attending a university and are tired of seeing too many fat chicks. Or perhaps you wish the on-campus gyms were better. Sound like you? Well don't worry, these colleges are the fittest in the nation, so don't delay, apply to them now and prepare your transfer papers.
Before we begin the list, here are the criteria and requirements for a college to even be considered:
-Do students have easy access to on-campus workout facilities, and if so, do they use them?
-How up-to-date are these facilities?
-Campus dining: variety of options and quality of food.
-Overall student happiness.
#10 The University of Georgia
Get out of the humidity and into the gym. The Dawgs of Georgia have fantastic on-campus gyms that include everything from basketball courts, to weight rooms, to even rock climbing.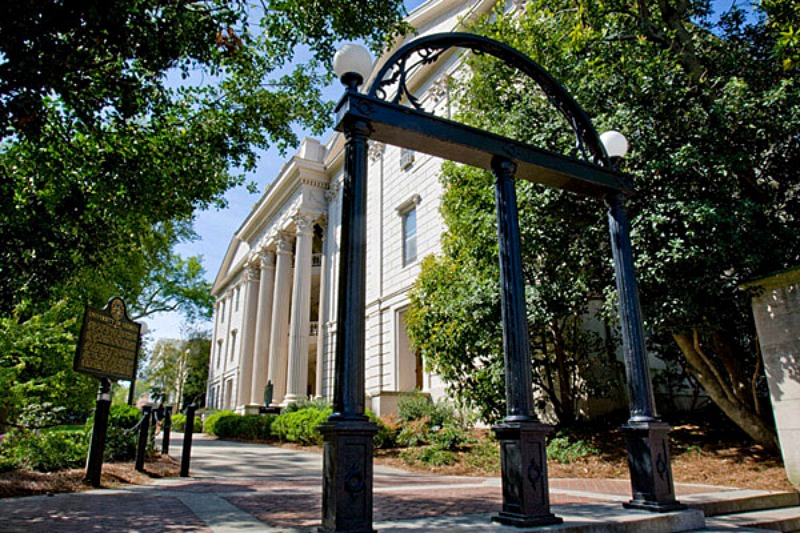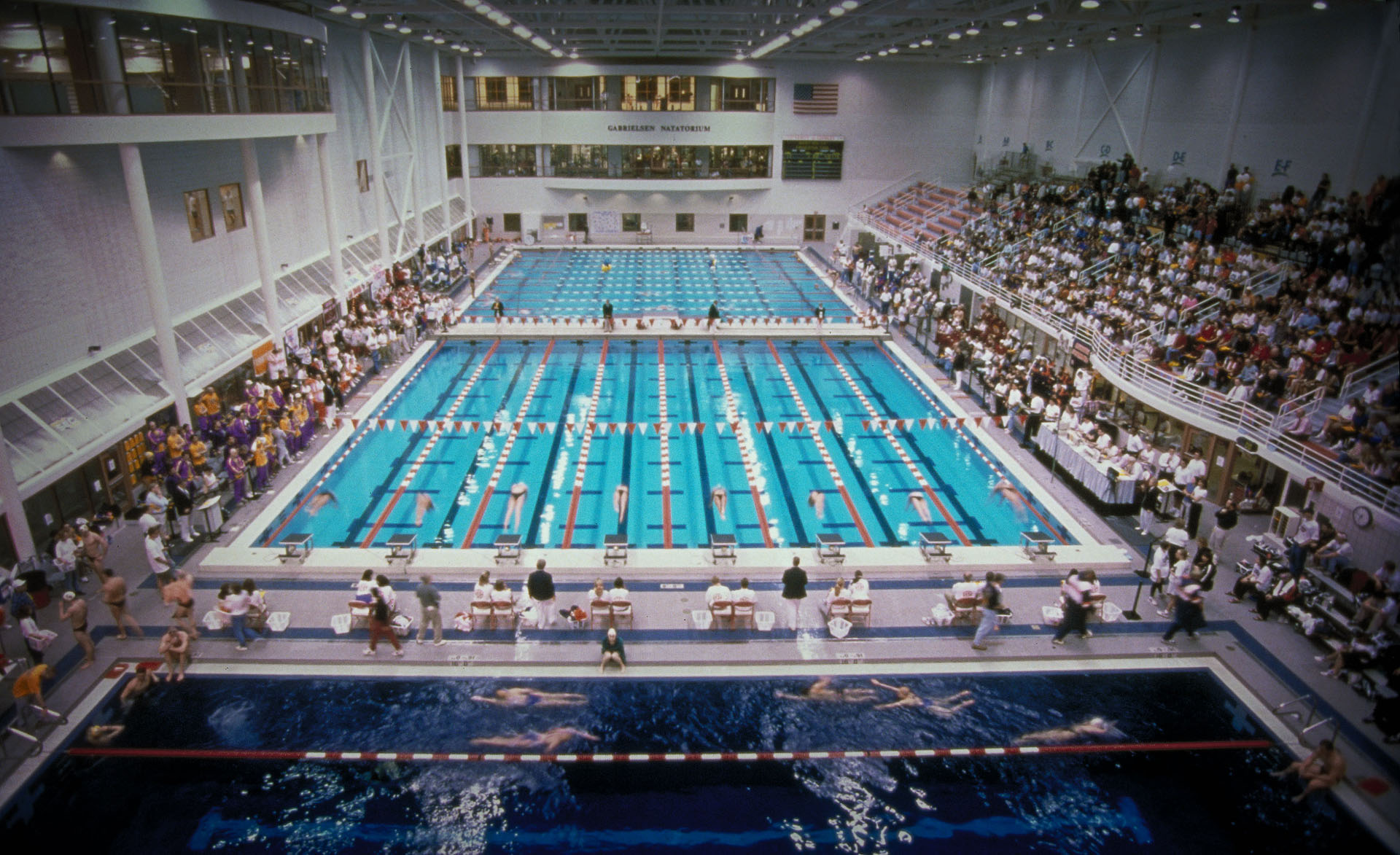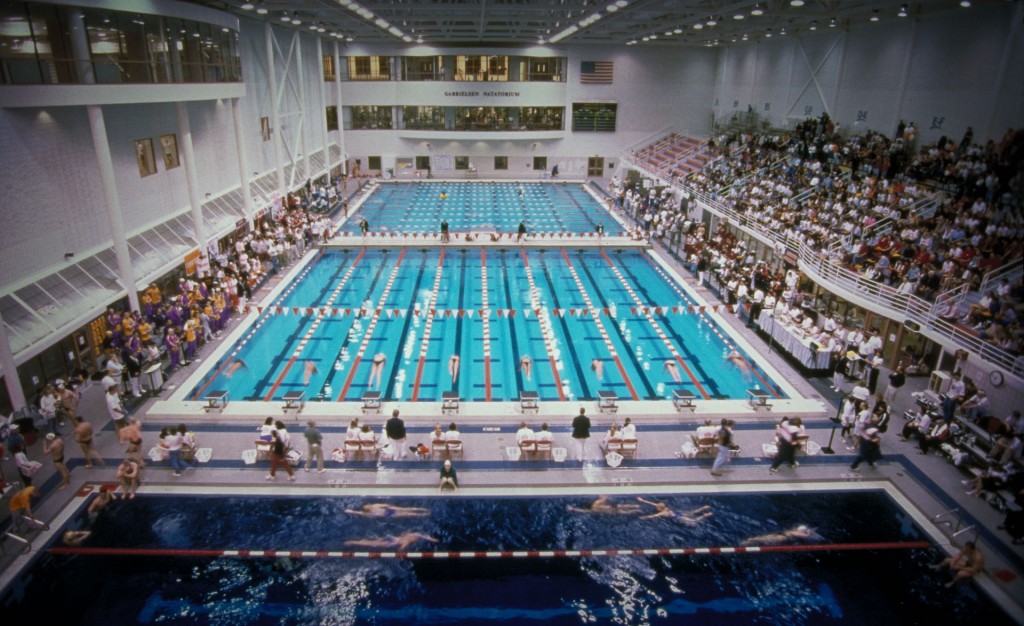 The Ramsy Student Center at Georgia just completed major renovations to totally upgrade the entire facility. That is good news for us fitness freaks! Inside are THREE gyms. Yes, 3 gyms, 3 pools, a 1/8th mile track, an indoor rockclimbing wall, an outdoor rockclimbing wall, and 10 racquetball courts. Oh, not enough you say? Well it also has 19,000 square feet of weightlifting space with 8 basketball courts! This glorious facility is one of the country's best college fitness destinations. The aquatic center (the place with the 3 pools) not only gives students a place to swim, but provides water-fitness classes to shock your body with different cardio. They also provide classes to be a certified lifeguard!
The UGA Rec Sports also oversees the official 5k race for students, community and UGA staff. But that is not all. The Club Sports Complex is a 180,000 square foot outdoor facility right off campus with 3 practice fields and all the space students need  for their intramural or recreational sport activities. The athletic program at Georgia has a die-hard fan base and football season is like Christmas every weekend. Oh, and have you never had contact with southern girls? They are mighty fine.
#9 Stanford University
Mostly known for its academics, Stanford University has an immaculate campus located in northern California, mere miles from San Francisco, and has dozens of beautiful trails to run or ride your bike.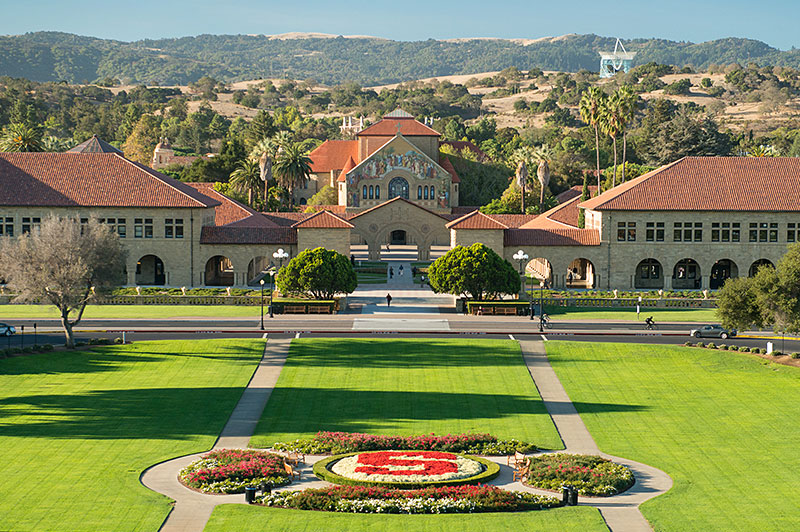 The campus dining is right near the top in the nation with the student body's persona to match. If you are a big outdoor nut, Stanford provides tons of options year round to exercise outside of a gym. However, their facilities are ready for your sweat. The ASCR is a massive 75,000 square foot recreation facility for students and staff. Inside, is an 11,000 square foot fitness room with weights, cardio equipment, 3 basketball courts, rock-climbing wall and more. To add to that, there's over 3,000 square feet  of studio space for fitness classes like martial arts, yoga and TRX to go along with the dozens of other options.
That is not all, the AOERC is just as impressive. Another 75,000 square-foot space that has multiple pools, a 14,000 square foot fitness center with cardio stations and many weight rooms. Don't forget the academics. Inside the AOERC, there are also academic classrooms and sports medicine areas. You can even get your personal training certificate! Standford doesn't play around when it comes to fitness, but take note, get your grades up before even applying.
#8 Penn State
Few universities can match the history of Penn State's athletics. Current students and alums alike live and breathe Penn State football. Penn State is proud to offer more than 70 intramural and club sports for the student body, plus has state of the art on-campus gyms.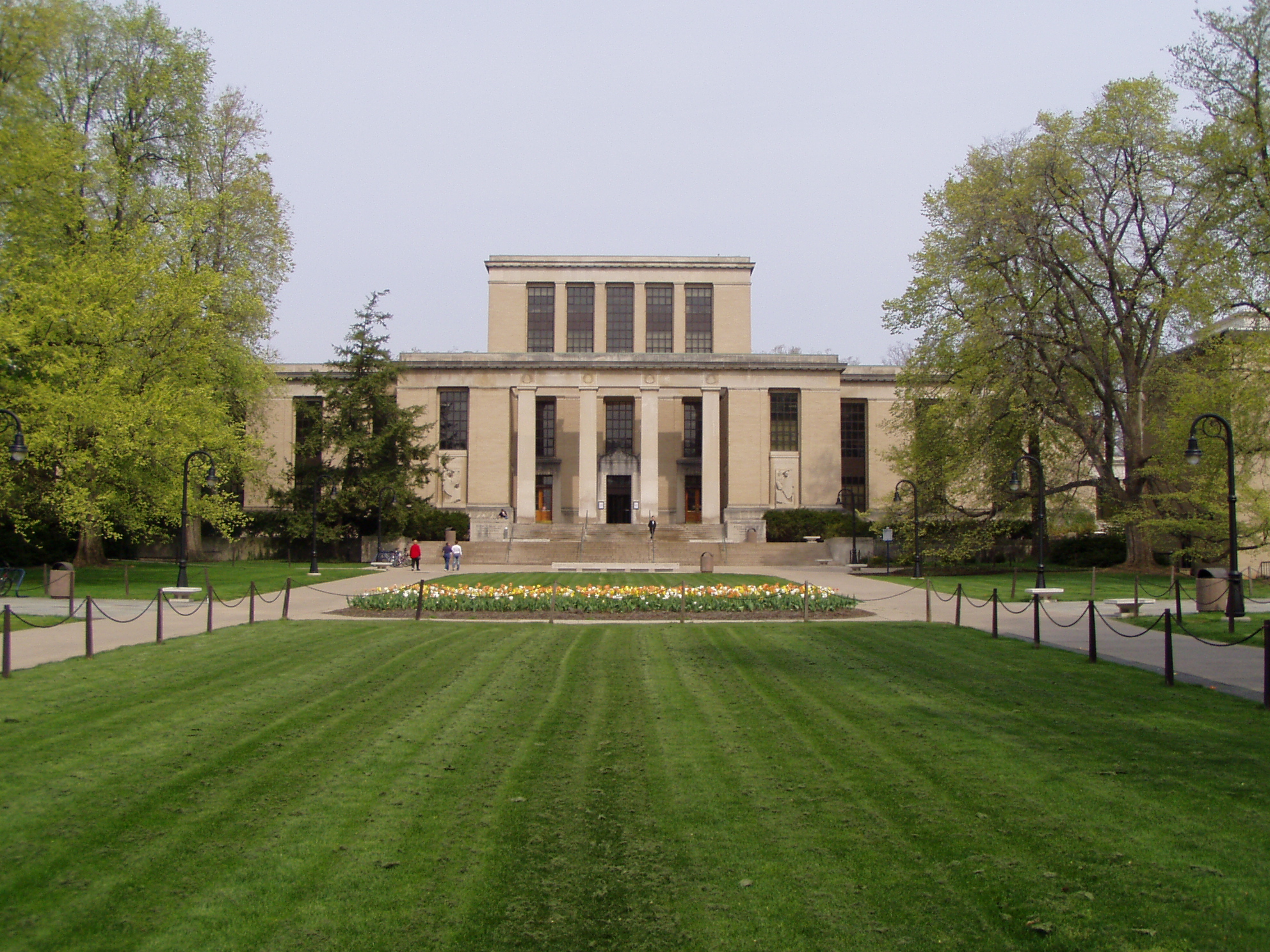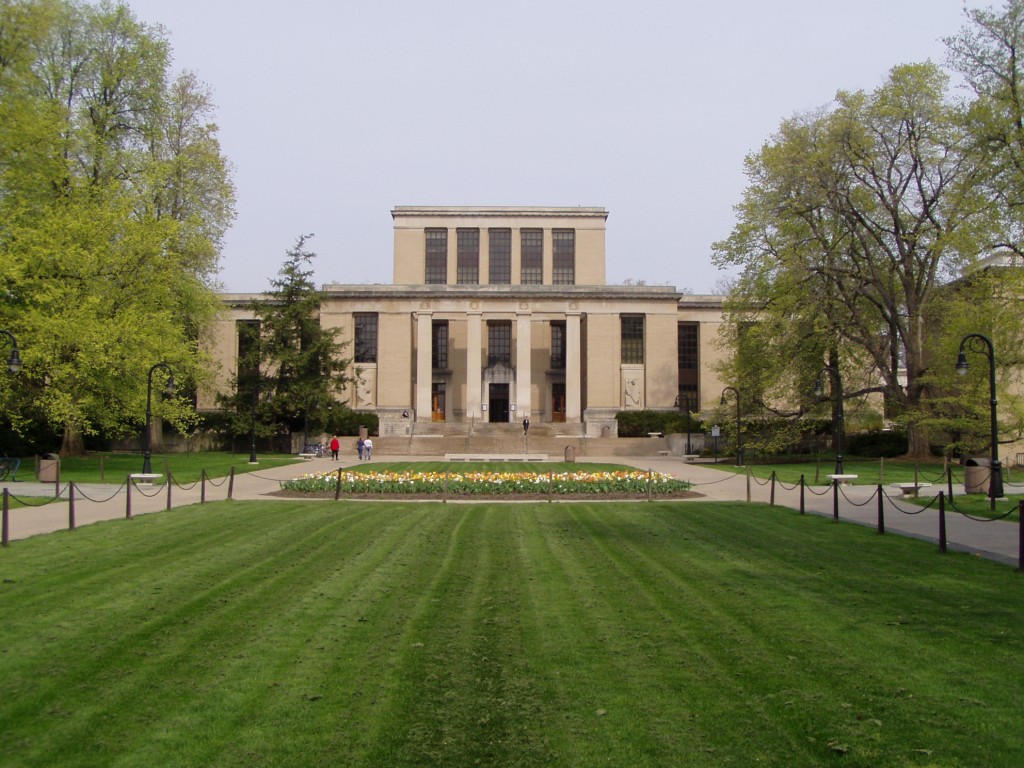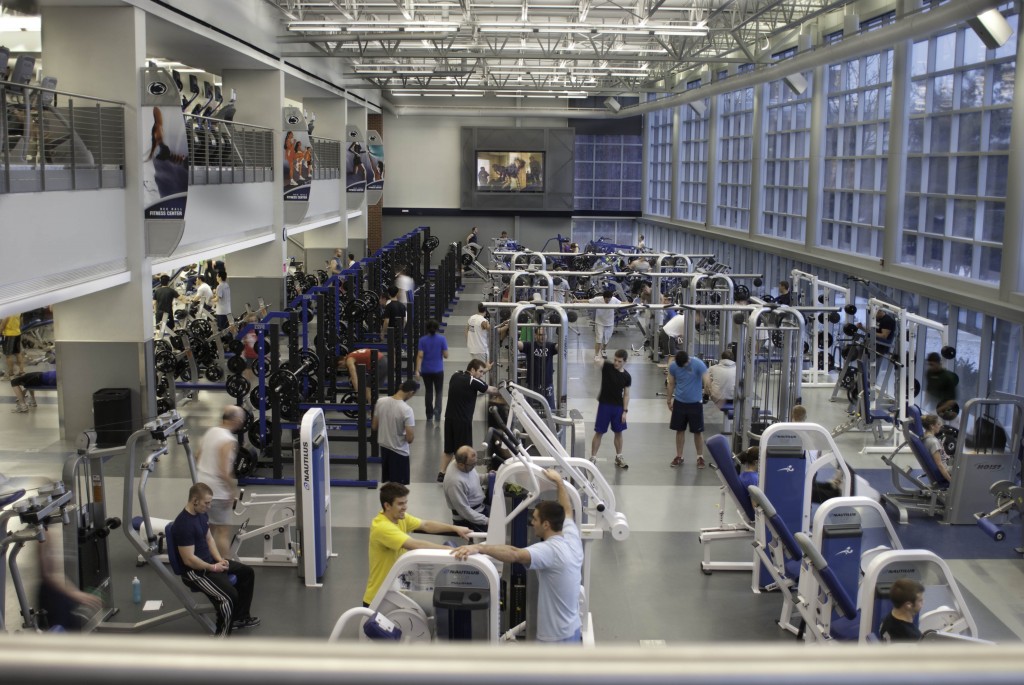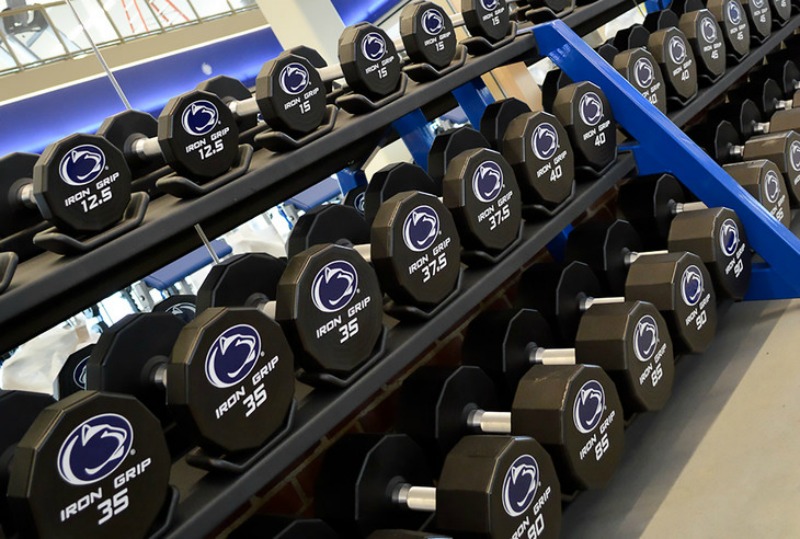 This Big Ten powerhouse is proud of its dedication to health, fitness and overall student happiness. The Hepper Fitness Center is a state of the art facility on campus. This facility includes a large cardio loft, video walls and 15,000 square feet of workout space. Are we in heaven? Yes, yes we are. But that is not all, the White Building Fitness Center is ALSO a 15,000 square foot space of pure workout sensation with free weights and machine options right at your fingertips. Guess what? There is yet another gym called the IM Fitness Center. It is the largest and newest workout facility on campus that is loaded with free weights, cardio machines and personal training.
Don't worry, Penn State also has a bevvy of fitness classes for the students that like sweating in groups.They provide everything from training for a marathon to hot yoga to martial arts. And the aquatic center will even let you take courses to be a pro lifeguard. Penn State LOVES their fitness, if you don't believe me, all you have to do is ask somebody from the Penn State family. They will be more than happy to talk.
#7 University of Notre Dame
If you aren't a "big city" type of person, look no further than Notre Dame.The Fighting Irish have one of the best overall athletic programs in the country, and that rubs off on their students.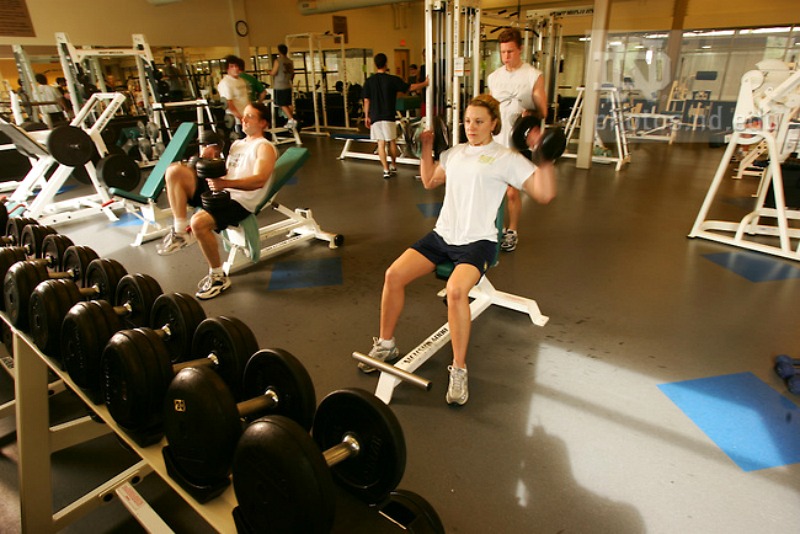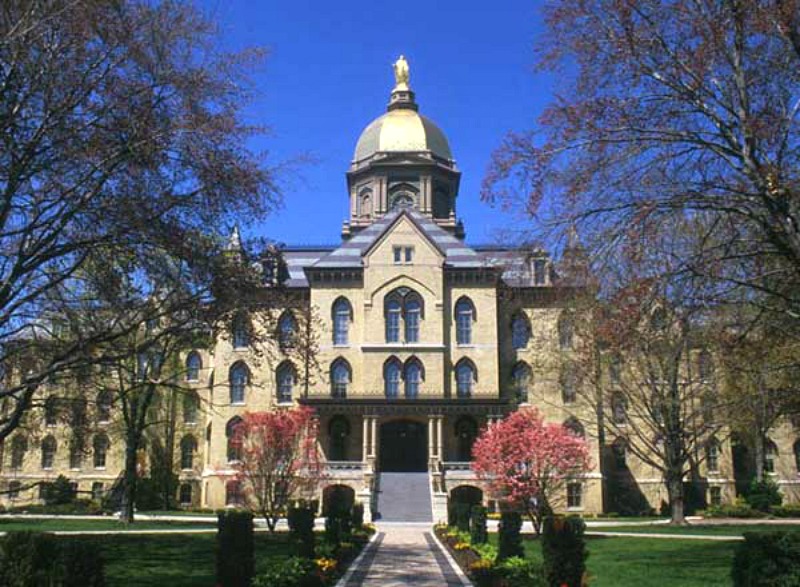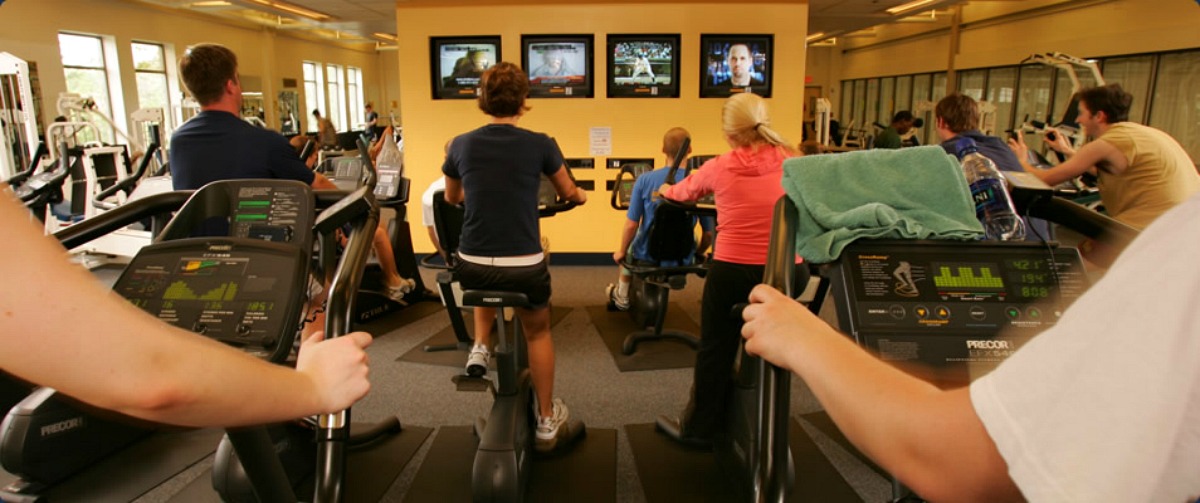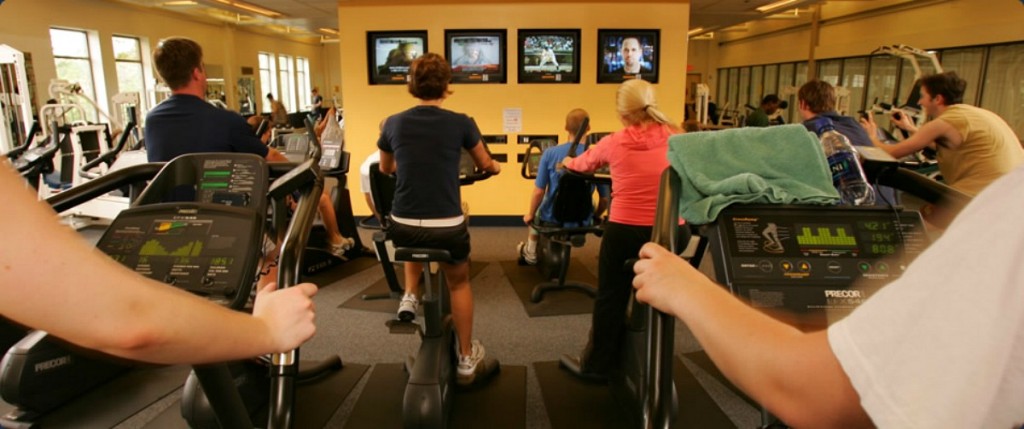 Notre Dame proudly establishes its dedication to fitness by continuing to update the main on campus fitness facility (The Rolf Sports Recreation Center). This beauty facility boasts over 300,000 users a year and has everything one could possible want at their college gym. It has an 1/8th mile running track, over 30 cardio machines, a huge weight room, and a place to rent all sorts of great sports equipment. The Rolf also has 3 courts for basketball, volleyball and badminton. Plus, a multi-purpose court for roller hockey, soccer, lacrosse and more.
Students can freely use the activity rooms for any workout they want until one of the many fitness classes fills the room for another workout of cycling, yoga or even TRX. The aquatic center also has fitness rooms, an Olympic pool and even diving boards. There is not much to do off-campus, so, many students spend their time working out. Not bad, eh?
#6 University of Texas
Texas is a sports crazy school that has taken a bit of a dip in the world of college football over the past couple of season. But not to worry, the Longhorns possess one of the best student fitness directories in the country.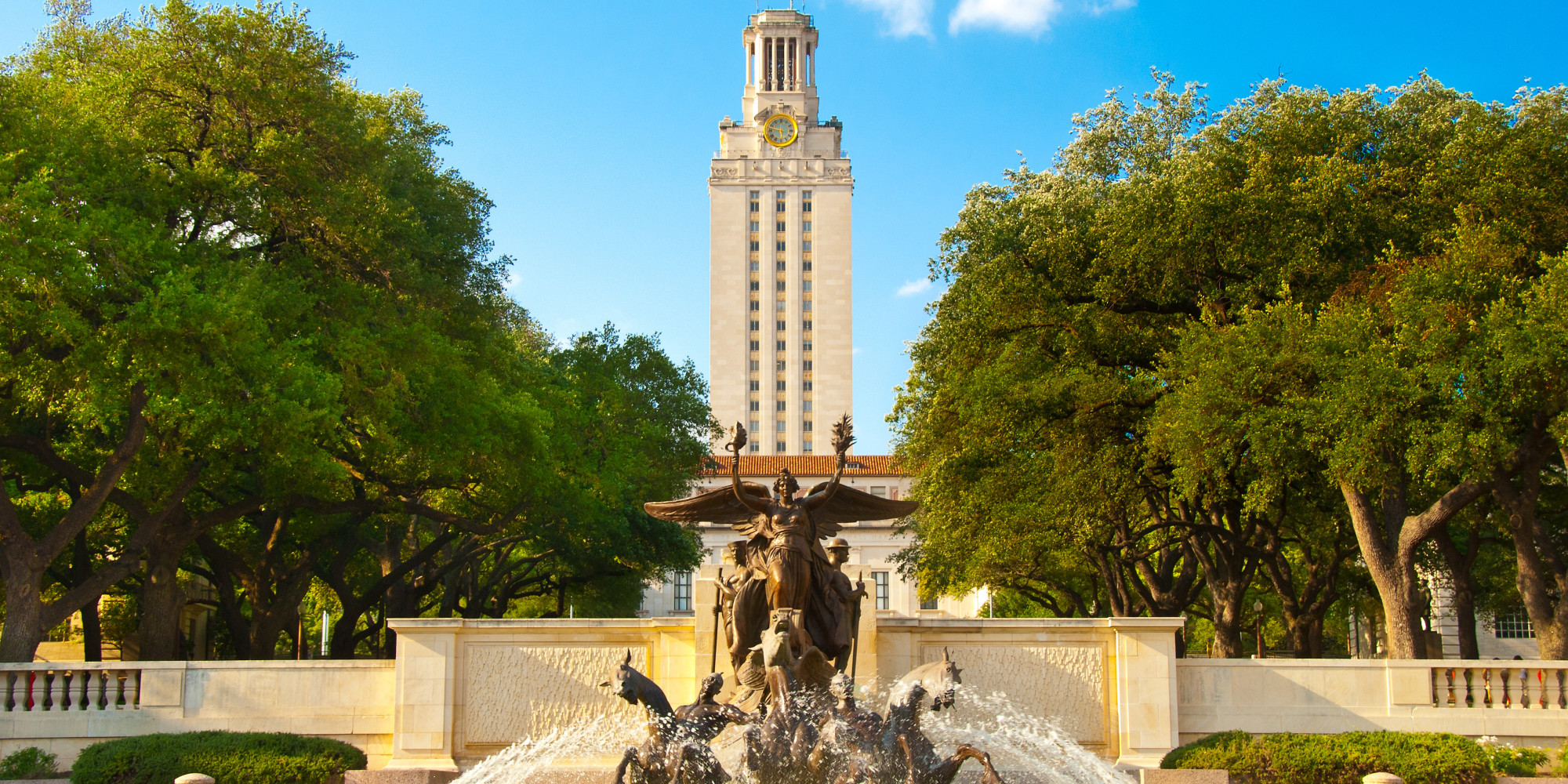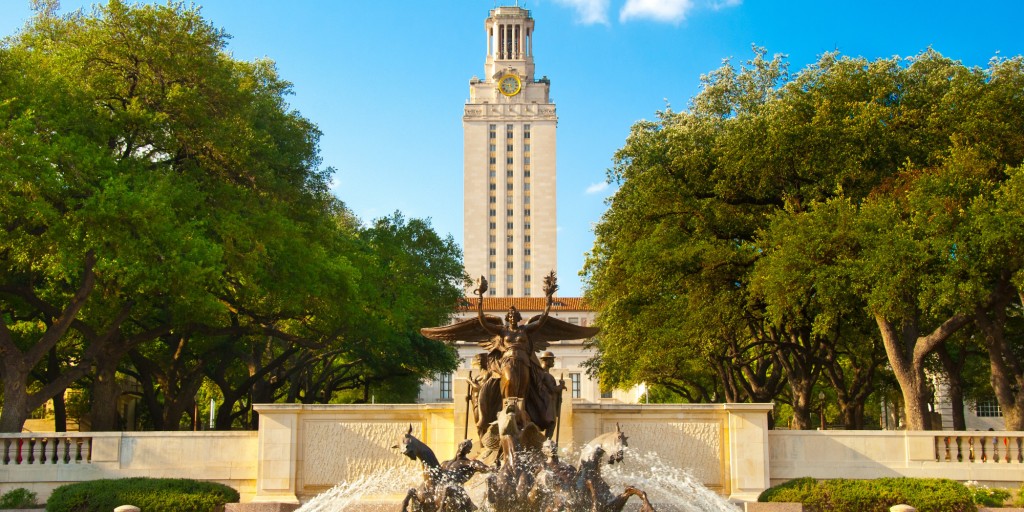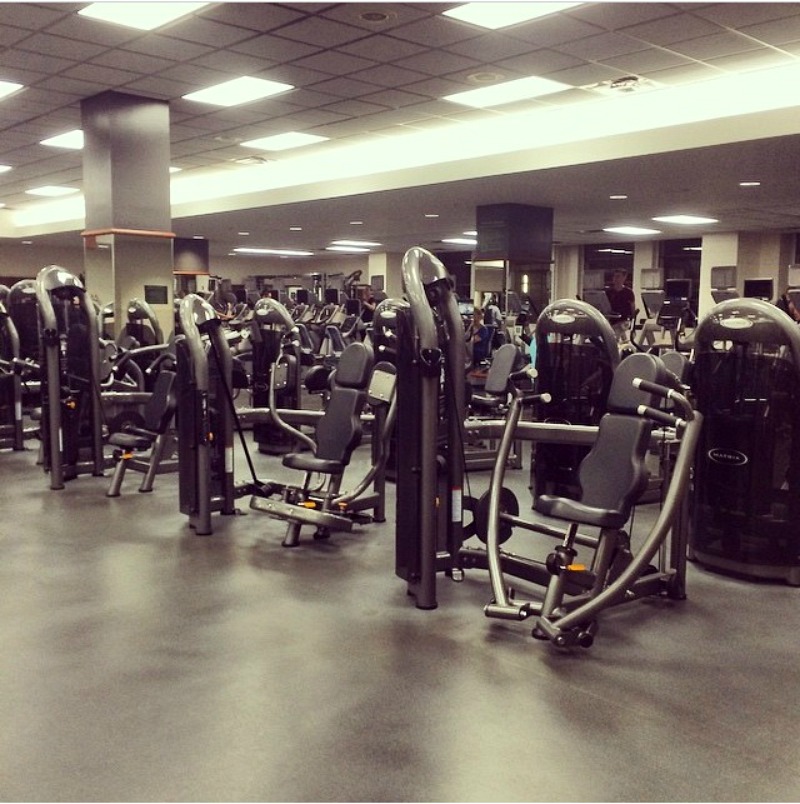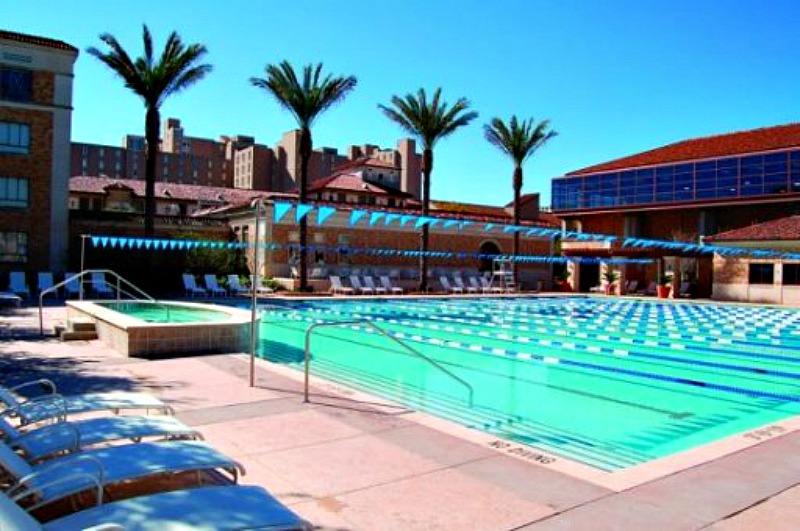 Their vast selection of intramural sports gives every student the option of playing a sport they love.They have 9 fitness centers, some off campus, some on campus. These facilities in total have a combined 500,00 square feet  of indoor and over 40 acres of outdoor workout space. Wow!
It is also pretty rad that they employ over 250 students to help maintain these centers. Texas also provides courses students can take to help them become certified personal trainers. These facilities have crazy amounts of options for fitness classes, but you can always end a hard workout with a glorious massage conveniently located in a variety of their gyms.
What is quite amazing is the fact that 53% of students feel like the UT RecSports influenced their decision when picking Texas as their university.  Everything is bigger in Texas, and these Longhorns make sure their students get an A+ selection of fitness options.
#5 Scripps College
The only "Non big name school" on this list is Scripps College. But we have a good reason. The on-campus living at Scripps is absolutely incredible; easily the best in the country.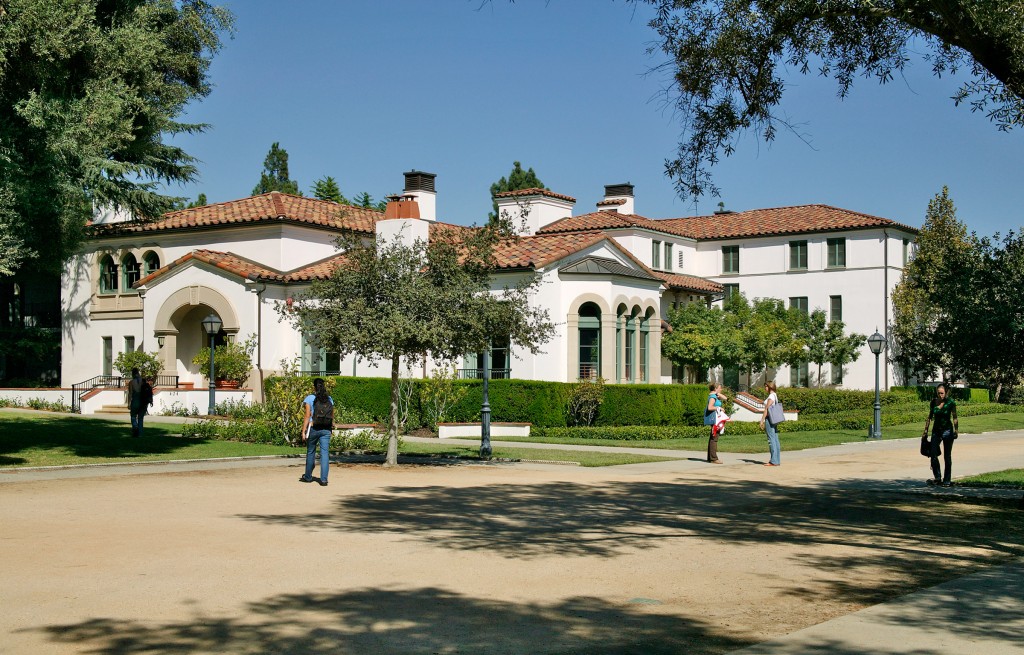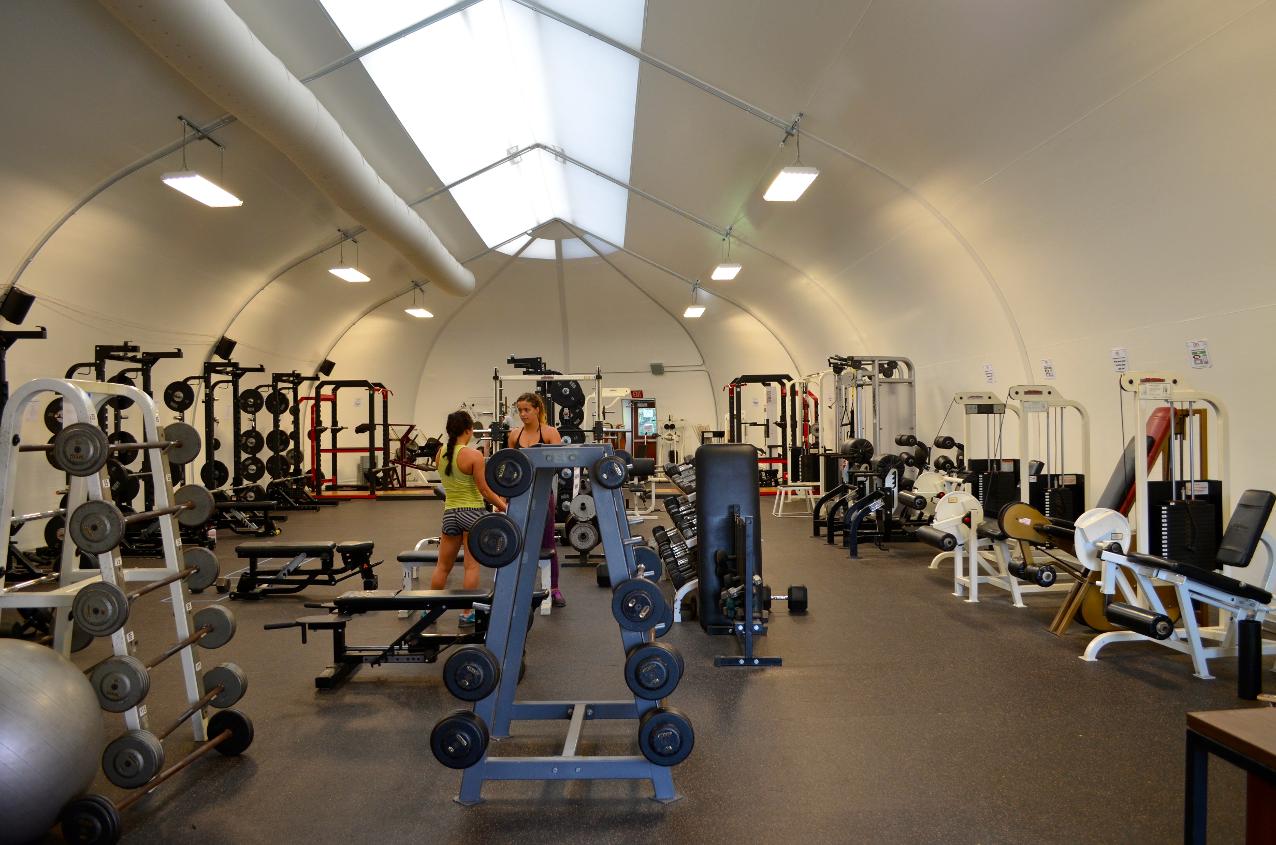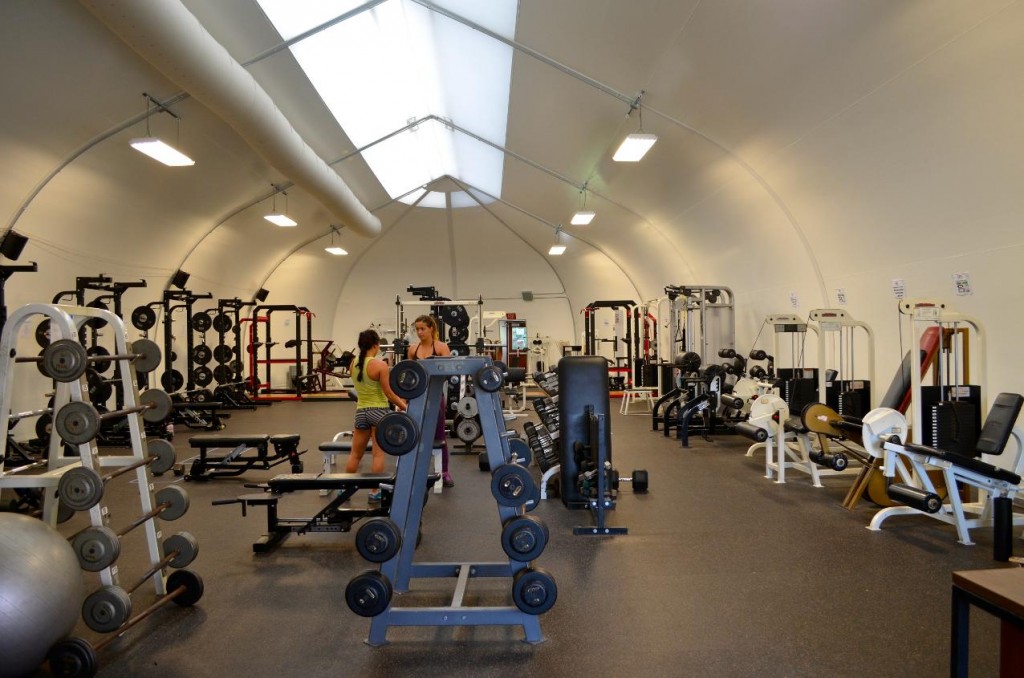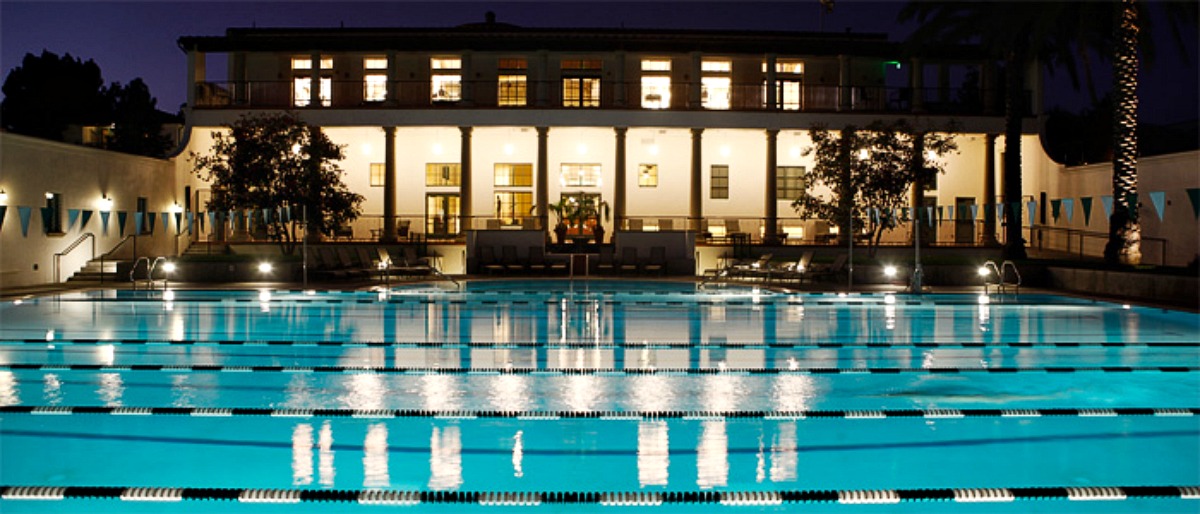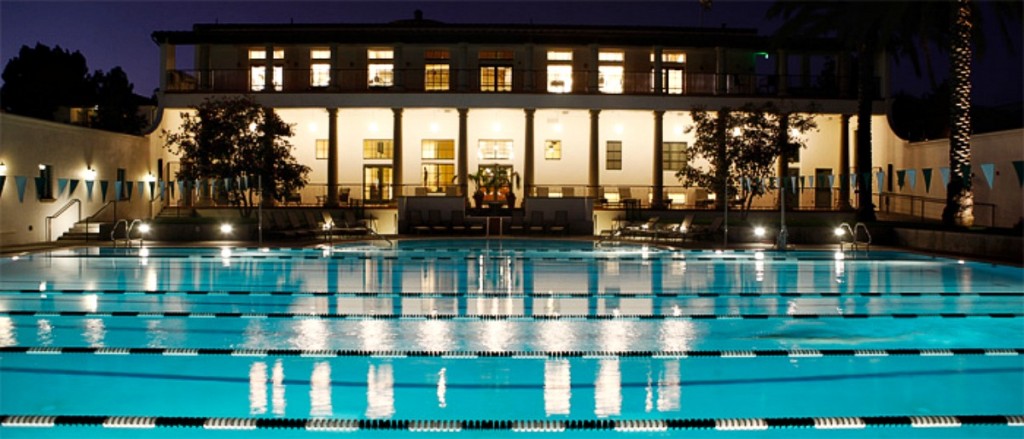 And what they lack in athletics and college sports, they make up for with a top 5 rating in the Princeton Review for the best quality of life at a university. All of Scripps fitness classes have a variety of options and are free to students.
Their "Healthy Lifestyle" is a program that provides workshops, seminars and current events that address everything from nutrition, to weight management and binge drinking.
Their Sallie Tiernan Field House is a monstrous 24,000 square foot facility with tons of weight rooms, cardio machines and yoga studios. Plus there are dozens of rooms dedicated only for fitness classes. Safe to say, these classes fill up quickly… Did I fail to mention this is a FEMALE ONLY school? My bad, but it is still one of the fittest in the nation. This California-based college is definitely one to consider, especially if sports don't matter much to you.
#4 Vanderbilt University
A very academically driven school, Vanderbilt hasn't forgotten to keep both the brain and the body in shape. The Princeton Review rated Vanderbilt as the #1 school for student happiness.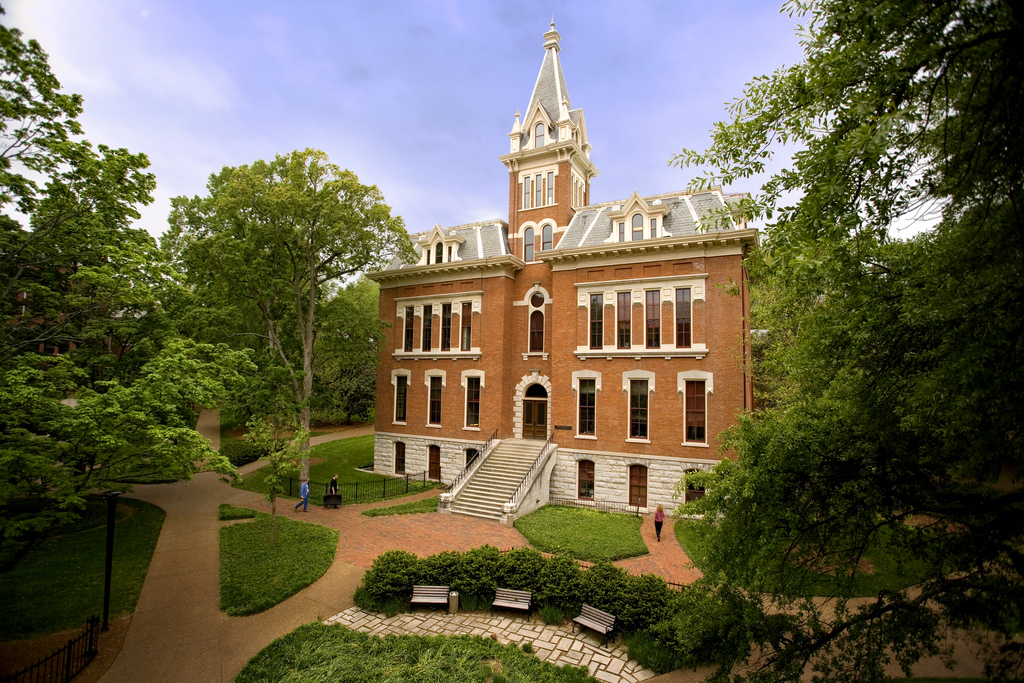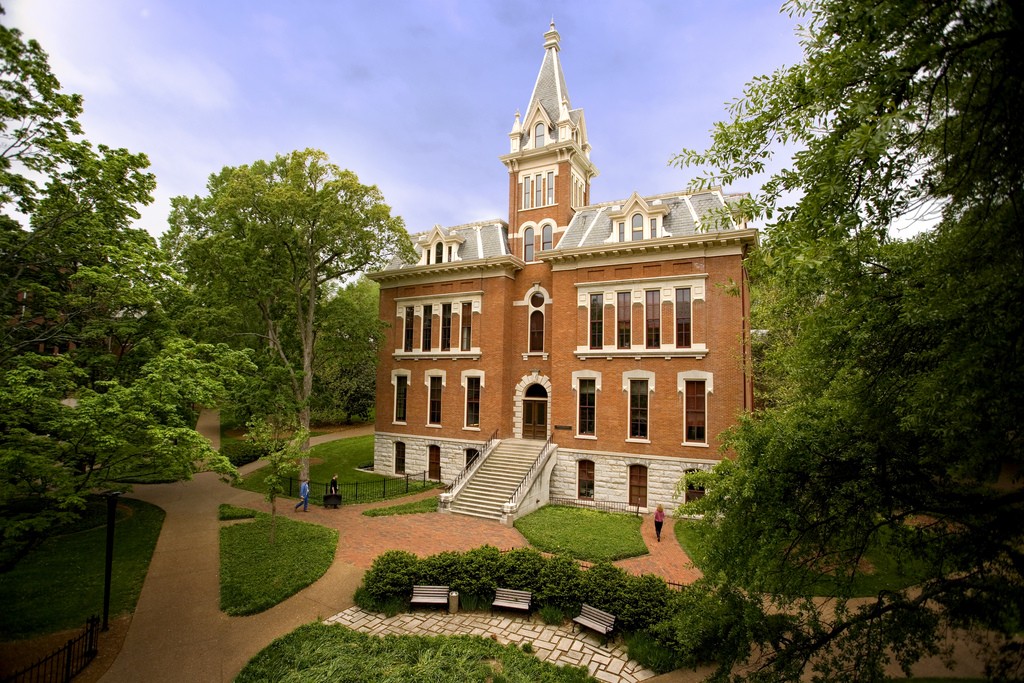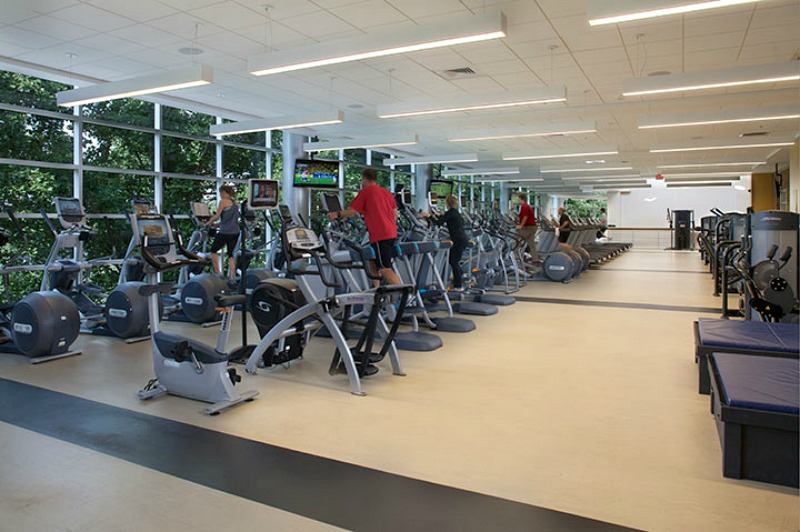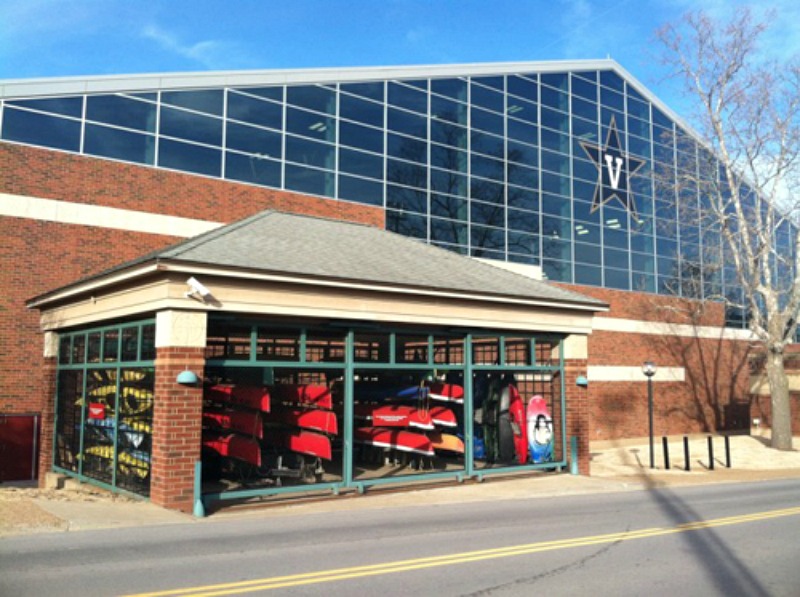 And these southern students love getting out and exercising. Vandy offers dozens of intramural sports and fitness session, so it has something for everyone. The Fitness Center is over 8,000 square feet and has full weight rooms and an entire area dedicated to cardio equipment.
The workout classes and even workout clinics are held at the Fitness Center or the Rec Center classrooms and can also be 1-on-1 personal training. Their multiple outdoor fitness areas are massive and are used for all sorts of intramural and club sports that allow students to get their tan on as they lift.
Get this, Vandy also gives students the option of doing an indoor triathlon! And better yet, you can get free training to prepare for it! How cool is that? They also provide running clinics, boxing lessons and sports medicine training. And by the way, the campus is in Nashville. Not a bad city to have a college in, if you ask me. However, grades are a big requirement.
#3 UCLA
Boasting more NCAA titles than any other university, the Bruins of UCLA like to keep their summer bodies all year round, too. UCLA has arguably the best on-campus food, and a state of the art fitness center for its students.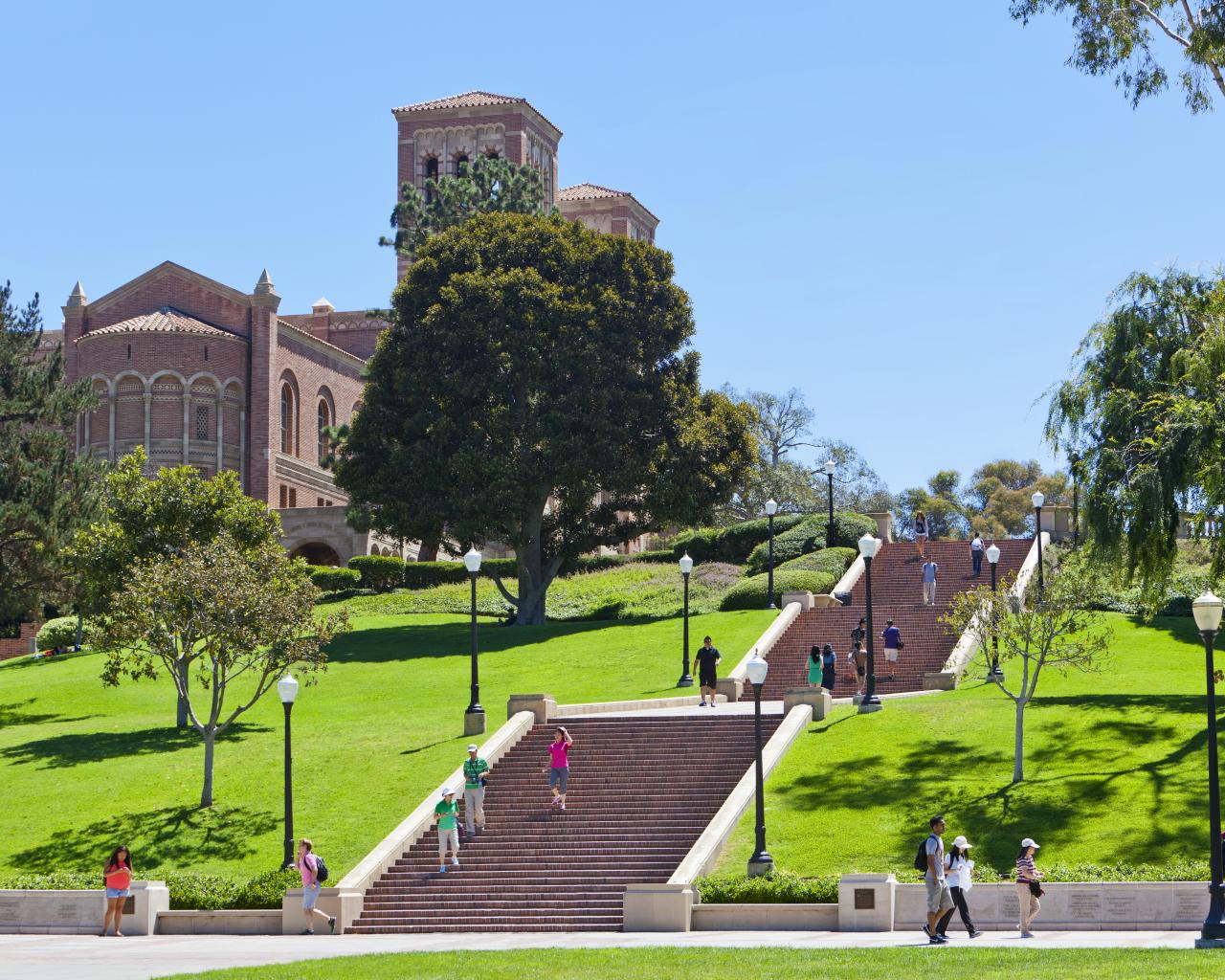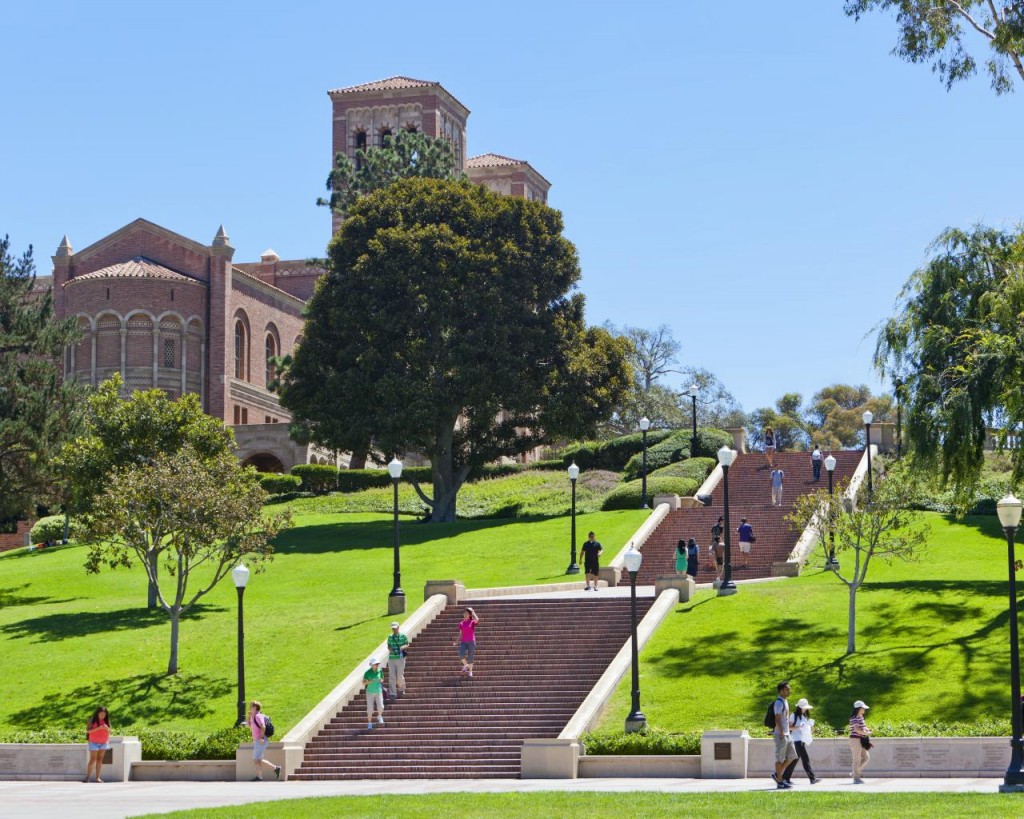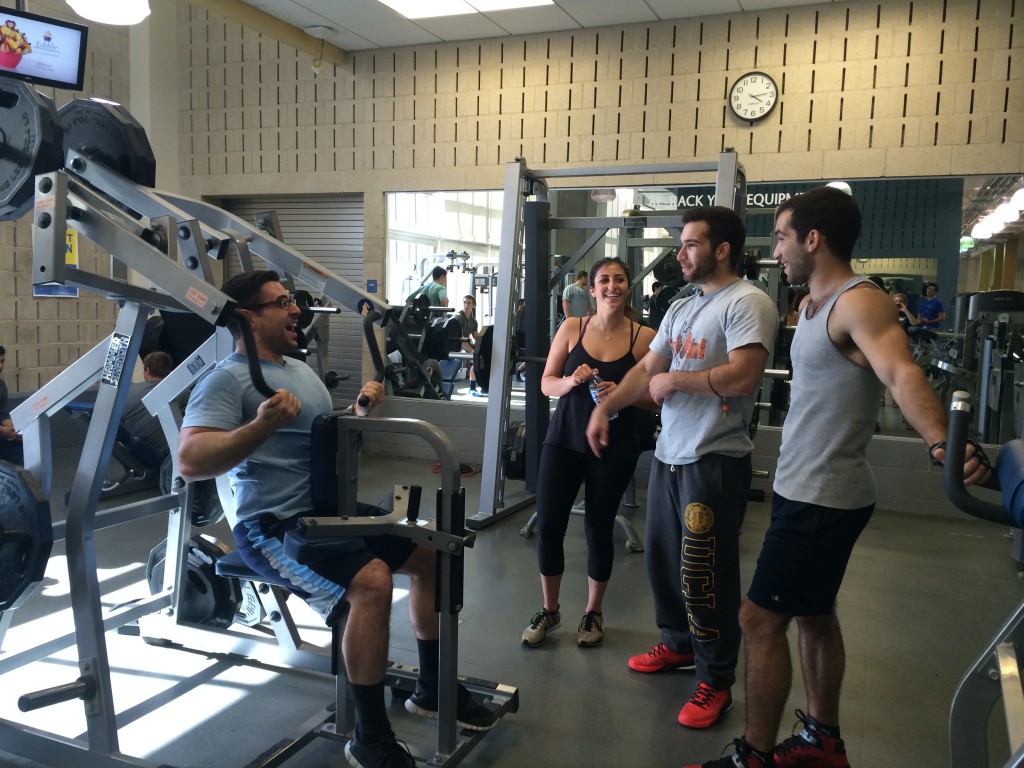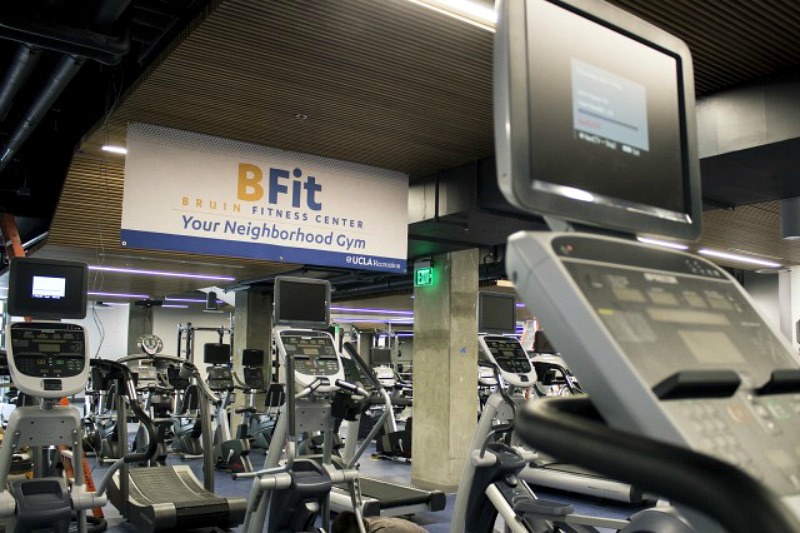 The Bruin Fitness Center is a 14,000 square foot facility that has 60+ premium cardio equipment ranging from exercise bikes, to treadmills to the elliptical and more.The massive gym also offers many fitness classes and 1-on-1 personal training and releases a quarterly fitness guide to show every student the schedule of all the fitness classes.
The BFIT also partners with charities to hold "charity walks" for good causes. The outdoor fitness options all across campus are what set UCLA apart from most colleges.
UCLA also has a Marina Aquatic Center. It's located off campus, but has group and private lessons for sports like: surfing, kayaking, rowing, stand-up paddle-boarding and sailing. Plus, it has fire pits, BBQ's and California sunsets. Not all colleges can say they offer such courses. Did I also mention it has perfect weather? But like Stanford, you better have great grades to get in. So go study!
#2 The Ohio State University
The best damn school in the land. Ok ok, this is my alma mater so I am a bit biased, but I will do my best to restrain my excitement. The Buckeyes of Ohio State have routinely been named a top-5 fitness school for the last several years.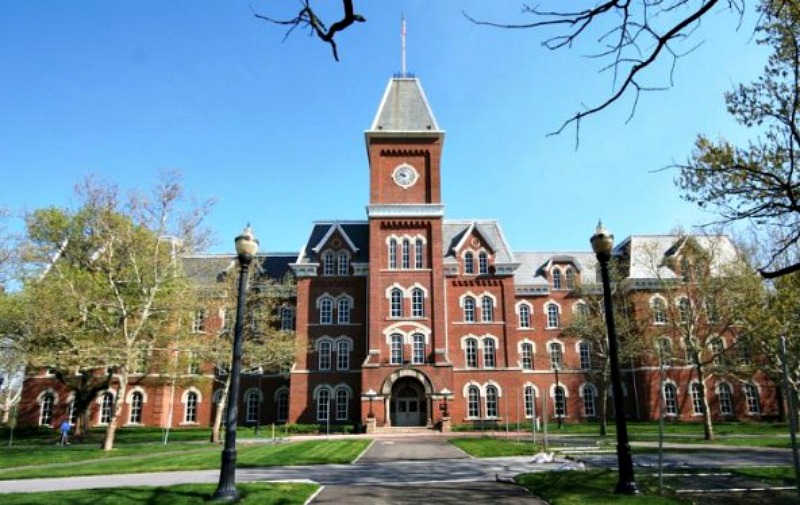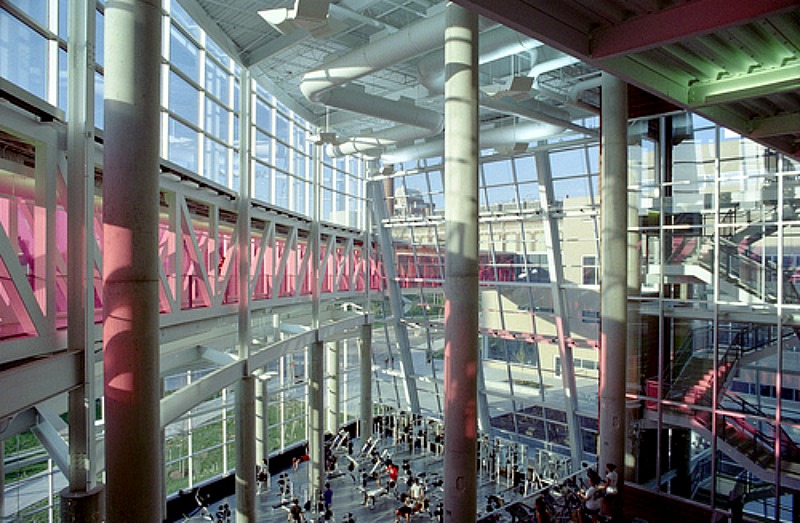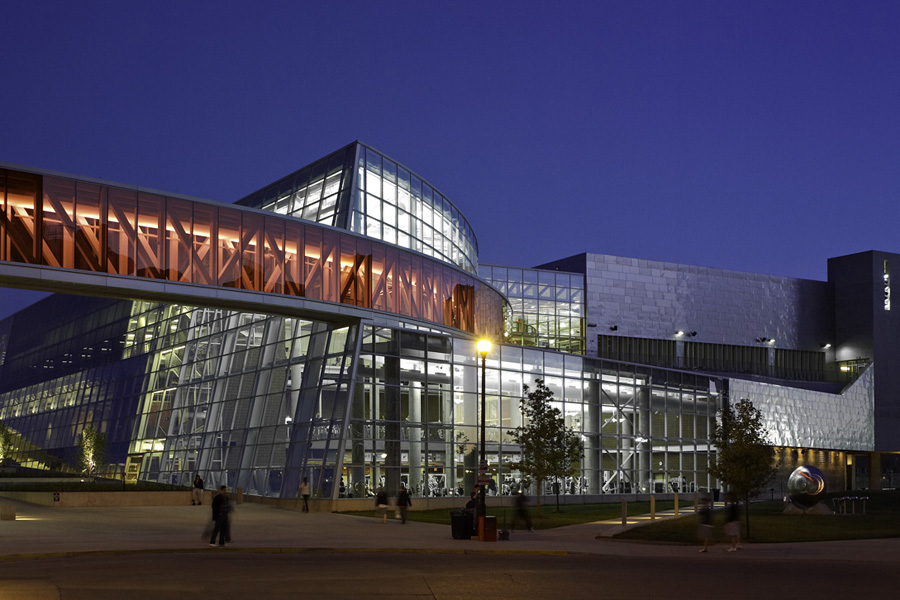 Among one of the many on-campus fitness centers, the RPAC is a massive, 4-story masterpiece that boasts several weight lifting areas, basketball courts, swimming pools, racquetball, food courts and dozens of other fitness options (even stuff from yoga to martial arts).
The other gyms on campus like the Jessie Owens South, Jessie Owens North and the ARC all have state-of-the-art weight rooms and sport courts to make sure you get your fitness fix. They even have a Quidditch team.
The Ohio State campus is so big and has so many students, that the ARC (an absolutely massive gym with rock climbing, 3 weight rooms, basketball courts, batting cages and soccer fields) is located on the other side of campus from the RPAC. The students at OSU love their fitness. The intramural and club sports are near the top in the nation, and the student happiness is right there, too. And you will not find a more passionate school about their sports teams.
#1 Virginia Tech
Continuously ranking in the top 3 of the Princeton Review for happiest students, Virginia Tech's on-campus dining is also right near the top. With the best ROTC programs in the nation, and exceptional intramural and club sports, the Hokies also possess state of the art on-campus fitness centers.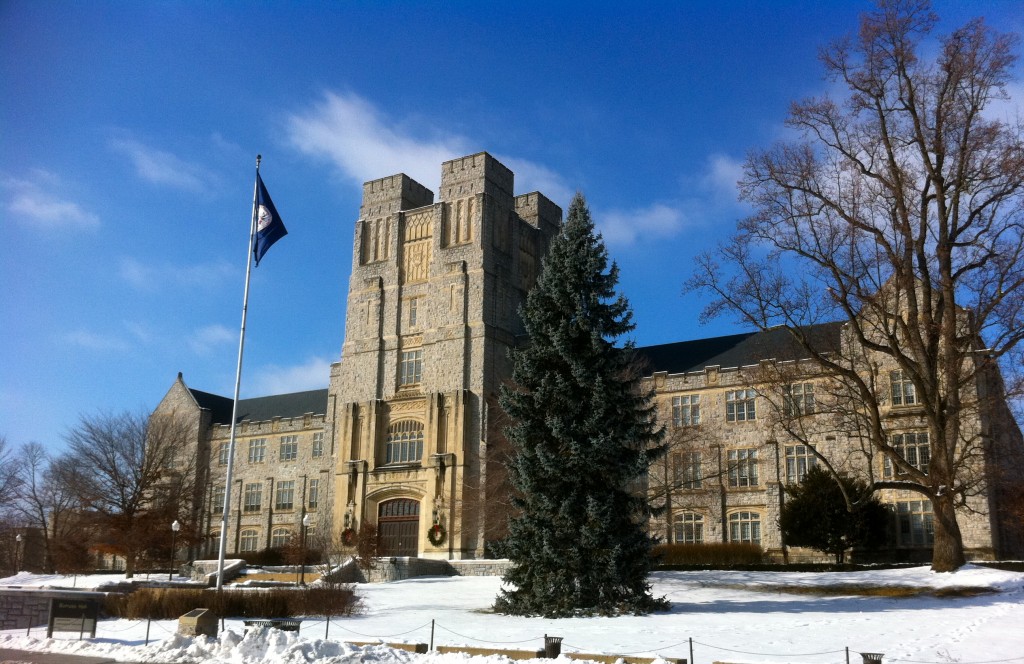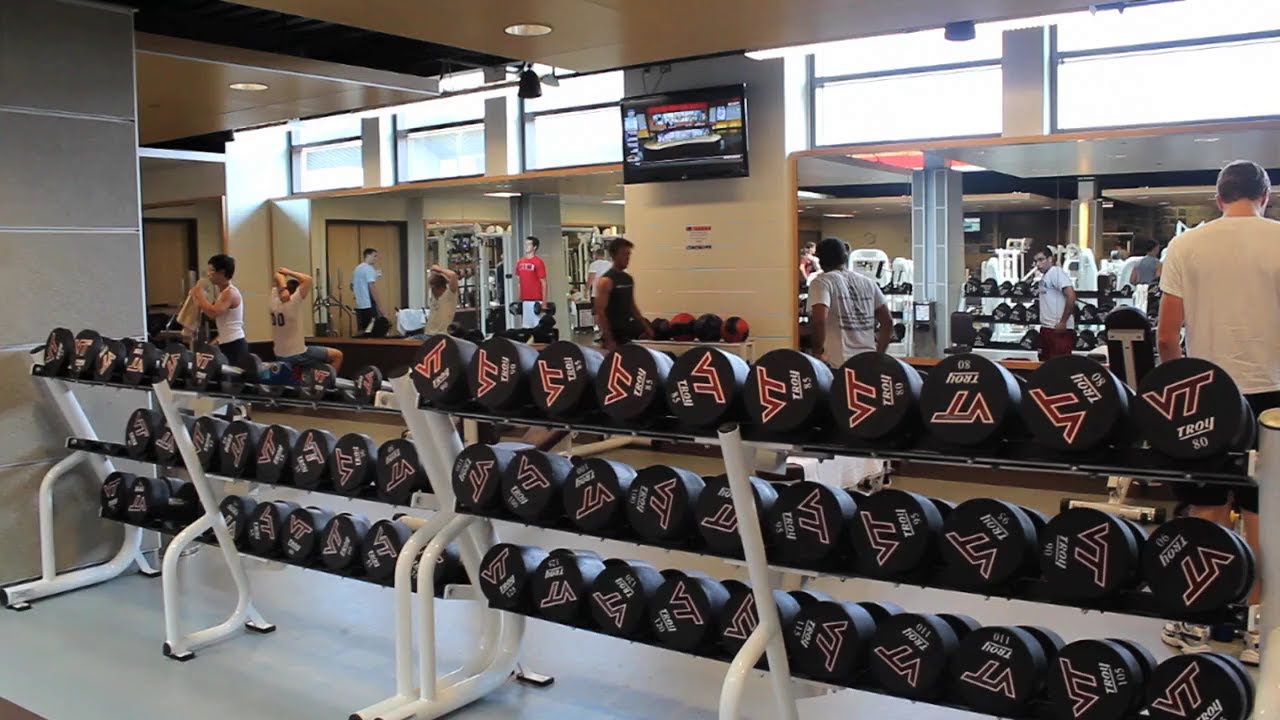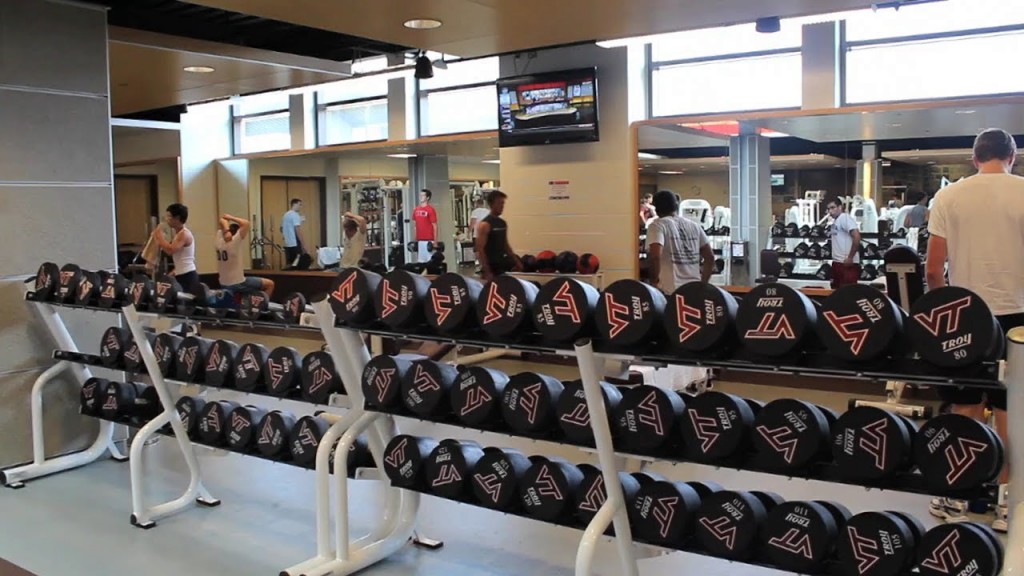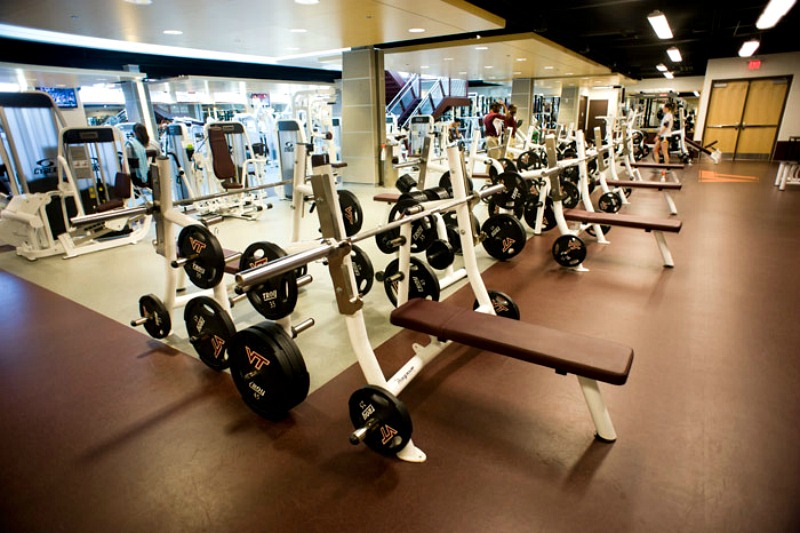 As far as student-life goes, everything is going right for Virginia Tech. Their gyms on campus have dozens of racquetball courts, multiple pools, quality weight rooms (with many squat racks), saunas and even dance and aerobic rooms. The fitness group options have more variety than any other school on this list. The "VT Fitness" holds classes like hip-hop abs, INSANITY, TRX, HIIT Training, Hot Yoga, Deep Water Fitness and dozens more.
To top it all off, they have outdoor recreation areas (over 40 acres in size) that students have access to for stuff like Tennis, baseball, soccer, rugby, football and even field hockey. If you want fitness, you got it at Virginia Tech. This is a much deserved #1 ranking, and any student (past or present) can attest to that fact. Congrats, Hokies!
Which ones appeal to you most? Better yet, do you go to any of these schools? Show your pride!