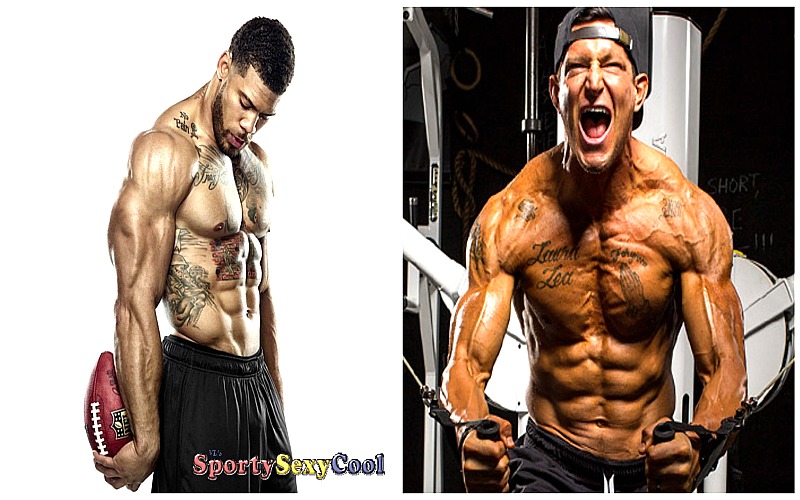 In honor of the best time of the year (Of course I'm talking about the start of football season!) – I wanted to share with you the top 10 most JACKED NFL players of all time.
Football players are some of the most insane physical specimens on the planet, but sometimes having the body of a Greek God who runs the 40-yard dash like the Tasmanian devil doesn't correlate to success on the gridiron, as you are about to see.
Who is the most jacked NFL Player of all time? A Guy whose biceps were so big he stopped the president of the United States dead in his tracks to have a look up close!
Let's start at number 10 with the only guy on the list who has been on "Keeping Up With the Kardashians"
Top 10 Most JACKED NFL Players of all Time
10. Reggie Bush
Before he was making headlines by dating Kim Kardashian, Reggie Bush was tearing up the weight room at USC.
Reggie Bush ran a 40-yard dash in 4.33 seconds, put up 24 reps at 225 lbs. and flashed a 41-inch vertical jump!
Did I mention that he also has the body of a fitness model and is absolutely shredded from head to toe?
Hard to believe his career hasn't worked out as planned, as Bush has jumped around from team to team and is at the tail end of his career on the woeful Buffalo Bills.
He has just 5,493 career rushing yards, not even placing him in the top 100 all time NFL Rushers.
9. Adrian Peterson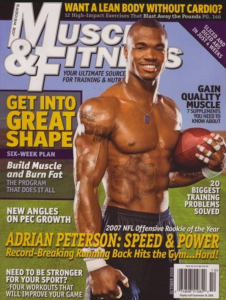 AP needs to introduction – as the man has been terrorizing NFL defenses for the last decade. Adrian Peterson broke the NFL record for the most yards rushing in an NFL game in his rookie season.
What might be his most impressive physical achievement is the fact that he led the NFL in rushing yards after tearing his ACL!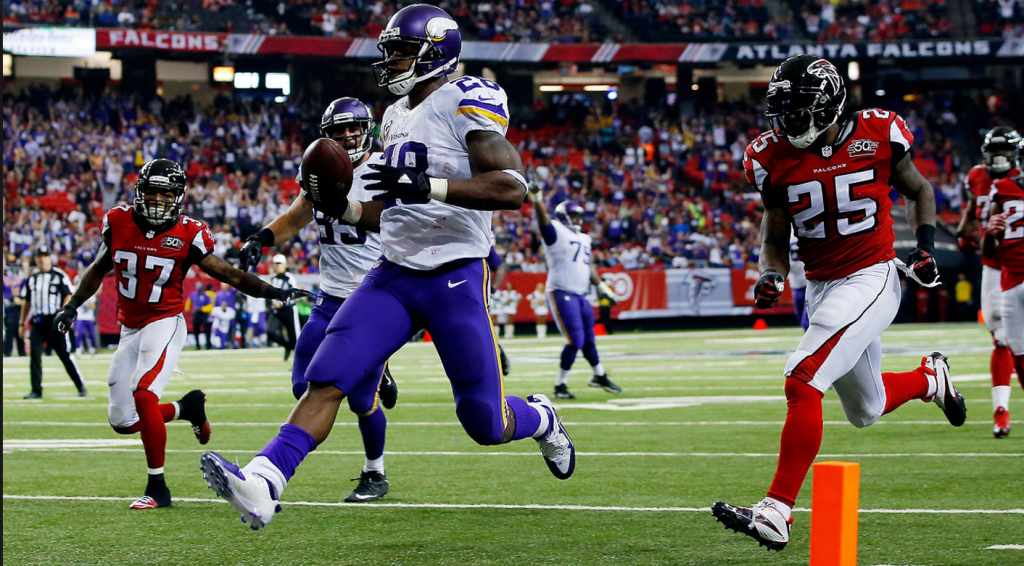 Ready to be impressed? AP has a 540 lb. back squat,
AP has a 540 lb. back squat, 41-inch vertical leap, and reportedly knocked out over 30 reps at 225 lbs. in the off-season.
8. Vernon Gholston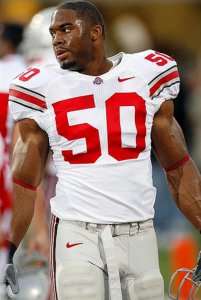 Vernon Gholston might go down as one of the biggest NFL draft busts of all time.
Gholston was drafted 6th by the New York Jets and had a grand total of ZERO career sacks!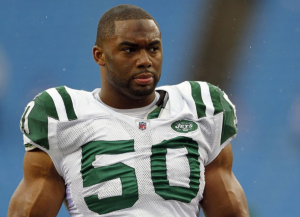 While Vernon may have never had an NFL sack, he sure turns a lot of heads in the weight room with his insane 37 reps at 225 lbs. on the bench press and 41-inch vertical leap!
7. Robert Turbin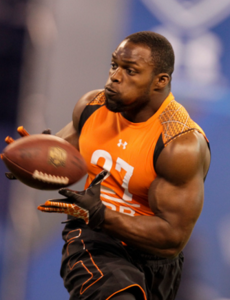 Robert Turbin has the 2nd biggest biceps of any RB we have ever seen (Wait until you see Number 1 on the list!)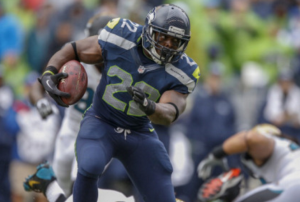 While Turbin may be a lifetime backup, he proudly carries around his 21-inch arms. Do you need tickets to the gun show?
6. Steve Weatherford
Does this look like your favorite team's punter? Steve Weatherford is a former punter on the NY Giants and shot to social media fame with his shredded physique.
Steve joked that he was the fastest and most ripped guy on his team, and many argue that he is one of the most jacked players in NFL History. I got Steve at number 6 all time! Not bad for a punter.
Steve has a 400 lb. bench press, 500 lb. squat, and can do 12 reps at 1,000 lbs. on the leg press machine – all at 5 percent body fat!
5. JJ Watt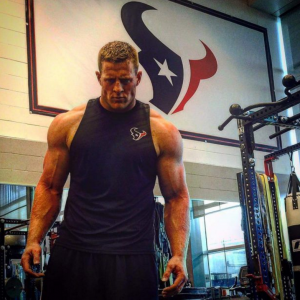 JJ Watt is not only one of the most jacked NFL players of all time – but has been voted the NFL defensive player of the year the last 2 seasons.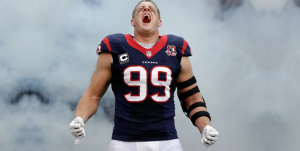 In the weight room Watt is a freak of nature – with a 700 lb. barbell squat and a mind blowing 61-inch box jump!
4. Shannon Sharpe
 

I remember the first time I saw a picture of Shannon Sharpe in a magazine as a kid. He was on the leg extension machine and his quadriceps were absolutely ripped. I had no idea you could have "Ripped Legs" – but this guy is not human, he is part SuperHero! Shannon Sharpe had a remarkable career as a tight end for the Denver Broncos – and rumor has it he is still shredded to the bone at the age of 48.
Shannon Sharpe has had the most successful career out of anyone on the list – winning the Super bowl 3 times and being inducted into the Pro football hall of fame.
3. Vernon Davis
When I first saw Vernon Davis and heard that he was capable of running a 4.3 40 yard dash I was certain that he was a Cyborg programmed for NFL greatness.
Vernon lands at no. 4 on our top 7 most JACKED Nfl players of all time list, and has had a fairly decent career as the Tight end for the San Francisco 49ers.
Just to prove that it doesn't take an insane amount of muscle or athleticism to excel In football however, Dallas Cowboys tight end Jason Witten who has about 15 percent body fat and half the speed of Vernon Davis has had a far superior career as a tight end in the NFL.
2. Laron Landry
Laron Landry has some straight up pythons! Believe it or not it was rumored that Laron Landry works out his arms every single day.
While many fitness experts argue that working out a muscle group everyday is bad for muscle growth, it looks like those biceps aren't lacking for size.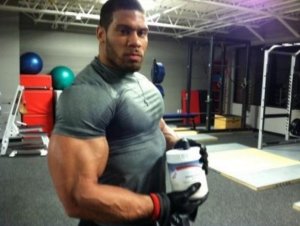 Laron was busted for ahem…. PED use in 2015, so it also appears he has gotten some help from the juice.
1. Michael Pittman
When the president of the United States is straight up MIRIN your arms – you deserve a spot at the top of the list of the top 7 most JACKED NFL players of all time.
This guy's arms will go down as the biggest in NFL history to date – and rumor has it they reached a peak of 22 inches.
Congrats Michael Pittman – you might have had a mediocre career riddled with injuries and steroid allegations but you will forever be remembered at the top of the SPOT ME BRO list of the most jacked NFL players of all time.
Check out the Video where Troy discusses the Top 10
By: Troy Adashun
Share this and these articles too