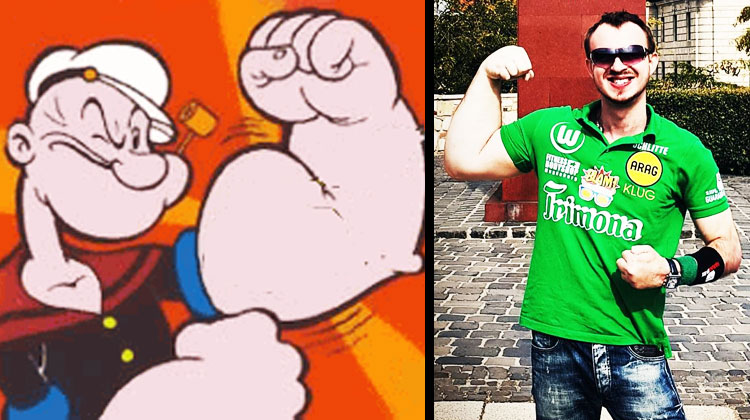 This 29-year-old arm-wrestling champion has gained attention worldwide for his giant arm. 
A video has gone viral recently of a man with a gorilla-sized arm dominating arm-wrestling competitions. You've probably seen it.
The first thing that popped into our minds was a simple question: "which hand does he masterbate with?". 
Okay, so that's probably not what most of you thought. But you did ask yourself why one arm was bigger than the other.
For this reason, we went digging for answers and learned that he wasn't munching cans of spinach…
His name: Matthias Schlitte.
Genetic Disorder
Matthias' arm is the result of a genetic bone disorder in his right arm; while it's officially a 'disorder', it seems more like a gift, as he's dominating arm wrestling competitions due to it.
He seems to agree, as he told Australia's Yahoo Sport: "I'm not a religious guy or anything but this was a gift from a higher power and this was my calling in life." 
The media and countless people on social media have labelled Matthias Schlitte as the 'real life Popeye'. However, before that, he gave himself the nickname 'Hellboy', which he uses during arm wrestling competitions.
In case you wondered, Matthias' right forearm measures up to 46cm; to put this into perspective, the average forearm size is around 35.5cm.
Arm Wrestling Champion
Born in Haldensleben, Germany, Matthias began competing in arm wrestling competitions in 2004, at the age of 16.
He was inspired by the film, 'Over The Top', featuring Sylvestre Stallone, wanting to become a successful arm wrestler himself.
At first, the much bigger competitors laughed at him; with the competition allowing people up to 90kg, the 65kg Matthias didn't seem to stand a chance.
However, everyone quickly noticed that Matthias wasn't just an average 16-year-old. And after walking away with the trophy, he gained enormous respect locally.
Motivated by his early success, Matthias set his sights on making a name for himself in the sport.
After 10 years of travelling the world and adding to his trophy collection, Matthias is now a minor celebrity, recently featuring in viral videos of himself in action.
We've added one of these videos below, so you can see for yourself:
When your genetics are 50% Pop Eye.

Posted by Spot Me Bro on Wednesday, October 18, 2017
Featuring In Commercials
Since finding fame online, Matthias has been picked up by AEG Powertools (an Australian company), to feature in advertisements.
The commercials take a 'comic' angle on Matthias' life; basically showing the troubles of what it would be like to have a gorilla-sized forearm.
It contains cheesy 70's music and a Rocky style montage, before he goes on to become the world champion arm wrestler that he actually is.
We're impressed that Matthias has gained so much recognition, and he's probably become the first arm wrestler that's managed to hit the mainstream.
Questions Answered By Matthias Schlitte
While he hasn't answered which hand he uses to please himself (thinking about it, we're not actually sure we want to know…), Matthias has answered a variety of other questions, speaking with TheFitWorldBlog.
You can see FitWorldBlog's article here: www.thefitworldblog.com/2325-2/
We'll list the best of the bunch, to put your minds at rest:
How much weight do you bicep curl?
He has some serious strength behind that arm, and it's probably because it's the size of f*cking king kong's.
But how much weight does he curl? While Matthias doesn't reveal the answer to this question, he did state that he is able to hammer curl a 52kg dumbbell.
What exercises do you recommend to strengthen your forearm?
"To get strong arms I can recommend pull ups, push ups and hammer curls and of course arm wrestling. I don't know how much inch you will gain, but I can guarantee that you will become stronger." 
Do you train legs?
Matthias' answer to this question is pretty disappointing, as he reveals he often skips leg day.
But to be fair to the guy, he wins countless competitions and probably destroys hot girls around the world – so who are we to judge?
Unfortunately, he didn't have the answer to another thought that just popped into our heads; 'Have you ever fisted a girl?' …
How many times do you train per week?
Matthias doesn't just rely on his genetic gift to defeat opponents. Instead, he aims to train 6 days per week, especially during the build-up to a competition.
He said: "When I prepare for such big tournaments I train 6 days a week for one to two hours."
Have you ever entered higher weight classes?
It probably seems likely that Matthias could go-up against heavier competitors and still do well, due to his forearm the size of God-zilla.
However, Matthias revealed that he doesn't often enter higher weight classes.
"On national and international level I entered higher classes from time to time and did well. For the European or World cup I am fine with 70kg.
"I think I could do well also in the 75kg division, but I want to win and not just do well. 
How much do you weigh now?
The german-born arm wrestling champion began competing at 65kg. However, since then, he's gained almost 10kg.
On his weight, Matthias said: "At the moment I don't plan to gain weight and I am a hard gainer so I never had more than 74kg."
How many competitions have you won?
Over the course of nearly 10 years as an arm-wrestler, Matthias revealed that he has earned 22 trophies overall; 8 in national competitions, with the other 14 coming from international contests.
Would you change anything about you life?
Although Matthias lives with a genetic bone disorder, he's definitely used it to his advantage.
As a result, he doesn't believe that his arm negatively affects his life at all. In fact, he calls it a 'gift', after using it to his advantage to become a world champion athlete.
He said: "I have spent 10 years traveling around the world doing what I love."
Featuring In A TV Show Several Years Ago
As Matthias Schlitte has only just hit the mainstream, you might think that this is his first taste of fame.
However, he was noticed by a TV show called 'Is It Possible' several years ago; they featured his performance representing his country, Germany.
He can be seen dominating his competitor after a brief slip-up in the first round.
The TV show ends with the line: "Matthias is declared the winner, proving one more time than it is possible to turn genetic adversity to an arm-wrestling advantage." 
You can see the video below: