You can't escape news about PED's in the fitness, bodybuilding or sports industry…
One thing is for sure, there is some serious female talent in the CrossFit Games. Even if you hate CrossFit, you'll appreciate that some the girls are hot as fuarkkk.
In fact, it's these females (such as Brooke Holladay Ence) that have started to convert people's opinions of the sport.
But just as things were picking up, a guy called Ricky Garard has gone and f*cked it up.
Ricky Garard Found Guilty of SARMS During CrossFit Games
Don't get us wrong, we don't hate steroids, SARMS or other performance enhancing drugs in general. If people want to use them, then that's their choice.
However, you probably shouldn't try to cheat by using them to beat others competitively. This is something that Jon Bones Jones (UFC Fighter) has probably ruined his career doing, with it also plaguing Lance Armstrong (former pro cyclist) too.
Well, while he isn't as big as the former names, this is also what 23-year-old, Ricky Garard tried to get away with.
And even with PED's, the man from Australia couldn't even take home the 1st place prize…c'mon brah, if you're going to cheat, at least take home the beef.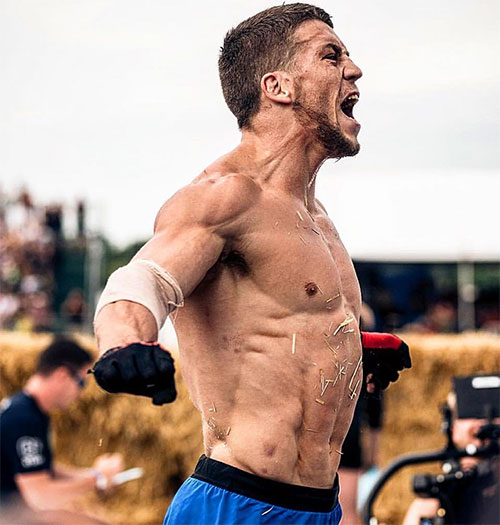 Ricky Garard competing in the CrossFit Games.
Banned for 4 Years & Stripped of $76,000 Prize Money
At only 23-years-old, a 4 year ban isn't exactly a 'career ender' for Ricky Garard.
He'll be at his peak when he returns to compete in CrossFit, and this probably means he gets around 3 more years to juice like a motherf*cker…
However, there's no doubt that he'll be sore from the $76,000 (USD) taken away for his illegal 3rd place finish.
On his ban, Ricky said: "As you can appreciate my world has come crashing down, it is heart breaking & it's hard to comprehend that I am in this position.
"On the pursuit of becoming all I could be as a CrossFit athlete, I have obviously taken the rules & boundaries to the very edge. I looked into, researched & was willing to dabble into ways that could improve my performance legally & within the rules, with no intention whatsoever to be a cheat."
Ricky controversially stated that he didn't know the supplements he was taking were banned in the CrossFit games. He also claims that he didn't inject anything, only using oral supplements:
"But, after further investigation & very specific testing it has been revealed that my research has failed me & I have received a positive test for SARMS. To be clear these supplements were taken in tablet form with nothing ever injected.
How true this is, we'll never know.
Others also found guilty
Let's be honest, we've slated Ricky Garard here. And media outlets have focused on the guy for his SARMS use (with others incorrectly labelling him as a 'steroid user', again highlighting the media's lack of knowledge about supplements, fitness and bodybuilding).
However, it's interesting to find out that he wasn't the only one disqualified that day.
In an official statement released by Reebok Crossfit, they name-and-shame Tony Turski (a 56-year-old masters athlete) and Josée Sarda, who won the Masters Women 50-54 Division, as SARM users too.