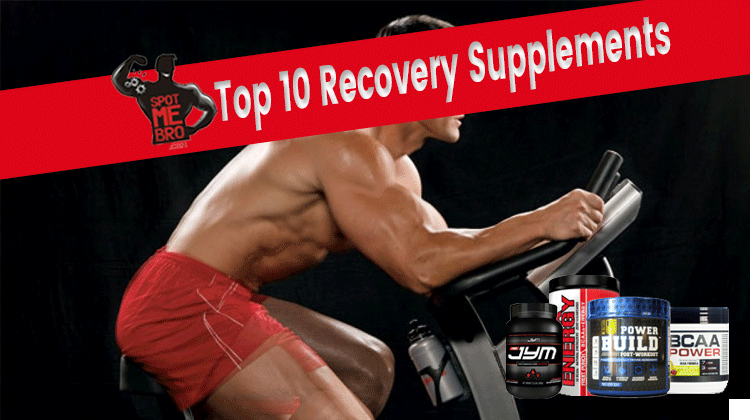 Top 10 Recovery Supplements & Best Recovery Supplements

Reaching your bodybuilding and fitness goals can be achieved in a lot of different ways. Every day there's some new fad it seems. Most of these are snake oil and nonsense, but some of them are backed by science and really do work.
In this select group, the focus always lies on 3 things:
Proper physical exercise,
Proper nutrition, and
Proper recovery.
Recovery is easy to ignore and overlook, but it is essential to every training routine. In fact, rest and recovery are equally important to actually lifting the weights. After all, your body builds muscle while you sleep, not while you're in the middle of a workout.
There are many ways to recover efficiently
One of the fastest and easiest ways to recover fast is by taking recovery supplements. These supplements provide the body with nutrients and minerals that can hasten your body's muscle repair process.
A recovery supplement can also be used even while you're working out. Regularly taking recovery supplements while working out can help you recover faster in between workouts. Recovery supplements are easily confused with another type of supplement that is often used in bodybuilding. While they may seem like the same thing, recovery supplements are actually a lot different than muscle building supplements.
Athletes and body builders alike have to be aware of the difference between the two, especially since these two types of supplements are composed of completely different ingredients.
Muscle Building Supplements vs. Recovery Supplements
When you're out looking for supplements that you can use for bodybuilding, you will find two main types of products:  recovery supplements and muscle building supplements.
These two have the same main purpose: to make the muscles stronger. However the method they use to achieve this goal is where the two differ. Many people often mistake one for the other, which can pose as a problem when you're trying to achieve specific fitness goals.
Here's a quick breakdown that will help you differentiate recovery supplements from muscle building supplements:
Recovery Supplements – Recovery is a big problem for athletes and bodybuilders alike. After spending hours working out in the gym, you'll often have a hard time finding energy. With proper rest and the right recovery supplements, the muscles in your body will heal and improve faster, allowing you to get back at it again more quickly.
Muscle Building Supplements – To get bigger and stronger muscles you'll need the proper amount of nutrition. The best muscle building supplements have two main ingredients: amino acids and protein. Protein is responsible for rebuilding your muscles while amino acids are essential because they are the very basic building blocks of your muscles.
Most Common Core Ingredients for Recovery Supplements
Recovery supplements contain a variety of ingredients, but the best recovery supplement for bodybuilding will contain these vital ingredients:
Green Tea Extract – Numerous studies have highlighted the health benefits of green tea.
Protein Powder – Do we really need to explain this one?
Glutathione – Glutathione is the mother of all antioxidants in the body, and plays a huge role in the overall functions of your system.
Multivitamins – Remember those Flintstone vitamins you used to down by the handful when your parents weren't looking?
Fish Oil – Heart health and joint health, two things that are paramount to being a prolific lifter.
Each of the following products have their own unique features and benefits for you to explore, and we've ranked them in order of how quickly you need to add them to your stack.
| | Our Score | Value | Quick Summary |
| --- | --- | --- | --- |
| Performance Lab SPORT Post-Workout | | $$$$ | Scientifically formulated. Our Favorite |
| Anavite | | $$$$$ | Your go-to post workout (and even intra-workout) supplement |
| BCAA Energy | | $$$$ | 5G BCAA's, natural energizers, zero sugar/carbs |
| BCAA Power Powder | | $$$$ | 7g Fermented, pure branched chain amino acids |
| Post JYM | | $$$$ | 6 grams of BCAAs in a 3:1:1 ratio that enhances muscle growth |
| GlycoFuse | | $$$$ | Contains all the necessary electrolytes |
| ReGen BCAA | | $$$$ | 6 Grams of BCAAs for muscle growth, endurance and recovery |
| 2:1:1 Recovery | | $$$ | Nutrient combinations specially formulated to maximize uptake |
| AMINO X | | $$$$ | Muscle recovery and repair |
| AfterShock Recovery | | $$$ | Supports muscle building |
| AMINO1 | | $$$ | Caffeine and sugar free — can be used anytime, day or night |
1. Performance Lab SPORT Post-Workout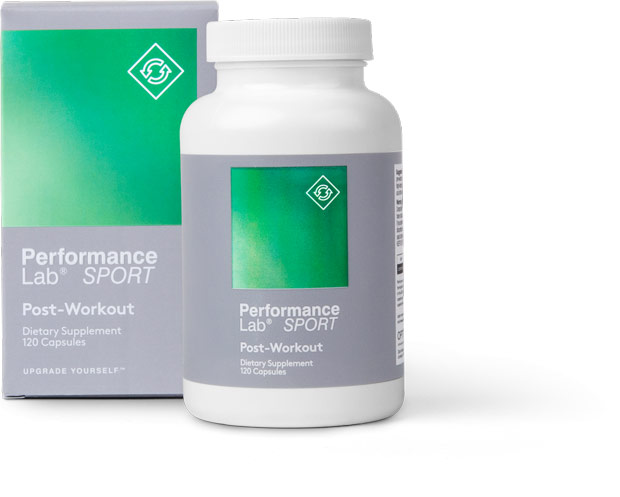 Performance Lab SPORT Post-Workout is billed as "restorative sports nutrition for muscle recovery and healthy gains." It gets there by taking a clean, research-backed approach to helping muscles grow faster, with less soreness.
Performance Lab SPORT Post-Workout boosts muscle growth, but also helps with inflammation control, protecting muscles against free radicals that are generated during good training sessions, and guarding existing muscle against breakdown.
The end result of this strategy is that Performance Lab SPORT Post-Workout is highly effective at packing on the most lean muscle mass in a clean, healthy and sustainable way.
Performance Lab SPORT Post-Workout benefits
Increases muscle development from training sessions
Eases muscle & joint inflammation that limit your ability to work out
Keeps muscles hydrated with a cool "sports drink in a capsule" mini-stack
Features
Premium sports nutrients Creapure® ph10 and P40P® pomegranate
Clean label with no garbage additives or synthetic flavors, colorings, etc.
Gluten-free, soy free, non-GMO, banned substance-free, allergen free
Vegan-friendly capsules made from prebiotic fiber
If it is your goal to enhance performance and muscle gain at the same time, Performance Lab SPORT Post-Workout is an effective, clinical stack for accelerating muscle repair and anabolic growth.
*Individual results may vary. Please speak with your doctor or physician before undertaking any new weight reduction, supplement, or exercise regime.
---
3. BCAA Energy by EVLution Nutrition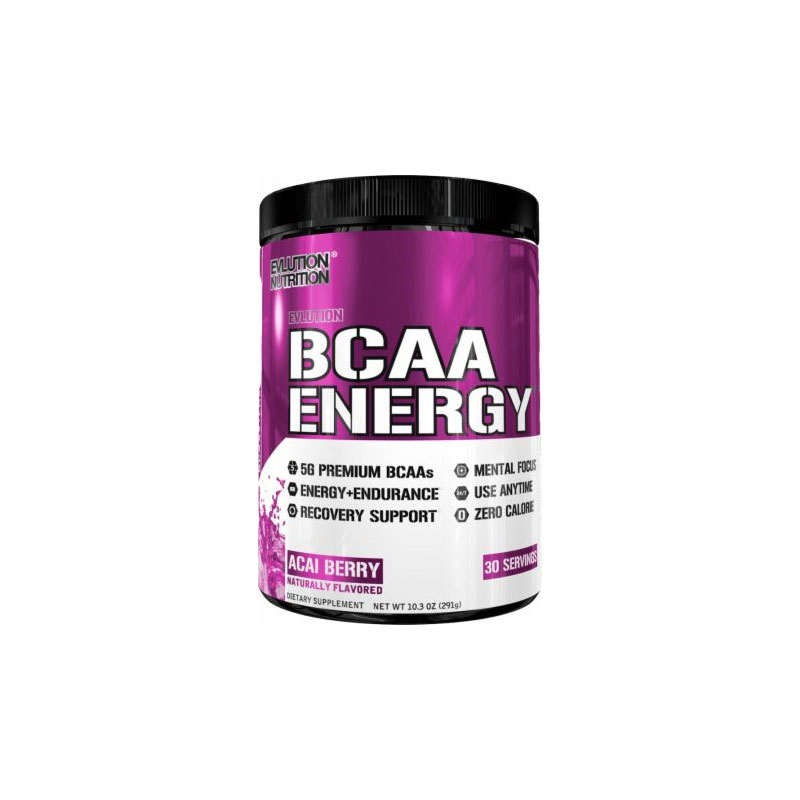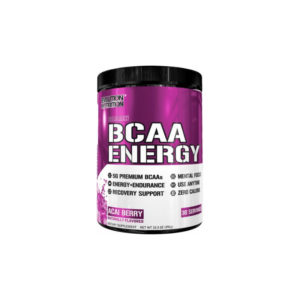 BCAA Energy
BCAA Energy has been designed to boost your anytime energy, recovery and performance needs whether they are before, in-between or after your workouts.
5g of the highest quality BCAAs per serving combined with Beta Alanine, L-alanine and Taurine to enhance endurance, recovery and focus. BCAA Energy uses natural energizers and antioxidants from Green Coffee and Green Tea for energy and focus with less chance of crash.
Use as an energy and recovery boost anytime you would typically reach for a coffee, soda or energy drink. Customize your experience based on occasion with 1-serving for mild energy and 2-3 servings for more intense anytime energy, performance while training or post-workout recovery.
BCAA Energy contains the highest quality of BCAAs and natural energizers along with zero sugar and carbs. Nothing else offers so many benefits! Once you make the switch, you will never go back!
Features:
5G BCAAs
Natural Energizers
Improve Recovery
Zero Sugar/Carbs
Zero Calorie
---
4. BCAA Power Powder by Labrada Nutrition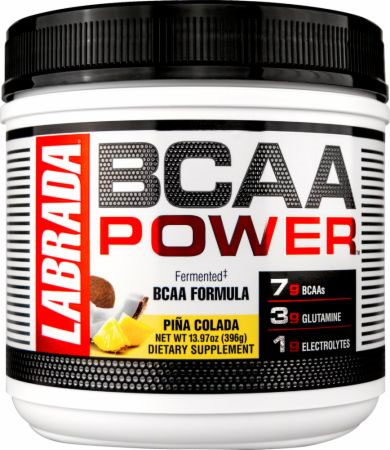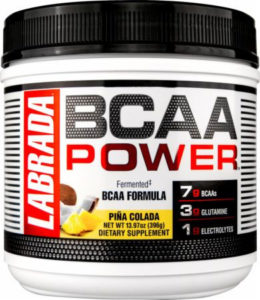 BCAA Power Powder
BCAA Power Powder uses the process of fermenting branched-chain amino acids to deliver one of the top BCAA and recovery products available on the market today. BCAA Power Powder is a BCAA powdered drink mix made using the highest quality fermented BCAA amino acids, fermented L-glutamine, and electrolytes.
Labrada Nutrition only uses fermented BCAA's to provide you with a product of outstanding quality to aid you in your recovery and growth process.
Features:
7g 

Fermented, pure branched chain amino acids
3g Fermented, pure L-glutamine
1g Coconut Water Extract for Electrolyte Replacement
Vegan-Friendly
Click here to view BCAA Power Powder on Bodybuilding.com
---
5. Post JYM Active Matrix by JYM

Post JYM Active Matrix
Many of the ingredients in Post JYM Active Ingredients Matrix mirror ingredients in the Pre JYM blend. These ingredients include BCAAs, creatine HCL, beta-alanine, betaine, and taurine. These five ingredients need to be consumed before and after every workout for maximal performance and muscle growth. Thus, Pre and Post JYM are designed to work in concert. Take Pre JYM to train like an animal; use Post JYM to recover like a pro.
Post JYM Active Ingredients Matrix also contains carnitine and glutamine, which are important to quickly ramp up post-workout repair. In addition, you can also purchase Post JYM dextrose separately. This way Post JYM lets you control your carbs and customize your post-workout protocol. By keeping dextrose separate, Post JYM lets you control your carbs and customize your post-workout protocol.
Features:
Full doses of 8 science-backed ingredients
6 grams of BCAAs in a 3:1:1 ratio that enhances muscle growth
3 grams of glutamine for better recovery and growth
2 grams of creatine HCL for greater strength, endurance, and muscle growth
2 grams of CarnoSyn® beta-alanine to boost muscle power, strength, endurance, and muscle growth
2 grams of Carnipure L-carnitine L-tartrate to aid recovery and put more testosterone to work for you
1.5 grams of betaine for greater power and strength during workouts
5 milligrams of BioPerine® to enhance absorption of the active ingredients in Post JYM for even better results
Click here to view Post JYM Active Matrix at Bodybuilding.com
---
6. GlycoFuse ReGen by Gaspari Nutrition

GlycoFuse
When you sweat while working out, you lose a lot of sodium, calcium, potassium, and magnesium. If you don't replenish these minerals and continue straining your body, your muscles will become prone to painful cramps. GlycoFuse will provide you with all these minerals so that you can recover easily even after spending hours at the gym.
Gaspari Nutrition also introduced the OSM Technology in GlycoFuse. Taking GlycoFuse will decrease the osmolality level in the body, ensuring faster stomach clearance and decreasing the chances of experiencing cramps during your workout. GlycoFuse is also free from any synthetic coloring and although natural coloring is slightly more expensive than synthetic coloring, Gaspari Nutrition only adds natural coloring to their recovery supplement, giving you the assurance that you will get your money's worth.
Features:
Contains all the necessary electrolytes that will replenish the muscles after working out at the gym for hours.
Uses OSM Technology that lowers the osmolality level, leading to fast gastric clearance.
Has excellent solubility and dispersion.
Uses only natural coloring for the supplements.
Click to view GlycoFuse ReGen at Amazon
*Individual results may vary. Please speak with your doctor or physician before undertaking any new weight reduction, supplement, or exercise regime.
---
7. ReGen BCAA by RSP Nutrition

ReGen BCAA
ReGen BCAA is a great tasting, premium BCAA formula that can be taken anytime on both training and off days. It contains 6 grams of BCAAs per serving to support muscle growth and recovery. Citrulline Malate and Bioperine® help to increase blood flow and maximize nutrient transport to your muscles. Raw Coconut Water combined with additional electrolytes ensure you are optimally hydrated. ReGen BCAA is your great tasting, all-in-one anytime BCAA drink.
Features:
6 Grams of BCAAs for muscle growth, endurance and recovery

Supports increased circulation and nutrient transport

Raw Coconut Water and Electrolytes for optimal hydration

Great taste and solubility

Caffeine and Sugar free
Click to view ReGen BCAA on Amazon
---
8. 2:1:1 Recovery by Optimum Nutrition

2:1:1 Recovery
What you eat, when you eat it, and how much you eat has a dramatic effect on your performance. But, not all nutrient combinations work equally well. 2:1:1 Recovery is based on the latest science demonstrating that blending different types of carbs and proteins maximizes absorption and leads to better results than the use of larger amounts of any single type.
Hydrolyzed whey, micellar casein, and egg albumen proteins provide immediate and sustained amino acid delivery for repair and rebuilding while the precise ratio of simple sugars and rapidly-digesting carbs in 2:1:1 Recovery helps refuel and replenish hard-working muscles.
And with 5 grams of added BCAAs in the proven 2:1:1 ratio of Leucine to Isoleucine to Valine to stimulate muscle protein synthesis, there's no question that 2:1:1 Recovery is an indispensable part of every serious athlete's routine.
Features:
2:1:1 ratio of carbs/proteins/BCAAs
Nutrient combinations specially formulated to maximize uptake
Provides sustained delivery of amino acids your muscles need
5g of BCAAs (branched chain amino acids)
Click to view 2:1:1 Recovery at Amazon
---
9. AMINO X by BSN

AMINO X
AMINO X is a stimulant free, BCAA formula designed to support endurance during your workout and aid in muscle recovery post training, so you can push your performance to the next level. Featuring a 10 gram blend of BCAAs and the essential amino acids, L-Alanine, Taurine and L-Citrulline, AMINO X will help your body recover from today's workout and prepare for tomorrow's. Offered in five refreshing flavors, AMINO X provides you with versatile, nutritional support for any type of workout regimen.
Amino acids are the building blocks of protein, and therefore, the building blocks of lean muscle. Branched Chain Amino Acids (BCAAs) refer to three specific amino acids — Leucine, Isoleucine and Valine — that the body must obtain from either food or BCAA supplementation. BCAAs can be used by muscle cells as an energy source, which may help offset muscle breakdown during endurance exercise and help support recovery and repair after weight training. As a result, BCAAs are a popular and relevant supplement among those who exercise regularly.
Features:
Support Training Endurance
Muscle Recovery and Repair
Workout Performance
Muscle Protein Synthesis
Click to view AMINO X at Amazon
---
10. AfterShock Recovery by Myogenix

AfterShock
AfterShock is a classic favorite among many bodybuilders and contains only the highest quality ingredients. Users will find a blend of maltodextrin, carbohydrates, glutamine, creatine, and BCAA's. AfterShock has a mild, inoffensive taste. Taking AfterShock will help users get rid of muscle soreness a lot faster when compared to other supplements. This also has the right amount of protein for muscle repair and muscle building.
On the other hand, AfterShock comes in many different flavors that users can choose from. AfterShock also has a somewhat chalky texture especially if this recovery supplement wasn't mixed together well enough using a blender. Nevertheless, despite the taste and the texture, the effects and the quality of AfterShock is enough to deem it as one of the best recovery supplements there is.
Features:
Supports muscle building
It works as an excellent post-workout recovery supplement
It has a semi-sweet and bland taste
Chalky texture when not prepared properly
Click here to view AfterShock on Amazon
---
11. AMINO1 by MusclePharm

AMINO1
Amino1 was designed for athletes and contains over 10,000mg of amino acids — patent pending 3:1:2 ratio instantized BCAAs — for sustained stamina and muscle building.
Amino1 delivers nutrients through multiple pathways, maximizing your body's overall ability to transport, deliver nutrients, and ultimately support recovery. No other sports drink supplies as much power in the needed time interval, making this the ultimate in-workout recovery drink.
All-natural coconut water concentrate is one of nature's superfoods, a complete balance of electrolytes and minerals—and it maximizes uptake. It is superior to manufactured sports drinks. This is why the sports world has turned to coconut water concentrate as a rehydration source.
Features:
Sustained energy and great taste for increased endurance
Delicious tasting and only 5 calories per serving
Caffeine and sugar free — can be used anytime, day or night
Anti-catabolic / Muscle sparing
Mixes easily and completely / No clumping
Promotes recovery from training sessions
Click to view AMINO1 on Amazon
12. XTEND by SciVation