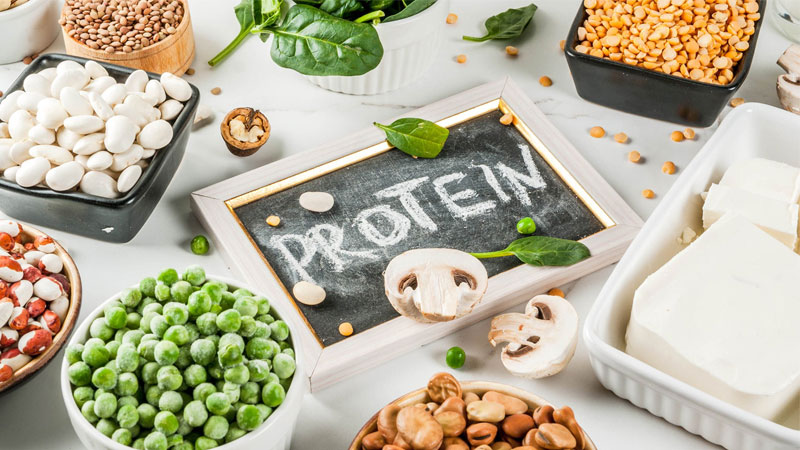 Bro, it's time to build some plant powered muscle and turn you into the henchest herbivore around. Here are three of the tastiest high-protein vegan recipes you should give a go today.
Article brodown:
Breakfast – 'No-Whey' Bro Proats
Lunch – Smokey Tempeh and Edamame Quinoa Salad w/ Chili and Lime Dressing
Dinner – Beany Chili Sin Carne
Final bite on High Protein Vegan Meals
Breakfast – 'No-Whey' Bro Proats
48 g protein per serving
Every muscled-up dude loves a bowl of proats. That's just a fact, bro. But the plant-based warriors among us say no-whey when it comes to animal proteins. Dairy just isn't on the agenda – meaning this tasty muscle building bowl is 100% powered by plants. Plus, if you're a bro on the go, you can simply place this mixture in the refrigerator to prep overnight. Easy aminos amigo.
Ingredients:
60 g – rolled oatmeal
30 g – vegan protein powder
25 g – crunchy peanut butter
10 g – chia seeds
150 g – of blueberries
½ a large ripe banana
250 ml – unsweetened organic soy milk
Method:
Tip 60 g of rolled oatmeal into a bowl and cover with 30 g of vegan protein powder and 10 g of chia seeds
Mix these three dry ingredients together until the powder is completely mixed into the oats
Next, cover the dry mixture with 250 ml of unsweetened organic soy milk (add extra water or milk for a creamier consistency)
Once you've added the milk, cover the bowl with cellophane or a small plate, and place in the refrigerator for a minimum of 8 hours (for overnight oatmeal only)
While the oatmeal is soaking, chop up half a banana into chunks or slices
Once you're ready to eat your bowl toss 150 g of fresh blueberries into the mix, add in your banana, and scoop the crunchy organic peanut butter on top
Use a spoon to stir everything together and enjoy cold, or if you prefer a winter warmer, microwave the whole thing for two-to-three minutes until piping hot
[infobox]
Top tip: For a bitter-sweet kick full of potassium and antioxidants toss in a tablespoon of cacao nibs too
[/infobox]
Lunch – Smokey Tempeh and Edamame Quinoa Salad w/ Chili and Lime Dressing
45 g protein per serving
Never before has a vegan salad ever got a brother so stacked. You'll be making quinoa fueled grainz gainz in no time.
Toss this muscle-building bowl together for a protein-packed plant-based lunch you can eat both hot and cold. Trust us – you'll never suffer a sh*tty Subway sandwich again.
Ingredients:
150 g – tempeh
100 g – edamame
¼ – quinoa (uncooked)
½ – ripe avocado
1 tbs – pomegranate seeds
1 handful – spinach
1 handful – chopped broccoli
½ – ripe green onion
1 clove – garlic
1 tbs – smoked paprika
1-2 tsp – olive oil
1 tsp – fresh lime (dressing)
1 tsp – rice vinegar (dressing)
1 tbsp – sesame oil (dressing)
1 tsp – light soy sauce (dressing)
½ tsp – chopped fresh chili (dressing)
Method:
Chop the tempeh, onion, and garlic into small chunks, add to a bowl, and stir together with the broccoli, olive oil, and smoked paprika. Meanwhile, cover the quinoa with water and bring to the boil in a pot, before lowering the heat to a simmer
Heat up a frying pan/skillet on the stove
Once the pan is ready, stir in the contents of the bowl and cook on a medium to high heat until the tempeh is golden brown
While both the quinoa and tempeh are cooking, mix the dressing ingredients together in a small bowl
Once the quinoa is fluffy and free from excess water, take off the heat and toss in the fresh edamame. Stir everything together while still in the pan before leaving to cool. At this point, your tempeh mixture will probably be ready too, which means you should take it away from the heat
To serve, stir a handful of fresh spinach and tablespoon of pomegranate seeds into the quinoa pan before dishing the contents out into a big bowl. Next, slice or dice the avocado and add as you like
Finally, scoop your tempeh mixture on top, before finishing off with a drizzling of the chili and lime dressing
Boom! Taste the gainz, bro
[infobox]
Top tip: Cook up two or three batches in one go for a muscle fueling meal prep opportunity
[/infobox]
Dinner – Beany Chili Sin Carne
Protein: 39 g per serving (serves 3)
Chili Con Carne is a staple, amino-rich meal prep favorite. But, what do you do when you don't mess with beef? Simple bro! Just sin like the bad*ss beef-dodging mutha you are. Cook up a batch of beany chili sin carne, which translates as chili without meat, instead.
Ingredients:
250 g – pinto beans (tinned)
250 g – black beans (tinned)
250 g – kidney beans (tinned)
250 g – black eyes beans (tinned)
250 g – haricot beans (tinned)
2 cans of chopped tomatoes
3 tbs – tomato puree
2 large white onions
2 cups of chopped mushroom
2 cups – brown rice (uncooked)
2 cloves of garlic
2 tsp – ground cumin
2 tsp – paprika
2 tsp – smoked paprika
1 tsp – cocoa powder
2 tbs – olive oil
2 tbs – chopped chili flakes
1 fresh lime
Dash of liquid smoke to taste
Method:
Chop the onion, garlic, and mushroom into hearty chunks or slices. It's your call, bro, go with what you prefer
Once you've prepped your chunks/slices, heat up a pan/skillet and drizzle in the olive oil
Next, when the oil is piping hot, stir in your chopped veggies and garlic along with the spices (not the cocoa powder)
Cook until the onion goes see-through and the mushrooms golden brown. Be careful not to burn the oil, spices, and garlic
Now it's time to add the beans. Just toss them in and stir everything together
While the beans are starting to cook, cover your brown rice with water in another pan and bring to the boil. Once at the boil, drop the heat down to a simmer and cover
Now your rice is cooking it's time to get the chopped tomatoes involved. Just stir them into the bean pan and allow them to cook slowly. Add tomato puree to thicken to your taste
At this point, you can simply wait for the contents of both pans to fully cook. Maybe grab a vegan beer, crush up some tortilla chips, or blend together an avocado with soy yogurt and chives to make a tasty guacamole (with an added protein boost)
Finally, when both pans are finished cooking, serve hot with a squeeze of lime and enjoy. Alternatively, distribute the rice and chili evenly into three containers for a fiery muscle fueling meal prep
[infobox]
Top tip: Double the ingredients for six whole days of dinner prep, leaving one day to enjoy as a cheat
[/infobox]
The final bite on High Protein Vegan Meals
Fix up these three tried and tested tasty dishes for a full day of plant-powered muscle. Eating a vegan diet doesn't have to be hard, you just have to be a little more imaginative than the brown rice and chicken brigade.
One thing we must mention though is that not all vegan protein sources are equal. Soy, for example, is a complete protein featuring all the essential amino acids while a lot of beans are not. So, what we recommend all our beef-free brothers do is mix up their muscle foods. Combine different protein sources in the same dish to make sure you get a balanced spread of amino acids.
Finally, if you find that it's harder to get good food on the go embrace the meal prep life. Set aside your Sunday afternoon to get busy in the kitchen and cook up a whole load of feeds for the week. Simply stack them high in the refrigerator or freezer for whenever you need a bite. For an easy guide to vegan meal prep check out this other article.
Good luck out there, bro. Taste the gains!
More plant-powered muscle food you might like: