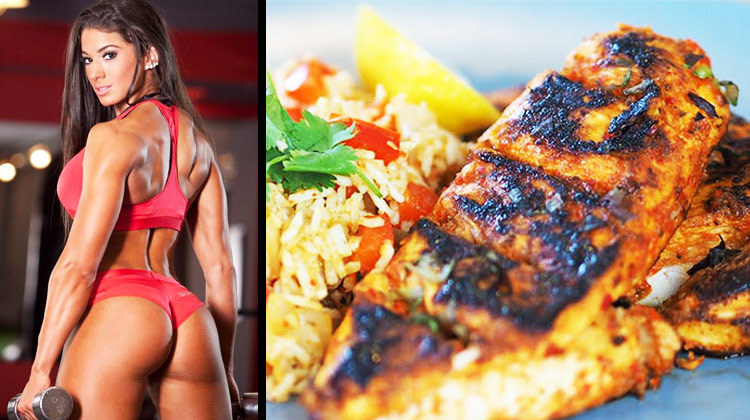 Some inspiring ideas for when boiled chicken and rice gets too boring for you. 
In an ideal world, you would eat plan, boiled chicken with broccoli and rice 4-5 times everyday; a low calorie, nutritious meal that'll definitely help you shred that 6-pack.
However, it's easy to get sick of foods while going through the stress of losing body fat. As a result, it's only natural that we start to crave variety in our diet.
Well, don't worry. We're not going to ask you to skip cooking sauces or marinades in this article.
Instead, we'll show you some great, fairly low calorie meals that'll help you reach your protein requirements, and help you get shredded.
Check it out:
Top 5 Best Bodybuilding Meals Recipes
1. Chilli Con Carne (Serves 4)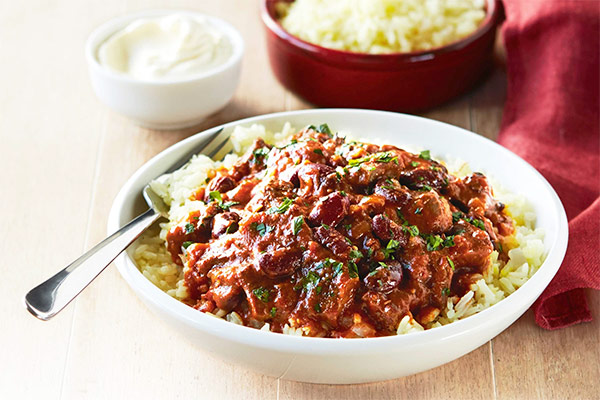 Let's be honest, everyone loves a chilli con carne, and we bet you've probably stayed away from it while shredding fat.
But you can eat chilli without putting your fat burning journey at risk; this whole meal adds up to around 500 calories, so it's not bad at all.
Not only that, it'll give you a break from eating boiled chicken breast…
Macros per serving: 
Here's the recipe: 
1 cup cooked rice per person
160g red pepper
500g extra lean beef mince
400g can of red kidney beans
400g can of chopped tomatoes
1 tbsp tomato puree
2 beef stock cubes
1 tsp chilli powder
How to cook: 
Begin by preparing the veg and beans; finely chop the onions, chop the peppers and drain the kidney beans can.
After that, fry the onions before adding the minced beef. Brown the meat and add the beans and peppers to the pan.
Then add the tomato puree, chopped tomatoes and stir in the beef stock cubes. Sprinkle the chilli pepper and simmer until ready (around 10-15 minutes).
2. Asian Shrimp, Brown Rice and Spinach (Serves 1)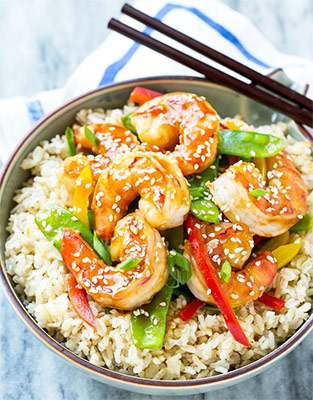 Alright, so this still involves rice, but we've swapped out the chicken for some tasty shrimp.
The best thing is that this whole meal is under 500 calories, while satisfying your taste-buds with some Asian flavors.
Macros per serving: 
Here's the recipe: 
200g large shrimps
1 cup white or brown rice
2-1/2 tbsp low-sodium teriyaki sauce
pinch of sesame seeds
1/4 tsp garlic powder
1/4 tsp paprika
Tiny amount of ground ginger
1/8 tsp cracked black pepper
2 tsp extra virgin olive oil
How to cook: 
Boil the rice and leave to simmer until ready.
Marinade the shrimps in the teriyaki sauce, spices and black pepper for 5-10 minutes. Then drain the remaining sauce.
After that, heat the olive oil in a pan, before adding the shrimp mix. Once the shrimp is cooked, add to plate alongside brown rice and spinach.
3. Shirataki Noodles with Shrimp & Sesame Dressing (serves 2)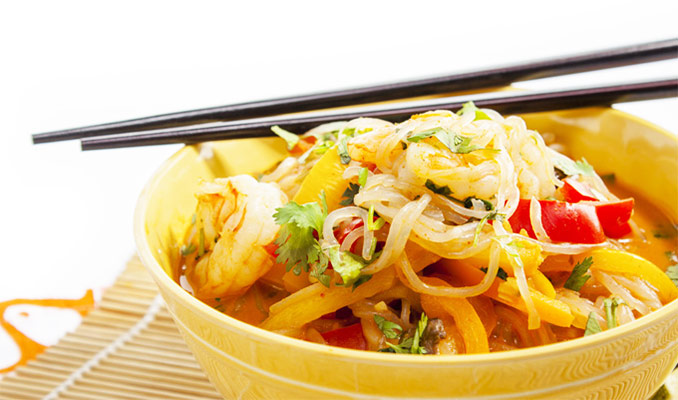 You might not know about shirataki noodles, but after trying this recipe, you'll wonder why you'd never tried them before.
They're extreme low calorie, which makes them ideal for when your dieting. Not only that, as shirataki noodles are made from konjac root, they expand slightly in your stomach – helping you feel full for longer between meals.
Paired with shrimp, this meal will keep you motivated on your diet without getting bored. And it's also great for taking into work for lunch.
Macros per serving: 
Here's the recipe:
200g shrimp each (200kcal)
250g drained konjac/shirataki noodles (40kcal)
1 teaspoon coconut oil (39kcal)
2 spring onions (15kcal)
Handful of coriander leaves
6 radishes
1 carrot (25kcal)
1 small cucumber (47kcal)
1 red pepper (18kcal)
1 tsp finely grated garlic
50ml sesame sauce (62kcal)
How to cook: 
Start by rinsing and draining the konjac noodles. Then heat coconut oil in a pan and fry the shrimp.
Add the vegetables and herbs into a salad bowl, along with konjac noodles. Finish with shrimp and sesame sauce on-top.
4. Fish Curry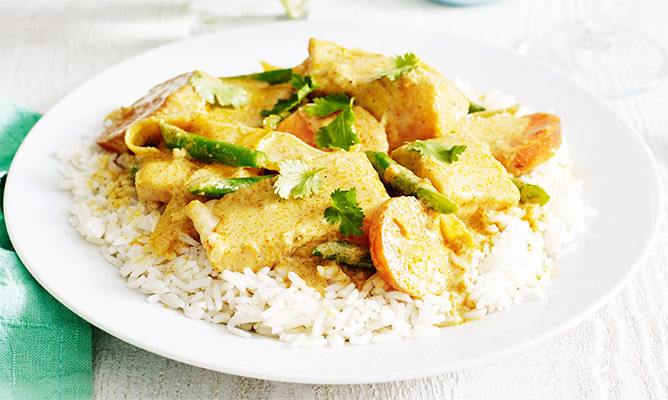 This is the lowest calorie meal on this list, so you'll probably use this the most.
However, it also offers the lowest amount of protein, so you'll need to bump up your protein intake through other meals.
Considering it's only 206kcals though, you'll won't have any problem doing this. And it's one tasty meal that you'll definitely enjoy.
Macros per serving: 
206 calories
24.8g protein
Here's the recipe: 
1 onion chopped
2 cloves garlic peeled
2cm ginger chopped
1 red chilli chopped
Handful of coriander
1tsp coconut oil
1tsp black mustard seeds
Handful of curry leaves
1/2 tsp tumeric
1 tsp ground cumin
400g can of chopped tomatoes
2tsp tamarind paste
500g white fish cubed
How to cook: 
Blend the onion, garlic, herbs and spices together into a paste. Then heat coconut oil in a pan and add black mustard seeds with curry leaves until fragrant.
After that, add the paste and fry to 2 minutes. Add the tomatoes and tamarind, alongside 200ml water.
Finally add the white fish and simmer for 5 minutes.
(add 216 calories if having rice on the side).
5. Peri Peri Chicken Breast With Spicy Rice and Salad (Serves 2)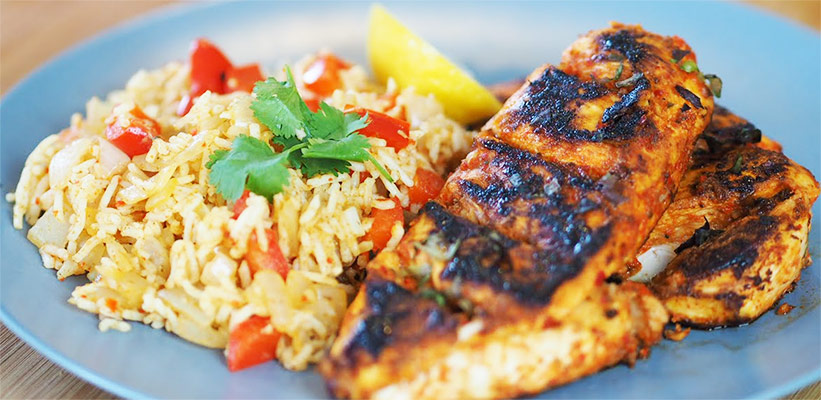 If you live in the UK, then you'll know about peri peri chicken due to the rise of restaurant chain, Nandos.
But if you haven't tried it before, then you'll probably make this a staple in your bodybuilding diet – even if it is chicken and rice…
Here's the recipe: 
1 onion
2 chicken breasts
1 chicken stock cube
1/2 lemon
1 tbsp smoky chipotle paste
1 tbsp white wine vinegar
1 red chilli
100g basmati rice
2 tbsp tomato paste
100g lettuce
1 red pepper
1 tsp ground turmeric
How to cook: 
Chop the red chilli finely and cut the lemon in half.
Then add the juice of half a lemon, white wine vinegar, half the chopped chilli, chipotle paste and half of the tomato paste into a bowl to mix.
Add the chicken breasts to your peri peri sauce mixture and marinade for 10 minutes. Then cook chicken breasts in the oven for 20-25 minutes (or until fully cooked through).
After that dice the onion to add to a pan. Add chopped red pepper until soft, then add the basmati rice, tomato stock and the rest of the chopped chilli – boil for 10-15 minutes until rice is cooked.
Conclusion
We've given you 5 great meal options for when you're watching your calorie intake above. So you shouldn't be complaining about your plain chicken and rice again!
We recommend following a sustainable, clean diet plan instead of going for extreme programs that you simply won't keep up.
Think about it, even if you do lose weight by eating plain chicken, the day you give up, you'll soon pack the fat back on.
As a result, you might lose body fat slightly slower eating tastier meals. But you'll find your journey easier to follow, in order to maintain your sculpted physique.