After impressing at the Mr. Olympia last year, William 'The Conqueror' Bonac beat 3 former champions to earn the Arnold Classic 2018 trophy.
If you follow bodybuilding, then you'll know that William Bonac is one of the best up-and-comers in recent times.
He impressed many with his size and conditioning at the Mr. Olympia 2017, where he placed 3rd. And now he's really raised his profile by defeating the likes of Dexter Jackon, Cedric McMillan, Dennis Wolf and Roelly Winklaar to win this year's Arnold Classic.
4th Career Win
When the Ghanaian was handed the Arnold Classic trophy by the Austrian Oak himself, not many people argued against his victory. Everyone clearly saw that he brought a great package to the stage and deserved it.
Speaking about his win, William Bonac said:
"Unbelievable man, I'm humble because I can't describe it.

"My motivation is a promise, I did a promise 2 years ago and I supposed to be here last year but I did too many shows and my body just wasn't taking it. I promised my coach that I would do it and keep my promise to do it this year.

"There's always pressure when you go to a show. But I try not to think about it, because when you think you have to do this and do that, then you start sweating. Just go there and do your thing and that works for me, you know man.

"I'm from Ghana originally, and live in Holland. Born in Ghana but raised in Holland."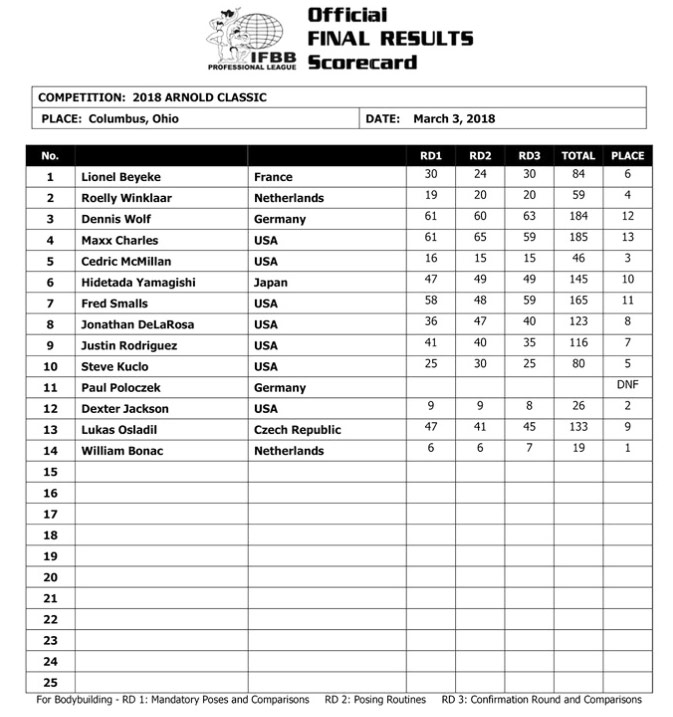 Here's the official results of the Arnold Classic 2018:
1st – William Bonac
2nd – Dexter Jackson
3rd – Cedric McMillan
4th – Roelly Winklaar
5th – Steve Kuclo
6th – Lionel Beyeke
7th – Justin Rodriguez
8th – Jonathan DeLaRosa
9th – Lukas Osladil
10th – Hidetada Yamagishi
11th – Fred Smalls
12th – Dennis Wolf
13th – Maxx Charles
DNF – Paul Poloczek
How Did William Bonac Get Involved With Bodybuilding?
With William Bonac set to reach the peak of his career within the next couple of years, it's interesting to see how he got started.
Speaking to Generation Iron, William said:
"I always wanted to be the strongest man in the world, so I always used to watch the power-lifters late at night when my parents were sleeping. Later I went to do training, bodybuilding.

"Then I saw Flex Wheeler, a friend of mine, showed me like a book and before that I knew Arnold but I didn't have the connection with him and bodybuilding, I knew all his movies (Conan The Barbarian) but I didn't know he was a bodybuilder. I didn't know about bodybuilding.

"Until I saw the magazines and I started reading more, so in 2008 I was at my job, you know. At that time I still didn't want to do bodybuilding because I didn't think I could ever get that big like these guys.

"And in 2008 I saw him [Kai Greene] posing on YouTube video and I was like f*ck. Most people just do a double bicep but he made something different of it (meaning Kai) and I was like 'man, I want to do this'.

"That same year, Dexter also won the Mr. Olympia and I was like 'woah this guy isn't as big as Ronnie Coleman, [Jay] Cutler, all these guys, so it's possible'. And that was the day I started competing."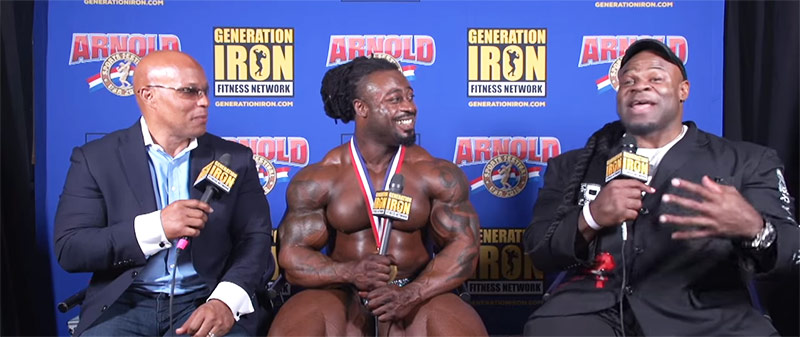 *William Bonac being interviewed by Shawn Rhoden and Kai Greene. Credit: Generation Iron
Kai Greene's Thoughts On William Bonac's Win
Shawn Rhoden was the main man interviewing William Bonac after his victory. But also sat next to the Ghanain was none other than Kai Greene.
It was interesting to hear what Kai thought about William's victory:
"You know what, we not only got a chance to see him [William Bonac] from the front, but from the sides and from the back. From the back! Man, amazing!

"Definitely we got a chance to see the young lion go versus the old lion. Now, you (William Bonac) were the young lion, to me you were the Simba. Dexter Jackson was the Mustafa.

"You got a chance to see 2 really great champions, 2 guys that were able to represent the best of bodybuilding, of both worlds, and you got a chance to see what happened tonight.

"I think that this victory was deserved. It was definitely deserved and that's not to say anything negative about Dexter Jackson; he's a friend of mine and he brought it."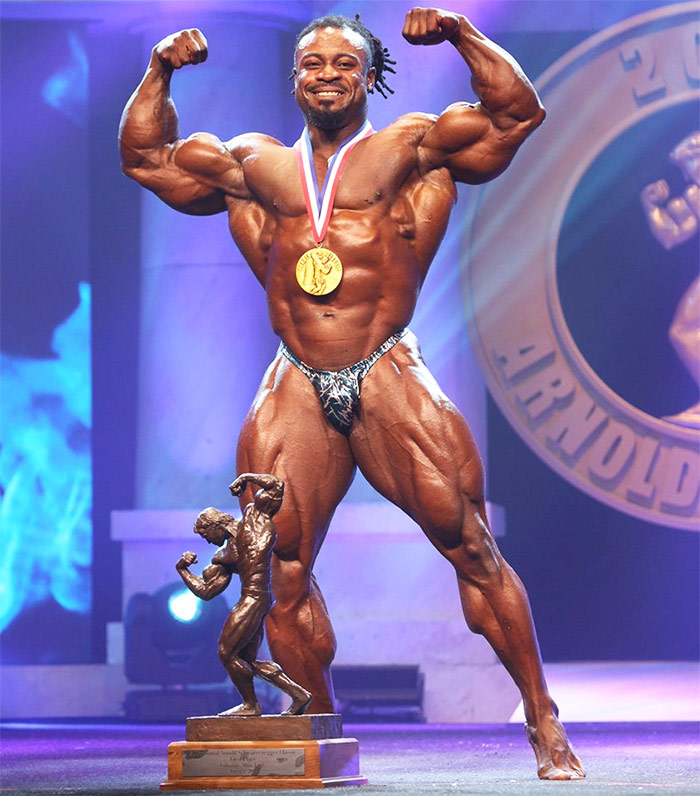 *William Bonac posing with the Arnold Classic trophy. Photo Credit: @ArnoldSports
How Much Did William Bonac Win?
Along with the pride of winning a reputable competition like Arnold Classic comes the money. And the prize money is always something that fans are interested in seeing each year.
Well, this year, William Bonac received $130,000 for placing 1st, as well as a Tony Nowak Official Champions Jacket (and of course, the trophy).
Here's what the others contestants took home:
2nd: Dexter Jackson – $75,000
3rd: Cedric McMillan – $50,000
4th: Roelly Winklaar – $30,000
5th: Steve Kuclo – $15,000
6th: Lionel Beyeke – $10,000
Controversy Over 3rd Place
We mentioned that no-one's really arguing about William Bonac's win.
However, there is some controversy about who deserved to finish 3rd; many fans believe that Roelly Winklaar should have placed 3rd instead of Cedric McMillan.
Who do you think should have placed in the top 3? Give us your thoughts in the comments section!