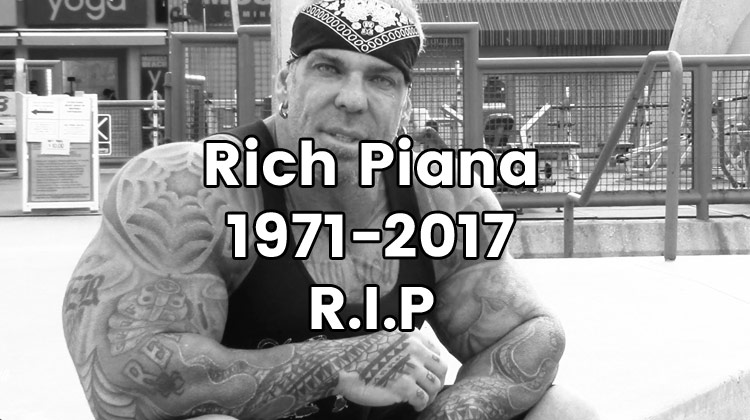 After falling into a coma, the bodybuilding world stops to give tribute to Rich Piana as he tragically passes away. 
This week has been tough for bodybuilders and fans of the fitness industry. First, we received the heart-breaking news that Dallas McCarver died.
Now, after fighting for his life in a coma, a true fitness icon has also passed away – Rich Piana.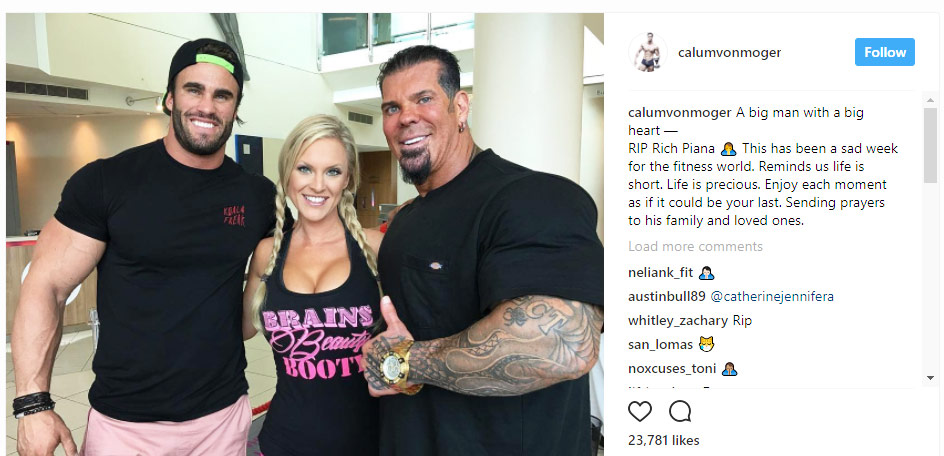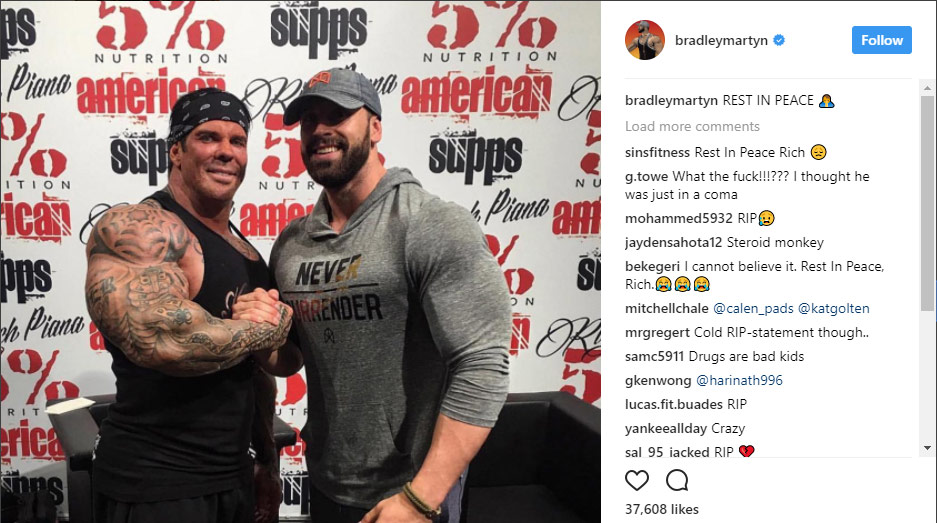 Bodybuilders pay tribute to bodybuilding/fitness icon, Rich Piana  
Many elite bodybuilders have paid tribute to Rich Piana after hearing about his death.
Athletes such as Callum Von Moger have posted on twitter, saying: "A big man with a big heart – RIP Rich Piana. 
"This has been a sad week for the fitness world. Reminds us life is short. Life is precious. Enjoy each moment as it could be your last. 
"Sending prayers to his family and loved ones." 
The tributes are pouring in from countless fans, with another friend of Rich Piana (Bradley Martyn) posting a heart-felt message too.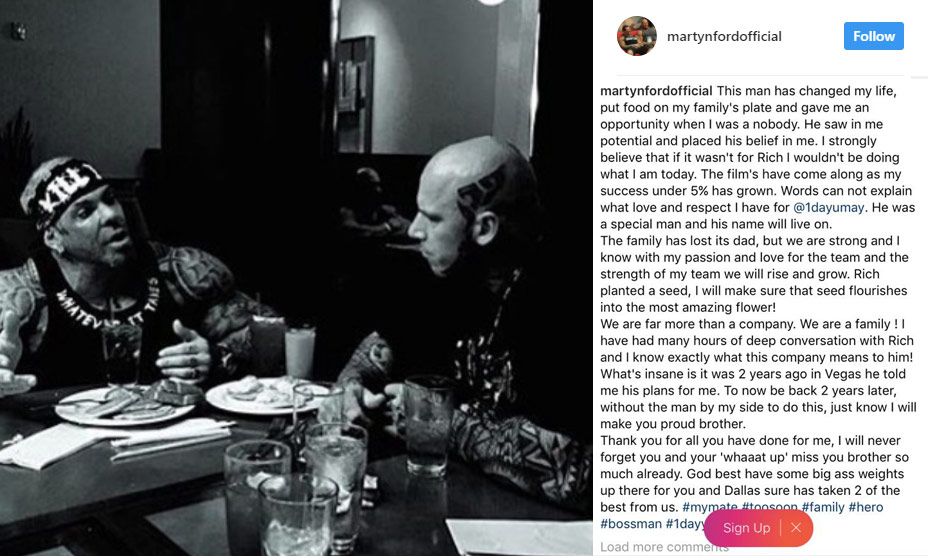 One of the more heart-touching tributes was made by Martyn Ford, who was a fellow American bodybuilder.
Martyn wrote on Instagram: "This man has changed my life, put food on my family's plate and gave me an opportunity when I was a nobody. He saw in me potential and placed his belief in me.
"I strongly believe that if it wasn't for Rich I wouldn't be doing what I am today. The film's have come along as my success under 5% has grown. Words can not explain what love and respect I have for @1dayumay.
"He was a special man and his name will live on.
The family has lost its dad, but we are strong and I know with my passion and love for the team and the strength of my team we will rise and grow. Rich planted a seed, I will make sure that seed flourishes into the most amazing flower!

"We are far more than a company. We are a family! I have had many hours of deep conversation with Rich and I know exactly what this company means to him! What's insane is it was 2 years ago in Vegas he told me his plans for me.
"To now be back 2 years later, without the man by my side to do this, just know I will make you proud brother.
"Thank you for all you have done for me, I will never forget you and your 'whaaat up' miss you brother so much already. God best have some big ass weights up there for you and Dallas sure has taken 2 of the best from us."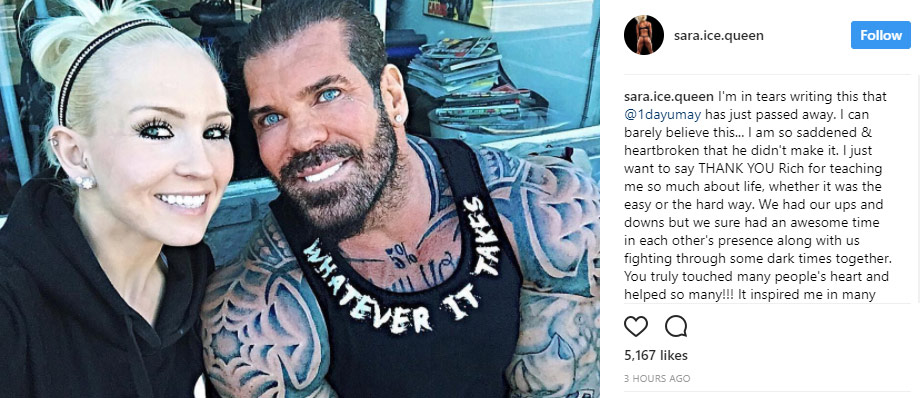 Now, Rich's ex-wife, Sara Piana has now paid her respects to the bodybuilding icon. Her main message for him was 'thank you'.
There have been people sceptical about whether the news of Rich's death was a hoax. However, Sara's message will know again reinforce the sad reality that he is gone.
Sara's Instagram message turns very emotional, as she refers to him as her 'husband' and points out that they were still legally married (for those that didn't know).
Here's Sara's full message: "I'm in tears writing this that @1dayumay has just passed away. I can barely believe this… I am so saddened & heartbroken that he didn't make it.
"I just want to say THANK YOU Rich for teaching me so much about life, whether it was the easy or the hard way. We had our ups and downs but we sure had an awesome time in each other's presence along with us fighting through some dark times together. You truly touched many people's heart and helped so many!!!
"It inspired me in many ways to see the huge impact you had on people all over the world. Not many people know that me and him are STILL legally married till this day despite all rumors. I have NOTHING to gain by saying that but want everyone to know the truth. I know that people say stuff on social media but I truly am not the "bad" person people think I am.
"I actually saved Rich's life 1 time before, glad I was there for him at that time. Rich, I hope you feel better now in heaven and that you're up there healthy, smiling & telling everyone 'how it is, being REAL & doing your thing'.
"Rest In Peace my dear husband."
---

Born in California (USA), Rich found his passion for fitness at the early age of 9; he was inspired by his mother, watching her train and compete in bodybuilding competitions.
Only 6 years later, Rich began competing as a bodybuilder, earning the title of Mr. California by the age of 19.
Ultimately, Rich's love for the fitness industry was evident throughout his life. He was known for giving 'whatever it takes' to achieve the physique he desired – inspiring countless fans in the process.
On the 25th August 2017, the whole fitness and bodybuilding world stood still; it was announced that Rich Piana was dead, after fighting for his life in a coma for a period of time.
SpotMeBro would like to send our sincere condolences to his family, friends and anyone closely linked with him. Pay your tributes in the comments section and be respectful during this period.