Giuliana Farfalla, 21, will become the first transgender model to ever appear on the cover of Playboy Magazine.
It's safe to say that we live in a pretty accepting world nowadays, to a certain extent anyway.
Just last year, a transgender model was featured in the centrefold spot in US Playboy.
But now, German Playboy magazine has gone a step further – featuring a transgender model on its front cover for the very first time.
Editor-in-chief Florian Boitin says that this natches the values of the magazine's creator – Hugh Hefner, who passed away in September 2017 at the age of 91.
Hugh was said to be "resolutely opposed [to] any form of exclusion and intolerance", and featuring a transgender model on the cover appears to align with this tradition.
Who is Giuliana Farfalla?
Giuliana Farfalla was born Pascal Radermacher in the German city of Breisgau.
She realized early in her childhood that she was a 'woman trapped inside a man's body'. So she made the decision to undergo gender reassignment surgery at the age of 16.
She is due to be featured on the front cover of the German edition of Playboy magazine in an issue which will be available on Thursday 11th January 2018.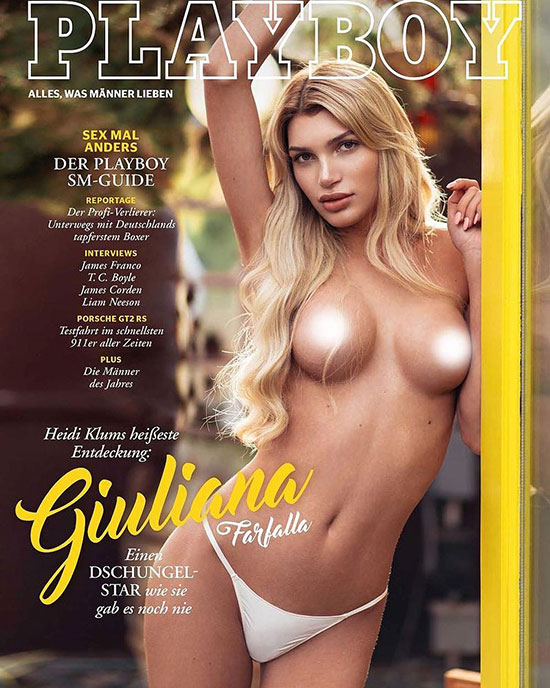 Image Credit: @giuliana_farfalla
German TV Star
Over the years, she's soared to fame across social media, amassing over 200k followers on her Instagram page.
As well as this, she's also appeared on reality TV show Germany's Next Top Model in her native country.
Speaking on her Instagram page, here's what Giuliana had to say:
"My dears, I'm on the latest Playboy cover and very proud of the result. I hope you like the cover as much as I do".
Conclusion
What are your thoughts on Giuliana becoming the first transgender model to appear on the front cover of Playboy?
Let us know your thoughts in the comments section or on Facebook.