The actor has become known for his muscular frame in films such as Bronson, Warrior, and more recently, The Dark Knight Rises.
Marvel are doing a great job at delivering some great films at the moment. The new Thor: Ragnarok, which saw Chris Hemsworth returning with his stacked arms might just be of the best films of 2017.
Keeping up with their theme of employing big actors to play their characters, Tom Hardy has began preparations to appear in the Spiderman-Spin-Off, Venom.
However, some people will be disappointed that Tom Hardy's Venom will be part of Sony's Marvel Universe; this means that he's not likely to be connected to the Marvel Cinematic Universe, with Sony confirming the bad news…
Speaking to The Independant, Amy Pascal of Sony said: ""All the characters are a part of the Marvel comic book universe, and they're all interrelated in that universe. Spider-Man is now part of the MCU, as he was created to be in the beginning.
"The other things that Sony are doing, which are characters from the Marvel comic book universe, are independent, separate franchises. Both Venom and Silver Sable and Black Cat."
Who is Venom?
If you're a big marvel fan or know about Venom already, then move on and stop your bitchin' bro. This is for those that don't have a clue…
Officially known as 'Venom Symbiote', it's a supervillian that first appeared in the comic 'The Amazing Spider-Man #300' back in 1988.
In case you're unaware, 'Symbiotes' are a fictional race in the marvel universe, and bind to hosts in order to take control of them.
If you saw the Tobey Maguire Spider-Man films that everyone loves to hate, you'll know that Venom made an appearance in the infamous Spider-man 3; he slowly took over his suit, resulting in the cringey 'emo spidey' look.
Here's a picture of that fringe in case you forgot: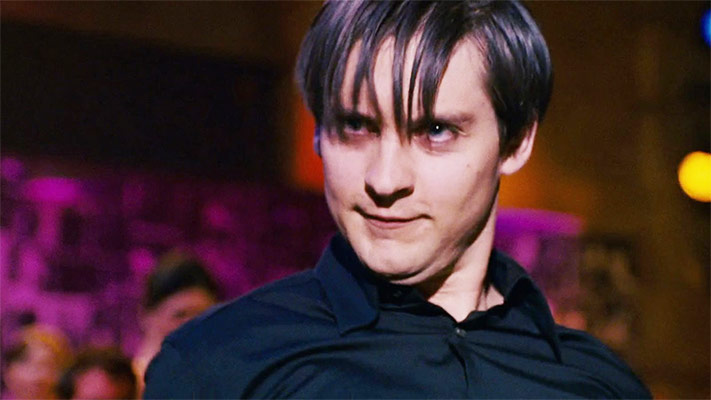 Anyway, in summary, Venom isn't really a 'person', instead being something that latches onto others and increases their power.
So why is Tom Hardy needed if Venom is a goey substance? Well, he'll be playing the character, Eddie Brock, who is known in the comic books for being Venom's first host.
So technically, Tom Hardy is Eddie Brock who becomes controlled by Venom…sorry to confuse you, brah.
---
Tom Hardy's Venom Workout
Now that you have a brief summary of what Venom is, we'll tell you about how Tom Hardy has prepared for his appearance as the super-villain's host.
Recent videos released show Tom Hardy sparring and going through a training camp; this will bring back good memories, for those who are big fans of the film 'Warrior'.
So although it's still early days, it's looking like the former 'Bane' will be getting more cut and shredded than his look as Bronson.
In fact, this makes us think that Tom Hardy will be following a very similar workout routine for his role in 'Warrior'.
Here's what Tom Hardy's Venom Workout Looks Like:
2 hours of boxing
2 hours of kickboxing and muay thai
2 hours strength training
As a result of following this routine for 10 weeks, Tom Hardy managed to pack-on around 28lbs (12kg) of muscle mass before for Warrior, so we're not surprised he's going through it again. Not bad, eh?
In case you're wondering, Tom Hardy's strength training consisted of the classic 5×5 routine; with around 2-3 minutes rest between sets, he focused on the 'big three' compound lifts (squat, bench press and deadlift) to get his MMA ready physique.
---

---
Tom Hardy's Venom Diet Plan
In terms of his diet, Tom Hardy will be following a classic bodybuilder's diet; lean proteins, complex carbohydrates and heaps of green vegetables.
This will allow him to reach his macros, while keeping him cut and shredded for his appearance as Eddie Brock/Venom.
Smaller but more frequent meals help Tom Hardy stay safe from deadly hunger cravings, while keeping his metabolism fired-up at all times.
Tom Hardy's Venom Diet Plan Looks Simiar To This:
Meal 1 – 8 egg whites and 1 cup oatmeal
Meal 2 – Lean beef, 1/4 cup low-fat cheese and green vegetables
Meal 3 – 2 Chicken breasts, 1.5 cups of brown rice and green vegetables
Meal 4 – 1 can tuna, 1 tbsp mayonnaise, 1/2 cup brown rice and green vegetables
Meal 5 – Protein shake
Meal 6 – Skinless chicken breast and green vegetables
---
Conclusion
Whenever Tom Hardy is seen working out for a film, you can guarantee that he's going to look like a well-oiled machine on the big screen.
So it's no surprise that many are getting excited for his appearance as Eddie Brock/Venom – even if it's going to be in the Sony Marvel Universe.
It doesn't look like his character will be appearing alongside other heroes in the Marvel Cinematic Universe, but one thing is for sure…Venom's appearance in this film is likely to be an improvement on Tobey Maguire's Spider-Man 3.