The 8x Mr. Olympia has successfully made it through another surgery and is recovering back to full health.
Before this recent surgery, Ronnie Coleman managed to avoid any issues for 2 years. He was looking fit and sharing videos training in the gym again.
So when he announced that he required surgery again in 2018, it didn't sound like good news.
However, Ronnie has given everyone a positive update; through a thumbs-up picture on Instagram, the bodybuilding legend has confirmed that his surgery was a success.
A relief to bros around the world!
Why Did Ronnie Coleman Require Surgery?
If you hadn't really been following the 8x Mr. Olympia champion on social media, you might have been unaware that he was back in hospital.
He gave pretty gruesome details about his back operation on Instagram on December 23rd. He said:
"They're going to have to remove my intestines in order to take my spine out. This surgery will be performed from my abdominal region because I have too much scar tissue in my back fro previous surgeries. This is one surgery I;m not looking forward to after the pain and suffering from the last one."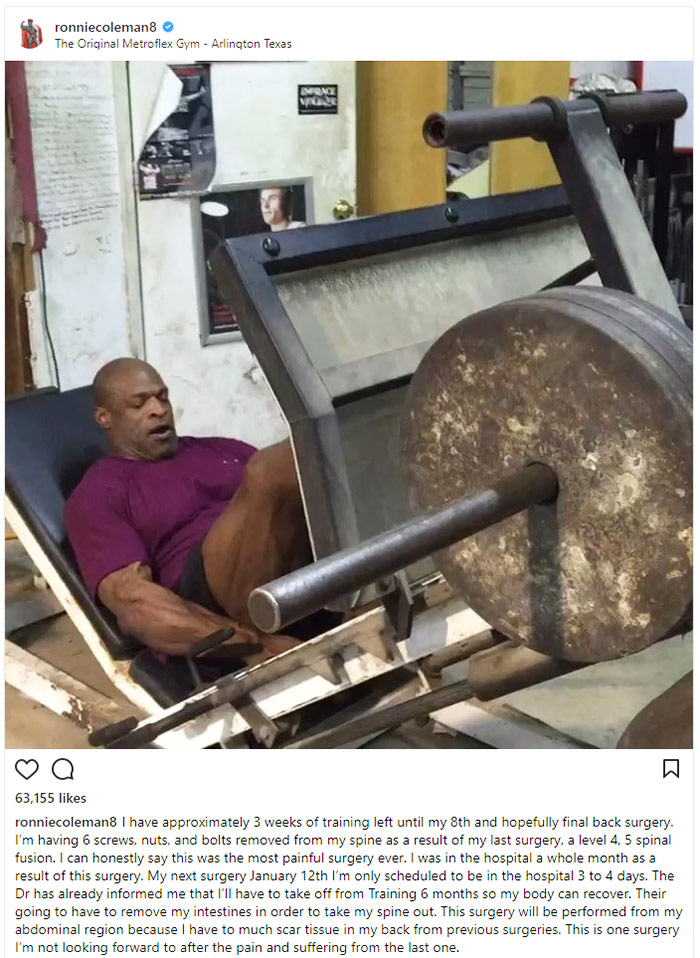 Ronnie also gave his fans another reminder on the 4th February, re-asserting his fear of the upcoming surgery.
Here's what Ronnie said:
"This was my last leg workout before my surgery on Tuesday. It's been 2 years exactly since my last surgery and today on Leg Press I tried 5 plates on each side something I haven't done in 2 years.

"I had no idea how many reps I could do but my goal was 10 reps. I remember this same feeling when I squatted 800 pounds. My goal was 2 reps which I did and quit but had at least another 2-3 reps in me.

"Today when I got to 10 reps on the leg press, I felt I had a few more reps in me and I did 5 more. This is my only regret in my career, I wish I had done those 2-3 reps on the squat with that 800 pounds but I quit after 2, I didn't want that same feeling on the leg press today so I made damn sure to do those extra reps which made my day.

"I never thought in a million years that I would be happy doing 5 plates on the leg press but given my current condition, I'm overwhelmed with joy. I'm praying to God that this surgery is very successful and it is my last.

"I also appreciate each and every prayer you guys are giving me too. Much love to all of you guys from the bottom of my heart. I love and appreciate your Love very very much. This will be the first time that I'll be worried about a surgery out of all the 7 surgeries I've had in the past.

"Also this will be the first surgery that I'll be having my intestines removed in order to put in a cage around my L4-L5 discs. I'm just hoping they perform the same way once their put back inside my body."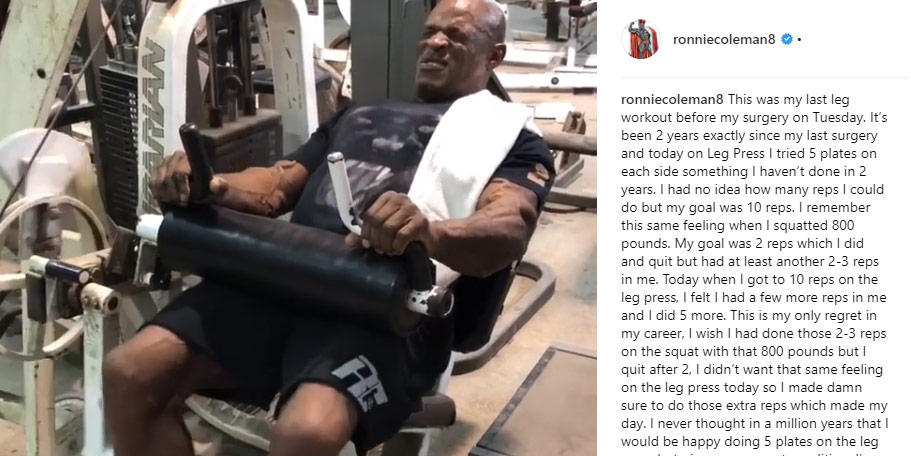 Successful Operation
Although Ronnie really wasn't looking forward to the operation, it seems that everything went well for the bodybuilding legend. Thankfully.
Although he seemed incapable of fully functioning, his social media team gave his fans a reassuring update with a picture of Ronnie giving the thumbs-up.
Here's what was written on the Instagram update:
"Thumbs up from Big Ron! As you can see, he is a little sleepy here, which is to be expected (he did just have his intenstines pulled out, screws in and out of his back, then his intestines put back in #NBD) but he wanted to crack a smirk and give a thumbs up to let everyone know he's doing well and appreciates the support! We will keep everyone updated – Team RCSS #Ronnie Coleman"