Meghan Gilbert, from Texas, lost 72lbs and now boasts over 65,000 followers on social media as a fitness model.
It's fair to say that we live in a pretty accepting world now-a-days. TV shows such as Ru Paul's Drag Race is widely appreciated in western society, but bullying still seems to be prevalent in today's culture.
Well, one female who beat her bullies is 21-year-old, Meghan Gilbert from Dallas, Texas (USA). She had the last laugh by overcoming her haters and successfully shredding weight to become a fitness model.
From 200lbs to Fitness Model
The fitness industry is great for inspiring people to make changes to their body. This promotes a healthier lifestyle, as well as resulting in higher confidence and self-esteem too.
Well, Meghan was bullied for being overweight during school. Not only did this affect her mentally, but she turned to drugs to dull reality and escape her situation.
However, after a near-fatal overdose, Meghan decided to finally transform her life and figure. After starting to work-out in the gym, she managed to drop 72lbs; not only has she lost body fat, but she's also added lean mass to sculpt an incredible body.
Through an Instagram post, Meghan wrote:
"The girl on the left was 200lbs of depression, anxiety, and sin. I was addicted to drugs and I partied every night.
"I woke up in the morning wanting to forget that I had to wake up this morning…my life was just sad. I hated every part of my body and being until I took one too many pills and sipped one too many drinks, waking up after 36 hours of straight sleep."
"People bullied me but I also bullied myself…the drugs kept getting worse I hated myself more and more by day."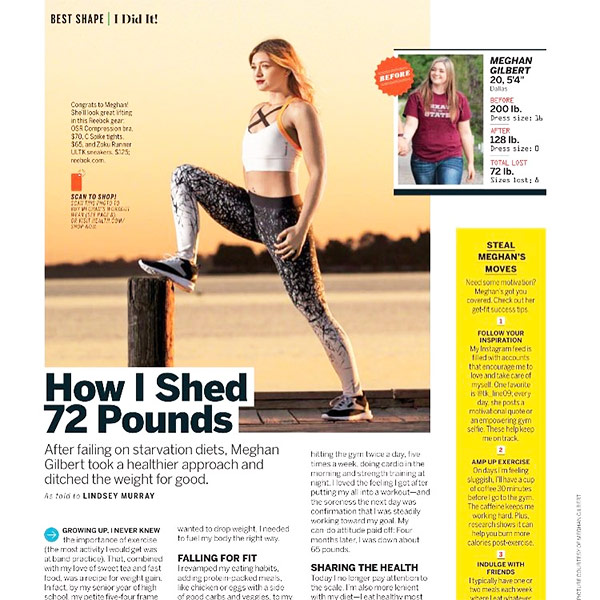 *Photo Credit: @megsmotivationn
Over 65,000 Instagram Followers
Since finding her feet, Meghan has started to make a name for herself in the fitness community. Attracting over 65,000 followers on Instagram, she now has a loyal fanbase that she inspires to make positive changes to their lifestyle.
Speaking about what sparked her transformation, Meghan said:
"From the moment I woke up and saw that, I knew I needed to change. I told depression no. I told Satan no. I followed God and learned to love my body and every flaw about myself.
"I embraced lift. I found the gy and we have been in a relationship since June of 2015. The gym taught me persistance, hope soncsistance and how to grow. I learned to take pain and use it to make myself stronger.
Meghan finished with: "It starts in your MIND! Change your mindset, pick up your feet, and get to the gym."