The former IFBB general secretary sadly passed away on December 21st, 2017, after forging a successful career within the IFBB as a competitor, and later a judge.
Winston became a hugely influential figure within bodybuilding for his contributions, including helping to write the IFBB rulebook.
Winston even used bodybuilding to end an era of oppression and segregation in South Africa – allowing the President of the country to host the 1975 Mr. Olympia and Mr. Universe competitions if the audience wasn't restricted in the seating arrangements according to race.
Who Is Winston Roberts?
Winston Roberts was the Mr. Canada champion on two occasions, and has participated within the Mr. Universe competition several times as an IFBB amateur.
Further down the line, Winston became a bodybuilding judge at professional level, working within the IFBB from 1985 onward.
He became recognized for being an influential figure within the CBBF (Canadian Bodybuilding Federation), which Winston helped to bring to the limelight since its creation in the 1970s.
On hearing the news of his passing, the IFBB provided the following statement on their website as a tribute:
It is in deep sadness that we announce the passing of former IFBB General Secretary, in the 80s; Mr. Winston Roberts.

Born in Canada, Winston Robert was a very dedicated IFBB official and a pioneer of our sport, beside a great promotor of events. A real leader of Bodybuilding, he was a major figure in Canadian Bodybuilding Federation when the CBBF first started in the 70s.

His memory will remain with us forever. Rest in peace.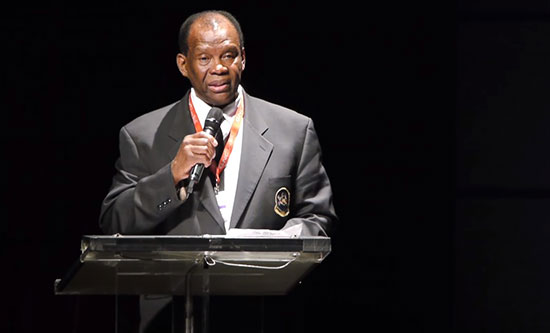 Image Credit: Kaleem Maxwell via YouTube
Final Thoughts
It's clear to see that bodybuilding has lost a huge name, thanks to Winston's contributions to the IFBB and CBBF both as a competitor and judge.
To all those that knew him, we're sure that he will be sorely missed. Our thoughts go out to his friends and family at this difficult time.
Provide your own tribute in the comments section below or on Facebook.