Bodybuilder, wrestler and MMA fighter Dave Bautista has found recent fame away from the WWE and with the Guardians of the Galaxy.
He became six time world champion with the WWE and also won his only MMA fight via TKO in 2012. Despite being a pretty short lived MMA career, Bautista won his debut against a 40 fight veteran.
Now Dave Bautista has announced he'd love to appear as the lead character of a planned Gears of War movie, based on the epic sci-fi game franchise of the same name.
Marcus Fenix
The film is based around humanity fighting for the planet of Sera, after a horde of creatures emerge and try to destroy everything. Bautista would be playing the role of Marcus Fenix, an ex P.O.W with a hardcore attitude.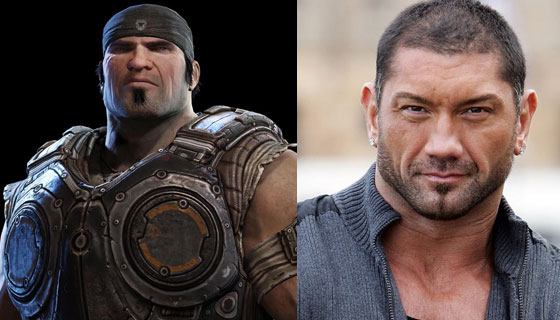 It's pretty safe to say that with his physique and his acting skills Dave Bautista is the perfect choice for the role. And fans think so too, with a change.org petition starting to try and help his case.
Speaking about the movie and potential casting during a Twitter Q and A, Bautista said;
I've been pursuing Gears of War for years now. I believe it's in the hands of Universal Studios. And I've been knocking on their door and badgering them and they are so sick of me (laughs), phoning in and asking them where they are with that project. But, yes, Marcus Fenix is absolutely a dream role for me. I want that role.
The movie is currently being scripted by Shane Salerno, who is currently writing James Cameron's avatar sequels.
Here's hoping we get to see Dave Bautista carving up some locust with a lancer on screen soon.