The former UFC star has decided to start a new career with the WWE instead of pursuing another comeback fight in the octagon.
Ronda Rousey was once the biggest name in the UFC (at least to mainstream fans). She was seemingly unbeatable and was forecast to retire as a legend of the game.
However, it was Holly Holm who put an end to her dream in 2015; through a K.O loss, Ronda seemingly lost all confidence, which led to her eventually finishing her career with the UFC.
After one failed comeback appearance against Amanda Nunes, where she suffered another K.O, she decided to hang up her gloves for good.
That didn't stop the rumours of another comeback from circulating though. But now, after officially announcing her entry into the WWE, Ronda Rousey is set to become the latest addition to their roster.
Official Announcement
The WWE did well to keep Ronda Rousey's contract a secret. After (probably) months of negotiation, they finally unleashed Ronda at their first-ever female Royal Rumble event in Philadelphia.
Speaking to ESPN, Ronda said: "This is my life now. First priority on my timeline for the next several years. This is not a smash-and-grab; this is not a publicity stunt.
"When I first met with Triple H, I told him, 'There are other things I can do with my time that'll make way more money, but I won't enjoy nearly as much."
It seems as though Ronda genuinely enjoyed her first appearance in the wrestling ring; she mentioned that her appearance made her the 'most stimulated she'd been in her life', repeating that she was 'so happy' throughout the interview with ESPN.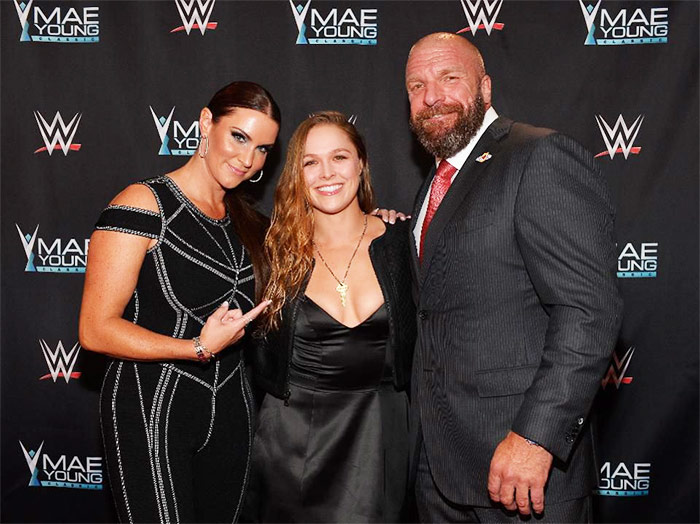 Dana White's Reaction
UFC fans will probably be wondering what Dana White's reaction is, to seeing one of his past stars become one of WWE's main attractions.
But you'll be disappointed if you were hoping for a bad reaction. Instead, Dana took the time to wish Ronda well, and backed her to succeed in her new career path.
Here's what Dana White said: "I'm happy for her. This is something she has always wanted to do. Ronda continues to achieve everything she has ever wanted."