One of the promotion's most immense pay-per-view stars Brock Lesnar looks to be returning to the UFC octagon. That's after he was called out by Saturday night's newly crowned heavyweight champion Daniel Cormier.
In the opening round of the UFC 226 main event Daniel Cormier astonished MMA fans worldwide. With less than 30 seconds left in the first stanza, DC floored the seemingly unstoppable Stipe with a KO blow.
Daniel Cormier Calls Out Former WWE and UFC Champion
Legendary commentator Joe Rogan was quick to interview the newly crowned champion, who had some bold words regarding his next fight. Grabbing the mic, DC said;
"Listen to DC. There's a guy that I've known for a long time. He's a wrestler. He's an All-American. He's a former UFC champion. I never thought that I would fight him, bur Brock Lesnar get your ass in here!"
Brock then ran into the cage towering over DC and commentator Joe Rogan. Lesnar showed no fear as he pushed Cormier, before fierce words were exchanged.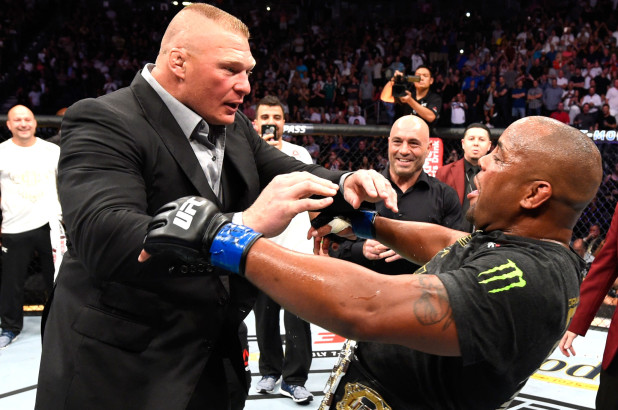 The newly crowned two division king then took to the mic again. After shoving his considerably larger future opponent back, he said, "Push me now, sleep later." To which the crowd erupted and Lesnar looked to retaliate.
Both men have gained an elite level wrestling pedigree through a lifetime of embracing the grind. Brock Lesnar is a two-time NCAA All-American and Daniel Cormier took 4th place at the 2000 world Olympics.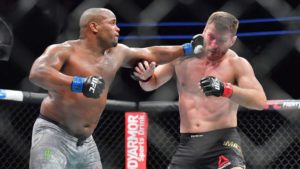 DC also acquired a who's-who of heavyweight wins before dominating the LHW division. Colossal names such as Josh Barnett, Antonio 'Bigfoot' Silva, Frank Mir and Roy Nelson all appear on the Olympians record, which now stands at 23-1-1.
The only bout Cormier has had the misfortune of losing, was at the hands of the defensibly greatest of all time Jon Jones. Yet, Jones is currently banned from UFC competition due to a string of felony offences and failed drug tests.
Eight Years Since Lesnar's Last Win
Brock Lesnar, who's record stands at an almost even 5-3, has not tasted MMA victory in over eight years. Notable wins throughout his career include legends such as Frank Mir, Randy Couture and Shane Carwin.
However, it should be noted that Brock did suffer a brutal loss to Cormier's team-mate Cain Velazquez.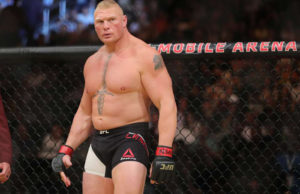 Although the All-American scored a unanimous decision against the dynamite-fisted Mark Hunt back in 2016, the result was overturned. After the bout it was revealed that Lesnar tested positive for the prohibited substance clomiphene.
Experts are scouting DC to come out on top of this colossal heavyweight throw down. Yet, the margin for victory may not be as wide as fans were expecting.