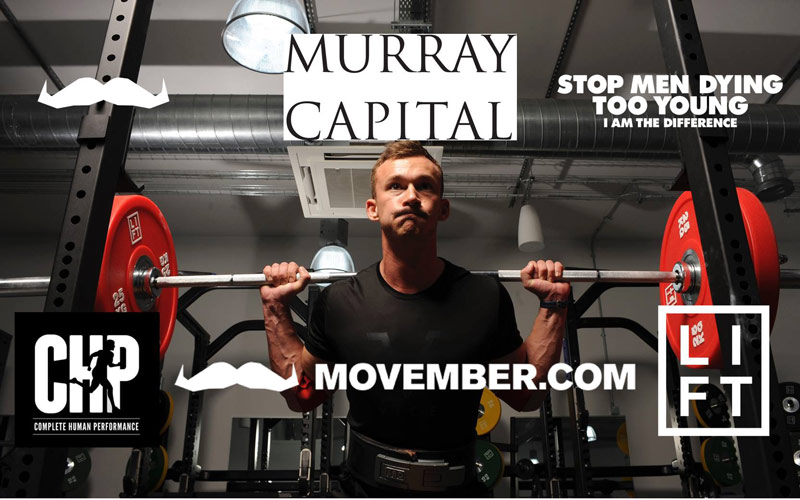 On his 23rd birthday, the 12th of December, Fergus Crawley from the UK will go full beast mode inside the rack. His goal is simple – break the Guinness World Record for the most weight squatted in 24 hours. Badass? You're damn straight, bro!
But what makes his monumental effort that much more important is the amazing cause he's chosen to raise awareness for. Let's meet the legend planning to squat 460,000 kg for men everywhere…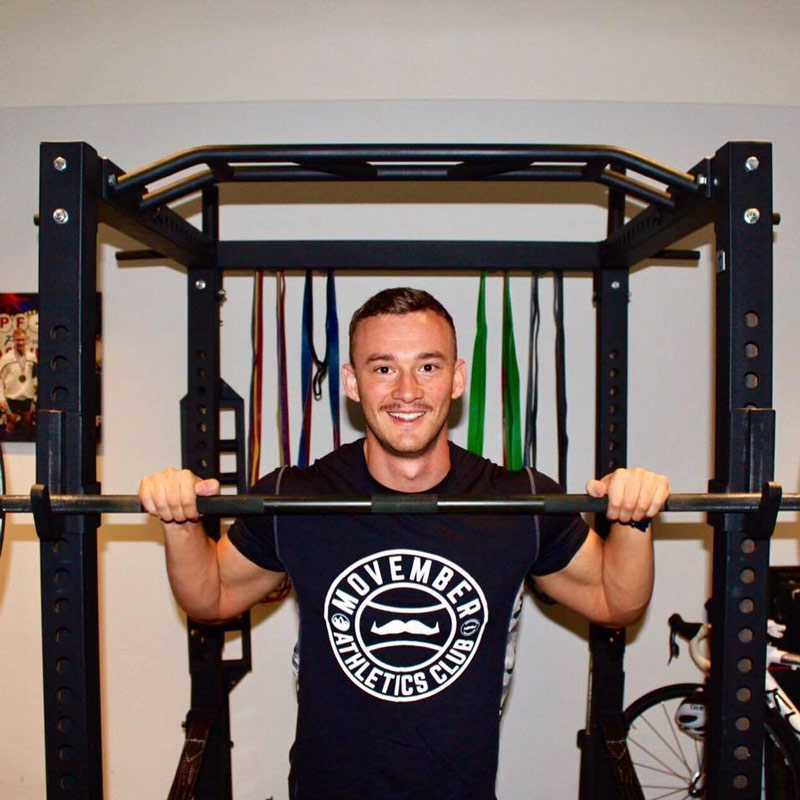 SMB: Hey Fergus, great to have you on board bro! Let's get the bros up to date with the guy ballsy enough to try and smash the squat world record. Where are you from, bro? And how did you get into the lifting lifestyle?
Fergus: I grew up in Edinburgh and was introduced to lifting through rugby training. Sadly, I suffered a series of concussions as I entered my penultimate year at school, which brought my time on the rugby field to an end. I carried on training as I had been, and slowly transitioned into bodybuilding style training with an emphasis on the big 3.
I thrived on the fact that my only competition was myself and the weights. And became enormously strict with my diet and routine as a result of wanting to push myself as far as I could.
I then met my good friend Andy Smith, who helped me focus my drive into strength specific training and competition. Since then I have competed in 11 competitions all over the world and come a long way in terms of strength. My best lifts in competition are a 260kg Squat, 160kg Bench, and a 250kg Deadlift.
Why the Squat Guinness World Record
SMB: Awesome. Many guys find the iron-life first through physical sports like rugby and football and we hear you brother – there's something about it being just you and the weights that becomes obsessive. No team to beat, only yourself and the barbell.
So, why the squat WR? What inspired you to go from competitive lifter to all-out record breaker?
Fergus: Andy, the friend I mentioned above, has recently opened a high-performance gym in Edinburgh, and I wanted to be able to help promote it in some way.
I had the idea of doing a physical challenge there as a small PR stunt, in the hope that it could get some new members through the door. I chose the squat WR as I wanted it to be 1) unfathomably challenging, and 2) play to my strengths – which are largely in the squat!
How He's Gonna Do It
SMB: So, you've gone from setting up a little hype to a fully-fledged PR smash! Nice. Now you have your goal, how are you going to achieve it? What's the plan, bro?
Fergus: The plan is to use 60kg the whole way through, as it's enough weight to set me into the floor, whilst not being overly taxing to my nervous system. I will need to complete 7,666 reps at this weight, and plan on splitting that up in the following way:
25 Minute EMOM sets of 10; 5 mins rest.
Takes me 12-20 seconds to complete a set of 10, so I should have no less than 40 seconds of rest in these works periods.
I have a trial run on Friday the 23rd from 10pm-4am so there will be some trial and error to see if this if definitely how it will be approached!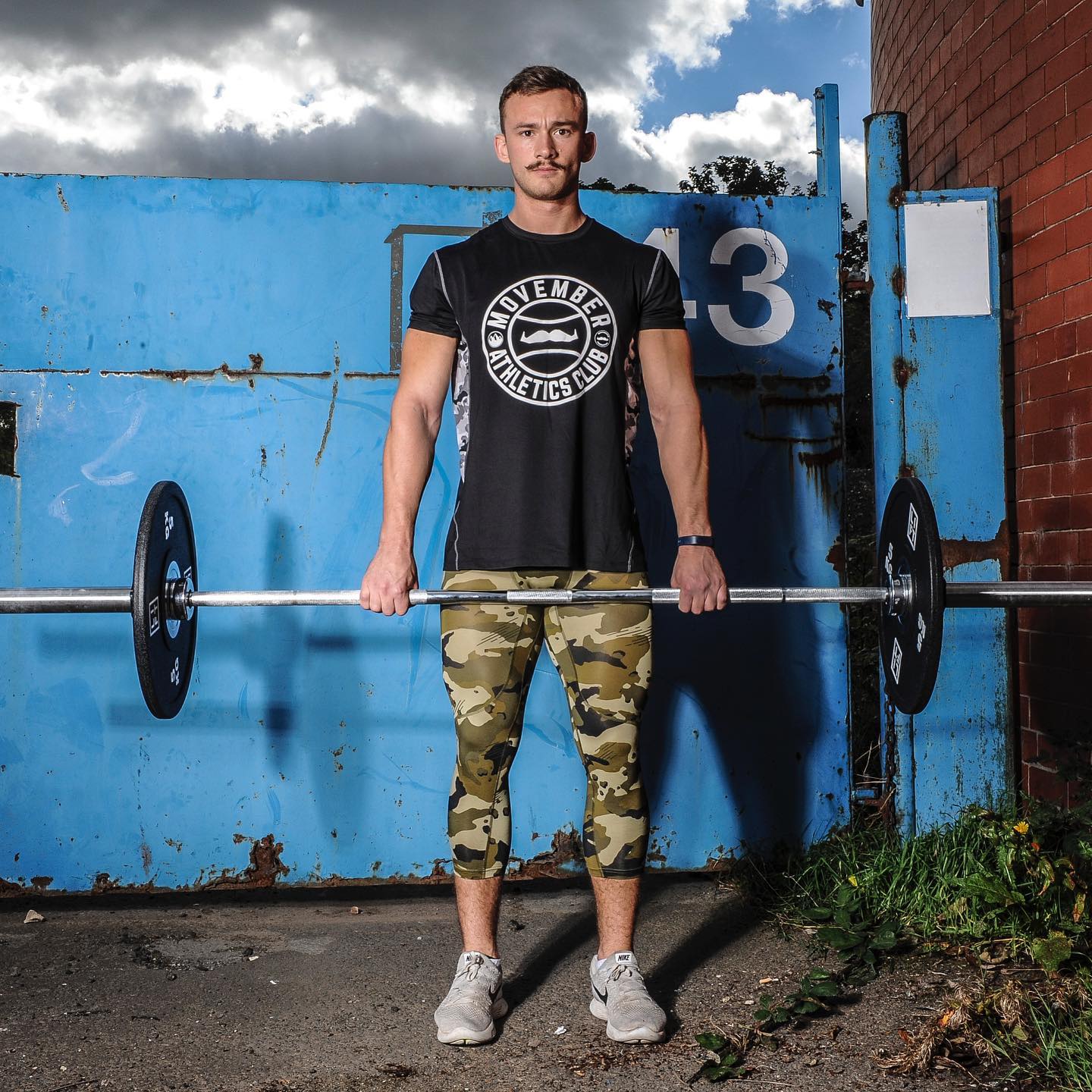 Training to Break a World Record
SMB: You sir, are a beast! Your plan sounds mighty solid too. Have you been doing any kind of specialist training to prepare for the big day?
Fergus: All my training has been expertly managed by Jonathan Pain of CHP. In simple terms, the plan has always been to maintain my strength base and build up my aerobic and overall work capacities as high as possible.
Therefore, my weeks have been focused on weights and cardio work – below is an example of one of my most challenging weeks to date:
Monday – Upper Body:
Cuban Rotations: 20kg x 12 x 3.
Landmine Press: 45kg x 60sAMRAP x 3 (60 secs rest).
BB BOR: 100kg x AMRAP x 5.
Circuit Giant Set: 100 20kg BB Curls/100 banded Face Pulls/100n banded Tricep Pushdown.
Tuesday – Lower Body:
Low Bar Squat 3RM.
80% of above for 2xAMRAP.
Back Squat (alternating Low/High Bar): 100kg x 10 x 10 (60secs rest).
High Bar: 80kg x 15 x 5 (60-90secs rest).
High Bar: 60kg x 25 x 5 (60-90secs rest).
20 mins WattBike.
Wednesday – Indoor Cycle:
1hr30min on WattBike; 33miles.
Thursday – Rest:
Friday – Brutality:
Warm up: 800m run/50 BW Squats/3x200m sprints (7/10).
40kg Squat/Lunge/Push Press Pyramid of Pain (as I have called it).
10 S, 10 L, 10 PP.
20 S, 20 L, 10 PP.
30 S, 30 L, 10 PP.
…ALL THE WAY UP TO 100 S, 100 L, 10 PP.
THEN BACK DOWN THE LADDER…
90 S, 90 L, 10 PP.
80 S, 80 L, 10 PP…
ALL THE WAY BACK TO
10 S, 10 L, 10 PP.
THIS TOOK ME 3HRS 4MINS. (1000 Squats, 1000 Lunges, 200 Push Press).
Saturday – LISS:
4 hours on the WattBike; maintaining 80-90RPM.
That constitutes a week of training, and the structure of all my training has followed that pattern, but sometimes with different exercises in each session.
[It's] also worth noting [that] one session I had: 3-hour run (average 140HR), stopping every 15mins to do 50 continuous bodyweight squats, then straight back into running… (I managed 22.3 miles and did 600 BW Squats along the way).
Specificity has ramped up as of the middle of November, and will become very squat focused as of the final week of November – I have enjoyed the challenge and the scale of the training; the adaptations I have experienced have been mind-blowing.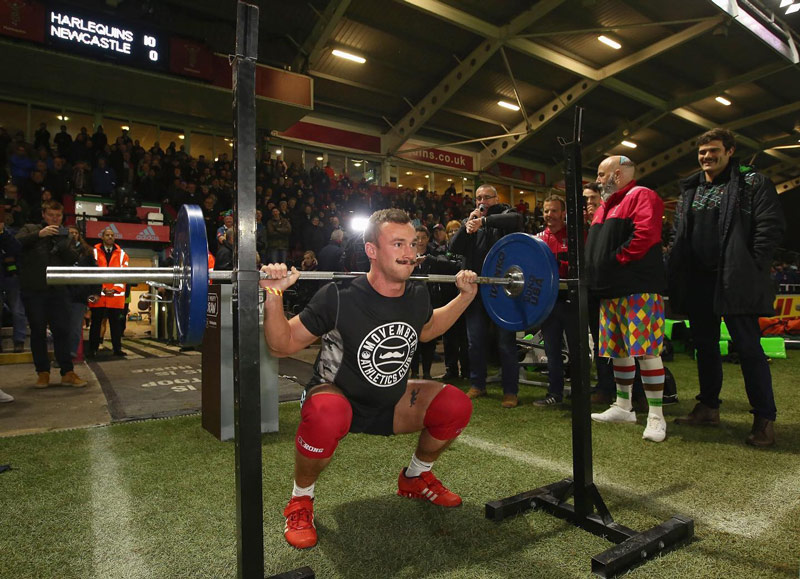 Squatting for Men Everywhere – Fergus's Story
SMB: So… Not your average bro-split? That's some serious specificity, bro. It certainly seems like you and your team haven't left a single stone unturned in your prep. The pure volume alone is something to admire in itself – never mind the impeccable programming.
But, it's not all about guts and glory, is it? You're also trying to raise money for a great cause. Can you share with us what it is and how SMB can help?
Fergus: My attempt is in partnership with the Movember Foundation, with the aim of raising £15,000 and raising as much awareness for men's mental health and suicide prevention as possible.
Why does this cause mean so much to me? Because in 2016, I attempted to take my own life, and firmly believe that had [if] I'd spoken openly about my struggles, and built up the courage to ask for help, I wouldn't have got to that stage.
My campaign is focused around the phrase 'Be a man of more words', as I am hoping to do as much as I can to help erase the stigma that men cannot talk about their mental health struggles. My battle came from a lack of fulfillment, in that my drive and focus was not stimulated enough by my situation at university that I felt like I had hit a standstill.
This was coupled with an unlucky college placement, meaning that It was difficult for me to find like-minded people – I suffered with depression for a year and a half, spoke to no one about it, and attempted to take my own life in May 2016.
My full story can be found here.
Be a Man of More Words
SMB: Wow Fergus, thank you for sharing your story with us and the SMB readers. We're extremely sorry to hear about your circumstances and glad you were able to fight your demons and become the strong young man about to crush a world record.
It's never easy to wear your heart on your sleeve like that – yet you do so anyway, giving encouragement to men everywhere. And that's exactly what you say you want to do, right? You want to "encourage men everywhere to be a man more of words." What do you mean specifically?
Fergus: In simple terms, I want every man to feel that they can talk openly about their challenges (whatever they may be) without the fear of being ostracized for doing so.
The courage to talk is a universal symbol of strength, not weakness, and if society can work towards a world where men can comfortably ask for help, then we can reduce the horror of the following statistics:
500,000 men take their own lives every year.
Every minute, a man dies by suicide.
¾ suicides are men.
Suicide is the biggest killer of men under 45.
BE A MAN OF MORE WORDS, AS TALKING SAVES LIVES.
SMB: Be a man of more words. Simple – yet so effective. With statistics as shocking as that we certainly should do more for our brothers to help change the stigma. We're all strong and beasts in the iron house, we know that for sure, so why sound talking about mental health change that? You're a wise and inspiring guy Fergus we'll give you that. How can SpotMeBro readers help the cause?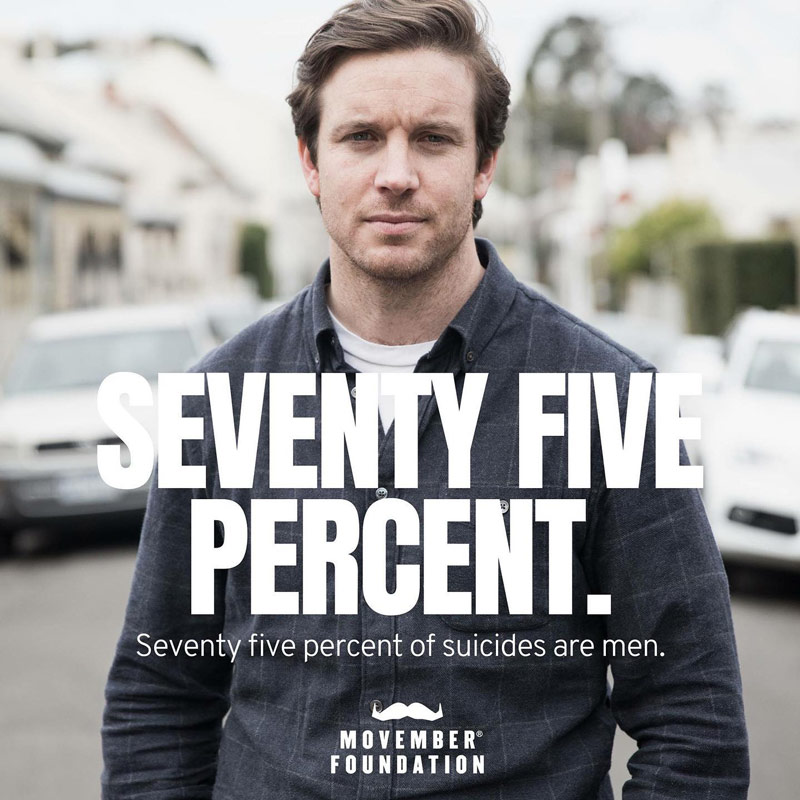 Fergus:
Any donation, big or small, is very much appreciated: https://mobro.co/ferguscrawley?mc=13
Follow and share my FB and Instagram @24hours_of_power
Tune into the live stream at 8pm (GMT) 12/12/2018 – 8pm (GMT) on 13/12/2018.
I am currently running a squat challenge in the following format:
Film yourself squatting your bodyweight on the bar for 24 reps (doesn't matter how long it takes).
Donate a minimum of £2.40 through the donation link: https://mobro.co/ferguscrawley?mc=13
Upload your video and nominate 3 or more people to do the same!
The details for the challenge is as follows:
CHANGE YOU DON'T NEED FOR CHANGE YOU DO
24 body weight squats for @24hours_of_power 24-hour world record squat attempt on 12/12/2018.
Post a video of you doing 24 squats with your body weight on the bar (doesn't matter how long it takes).
Copy and paste this description (but replace the nominees!).
Donate a minimum of £2.40 through: mobro.co/ferguscrawley?mc=13
Nominate 3 or more people to do the same ??
?All entrants will be entered into a prize draw on December the 7th to win a 2-night stay for 2 people at one of Nadler's prestigious hotels in London or Liverpool: https://www.facebook.com/nadlerhotels/ ?
(dates subject to availability*)
I nominate….
Fergus is attempting to squat 460,000kg in 24 hours to raise awareness and funds for the Movember Foundation, which he plans to do with 7,666 squats at 60kg. Last year over 500,000 men took their own lives, and 75% of suicides are male. Do your squats, donate to help spread the word that it's okay for men to speak out. All men should aim to be a man of more words. 
USE #24hoursofpower SO FERGUS CAN KEEP TRACK OF ENTRIES.
Follow his prep on Instagram and Facebook:
@24hours_of_power
https://m.facebook.com/24hoursofpower/
SMB: Thank you for speaking with us, sharing your story, and inspiring all us dudes to make a positive change Fergus. It's safe to say everybody here at SpotMeBro and all the readers hope you smash every single squat come December 12th!
We'll see you on the other side when you're a World Record Holder.
So, bros – let's take a rep out of Fergus's set and become "men of more words." Seriously, what an absolutely inspirational beast of a guy. Make sure to keep up to date with the manimal from Scotland's progress!
More muscle obsessed mental reps you might like: