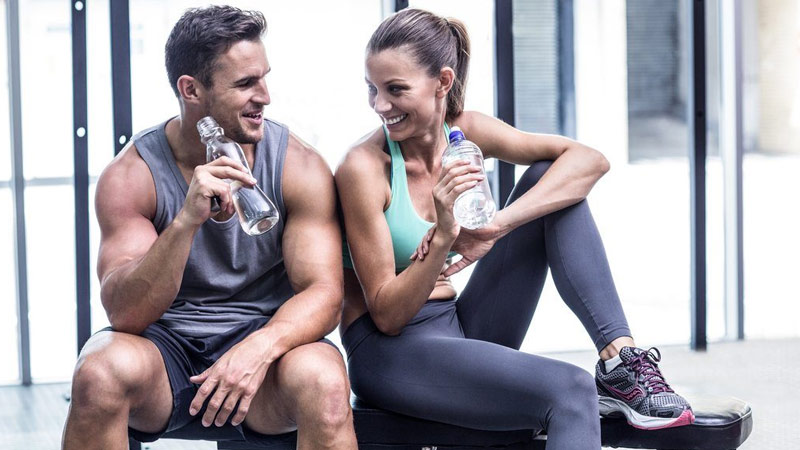 Want to break into the dating world but scared of skipping a gym session? Don't sweat, bro! Fitness dating apps and sites might be your answer. Here are SpotMeBro's top five fitness dating sites and apps to help you find your swole-mate today. Sorry, just gotta squeeze one more set in…
Top 5 Fitness Dating Sites & Fitness Dating Apps
#1 – Fitness Singles
Website – Free
First up, let's take it back to the old school. Because before people swiped right, they had to scroll down and double-click to find their dream deadlift partner.
Fitness Singles boasts the 'largest site for fitness dates and exercise friends.' However, bro, we've not checked the figures for ourselves – that'd be valuable lifting time.
Signing up is free, which is cool, meaning you can save your cash to buy fresh lifting straps for your date.
According to the site, you'll be entering the largest community of active singles. Apparently, this means you have more chance of finding a workout partner to tick all the boxes. No more awkward five minutes of silence after finding out they do (worship) CrossFit.
At SpotMeBro, we also thought this was awesome is a chance to get straight to the point. There's no asking for sh*tty star signs – it's fitness from the word go.
One of the first things you're asked is "what is your passion". There's everything from Bodybuilding to Ice Climbing to choose from, meaning you won't have to fish through a bunch of weedy endurance runners. What're you waiting for, bro?
#2 – Datefit
Website & App – Free
Couples that motivate each other stay together! That's what the guys and girls at Datefit say anyway, and who are we to argue? Nothing beats a dedicated workout partner kicking your ass through a grueling leg day.
Featuring founding members from Match.com and Gold's Gym, Datefit are 'creating a significant positive change in the way people think about finding a life partner.'
In short – they're hooking up fitness fanatics to find their perfect 'power partner'.
Signing up to Datefit is free – so you literally have nothing to lose. The hardest thing is uploading 10 of your favorite photos before browsing for a match as your 'Daily Workout'.
Find someone who could hang with you in the squat rack? Send a 'WOW' request to start chatting. With a premium subscription, you can even see who liked your pics.
Travel a lot? Us too, so another thing that instantly stood out to us was the ability to change city at no extra charge. Swish AF for when you're out of town and need someone smoking hot to share a gym session with, agree?
#3 – FITFCK
App – Free
FITFCK claims to be 'the new breed of fitness social app, that brings together regular gym goers, fitness professionals and fitness enthusiasts…' Yup – it's pretty much cupid on a cell phone for people obsessed with bicep curls.
FITFCK are also new kids on the block too, only being released on iTunes in 2018. The layout's sleek and inviting while operating well on our iPhone X.
Plus, there's no month-long waiting list once you sign up, unlike Sweatt (avoid). All you have to do is slam in your vital statistics like fitness level and location – then it's go time!
You can also keep your profile updated with progress pics and workout videos. If you're like us and constantly make gains this feature is something to consider.
#4 – Gymbud
App – Paid
Okay, while not technically a "dating" app, Gymbud still makes the list. Not only does it connect fitness enthusiasts, but it does so globally. Meaning no matter where you are in the world – you can find a workout buddy in no time.
Just as you'd expect the first thing you need to go is set up your profile. That means finding all your best bicep shots and swole pics, typing up a snazzy bio, and setting your location to entice other fitness freaks looking for love.
Once you're set to go – it's all about getting the thumb reps in. Similar to the infamous Tinder you swipe through other profiles until you land on a lifter you like.
While Gymbud wasn't initially created as a place for shredded singles to meet, the app has become quite the dating tool. "It's sort of taken a life of its own," said founder Colin Tilini, who also admitted there's been plenty of matches made in barbell heaven – if you know what we mean.
Unfortunately, Gymbud isn't free. While the fees are nowhere near high – it's definitely a put off for some.
If it is a problem, we suggest holding back on buying another Gold's Gym stringer, bro. Invest in your love life instead and you'll even be able to work out from home too. If you know what we mean…
#5 – Tinder
App – Free
Good ol' Tinder, right? Because if it ain't broke why fix it, bro?
According to the world's most popular dating app – 'Tinder empowers users around the world to create new connections that otherwise might never have been possible.'
That's what you're after, right? New connections with like-minded people who love pre-workout and long walks on the elliptical just as much as you do? Awesome – just checking!
With 1,000,000 dates per week in over 190 countries, you'd be hard stuck not to find a fitness freak to induce a new heartrate PR. At the time of writing Tinder experiences 1,600,000,000 swipes every day!
We know, right. Serious thumb DOMS for sure.
All you have to do is download Tinder to your phone, update your profile, and get swiping. You can even connect Tinder to your Facebook meaning there's less time wasted filling sh*t out. That's extra seconds to hit your hams ready for a date brother!
Plus, the location feature lets you know who's around in your area. As we've already said SpotMeBro love this sh*t because we're always traveling around. Just remember to change it back when you go home or else it'll be protein pancakes for one, bro.
The Last swipe on Fitness Dating Sites & Apps
So, bro, there you have it. No more awkward introductions in the gym lobby, trying to find 'the one' in supplement shops, and you can say goodbye to second-guessing if those are single-gains you're seeing in the squat rack.
With the power of the internet, your potential swole-mates are all out there waiting to be found. Who'd have thought there'd be more to WiFi than Facebook, checking out hotties on Instagram, and gym memes? Not us that's for sure, bro.
Our only advice is to be smart about your dating approach. Start out with light conversation and get to know your match before booking a three-week training holiday in Hawaii.
Don't ever feel like you 'have' to go on a date just because somebody's shown a spot of interest either. You never click 'buy' on every supplement ad in your inbox – so why a date? Don't feel bad if they don't tick all your boxes, bro. Save your precious time for the ones that go ass-to-grass every time.
Good luck out there, brother. Make sure to invite us to the wedding.
More muscle obsessed SpotMeBro material you might like: