Google Glass is a wearable computer with a heads- up display. It can be operated hands free via voice commands similar to a smartphone. This short video demonstration explains it best:

When we first learned about Google Glass, our minds couldn't help but drift to the potential implications for health and fitness technology. The category has already proven to be one of the most robust areas of development for traditional mobile apps. We have seen an incredible suite of exercise applications developed since the advent of the smartphone. Popular applications such as JEFIT and Runkeeper have revolutionized the way many individuals track and monitor their workout progress.
While these applications have always been useful, there is one glaringly obvious limitation, they require the use of your hands. Often sweaty, dirty, gloved, or otherwise occupied during exercise; it's just a pain in the ass to pull your phone out of your pocket and update your workout journal or check how many miles you've jogged.
We thought about the primary categories of fitness apps, and how they could be improved by a wearable computer like Google Glass. Here is our fantasy wishlist.
1. Hands Free Workout Journal
Hardcore weightlifters have long touted the virtue of simplicity in the gym, often preferring pen and paper to workout tracking apps. Although some of these apps have proven to be useful in recording and tracking exercise progress, there is still a bit of a disconnect when it comes time to interrupt your workout and record or view an activity on your smartphone. Sometimes things must first be made really complicated, before they can become simple again. A well designed hands free workout journal that could be accurately controlled by your voice would be a game changer.

Log my second set of standing barbell curls, seventy pounds, ten reps.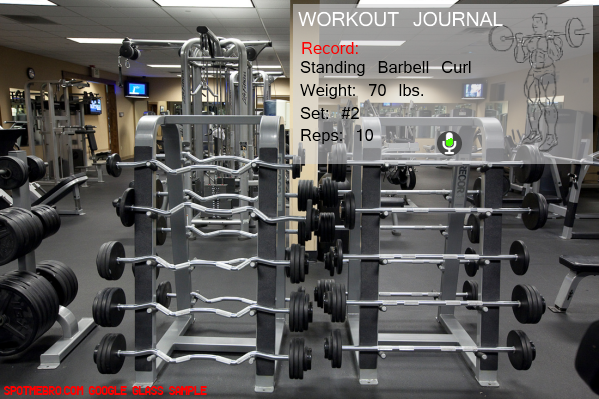 2. Hands Free Exercise Instruction
Imagine having hands free access to body statistics, custom workout routines, and a detailed exercise database. You could start a prescribed workout and not have to look down at your phone once. All the information you need would be right in front of you at all times as you request it and advance through the routine. This application could even display motivating information such as your previous rep counts and personal records for individual movements. Bonus points for being able to identify workout equipment as shown in the sample view below:

Please show me how to use this equipment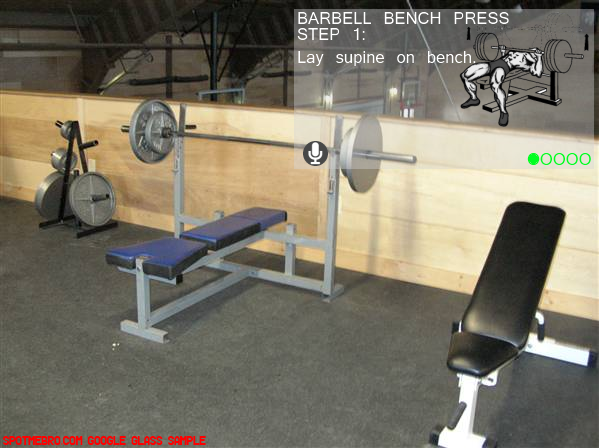 3. Hands Free Outdoor Fitness Tracking
A heads-up display RunKeeper would be sick! The possibilities are really endless when it comes to outdoor movement tracking. There is so much interesting data to be displayed when the GPS is involved; Maps, speed, distance, paths, personal stats, even virtual environments. You would feel like a fighter pilot, like Tom Cruise in Top Gun! Technology like this already exists in the snowboard helmet market, but having it done right on an accessible device like Google Glass might make its use ubiquitous.

How far have I jogged?


Sample Cycling Dashboard (Motorcycle, Snowboarding, Skateboarding, Driving? Unicycle, etc.)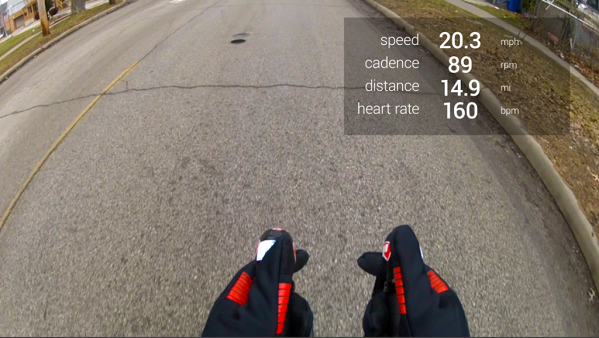 Sample "Ghost Runner" Dashboard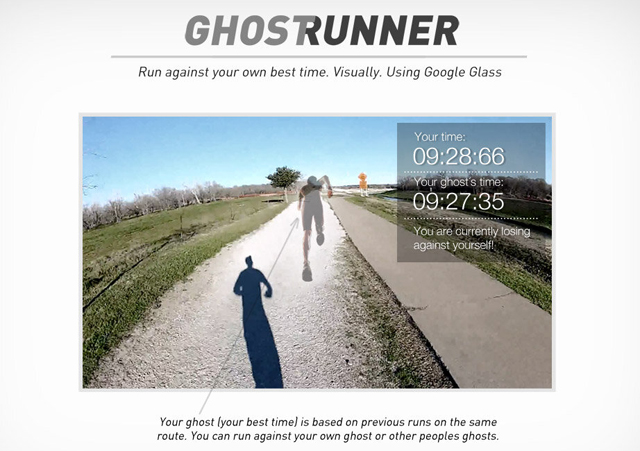 FAQ
Won't I look like a huge nerd wearing a head-mounted computer in the gym?

Yes. F**k it though, better living through technology.

Shut up and take my money! Where can I get one?

Google Glass recently closed a limited pre-order application. They are targeting consumer release by the end of 2013 with an expected retail price of around $1,500. To our knowledge, all applications discussed in this article are speculative and have not yet been built. The playing field opens up to developers on March 13th, 2013. We are hoping someone smarter than us helps us build these applications. If that's you, please tell us about it here.

$1,500? I live in my parents basement and only have $17!
What other uses can you come up with? Let us know in the comments below: