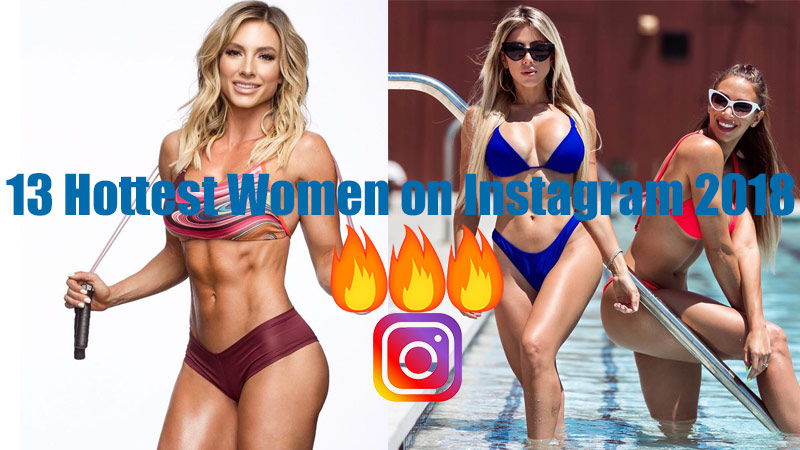 There's gotta be millions of hot women on the 'Gram, so coming up with a list of the top 13 was no easy task (we ain't complainin' though, bro!)
When we talk about 'hottest', we're not talking about how many followers each chick has – numbers don't always equate to fire.
Here's our list of the hottest female models on Instagram…
13. Mariza Villarreal – 1.2m followers
Formerly known as Nina Mercedez, the former pornstar may be pushin' 40 – but damn, Mariza is still fine!
The NPC Bikini competitor doesn't just work out hard in prep for competitions – she recently completed a grueling six-week booty-building regime to "achieve a certain look."
During this time, Nina was in the gym working on her glutes three times a week with a little cardio to shrink her weight to 155lb while maintaining her booty at a sweet 40 inches.
12. Daphne Joy – 1.2m followers
Daphne Joy is the ex-girlfriend of 50 Cent and Jason Derulo – and they both clearly have great taste in ladies. In fact, Daphne and Fiddy share a son, Sire Jackson.
One look at her lets you see she ain't just ridin' on 50 Cent's fame (or his d***).
With 1.2 million followers, Daphne regularly features on TMZ and the Daily Mail.
And pregnancy ain't ruined her frame either – thank God! It just goes to show how much work must go into honing that sweet booty – am I right, brah?
11. Sitora Banu – 1.6m followers
Born in '91, Sitora Banu is a Russian fitness model who now lives in Dubai.
She doesn't have any known links to famous rappers and was never a pornstar (pity, bro).
As we write this, Sitora is a brand ambassador for an online gym program and does a sh** ton of ads and promo stuff. But despite her lower media profile, her smokin'-hot beauty has won her more Insta followers than either Mariza Villareal or Daphne Joy.
Standin' at just 5′ 2″, Daphne packs incredible curves into her otherwise petite frame.
10. Lais Deleon – 940k followers
Lais Deleon has the least 'Gram followers on this list. So why is she on here? Just look at her, bro – damn!
After gaining weight in her late teens, Lais started training at 19 to keep her body "tight".
The Brazilian beauty saw her weight drop and her figure transform through serious hard work. Her dedication to the weight room means she's in the gym five days every week.
Wanting to inspire other chicks to get off their a****, Lais started posting photos on Instagram in 2013. Considering more popular models have been on the 'Gram for a lot longer, gaining just under a million followers in five years is no mean feat.
9. Yarishna Ayala – 1.7m followers
https://www.instagram.com/p/Bk3DEGJgYuF/?taken-by=yarishna
Also known as the Puerto Rican Queen, Yarishna made the switch from reality TV dancer to bikini competitor in 2012 at the age of 21. She won her first competition that same year when she was crowned Ms. Puerto Rico.
In 2013, she became the first Puerto Rican bikini competitor to gain her pro card after just a year in the sport.
That same year, Yarishna has won several other accolades. These include first place at Ms. and Mr. Puerto Rico and first place in the Tony Roman Bodybuilding event.
8. Emily Skye – 2.4m followers
Emily Skye's story is one of triumph over adversity. Her deadbeat dad left Emily and her mom when she was just two.
And despite growing up poor and with a ton of insecurities, the Australian set about becoming a model. But it wasn't until later that she started following a healthy lifestyle.
Fast forward to the present day and Emily is an icon to millions of chicks who respect her determination to succeed against the odds. It's also fair to say she's the object of lust to bros everywhere – f***** woof!
7. Jessica Arevalo – 2.6m followers
Jessica Arevalo began bodybuilding with her dad when she was 17. She says she fell in love with training straight away and claims she's never missed a single workout since. Jeez, that's some hardcore s*** right there.
Ever since she started in the weight room, Jessica has been training five days a week and hitting every muscle.
She goes by the credo that bodybuilding encourages a positive mental attitude and clears the mind – and you can't help admire Jessica's dedication.
This chick's attitude is bulletproof – she'd be a bro if she didn't have such a sweet rack.
6. Caitlin Rice – 1.4m followers
Caitlin Rice is a Canadian fitness model with some of the sweetest curves on the internet.
Some commentators have attempted to shame her for Photoshopping some of her Instagram images –  but just look at that a**! Photoshop or no Photoshop, that's a sweet booty. Search for Caitlin's name on YouTube and you'll see she puts a hella work into perfecting those glutes.
Caitlin became a fashion model in 2006, but soon tired of the unhealthy, partying lifestyle. After she went to college and became what she calls "skinny fat", she decided to make a change and finally get healthy.
In 2012, she started logging her progress on social media and attracted a large following among women inspired by her drive and enthusiasm for the grind. The Canadian is now a certified personal trainer and devises workout and diet plans for her clients.
5. Valeria Orsini – 4.2m followers
Valeria Orsini is originally from Atlanta, Georgia but is now based in Miami, Florida where she was raised.
The lingerie and swimsuit model doesn't go in for an aggressive approach to fitness. She says "slow and steady" is best – we like that too (you don't wanna come too soon, do you bro?)
Valeria started off as a boxer but soon gravitated towards other forms of fitness. Finding inspiration in her progress, she started uploading videos and offering diet advice to her growing fanbase.
The model now boasts a large community of fans who've achieved great results off the back of her advice.
4. Michelle Lewin – 13.2m followers
With 13.2 million followers, Michelle Lewin is the second most popular woman on this list – and it's not hard to see why she's well-known across the globe.
'Cuz by God, Michelle is hot!
The self-styled "fitness diva, cover model, and role model" has been on the cover of countless magazines, from Sports & Fitness to Muscle & Fitness and even Iron Man.
We're not fans of her decision to promote some potentially harmful diet pills, but this is a list of hot women – not a f****** moral code.
3. Anllela Sagra – 11.1m followers
Anlella Sagra started as a fashion model, but turned to bodybuilding after she became too skinny – the fashion world don't like strong women, the pussies.
After 12 months of hardcore training, the Venezuelan moved away from fashion and started competing – and she came third in her first event.
To achieve her amazing body, Anlella mainly focuses on her glutes (f*** yeah, bro!) with classic squats, deadlifts, and weighted kickbacks.
2. Amanda Cerny – 23.1m followers
With over 23 million followers, Amanda Cerny is by far the most popular babe on this list of the hottest female models on Instagram.
And if you like checking out chicks on Instagram (who doesn't, bro?), you'll have come across Amanda.
She began modeling at 15 and was Playboy Playmate of the Month in October 2011. Amanda is also pretty funny (for a chick) and regularly posts comedy bits for her massive following on YouTube.
1. Paige Hathaway – 4.1m followers
Paige Hathaway says she doesn't let Instagram rule her life – but that hasn't stopped her from gaining over 4 million followers.
Growing up in a trailer park with her grandmother, Paige started bodybuilding at 24 – and it would be her ticket outta dodge.
She then started writing to every magazine she could think of to share her thoughts on fitness until Women's Health invited her for a casting call.
You gotta respect that. Through grit and determination, Paige now has an estimated net worth of $2.5 million and is respected worldwide – that's the American Dream right there. (Nice a** too!)
Do you agree with our choices for Instagram's Hottest Women?
What did you think of this article? Think we missed anyone out? Leave your comments below: