Wedding Lunk Alarms are sounding in a Western Hills Planet Fitness, Cincinnati, as one of the years weirdest weddings takes place.
We're used to hearing about fitness based weddings, or even weddings that swing by McDonalds for a pre marital double cheeseburger (each to their own).
But a wedding at Planet Fitness?
Planet Fitness are known in the fitness world for being pretty shitty when it comes to their approach to fitness. With free Pizza, novelty alarms and a disdain for serious lifters you can sort of see why.
So why would you really want to get married in this budget gym?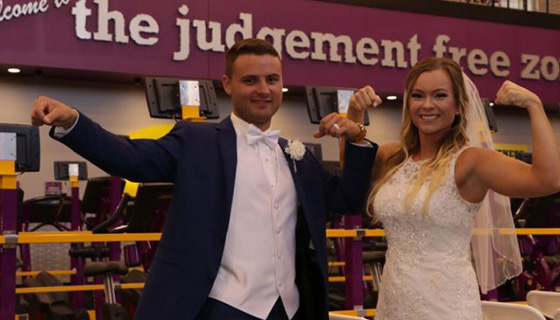 The happy couple, Joe and Stephanie met at their local Planet Fitness. And would often use the gym as a 'hang out' spot after dates. Romantic. But we really hope by 'Hang out' they mean exercise.
After reaching out on Facebook to Planet Fitness to tell them the love story that unfolded in the sea of Purple and Yellow gym equipment, they finally agreed to hold the ceremony there.
Great news for the happy couple and great news for anyone who didn't want to go the gym that day!
The gym was closed and the ceremony went on with everyone in full wedding attire.
Judging by the photos and what they were wearing it looks like they just held the wedding there, and there was no consummation in the form of quiet and careful deadlifts.
We hope the happy and healthy couple enjoyed their big day and that Planet Fitness sounded a lunk alarm or 500. Plus provided a fattening pizza buffet for the guests. Obviously.