The Amiigo Fitness Bracelet is a pretty cool little device that can measure and track specific exercises, reps, and sets. Amiigo also tracks heart rate, blood oxygen levels, skin temperature, overall activity level, and calories burned. The device consists of a bracelet (captures upper body movement) and a shoe clip (captures lower body movement) which allows for detailed exercise identification and tracking when used together or independently. The team over at Amiigo intended on completely redefining fitness tracking which has been notoriously inconsistent thus far, Cough, Nike Fuel Band, ehem.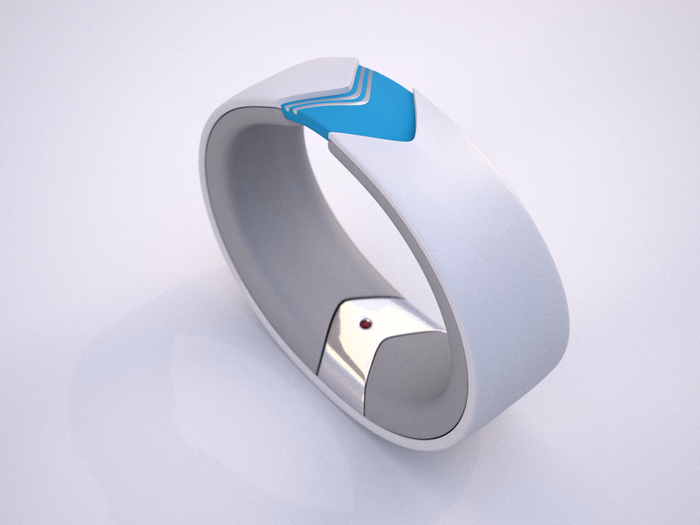 We want to replace the clipboard where you record your movements, we want to do that automatically, and build a platform where you can share that with your friends. -Co-founder David Scott
What really set this device apart and sparked our interest is the exercise identification technology. Imagine being able to automatically track and record your next chest day in the gym. Bench press, incline bench press, pec deck, they're all there. Amiigo can identify over one hundred different activities and then correlate these activities with physiological information such as heart rate and blood oxygen saturation to provide insights into your workouts. Our main functionality concerns were regarding the accuracy of the exercise identification technology. Amiigo co-founder David Scott provided us some more information into how it works, "Each activity creates an acceleration signature, when you perform a movement, we take your data, compare it to our database, and match it to the most similar movement. "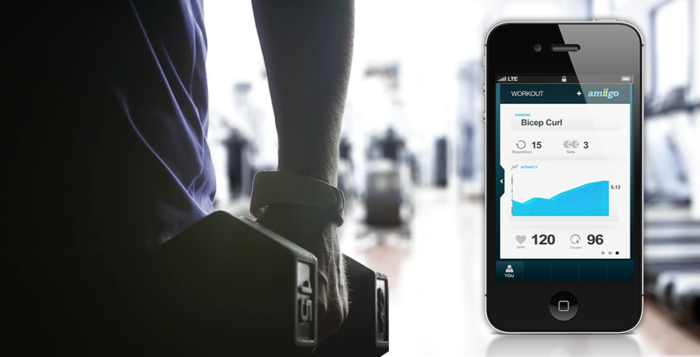 Amiigo is very accurate, it can identify the difference between a hammer curl and a standard bicep curl. – Co-founder David Scott
Amiigo also allows users to create and record their own unique movements, which may come in handy if you do a lot of non-conventional weightlifting maneuvers. After a user records an exercise, it will be automatically recognized in future workouts.

Yes, Even Leap-Frog Cable Presses
According to Mr. Scott, "The system can also identify poor lifting form and show demonstrations of how the movement is supposed to be performed. It can make recommendations based on range of motion and say, we noticed you were doing this, you should be doing this." He believes Amiigo can provide insights that will motivate people to push their limits, "A lot of people for example don't squat, nobody wants to squat, because squats hurt. We're going to show you with data, how your body is responding better to certain exercises. You can compare how certain exercises are pushing your body."
The bracelet and shoe clip connect using Bluetooth 4.0 and are compatible with iOS and Android phones. Amiigo has its own internal memory storage so it can also save a few hours of data without the phone. This thing is completely waterproof and can even be used for swimming. Amiigo will also have a social side, allowing you to compete with friends, share on social networks, achieve your goals, and earn points.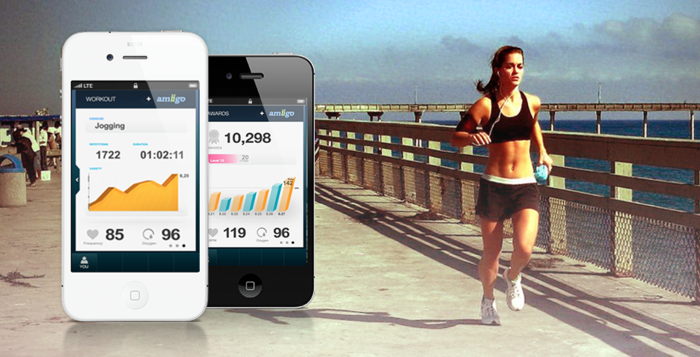 This project is currently under development and accepting pre-sale orders on Indiegogo.
Indiegogo is a crowdfunding platform where people who want to raise money can create fundraising campaigns to tell their story and get the word out.
(No Affiliation)
Google+ profile.