It's December 25th and you know what that means, bro. Yup – it's time to tear off the paper and go get them gift gainz son! Don't let the holiday season compromise your goal to get swole. Here's a high-protein recipe for every feed on the festive day.
SpotMeBro's Merry Muscle Menu
Breakfast: Scrambled eggs and garlic roasted sprouts w/ cinnamon bagel and cottage cheese
Mid-morning snack: Gingerbread protein shake
Late liftmas lunch: Turkey sub w/ cranberry sauce, mashed potato, and gravy
Christmas dinner: Root beer glazed roast ham, roasted sweet potato and butternut squash, steamed seasonal sprouts and broccoli, sautéed mushroom and spinach, topped with turkey and bacon gravy
Is your mouth watering and gut rumbling yet, bro? Let's get those fork reps in Christmas style…

Breakfast: Scrambled eggs and garlic roasted sprouts w/ cinnamon bagel and cottage cheese
All that present opening is gonna require some serious fuel, bro. So, stack those eggs high and sprinkle a festive twist by throwing in a cinnamon bagel.
How to do it:
Break three large eggs into a bowl and whisk them up – leave the yolk in, it's Christmas bro!
Once there's plenty of air bubble action happening, set them to one side
Grab a handful of sprouts and chop them into chunks
Then pick a largeish clove of garlic and dice it fine, before doing the same to some fresh chive
Throw the garlic and sprouts into a small roasting dish with a splash of olive oil, cover, and place in an oven heated to 360 degrees
After the sprouts have been roasting for 10-12 minutes, heat a tablespoon of olive oil in a pan
While the pan is getting hot, re-whisk your eggs and add a pinch of salt. Ho ho ho, grind up some fresh black pepper for the mix too
Once the pan is ready add your eggs and cook 'em just as you like. Meanwhile, cut a cinnamon bagel in half and toast it under the grill
To serve, top the bagel with cottage cheese sprinkled with chopped chive. Then add your eggs to the side before finishing with a covering of roasted sprouts
That's a tasty way to start the muscle building day, bro!

Mid-morning snack: Gingerbread protein shake
It's 11 am and you're already feeling the holiday hunger. It's time to stay anabolic while building the most jacked snowman the neighbors have ever seen. Slurp this seasonal shake to refuel after a hard morning's fun.
How to do it:
Chop up two bananas and add it to a blender with 1 ½ cups of milk and a scoop of protein powder. Blend until smooth
Next, spoon in ½ tsp of ground ginger, cinnamon, vanilla extract, and 1 tsp of cocoa powder. Again, blend it all up until smooth
It's as easy as that, bro. Time to get back outside and claim your crown as the snowball king

Liftmas lunch: Turkey Ezekiel sub w/ cranberry sauce, mashed sweet potato and gravy
Is it really Christmas without turkey and mashed potato? We don't think so, bro. You shouldn't have to wait till dinner to enjoy them either. Why? Because turkey is super high in muscle building protein of course. There's even a healthy dose of complex carbs in sweet potato mash too.
How to do it:
Be smart and set your turkey on a slow roast from early in the morning
While the turkey is finishing it's final 30 minutes in the oven, skin and slice a large sweet potato. Once it's ready to go – steam that sweet sucker until soft.
Add the soft sweet potato and spoon in a tbsp of full-fat butter. Mash it up good with salt, pepper, and rosemary. Maybe add a splash of whole-milk too for extra creaminess
Heat up a pan of gravy. If you're a fan of onion – slice a small white shallot and sauté with brown mushroom in the pan first
Take the turkey out of the oven and carve a tender serving. Unless you're a savage of course, and just tear it off. If you're on a big bulk you can leave the skin on, otherwise, take it off
Place the meat in between two hearty slices of Ezekiel bread. Top with creamy sweet potato mash, thick juicy gravy, and cranberry sauce.
Note: Save any leftovers and don't throw away the wings

Christmas dinner: Root beer glazed roast ham, roast turkey, roasted sweet potatoes, butternut squash mash, steamed seasonal sprouts and broccoli, sautéed mushroom and spinach w/ garlic and pine nuts, topped w/ chicken and bacon gravy
You know what time it is, bro! Here comes the high-protein big show. We're dishing up a traditional Christmas dinner just like your moms but with a muscle building focus.
After all, we all want the gift of gainz this year, so why should dinner be different?
How to do it:
Root beer glazed ham
Stir together root beer, brown sugar, ketchup and mustard in a pan over medium heat. Keep stirring until the glaze thickens and reduce to half the amount
Cover the ham with 1/4 of your root beer glaze and roast it in an oven preheated to 325 degrees. After 15 minutes, pull it out, and top it off with another ¼. Repeat this process until all the glaze has gone
Roast until completely cooked through
Roast turkey
Remember the turkey you roasted earlier? Any leftovers need to end up on your plate right now. We're piling on the protein with this meal so don't skimp on the bird
If you're feeling like a change up there's always the option of grilling your leftovers with seasonal herbs and spices
Roasted sweet potatoes
Peel a large sweet potato and chop it into large chunks
Drizzle with a small amount of oil (olive, coconut, or MCT) and add to a plastic container with a sprinkling of basil rosemary
Shake the box until the potato is completely covered in herbs
Add to an oven safe dish, cover with foil, and bake until tender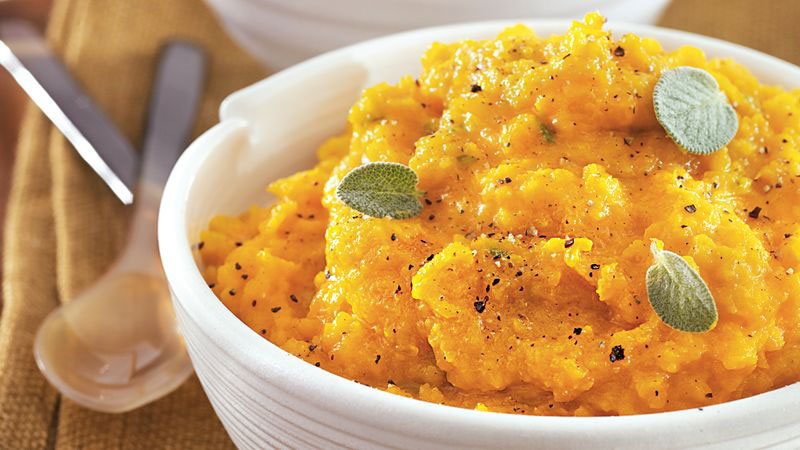 Butternut squash mash
Remove the tough skin from the squash using a sharp knife
Split that sucker in half carefully using a large knife and spoon
Take out any seeds and stringy innards – you're not gonna need these
Chop the squash into chunks and add to a steamer on high heat
Once soft, remove from the steamer and throw into a large bowl
Mash away, adding butter as you go until you've found the right consistency for yo' taste buds
Drop a pinch of salt and pepper into the mix to taste
Steamed seasonal sprouts, broccoli, and green peas
Using a sharp knife, slice a handful of broccoli florets from the stalk. Put them to one side
Next, grab a handful or two of sprouts. Slice away the hard husk from the bottom of each one and remove the outer layer
Gather up ¾ a cup of fresh green peas and shower them under the kitchen tap
Toss everything into a steam pan and, you guessed it, steam until everything is still firm and dark green in color
Sautéed mushroom and spinach w/ garlic and pine nuts
Chop a cup of mushrooms into hearty chunks and place to one side
Next, grab a largeish clove of garlic, remove the husk and skin, and chop finely
Wash two handfuls of fresh spinach – if you've opted for the full leaf kind maybe slice it up a little
Heat up a teaspoon of olive oil in a pan. When it's nice and hot add the garlic first, then the mushrooms, and stir every 10-15 seconds for two minutes or so
When the mushrooms start to become bouncy and cooked through – toss in a tablespoon of pine nuts and two handfuls of spinach
Mix everything together until the mushroom and spinach is fully cooked
When it's ready, turn off the heat so you can give it another blast upon serving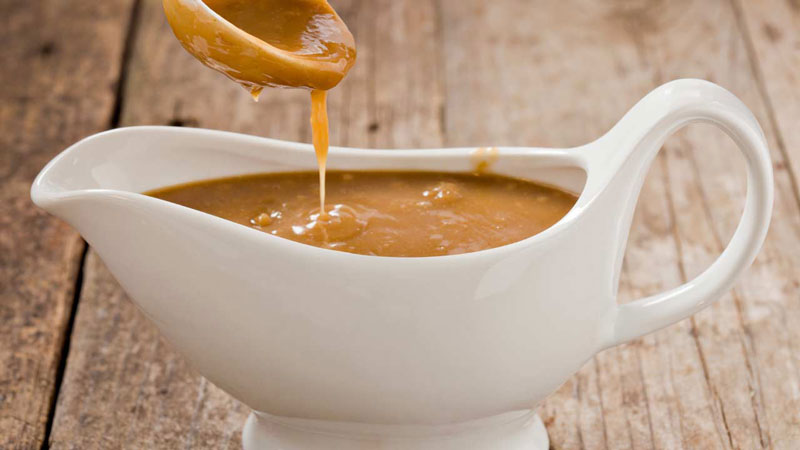 Chicken and Bacon Gravy
Buy a tub from the store and throw it in the microwave oven…
Just kidding, bro! Here's how to do it for real…
Remove the skin from an onion, one carrot, and one stick of celery. Chop all the vegetables into chunks and add to a roasting dish w/ a touch of olive oil
Crush a few sprigs of rosemary and throw on top too
Take two slices of bacon and add on top of the fray
Still got turkey boy's wings? Yup? They're gonna go in too
Finally, season it all with black pepper before baking for at least an hour
Now it's time to get down 'n' dirty!
Grab the mixture from the oven, throw it into a hot pan, and mash it up homie
Stir in a tbsp of plain flower to thicken it all up
Next, drop in a liter of boiling water – keep stirring
Simmer on low heat for about half an hour – stir occasionally
Grab a sieve and pour the contents of the pan into a big-ass jug
Don't be afraid to use the back of a spoon to push all the juicy goodness through
Give that sh*t a taste test and add any seasoning
Stare at your creation with a watering mouth for a few minutes
Dishing it all up
Make sure everything is piping hot and place on a warm plate
Drizzle with juicy gravy
Feast
Get all kinds of North Pole swole!

Happy holidays our hench amigo
There you have it, bro.  A complete foolproof fan to making a king in the kitchen this holiday. Plus, you won't have to sacrifice your protein gainz for the sake of Santa.
We know it ain't the leanest, but come on bro, it's Christmas. To make these recipes less 'dirty-bulking' you can always leave out the olive oil and butter. The main point is to load them with high-quality complete proteins.
Happy holidays our hench amigo. May Mr. Claus bring you all the beef-caking gainz this year.
More merry muscle material you might like, bro: