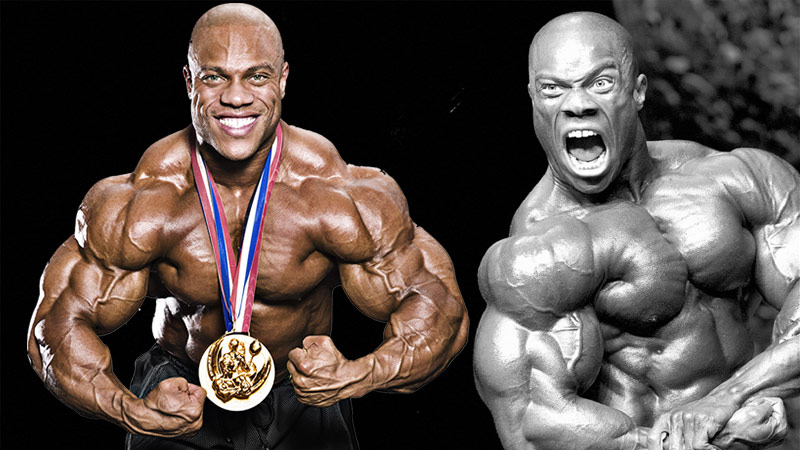 Phil Heath is more than just a mere man. He is the confident, brash, and some would say cocky, king of bodybuilding. Some might say he's a global sensation in the sport. Others might say he's even more than that. 
So far "The Gift" has won every single Mr. Olympia competition from 2011 – 2017. And at a current total of 7 straight victories, he has already surpassed Arnold Schwarzenegger's 6.
If he steals the top spot again this year, he'll have dominated for a staggering 8 in a row. Only two other men have ever achieved this feat – the legend Lee Haney and "The King" Ronnie Coleman.
Heath is confident that he will reign supreme gain. So much so he's previously told the New York time he'll have no problem taking 10 titles. Permitting he faces no serious injury, Phil believes he is on course to be the greatest ever.
To the outsider, this might seem like a sweeping statement thrown around by a cock-sure sports star. But rest assure Phil Heath has beat the best of 'em, bro, and he knows it. Let's not forget about his infamous rivalry with Mr. Monster Calves himself Kai Greene, or how he reclaimed his defeat to Flex Wheeler so early into his career.
Profile: Who is Phil 'The Gift' Heath?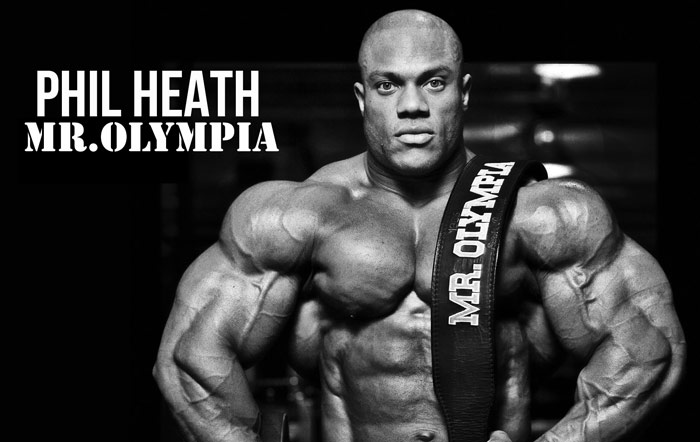 Name: Phillip Jerrod Heath
DOB: 12/18/1979
Birthtown: Seattle, Washington
Hometown: Denver, Colorado
Height: 5′ 9″
Competition Weight: 225 lbs
Off-Season Weight: 280 lbs
Instagram: 2.8m
Twitter: 311K
Athlete Stats: "The Gift" in Numbers
Arms: 22″
Legs: 32″
Calves: 20″
Neck: 18.5″
Waist: 29″
Competition Record:
2003 Northern Colorado State, Novice, Light-Heavyweight 1st and overall
2003 NPC Colorado State, Light-Heavyweight, 1st
2004 NPC Colorado State, Heavyweight, 1st and Overall
2005 NPC Junior Nationals, HeavyWeight, 1st and Overall
2005 NPC USA Championships, HeavyWeight, 1st and Overall
2006 Colorado Pro Championships, 1st
2006 New York Pro Championship, 1st
2007 Arnold Classic, 5th
2008 IFBB Iron Man, 1st
2008 Arnold Classic, 2nd
2008 Mr. Olympia, 3rd
2009 Mr. Olympia, 5th
2010 Arnold Classic, 2nd
2010 Mr. Olympia, 2nd
2011 Mr. Olympia, 1st
2011 Sheru Classic, 1st
2012 Mr. Olympia, 1st
2012 Sheru Classic, 1st
2013 Mr. Olympia, 1st
2013 Arnold Classic Europe, 1st
2014 Mr. Olympia, 1st
2015 Mr. Olympia, 1st
2016 Mr. Olympia, 1st
2017 Mr. Olympia, 1st
The Road to Mr. Olympia – Phil Heath's Story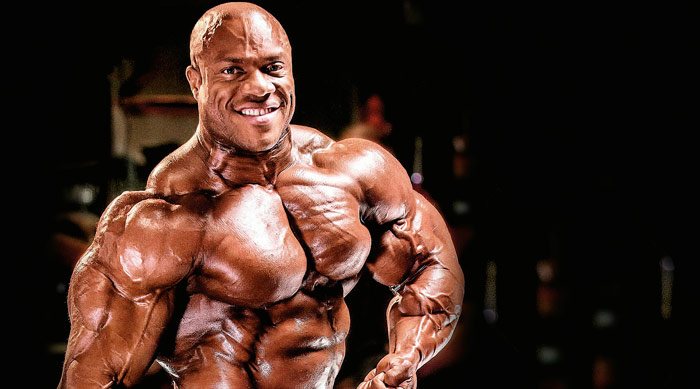 Basketballs to Barbells
Heath didn't curl his way out of the womb with already striated bulging biceps. It wasn't until later in life that 'The Gift' decided to dedicate his entire being to the selfish iron.
In actual fact, his first sporting passion could be found in team sports. Something much faster paced and explosive than the bodybuilding stage.
Born and raised in Seattle, Washington, the 7x Mr. Olympia was an avid basketball player. His genetic gift for athleticism and natural strength made him ferocious on the court, ultimately gaining him a full university scholarship.
After proving his worth playing varsity, Heath gained a scholarship with the University of Denver. During his time at the educational institution, he filled the sneakers of point/shooting guard.
According to the IFBB champion, Phil learned many lessons on sportsmanship playing Division 1-A basketball. Something Heath would commit his athletic talents to from the year 1998 until 2002.
Finding Bodybuilding
Phil Heath left university with a double major in IT and Business. Graduating with an overall 1.3 average across four seasons.
But, once university was over, playing basketball every day was no longer an option. Consequently, a highly motivated athletic young man had to make a choice. Did he look for a new challenge to fuel his competitive drive, or end his sporting career once the classroom door shut?
Drawn by the intense training and ferocity of competition Phil found bodybuilding. Yet, it wasn't by walking into a gym inhabited by freakishly inhuman monsters of men. Rather in the pages of bodybuilding magazines and University gym.
It wouldn't be long before 'The Gift' took his already shredded 175 lb frame to a steely stacked 200 lb. Unlike many recent grads who pile on the pounds through stress and bad eating, Phil was an exception. This mass was strapped onto his legs, arms, and shoulders in the form of lean mean granite chiseled muscle.
Phil Heath had found his calling. Instead of shooting hoops he immersed himself in the iron game. Giving nothing less than total commitment to the act of picking sh*t up, putting it down, and crafting a mythical Godlike physique.
The Calling of Competition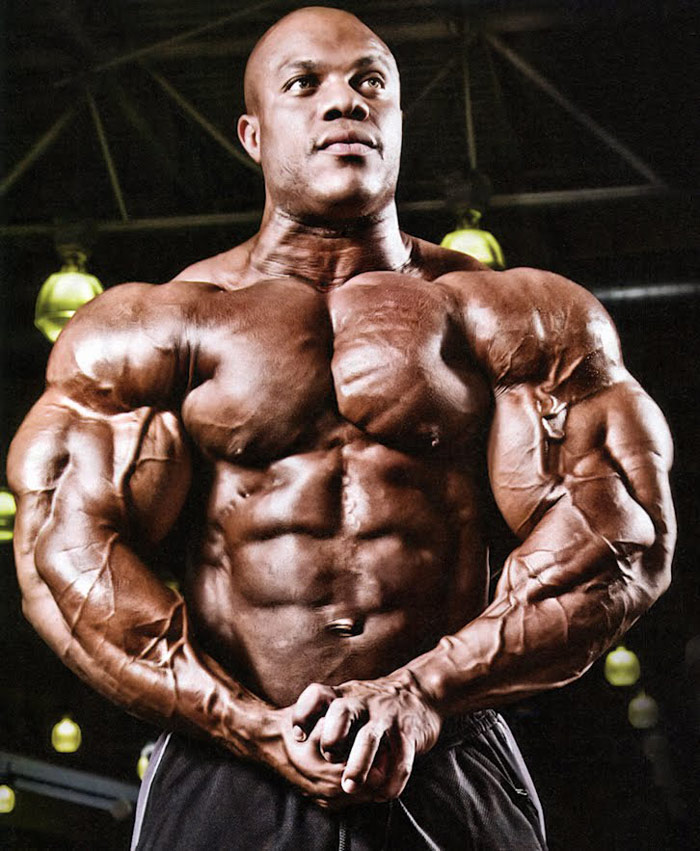 For Phil, bodybuilding competition was inevitable. Not much time would pass before he started to make noise on the regional scene. Winning smaller local competitions suddenly became his specialty.
Many credited such early success to Heath's genetic predisposition to getting jacked. Narrow joints and long attachment are the ideal makeup for optimal proportion and swollen muscle bellies. Heath had it all, hence, being adequately nicknamed 'The Gift'.
Phil's first competition was The Rocky Mountain NPC USA Championship "Northern". Here he would enter the pool of physique talent with a mighty splash by stealing the title. All whilst weighing nothing more than 192 lb, which is considered light-heavyweight by today's standards.
Eight weeks later 'The Gift' decided to prove beginners luck wasn't at play by competing again. However, he ultimately missed out on the top spot by just one point.
Knocked back but not held down, Phil decided to make a change. Rather than rely on his superior almost lab-generated-like genetics he would train smarter. He would employ his academic mind into studying the art of swole. He would return bigger, better, and stronger, yet a whole lot smarter.
Turning Pro
By 2005 Phil had entered the IFBB Pro Ranks. After being crowned Mr. Colorado at the NPC Colorado State Show in 2005, he would then reign supreme at the NPC USA Championships.
This victory was a pivotal point in the career of 'The Gift' because now he had secured his pro-card and the right to compete on the IFBB stage. Heath would be quite literally standing shoulder to shoulder with the behemoths of bodybuilding.
In the following year, the soon to be Mr. Olympia would win his first two outings as a professional. He respectfully took the crown at The Colorado Pro Championships and The New York Championships by wowing the judges with his 3-D effect like physique.
Then in 2007 Heath would finally compete at the coveted Arnold Classic. Yet, rather than topple the tables once again, Heath faced his first major defeat. He came in at a respectable 5th place behind the best in the game.
Entering the Mr. Olympia Arena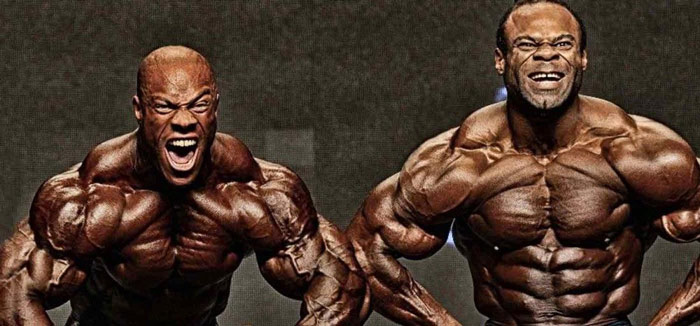 Mr. Olympia first saw Phil Heath take to the stage in 2008. He would take 3rd place that day falling short behind Jay Cutler in 2nd, and Dexter Jackson out front for 1st.
However, true fans on 'The Gift' will actually know he qualified the previous year in 2007. Yet, because he wouldn't show anything less than his best self, Heath declined the invitation.  According to the athlete, he needed extra time to further improve his form.
Fast forward to 2009 and Heath is back on the Olympia battleground once again. But it wasn't to be the return he hoped for as he finished 5th overall.
Similarly, the next year would also be challenging. Again 'The Gift' would be beaten Jay Cutler but this time for the top position.
Finally, Phil Heath would officially be crowned Mr. Olympia. Because of his tenacity and sheer determination he was able to take what he had always desired – the title of the best bodybuilder in the world. For the last 7 years, no one has been able to dispute that as fact.
Standing out from the Rest
First of all, there is not a competitor on the planet with definition quite like 'The Gift'. His physique is like two masterpieces painted on top of one another, but somehow managing to coexist together.
According to Heath; "I produce a three-dimensional effect that others don't have". "Detail on top of detail," says the champion, "different dimensions of crevices."
Consequently, it's Heath's dedication to detail that holds him in high esteem amongst those who matter. Admittedly, the reigning king himself says he is riddled with anxiety over imperfections and imbalances, yet bears all for the whole world to marvel at.
When speaking to the New York Times co-owner of Mr. Olympia said Phil's success is down to being a complete package. "It's not just one body part," he says, "some athletes have huge legs or a great pair of biceps. Phil beats you not with one pose, but with every single pose."
In a recent video clip, 'The Gift' told fans what they can expect for Mr. Olympia 2018. He pulled no punches in saying he would be ready to wipe the floor with the competition. Because when he strides onto the stage, we're about to witness the best Phil Heath we've ever seen.
Finally, do you think Phil has what it takes to win his 8th Mr. Olympia in a row? How about making it all the way to 10? Let us know in the comments.
Has this feature got your mind primed for more muscle obsession? Check out: