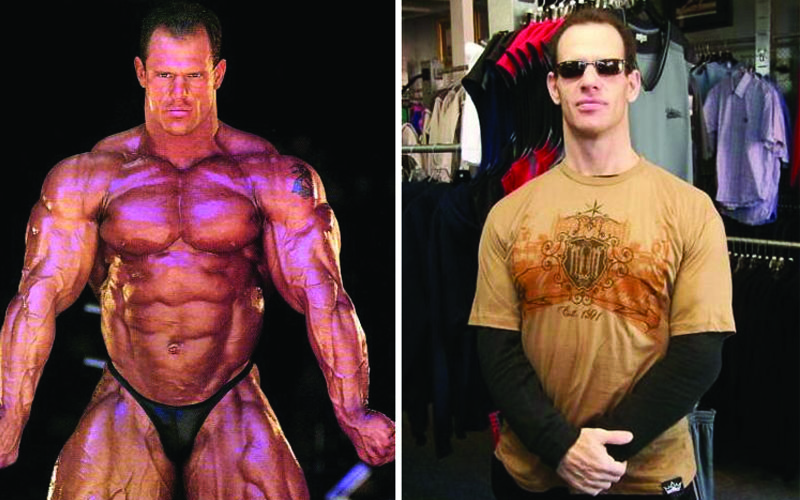 Bodybuilding isn't for everyone, that's the cold hard truth. You need to have a special mental drive, have a laser-like focus on your goal and even with all that you still may not make it. That's not even mentioning the sacrifices you need to make and the ferocious competition you need to beat to even come close to a big stage like Mr. Olympia. In short, the odds are against you from the get-go.
But let's say you make it to the big stage against all odds. You are what little boys dream of becoming when they grow up, you are the muscle monster what Flex magazine covers are made of. I got bad news for you bro, the gains don't last forever. When the spotlight fades away, father time will start knocking on your door to take your gains away, like a gain stealing goblin that he is.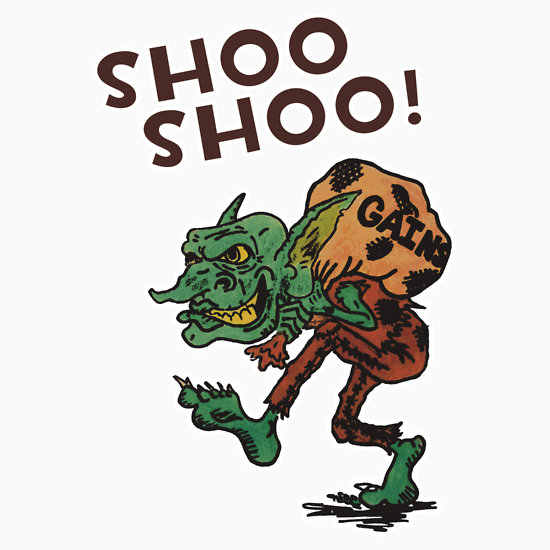 Such is the case with the men that we will talk about in this article. They had it all but "easy come and easy go" and now they look nothing like they once did.
1. Mustafa Mohammad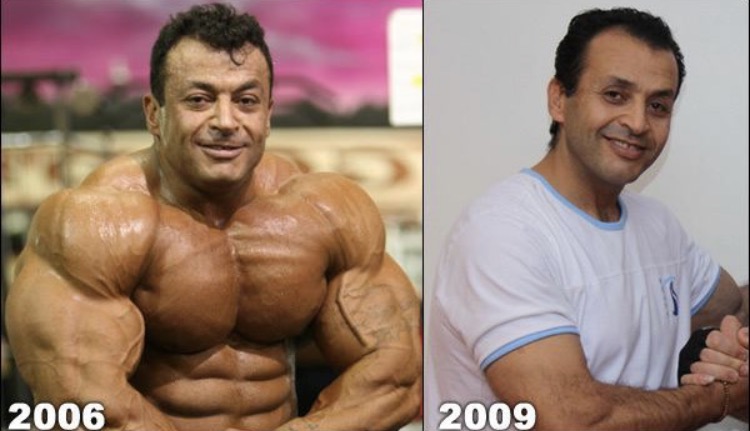 This Jordanian-born Austrian was a high-level competitive bodybuilder who first started competing in 1989 and did so for a few years before disappearing for nearly a decade from professional bodybuilding, until his return in 2001.
He competed frequently up until 2006 when he retired at the age of 38 and focused on running his own gym in Vienna.
His best results were a 10th place finish at the 2005 Mr. Olympia, 7th at the 2006 Arnold Classic. His best asset was his juicy thighs and thick chest. His gains didn't last long as you can see by the photo above, which was taken in 2009.
2. Dorian Yates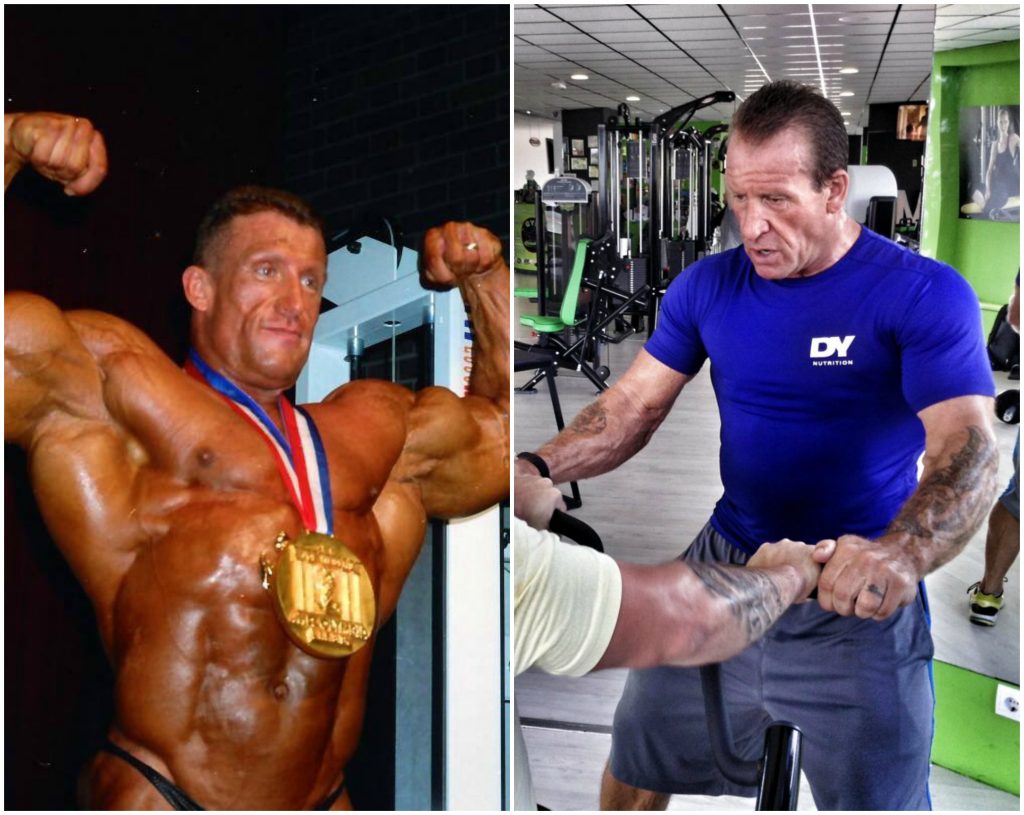 England's finest, one of the first mass monsters of today's bodybuilding. You know his story and his accomplishments, no need to do his bio. He was Mr. Olympia six times over, ranking among the all-time greats just behind Ronnie Coleman (eight consecutive wins), Lee Haney (also eight consecutive wins) and Arnold Schwarzenegger (seven wins) in Mr. Olympia and bodybuilding history.
He started competing in 1985 and retired in 1995 when he won Mr. Olympia for the sixth and final time and went out on top. These days he focuses more on spirituality rather than building the body.
How does he look these days? Well, not bad for a 50-year-old but rather small compared to his glory days.
3. Jean Pierre-Fux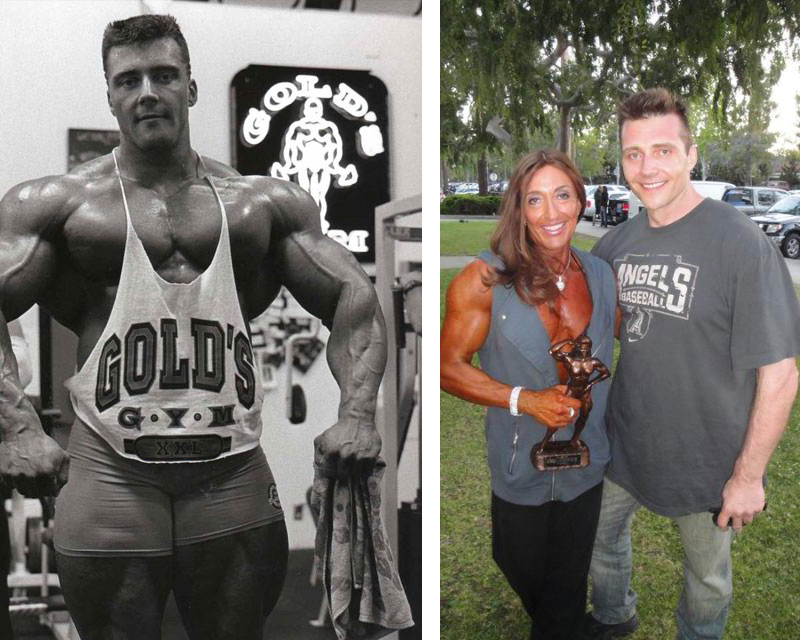 Jean Pierre's story is a rather sad one. He was one of the mass monsters that started to emerge in bodybuilding during the late 90's. Unfortunately, his career as a competitive bodybuilder was cut short by horrible accident.
In 2002 he was doing a photo shoot for Flex magazine and started doing a set of very heavy squats with 675lbs on his back. As he squatted down he was unable to get up. With the spotter not being close by, the weight came crashing down and suffered extensive damage to both of his knees and quads.
He was hospitalized for two weeks before being released from the hospital. He wanted to continue training and compete one day, but it was not meant to be and slowly he began coping with the fact that he will never be a competitive bodybuilder ever again. He picked up bowling and lives a quiet life away from the media's prying eyes.
4. Kenneth "Flex" Wheeler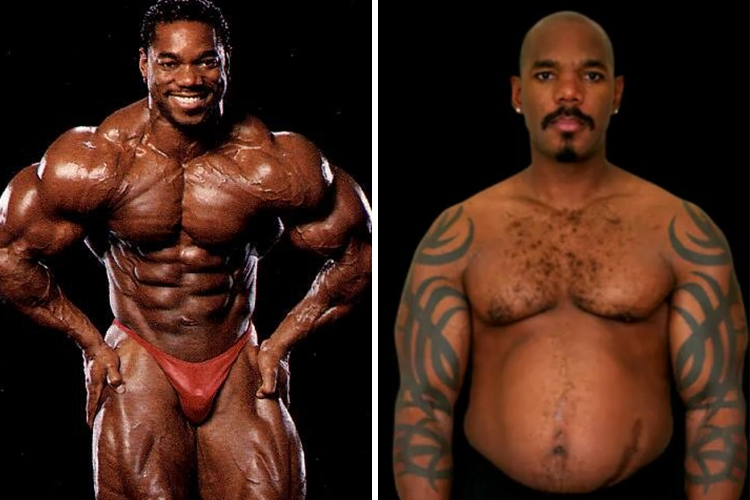 Wheeler is often mentioned as having one of the best physiques in bodybuilding history. In fact, both Arnold Schwarzenegger and Ronnie Coleman have stated that he is the greatest bodybuilder they have ever seen. He looked like something Stan Lee would create to battle The Hulk. A picture perfect set of six pack abs, giant symmetrical arms, and tree trunk thighs.
He started competing as an amateur 1985 with a first place debut at the Teen America contest and made his pro debut in 1993 at the Ironman Pro Invitational contest, debuting once gain with a first place finish.
He competed fairly regularly during the 90's, always finishing in the top 10 or top 5 with his best result being a two-time runner-up at the Mr. Olympia in 1998 and 1999. He called it quits in 2002 due to battling a kidney disease and wanting to focus on his first love, martial arts.
His recent pictures show him looking out of shape and being nearly a shell of himself. However, this year he's planning on making a comeback at the age of 52.
5. Chris Cormier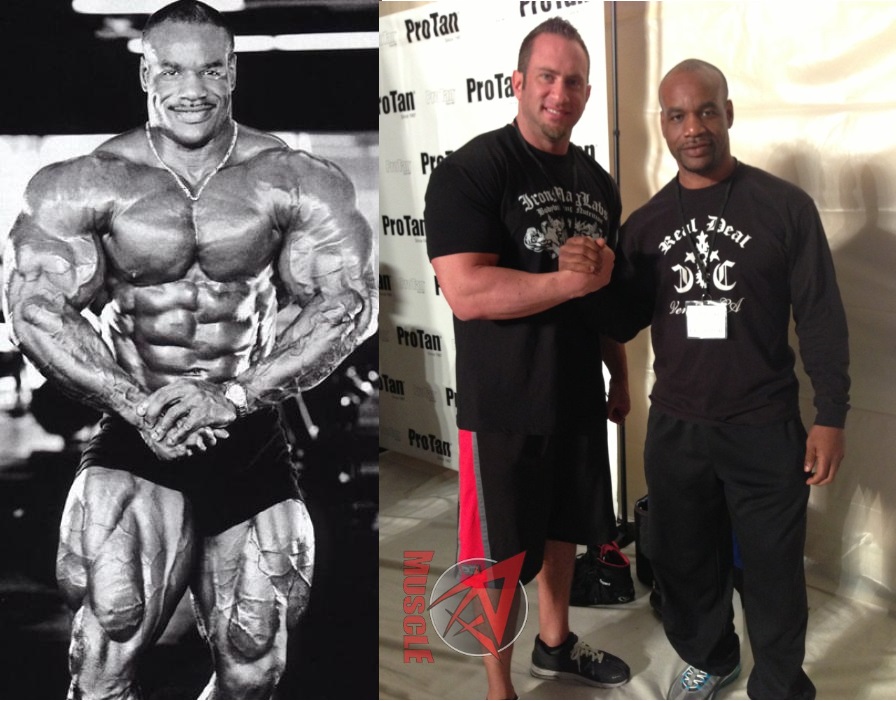 California's finest, Cormier first started competing as a light heavyweight in the NPC Teen Nationals in 1987, finishing at first place. That started a long and rich career of competing at the biggest stages of bodybuilding, including Mr. Olympia.
His Wikipedia page states that in the 30 years he was active as a bodybuilder, he competed in 72 IFBB competitions, of those 72 he was a runner up 12 times, including six times at the Arnold Classic.
In 2006 he suffered an infection of the spine due to being a bodybuilder for three decades. After he recovered from the serious injury, he decided to share his knowledge with all future athletes. As you could imagine, recovering from a spinal surgery came with its own consequences; loss of gains.
6. Paul Dillet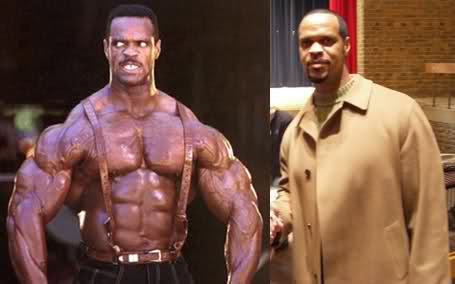 Dillet's picture is often used as a meme. Often this picture of his will be photoshopped. However, even without Photoshop, Dillet looked like a video game final boss. Huge, veiny, and often mean mugging, he was truly a sight to see.
He is probably most famous for "freezing" on stage at the 1994 Arnold Classic when he suffered a muscle cramp due to severe dehydration.
He competed often until retiring in 2006. His best results are 4th place at the 1994 Mr. Olympia and 3rd place at the Arnold Classic. Just like all the other gentlemen on this list, time hasn't been kind with his gains.
7. Tom Prince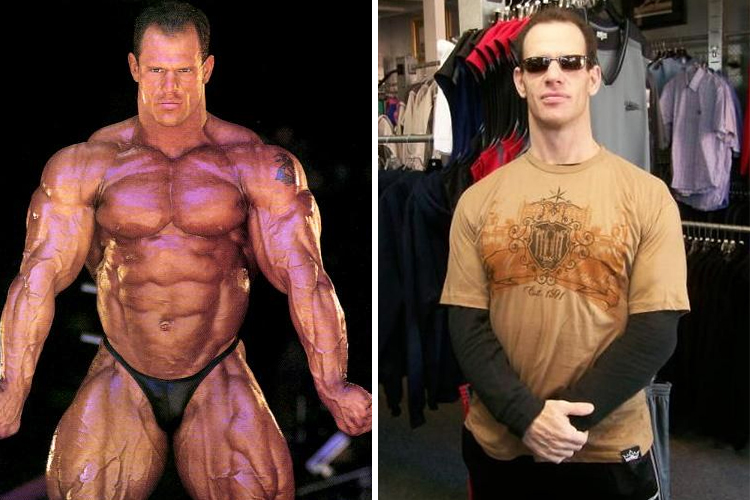 Though not as popular as some of the professional muscle heads on this list, Tom Prince's name also belongs on this list. He was a competitive bodybuilder during the late 90's and early 2000's, even making it to the big stage, the Mr. Olympia.
During his preparation for the 2003 Night Of Champions competition, his kidneys shut down and he was forced to retire from bodybuilding. These days he works with his wife in a Property Management company and together they manage 82 buildings. His impressive physique and huge muscles…left without a trace.
8. Ronnie Coleman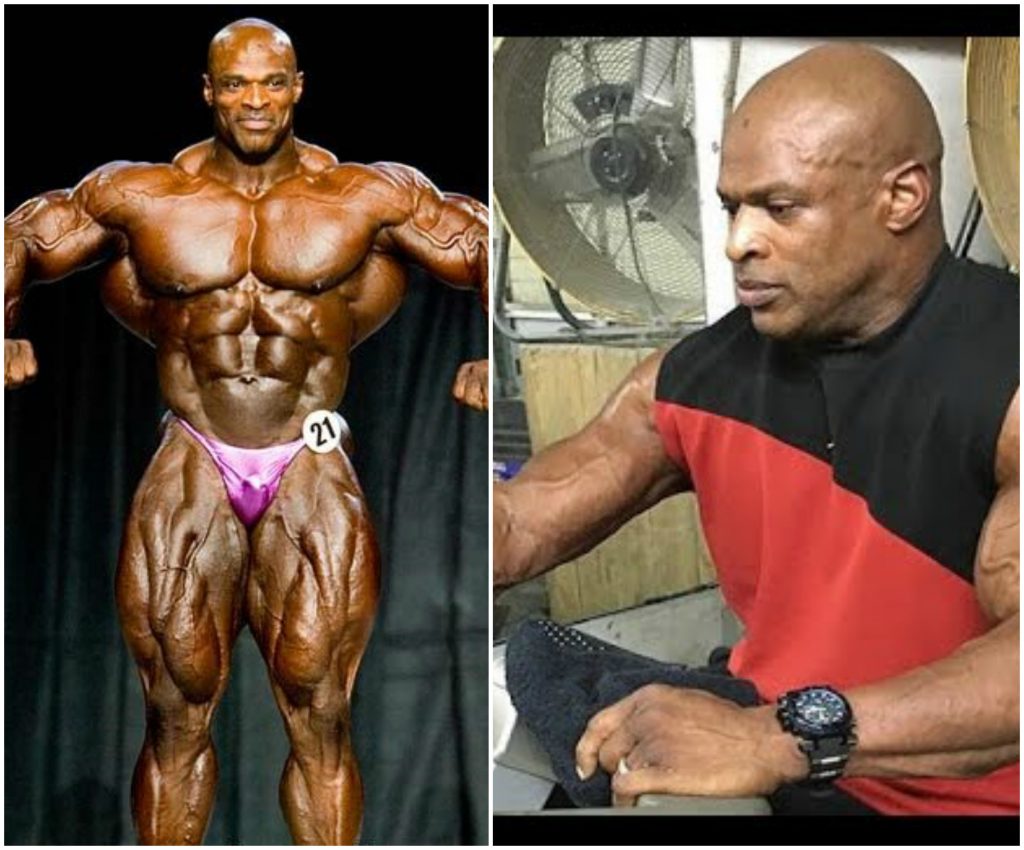 Saving the best for last, we got the 8-time Mr. O title holder and one of the biggest and strongest bodybuilders in modern history, "Big Ron." During the early 2000's, he was the supreme ruler of bodybuilding. If you were a professional bodybuilder during that time, your best placing would be runner up if Ronnie was competing.
No one could even come close to his size, symmetry or strength. He was famous for his 2000lb. leg press, 200lb. dumbbell chest presses, and 800lb. squats.
Ronnie retired from competing in 2007, placing 4th in his last Mr. Olympia competition. Since then Coleman has been working on his supplement line, training career and fixing a few injuries he picked up from all those years of heavy lifting. In 2016 he had an 11 hour long back surgery and literally had to learn how to walk again. He slowly picked up lifting again but his monstrous size has severely diminished.
Checkout some of our other stuff, like…