Whenever a superhero film is released, there's always talk about how an actor got stacked or shredded.
Well, Tom Holland isn't exactly Chris Hemsworth as Thor. But he's still managed to get those Hollywood abs for the big screen.
As a result, people have asked us "how did Tom Holland get abs for Spiderman?". So we've done our research to find the answer to this question.
Although we prefer the physiques of the golden era bodybuilders, we always give our fans what they want.
Check it out:
Spiderman Workout Routine
Electrical Muscle Stimulation
We've all seen those gimmicky products that attach to your abs. They're usually plastered with advertisements such as "get 6-pack abs while watching TV!"…
Okay, we're not advising you to buy those. In fact, stay clear of them.
But to make our point, all you need to know is this; these products use 'electrical muscle stimulation' (EMS).
The problem with the cheap "magical ab" machines (on those dodgy adverts) is they're not very well made.
The truth is, you'll need to go to an elite gym or personal trainer to get the best EMS therapy – we'll explain what this is below.
What is EMS?
Electrical muscle stimulation has been used as part of athlete training sessions since the 1950's.
Basically, it can be used as part of your training plan to help you lose fat.
How? Answer: It's able to completely exhaust muscle fibers within a few seconds.
As a result, your body adapts to this by building up endurance in the affected muscle fibers – meaning you can work your muscles faster than a normal workout.
Why is this important?
You might be wondering why we're telling you about EMS. But we promise it'll all make sense soon.
Simply put, this is one of the techniques that Tom Holland used to get shredded for Spiderman: Homecoming. If we suddenly brought it up, you would have all been raging in the comments section…and we wouldn't want that bro…
Obviously Tom Holland didn't buy a sh*t "get abs while you watch TV" product. Instead, he used professional equipment handled by elite personal trainers.
Anyway, now we've gotten that out of the way – we'll list the exercises that the new Spiderman used to get into that skin-tight suit.
---

---
Training Plan
Warm-Up
Before you begin lifting weights or exercising, it's important to warm up first. We probably sound like your old gym coach, but you can pull your muscles or injure yourself if you don't.
If you already have a good warm-up routine, then just follow that. However, if you don't then we recommend performing 2-3 minutes on the bike or rowing machine.
What to do:
2-3 mins on bike or rowing machine
1. EMS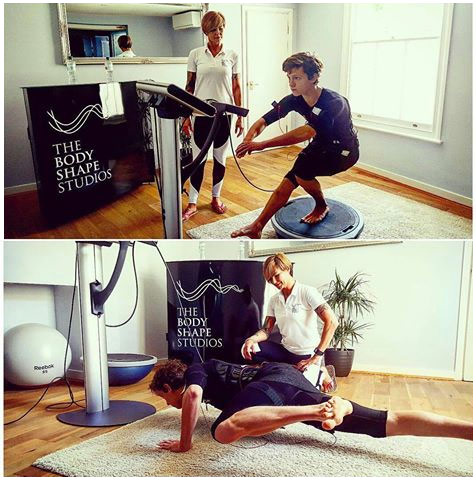 Right, so we mentioned this before – so don't ask what EMS is in the comments section…
Anyway, EMS is great for stimulating your muscles; this will help activate them and reduce the risk of pulling or damaging your muscles.
What to do:
2. Boxing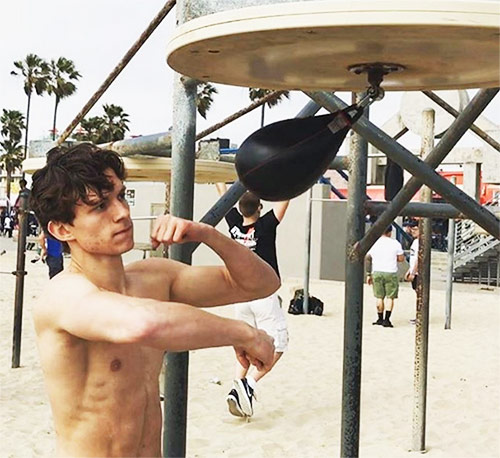 Spiderman isn't known for his incredible boxing skills. But Tom Holland was put through rigorous boxing training – to help him get into shape.
If you've ever sweated through a boxing session before, you'll know how tough it can be.
What to do:
2 sets of 5 mins on the punching bag
2 sets of 5 mins on the speed bag
3. Sledgehammer Tyre Swings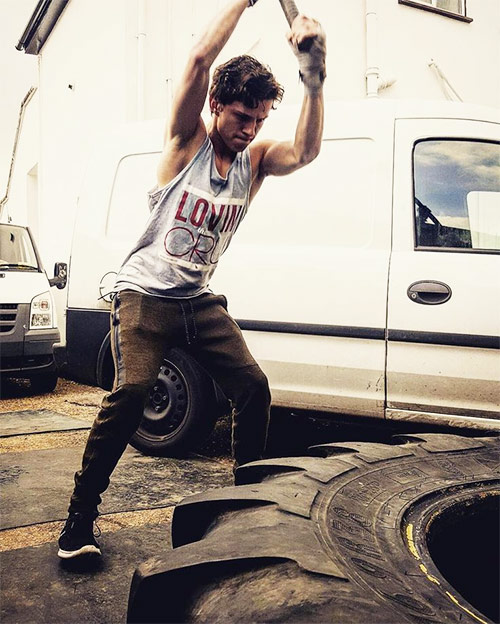 You've probably seen this before on workout videos – some stacked guys smashing a tyre with a sledgehammer.
Well, this works almost muscle in your body (and you'll realize how hard it is after doing it yourself!).
What to do:
4. Altitude Mask Cardio Circuit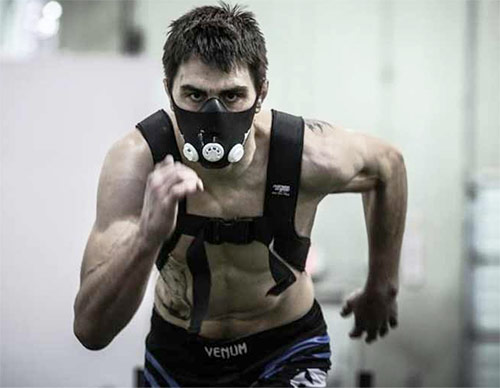 Fans of Tom Holland know that he frequently used altitude masks while performing cardio-extensive circuits. He often posted videos on Instagram captioned "Altitude masks suck"…
And he's not wrong. These masks make it harder for you to breath – so performing cardio becomes a lot more difficult.
There are 4 exercises in this circuit, so get them done without any rest between. Once you've gone through all 4, that's 1 round completed – you'll be doing 4 rounds in total.
What to do:
10 Burpees
10 Walking Lunges
10 Bicep Curls
10 Dumbbell Push-Up Rows
Perform 4 Rounds
Warm Down
After you've completed the altitude mask circuit, then you're finished for the day. But don't forget to warm down – unless you want to start cramping up later…
Again, you can do what you want here. But a light cycle or walking on the treadmill wouldn't be a bad idea.
What to do:
2-3 mins light cycle or walk
---

---
Tom Holland Stats
Full name: Thomas Stanley Holland
Date of birth: 1st June 1996
Height: 5'8 (173cm)
Weight: 64kg
Profession: Dancer, Actor, Musical Actor
---
Summary: Spiderman Workout
You would've realized that there aren't many weighted exercises in Tom Holland's Spiderman Workout Routine (apart from the sledgehammer swings).
But you shouldn't be so confused; Spiderman has always been skinny and lean in the comics, and that's exactly what Tom Holland looks like.
Think about it; would it have really made sense to get a stacked actor like Chris Hemsworth or The Rock to play Spiderman? No.
But remember – to perform these circuits you still need to be pretty strong. We bet you'll be struggling through this workout, and it'll help you burn enough calories to get that 6-pack you want.
Bottom Line: Tom Holland was trained with more cardio-extensive exercises, rather than with heavy weighed lifts.